Look Back at 2016 (Trendy Wednesday Link-up #102)
Wow, 2016 is nearly over and it seems like it just started!  This year has really gone by fast.  At the end of each year, we find ourselves looking back and what happened throughout the year.  A lot has happened here on Classy Yet Trendy.  Here's what happened this year, plus a few of my favorite posts…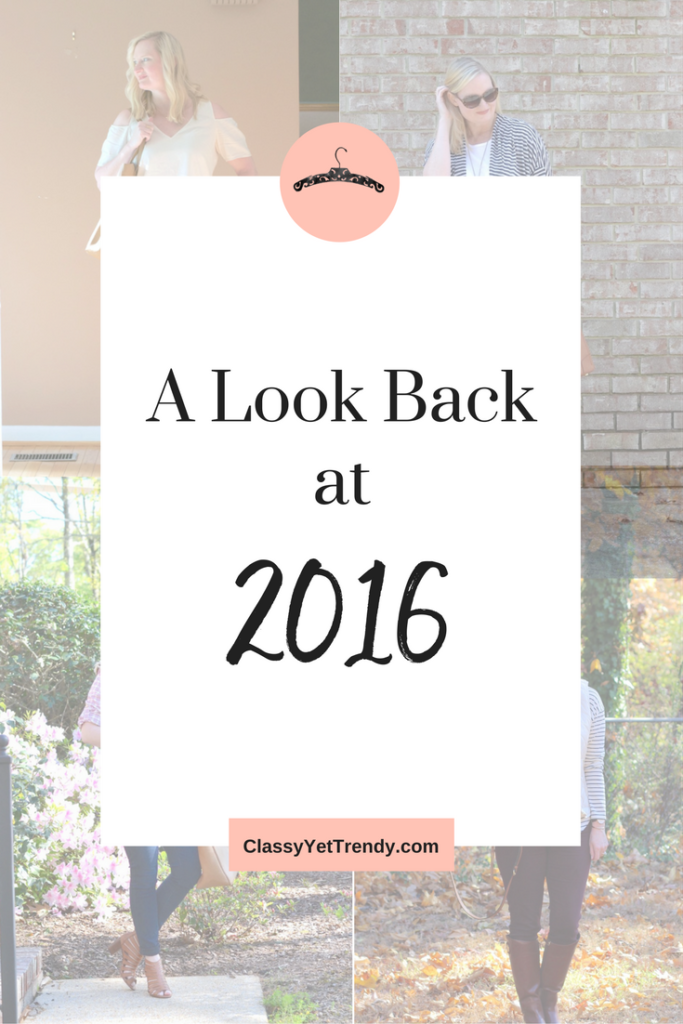 A new look for ClassyYetTrendy.com: I have learned a lot about blogging since 2014, when I started this blog.  I've experimented with a few blog themes over the last couple of years, but I finally found just the right theme.  It's the Tickled Pink theme from Restored316.  I branded my site and also designed my own logo!   The Tickled Pink theme is more than just a blog theme, it has several features that lets you have a fully functioning website.
More Capsule Wardrobe E-Books: Since my passion is capsule wardrobes, I expanded the types of capsule wardrobe choices each season.  There are the "Essential", "French Minimalist" and "Workwear" capsules you can choose from each season in the Capsule Wardrobe e-Book store.  I'm currently working on a 4th type of capsule, the "Stay At Home/Work at Home Mom" capsule, which will be totally casual.
The Capsule Wardrobe Collective Facebook Group: I started the group this year and we currently have over 2,000 members!  Everyone can share their outfits everyday, get and share ideas about capsule wardrobes.  We even have challenges weekly or monthly where everyone can participate.  It's free!  Come join if you have a capsule wardrobe and would like to be a member.
Here are a few posts that were my favorites this year:
"Casual Navy (Trendy Wednesday Link-up #62)"
"How I Have Made $3,000/Month Blogging"
"Spring Essentials With Orvis"
"Create Your Capsule Wardrobe: A Step-by-Step Guide"
"#1 Trick To Make Your Outfits Look Amazing"
"Favorite Fall Outfit Formula"
"French Minimalist Capsule Wardrobe On a Budget: 10 Winter Outfits"

The two featured bloggers from the last linkup are:


1.  Please follow your Host 
2. Link up to 5 posts: 
it can be about fashion, style, beauty or lifestyle

(linkup to your blog post and not your main page)
3. Please include a link back to this post or place my linkup button in your post.
4.  Now, add your post(s) below!  I hope you enjoy the linkup and enjoy meeting other bloggers!
Each week I feature 2 bloggers from the previous link,
so link-up your blog posts for your chance to be featured!