29-Piece Spring 2020 Neutral Capsule Wardrobe
See how I "shopped my closet" to create an all-neutral color capsule wardrobe, which includes tops, bottom, layers and shoes, based on the Simplified Style® capsule wardrobe. I created this capsule to experiment with creating all neutral-color outfits for a few weeks in the Spring season.
For those of you that are readers of the Classy Yet Trendy blog, you know that I have been using a capsule wardrobe in my closet for several years. I absolutely love using a capsule wardrobe every season and know my favorite items that I enjoy wearing.
In all the capsule wardrobes I have created, I have never used an all-neutral color capsule. I considered using all neutrals when I created my Spring 2020 capsule wardrobe, but wanted to have a capsule with navy as the base color and I also included a few accent colors. In the past, when I participated in the 10×10 Challenges, I used mostly all-neutrals and really liked wearing them!
When my husband and I went on our 5-Day Gulf Coast vacation earlier this month, I packed mostly neutral colors using a black base color, with one blush tee and an olive utility jacket. I really enjoyed wearing the neutral colors and it gave me an idea to do an all-neutral capsule wardrobe experiment!
Since we are all staying at home due to the Coronavirus outbreak, I thought I would do an experiment of wearing all-neutral colors. Since we have staying at home practicing #socialdistancing to stay safe from the virus, I don't really need to wear some of the pants, flats and layers in my Spring 2020 capsule wardrobe. The all-neutral capsule includes mostly tops and bottoms, with just a few cardigans and one denim jacket to wear when I get chilled in the house and if we have to go out to get some groceries. I added comfortable shoes that I can also wear while at home.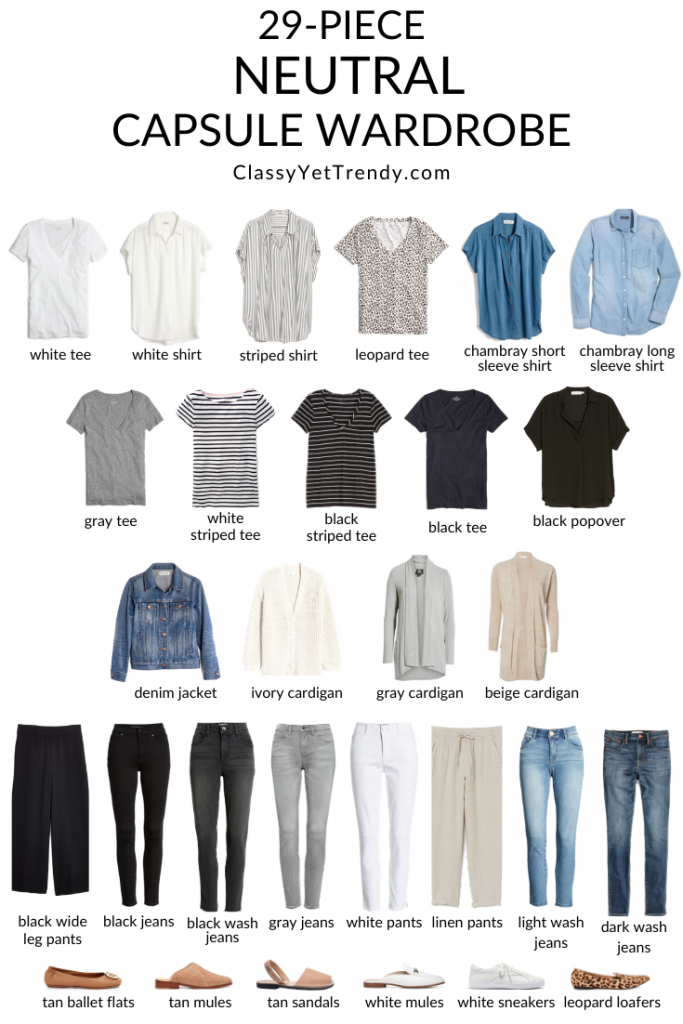 I created my all-neutral capsule based on my eBook, the women's Simplified Style®: A Year-Round Core Closet Essentials Capsule Wardrobe. For the next several weeks, I'm going to do an experiment where I will wear all neutral colors. In my Simplified Style® eBook, there are 400+ outfit combinations for the entire year, so I'm going to see how many outfits I can create with this capsule I put together for the next several weeks.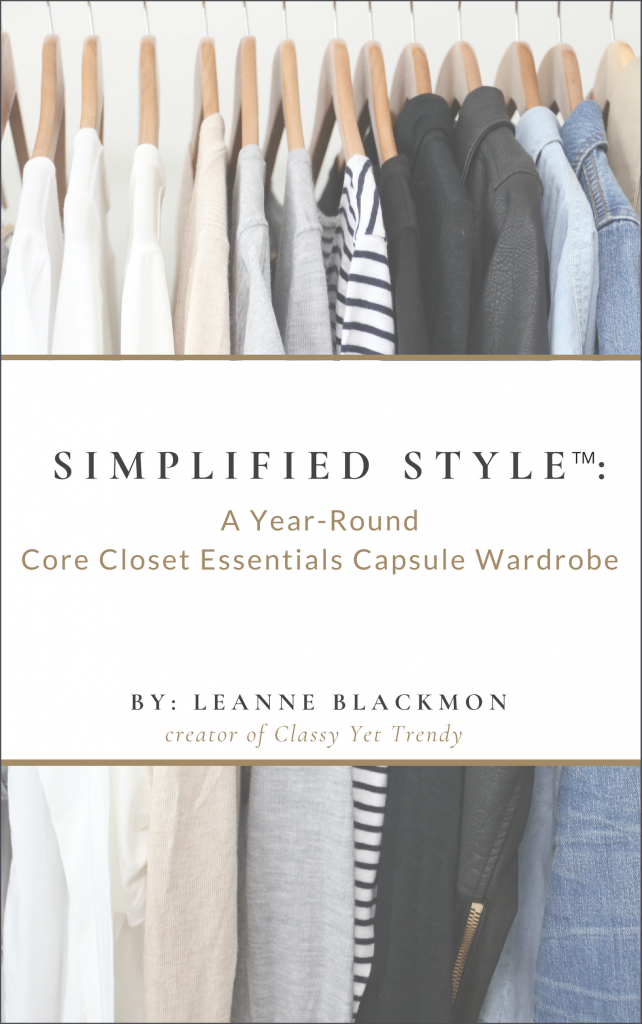 You can use this same capsule wardrobe for your closet! From time to time, some readers will write to me asking, "Will I get tired of wearing neutral colors all the time?", or "How I can I add color to my neutral outfits?" Since neutral color basic essentials are the core items in your closet that we use in all our outfits, chances are you may not get tired of wearing them, but if you want to change things up a bit, you can add some color by adding colorful handbags and accessories, like jewelry and scarves! For more on this, see the blog post, "4 Ways To Add Color To Neutral Outfits".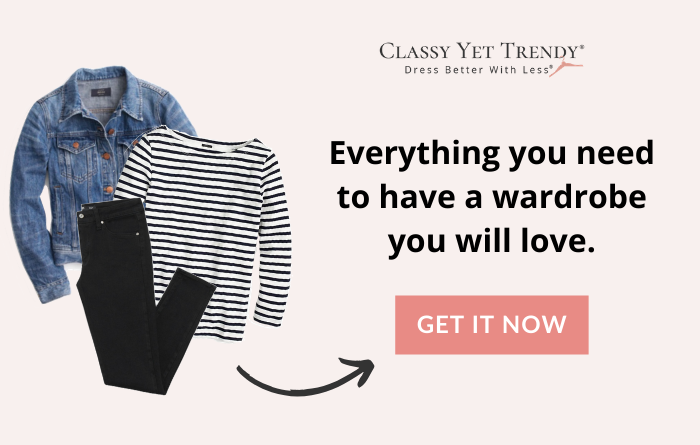 What Did I Buy For This All-Neutral Capsule Wardrobe?
Nothing! I shopped my closet for everything in this capsule! I used a few pieces from my Spring 2020 Capsule Wardrobe, and added several of my favorite tops, bottoms and layers from my closet.
How Did I Create This Neutral Capsule Wardrobe?
I created this neutral capsule wardrobe based on the capsule from my eBook, Simplified Style®: A Year-Round Core Closet Essentials Capsule Wardrobe. I also followed the 5 steps in my blog post, How To Start A Capsule Wardrobe: A 5-Step Visual Guide, but since this is an all-neutral capsule, I omitted Step 3. You can download, print and use this Capsule Wardrobe In 5-Steps guide sheet to help create your capsule wardrobe, which is on the Capsule Wardrobe Tools page.
First, I chose BLACK as my base color. Then, I selected a few tops, bottoms and layers in gray, white and beige. Since I included blue denim, which is a neutral, the 2 chambray tops blend in with the capsule, so the chambray isn't a color, but works as a neutral. I find myself gravitating toward tan and cognac colors, so I included a few of those colors for my shoes and my Madewell Transport Crossbody Bag that I absolutely love carrying. I find that the tan and cognac colors warms up neutral-color outfits (you can see this combination in the outfits I wore on our 5-Day Gulf Coast vacation).
What's In My Neutral Capsule Wardrobe?
Here's everything in my All-Neutral Capsule Wardrobe…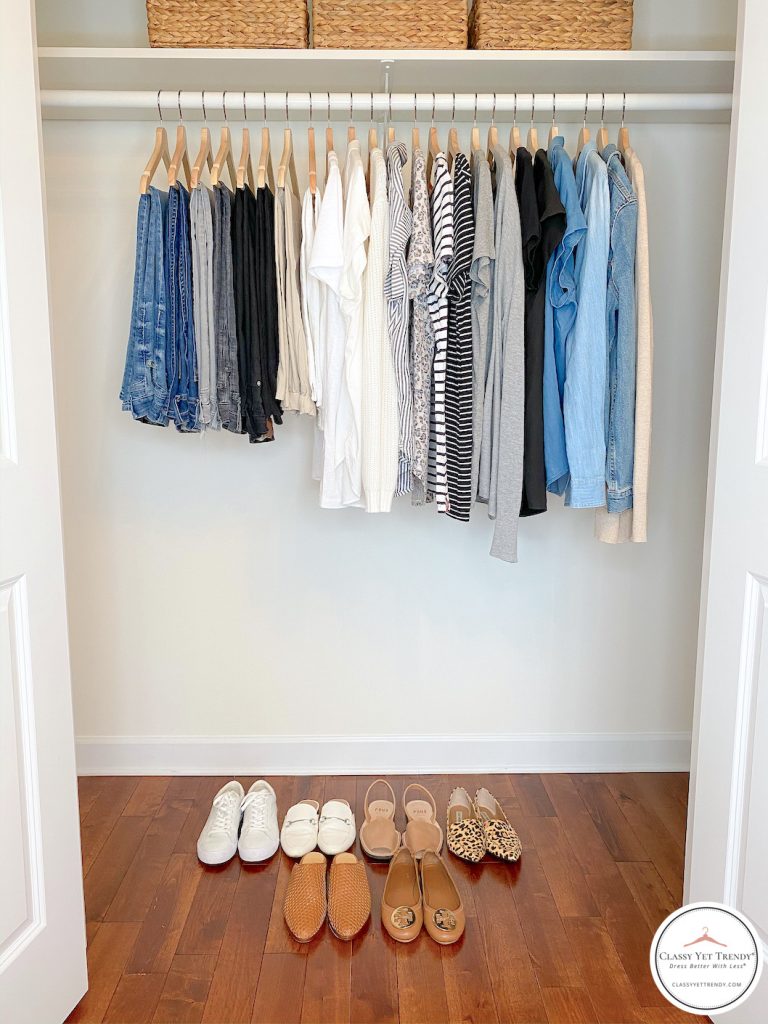 Let's start with the clothes. Anytime you create a capsule wardrobe, I recommend choosing the tops and bottoms first. I then, added a few light layers. Since I will be at home a majority of the time, I only needed light layers, like cardigans. I include a denim jacket in case I went on a walk around our neighborhood or to go to the grocery store.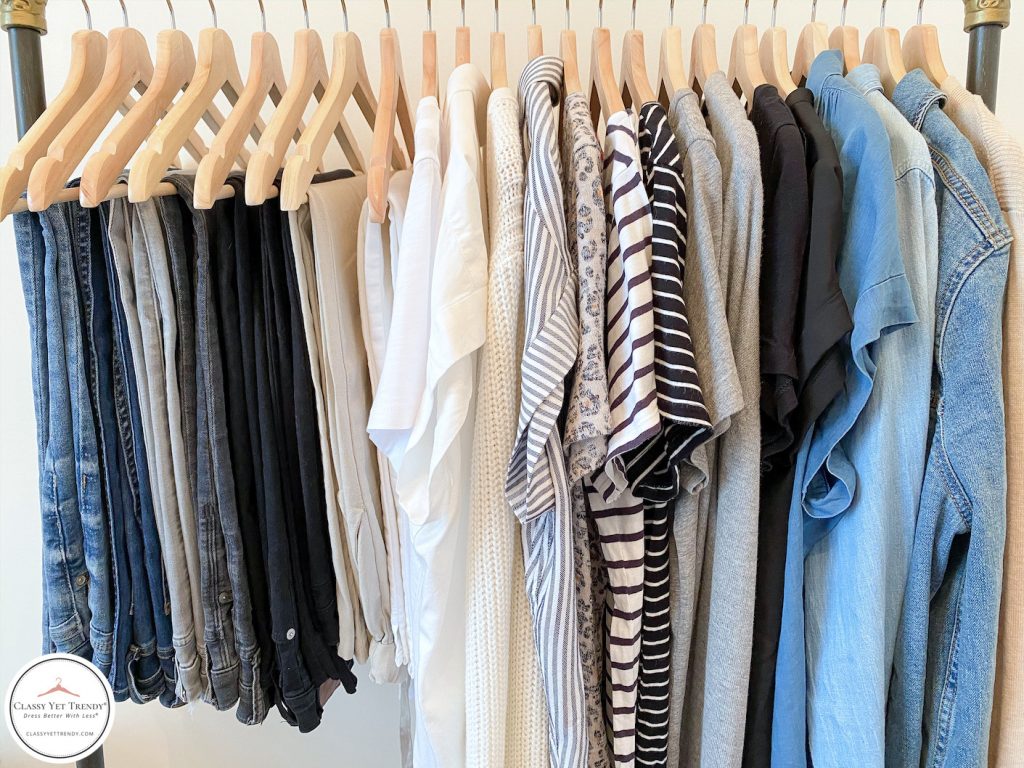 The Tops, Bottoms & Layers
If you notice the leopard pattern tee and loafers, I included these to add some interest to my outfits so my outfits wouldn't be all solid colors. Since leopard is a neutral pattern of black and brown, it works in this capsule! You can also use a neutral pattern, like snake print too.
I "shopped my closet" and used what I had, instead of buying anything new, which instantly saved me money! You can use similar pieces to mine OR you can "shop your closet" too, including your favorite neutral pieces in your capsule!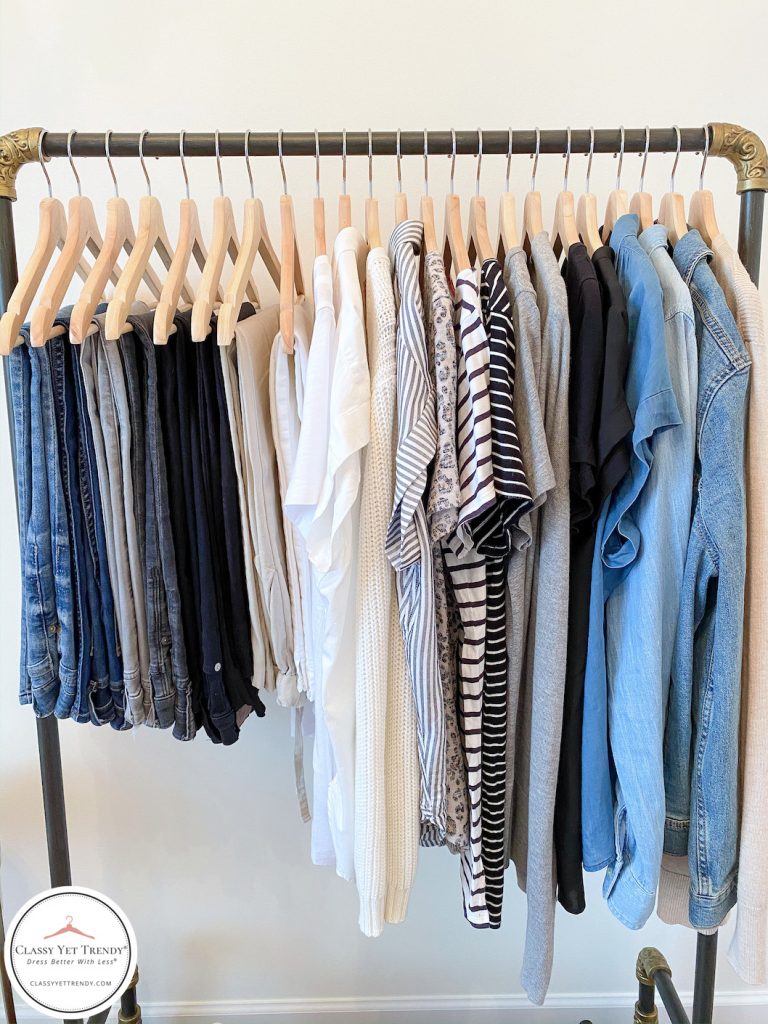 Left To Right:
(The "similar" links are items similar to mine. I'm linking these since my exact ones are sold out)
Light Wash Jeans (exact) / See the review of the jeans here
Medium Wash Jeans (exact)
Gray Skinny Jeans (similar)
Black Wash Jeans (similar)
Black Jeans (similar)
Black Wide-Leg Twill Pants (exact from last year – I have the regular size) / Also like this pair!
Beige Linen Tie-Waist Pants (similar)
White Pants (exact) I love these pants!
White V-Neck Tee exact (the perfect tee!)
White Central Shirt (exact) / Also exact here
Shaker Stitch Cardigan (exact) "ivory" color / Also like this one!
Striped Central Shirt (similar) / Also like this one!
Leopard Pattern Tee (exact) / Similar Tee
White Striped Tee (exact) / Also like this one!
Black Striped Tee (similar)
Gray V-Neck Tee exact (the perfect tee!)
Gray Open Cardigan (exact) "light gray heather" color
Black V-Neck Tee exact (the perfect tee!)
Black Popover Top (same brand, similar style)
Chambray Central Shirt (exact)
Chambray Long Sleeve Shirt (exact)
Denim Jacket (exact)
Beige Cardigan (similar)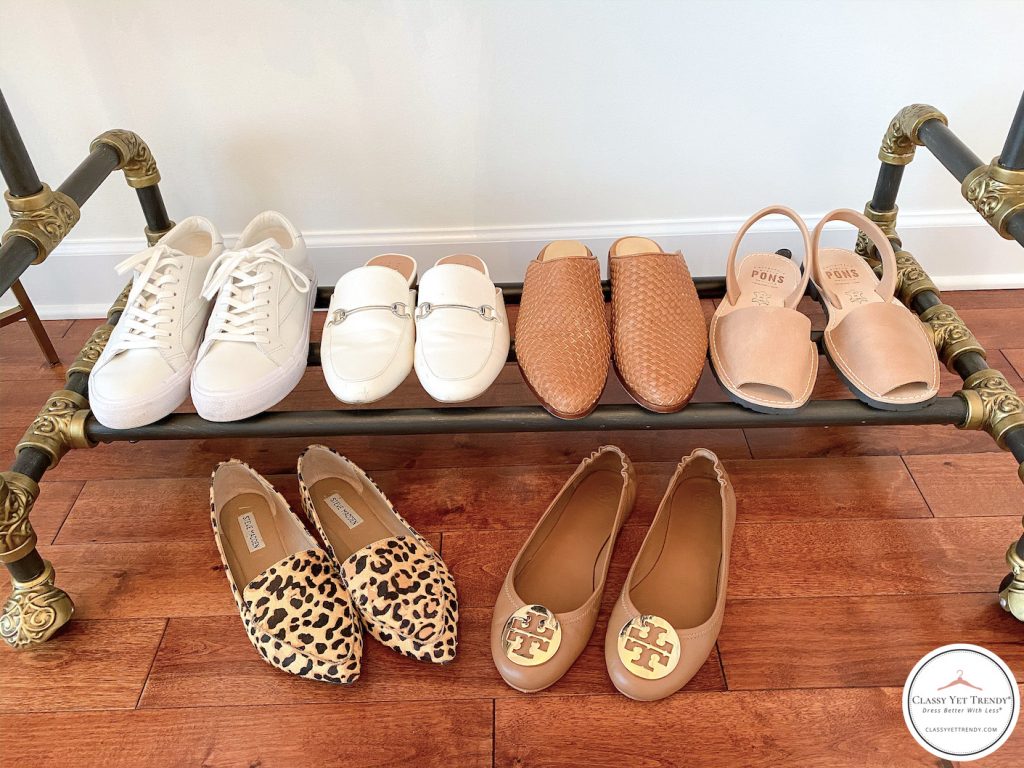 Left To Right:
White Sidewalk Sneakers (exact) So comfy!
White Mules (similar)
Tan Woven Mules (exact)
Avarcas Sandals (exact) in "Tan" color
Leopard Pattern Loafers (exact)
Tan Ballet Flats (exact)
I'll be sharing the outfits I wear from this capsule on my Instagram @classyyettrendy!
Here is my neutral capsule wardrobe on a clothing rack with two of my bags, the Madewell Transport Crossbody Bag and the Tory Burch Kira Black Tote.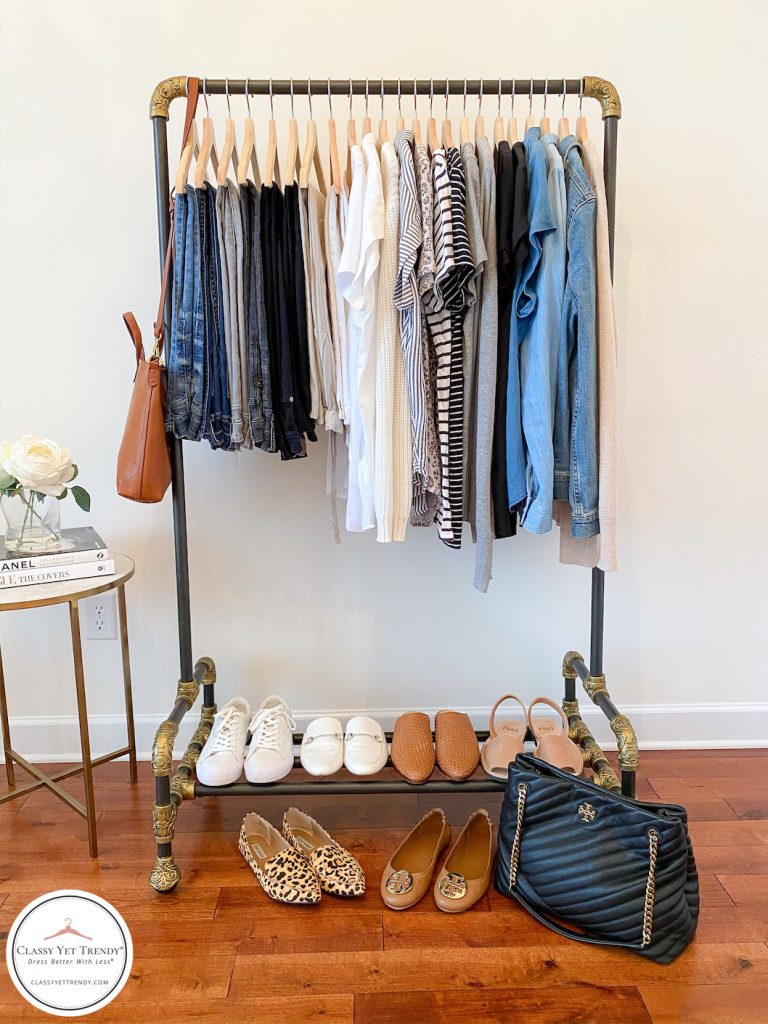 Shop The Post: