It's Summer and you have good basic essentials on hand to stay cool in the warm months. You may also want a few trending items in your closet for a fresh Summer wardrobe!
Depending where you live and how warm it gets during the Summer, you may not need all of the items on this list, but even if you have one or two, you'll be in style! Tie Dye print is hugely popular this Summer! You can find it on tops, shorts, kimonos and even shoes. Frayed Denim is on trend and they are available in different lengths. Straw hats and straw bags are back again this year!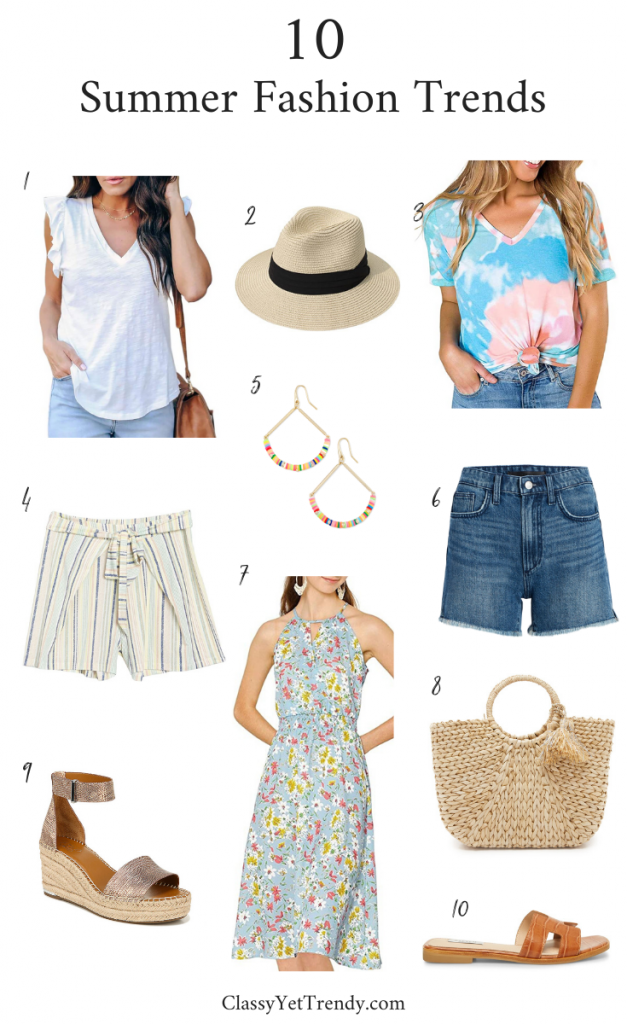 1. Ruffle Sleeve Top – This style top looks so feminine and adds a bit of interest to your outfit! You can find these tops in solid colors or in Summery patterns. This Floral Mixed Media Top and this Dotted Mixed Media Top both have ruffle short sleeves and come in Regular, Petite and Plus sizes.
2. Straw Hats – Straw hats are everywhere! They not only keep your head cool from the sun, but they also complete your Summer outfits. This Panama Roll Up Hat comes in many colors and bands, is packable for traveling and is just $22.99! And, Brixton's Joanna Straw Hat is a gorgeous hat!
3. Tie Dye – Tie Dye patterns are on trend this Summer! You can find several styles available in lots of color combinations! This budget-friendly Tie Dye V-Neck Tee comes in 4 colors and is only $16.99! This Cool Melon Yellow & Purple Tee has such a pretty pattern and style. These Tie Dye Pull-On Shorts have the prettiest pattern and these Tie Dye Wedge Espadrilles are such fun looking shoes!
4. Tie Front/Belted Shorts – This style of shorts are popular this year. They are more of a tailored short usually found with front pleats and a bit of a longer length. This pair of Stripe Print Tie Front Shorts and this pair of Lakelyn Floral Front Tie Shorts will add a bit of color to your wardrobe! This pair of Herringbone Belted Paper Bag Shorts and these Tie Waist Linen Shorts will coordinate well with lots of tops in your closet.
5. Beaded Jewelry – This accessory style is trending and these Gold Beaded Drop Earrings and these Beaded Hoop Earrings were just released!
6. Frayed Denim Shorts – Denim shorts are a classic and timeless staple in a Summer wardrobe and when you add a bit of fraying at the hem, they are trending! There are several lengths to choose from, depending on your preference: from 3″to Bermuda. You can choose the tone of the denim, such as light wash, medium wash or dark wash. These Vintage Wash Bermuda Frayed Denim Shorts are longer in length and will look great with your Summer tops.
7. Summery Dress – A dress is great to add piece to your Summer wardrobe. Wear it dressy with a pair of sandal heels or casual with flat sandals or sneakers. Sleeveless dresses, eyelet dresses and t-shirt dresses are popular and perfect to wear on hot days! This Floral Halter Smocked Waist dress has such a pretty pattern and this Short-Sleeve Gathered-Waist Dress are such pretty dresses for the Summer!
8. Straw bags – They are back again this Summer and are available in several styles to choose from. This Hat Attack Round Handle Straw Bag is such a pretty bag and this Wood Handle Straw Bag is gorgeous in person (I have this one and love it)!
9. Espadrilles – This style of shoe is back again this year! These Bronze Metallic Snake Print Wedge Espadrilles are gorgeous! The neutral color of these Espadrille Platform Sandals will go with lots of your outfits.
10. Slide Sandals – These Hadyn Slide Sandals Hermes sandal dupes are everywhere on Instagram and Youtube with bloggers and they come in three colors! These Beaded Embellished Slide Sandals are beautiful and come in either natural or pewter colors.
"Be anxious for nothing, but in everything by prayer and supplication with thanksgiving let your requests be made known to God." – Philippians 4:6