I'm Creating An Outdoors Capsule Wardrobe For A New Adventure
Summer is here and it's the season for traveling and vacationing! But, with the Covid-19 pandemic going on, it has not been a normal Summer. We are having to wear masks, wash our hands often and use hand santizer to protect ourselves. Places we would go for vacations are either closed or have rules in place for social distancing and limitations.
My Hubby and I have always enjoyed spending time outdoors, plus it is naturally a safe way to do social distancing. During the past couple of months, we have gone on picnics to local Alabama state parks and about a month ago we rented a cabin (through VRBO.com) in the Great Smokey Mountains National Park. While we were in the "Smokies", as the park is nicknamed, we rode our bikes in Cades Cove on their first designated bicycles/pedestrians-only day (find out more here: https://experiencecadescove.com/blog/guide-to-cades-cove-biking/)! We bought groceries at a local grocery store and cooked breakfast every morning in the cabin, ate picnic lunches every day while in the park and ate in restaurants just a few times.
A Few Photos Of Our Day In Cades Cove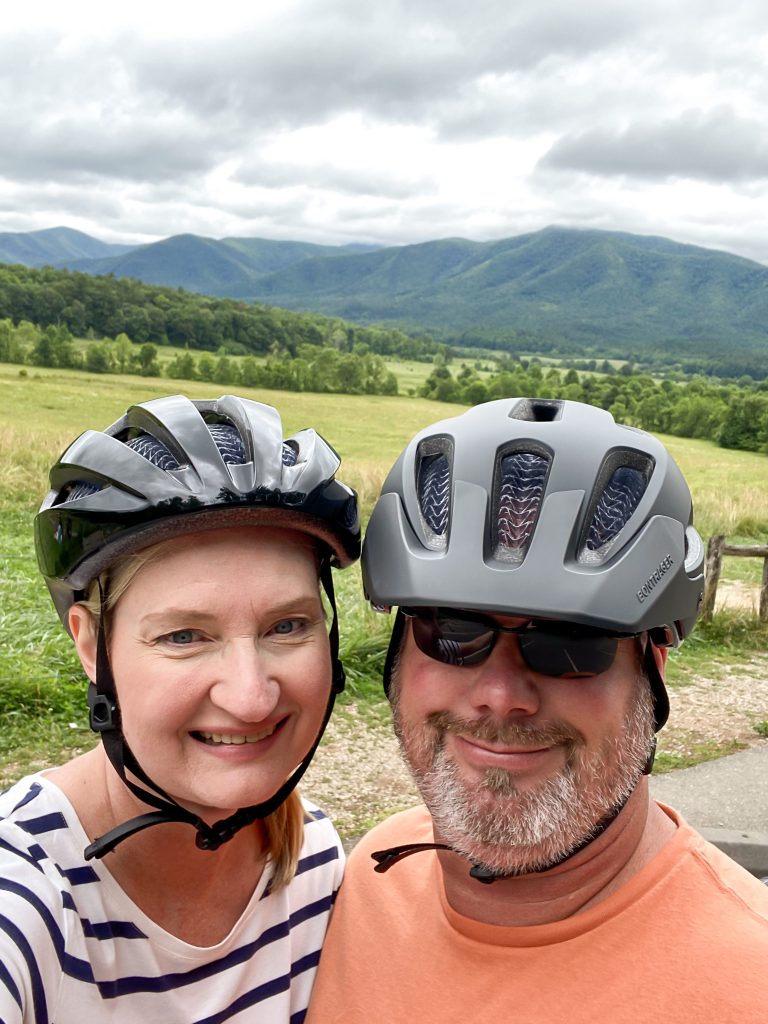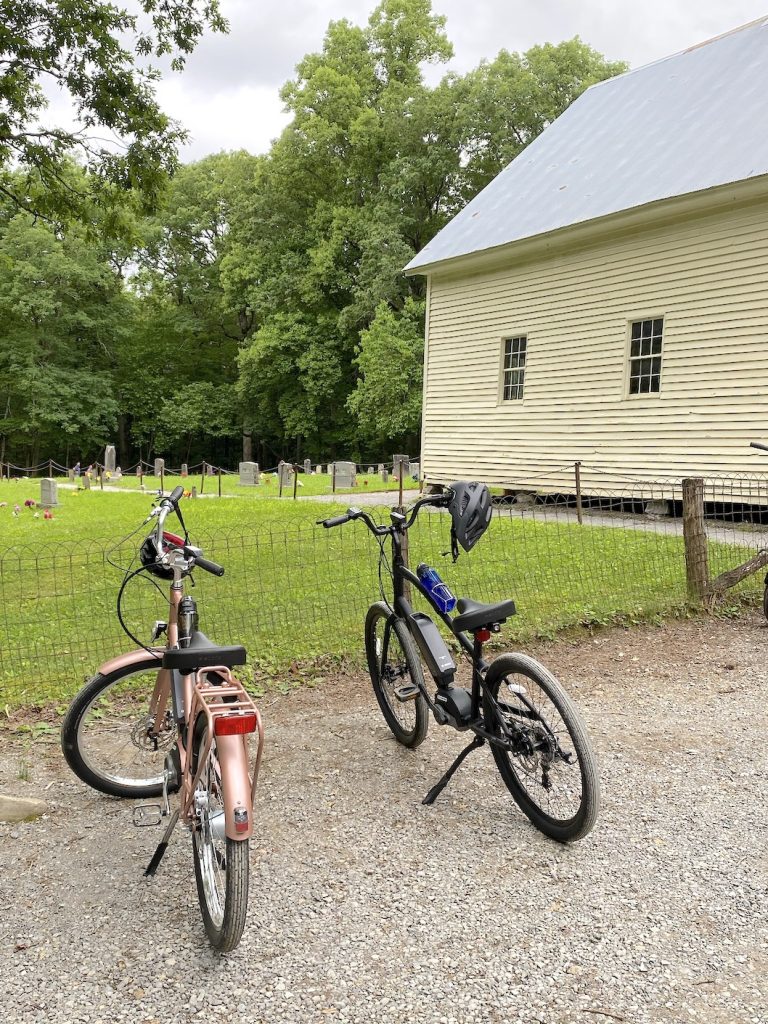 A couple of months ago, I thought it was time to get out and go places we have never been. When we go on vacation, we usually stay in a hotel and eat out for every meal, but with a pandemic going on, that would be a bit difficult.
We Bought A Camper!
Being that my husband and I both enjoy being outdoors, we thought we would invest in a camper and see parts of the U.S. It's always been a dream of mine to visit the national parks, so by doing so in a camper, we would stay safe, plus it would be our "home away from home".
Since my Dad, Mom and I went camping A LOT when I was a kid, I already know the basics of camping! We went camping in a tent, so I know how to "pitch a tent", start a campfire and cook over a campfire and on a Coleman stove. Some of my best memories growing up were the times spent camping. I enjoyed making friends with other kids who rode their bikes around the campground, hearing the owls hoot at night, the smell of the campfire, roasting marshmallows, going swimming and going on hikes.
After doing LOTS of research on campers, a couple of weeks ago, we bought the Mini Max Teardrop Camper from Little Guy Trailers. We had also looked at an Airstream Basecamp and NuCamp Tab 320 and NuCamp Tab 400 series. For years, I have always loved the look of an Airstream camper, but the Basecamp would be at the weight limit for our Jeep Wrangler Rubicon to pull. The Tab 320 was too short in height for us (I am 5'9″ and my husband is 5'10" and we couldn't stand up the camper) and the Tab 400 was too heavy for our Jeep to pull. The Mini Max was just right and we loved the layout of the interior. Plus it is the Rough Rider package that includes solar and battery backup power, when we are Boondocking! We had the RV dealership install a couple of things on the camper and we pick it up tomorrow!
Here is what our camper looks like (ours is the silver color with black trim)…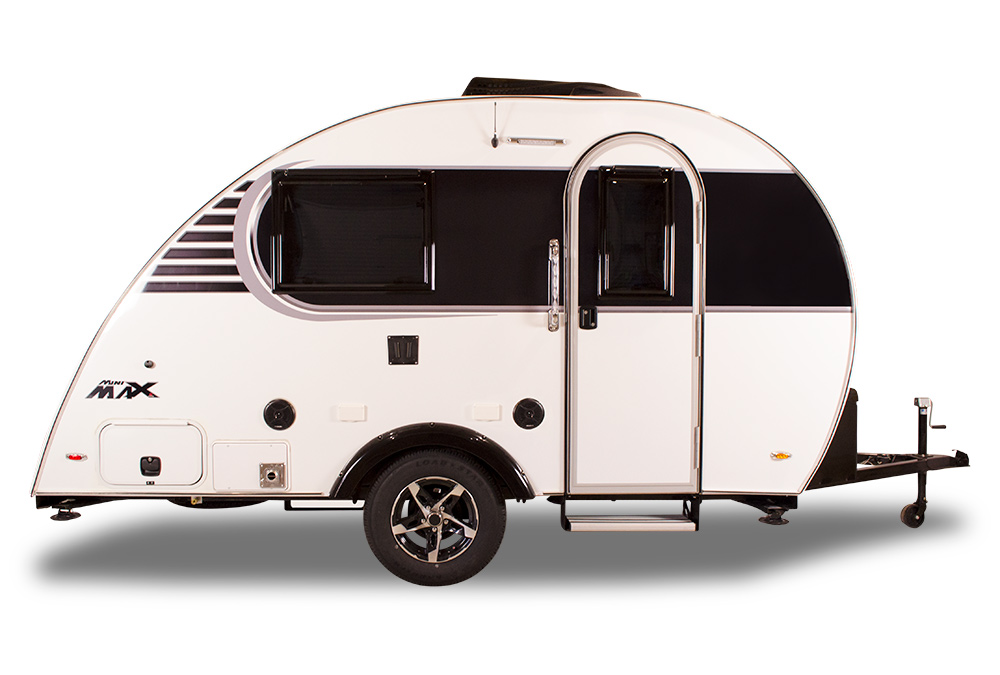 We will be taking vacations off and on in our little camper this Summer and probably into the Fall as well. The camper has space to work on my computer at the dinette area and I can also work outside, publishing blog posts and doing maintenance on my site.
Since we have been doing more activities outdoors, wearing my regular clothes in my capsule wardrobe hasn't worked for me. Some tops are just too dressy to wear while hiking and I don't like wearing several of my shorts in my capsule, since I'm afraid the fabric will tear or pull.
Creating An Outdoors/Camping Capsule Wardrobe
I'm in the process of creating an outdoors/camping capsule wardrobe for the Summer, to wear while we are hiking, camping and spending time outdoors. This will be a 2nd capsule wardrobe I'll be using in addition to my regular Summer 2020 capsule wardrobe. We don't do any extreme activities, so I only need clothes with lightweight and breathable fabrics for the heat and humidity and shoes that are comfortable and durable enough for being outside.
I snapped this photo of my outfit I wore before we left to visit a local state park. This Prana Foundation Tee and Patagonia Tech Fishing Skort kept me cool all day and the Chaco Sandals (similar pattern) were comfy walking all day. I also put my hair in a ponytail when we arrived at the state park to stay cool.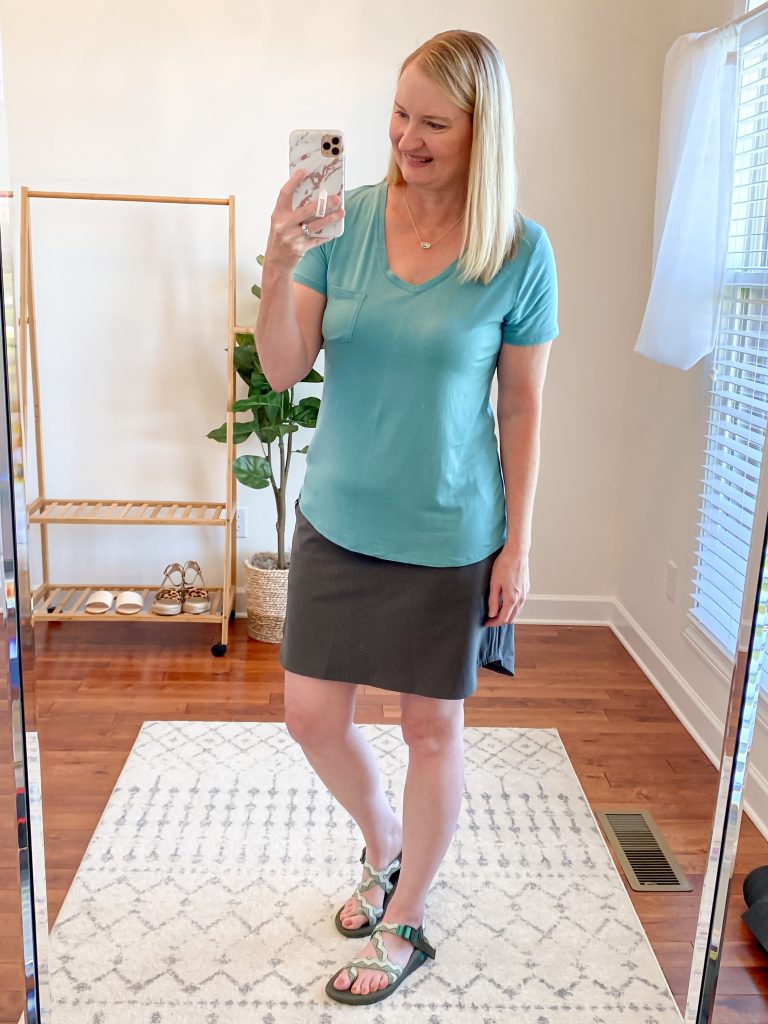 Outfit Details:
Prana Foundation Tee in "azurite heather"
Patagonia Tech Fishing Skort in "forge grey"
Chaco Sandals (similar pattern)
Elisa Necklace in "abalone shell"
Ellie Gold Filigree Earrings
Shop Your Closet First
To start off creating my outdoors capsule wardrobe, I first shopped my closet. I had a few items that could be included in my capsule, mostly shoes, and also a pair of denim shorts and a camo tee. We will be doing light activities, but we'll be in the heat, so I need mostly breathable clothes and shoes for my capsule.
Madewell Frayed Hem Denim Shorts (this year's style is a bit shorter) – I absolutely love wearing these denim shorts. They are in my Summer capsule wardrobe and since they are a denim fabric, they will be rugged enough. My exact denim shorts are sold out, but here is a similar Kut From The Kloth Denim Shorts and Old Navy Distressed Denim Shorts, both with a frayed hem.
Camo Tee (similar) – What would an outdoors capsule be without a camo t-shirt, LOL! My exact camo tee is from 2 years ago from my Fall 2018 capsule. Here is a similar Amaryllis Apparel Camo Tee and Target Camo Tee.
Chaco Sandals (similar pattern) – These were my daughter's first chacos when she wore a size 9. When her foot grew to a size 10, she gave these to me to wear. I pulled them out of my closet and wore them on our last hike in a local state park and loved them. When I was at our local outdoors store I tried on a pair with the XCloud footbed and they were so comfortable. Plus, mine have white paint on them, so I'm not sure if I will include them in my capsule. Here is a pair similar to mine with the gray color footbed, but different pattern.
Birkenstock Granada Sandals – I love these sandals and sometimes wear them on Sundays when I change to comfortable clothes after church. I included them in my Summer 2019 Capsule. I have the "tobacco" color.
Skechers Sneakers (similar pattern) – I bought these from a Skechers Outlet and have worn them a few times hiking and they are SO COMFY!
Shop For Your Capsule Wardrobe
I went to a local outdoors shop and found brands such as Patagonia, Prana and Kuhl. They are sustainable/ethical brands, which is a plus! I bought a few basic bottoms in neutral colors so they would coordinate with other pieces in the capsule…
For size reference: I am 5'9″, about 160 lbs and wear a size 9 in shoes. I typically wear a size Medium or Large in tops, depending on the brand and style. My normal size in bottoms is a size 10 or Large.
Patagonia Happy Hike Shorts in "ink black" – This was the first item I tried on and wow they fit great! I bought a size Large.
Patagonia Quandary Shorts 7″ in "shale" – Here are the 5″ Quandary Shorts in more sizes to choose from.
Patagonia Tech Fishing Skort in "forge grey" (same style, different colors) – OMG when I tried this skort on, I immediately loved it! It was just the right length, not tight and the loved the color. Since it is a "skort", it is a pair of shorts built in underneath the skirt! I think the forge grey may be sold out, but it is available in "drifter grey" and "pumice" colors. I also like this Columbia Skort, which is also budget-friendly!
Kuhl Trekr Shorts in "stone" – These shorts are a khaki color, which will coordinate well with almost any color top.
Prana Foundation Tee in "azurite heather" – I wore this tee this past weekend with my Patagonia Tech Fishing Skort when we visited a local state park and did a short walk on the nature trail (see my outfit above).
Under Armour Sackpack – I also bought this sackpack to bring with us on short hikes for our drinks, snacks, cell phone, bug spray and sunscreen. I really like this one, since it has several outside pockets and clips on the outside to store your belongings.
I'm waiting on 2 online orders to arrive which are more pieces for my outdoors/camping capsule wardrobe. The full blog post with everything in my capsule is coming soon to the blog!
Your Feedback…
If you spend time outdoors or go camping in the Summer,
what are your favorite clothes and shoes to wear?

What are a few essentials you carry with you on your trips?
This was the featured Bible verse in our church service this past week…"Now faith is confidence in what we hope for and assurance about what we do not see." – Hebrews 11:1