Nordstrom Anniversary Sale 2020 | Top Picks + Most Popular Items
I have searched Nordstrom's Anniversary Sale 2020 Preview Catalog and found the best items that will be on sale and the ones that will likely be the most popular! How do I know? I have been reviewing the Nordstrom Anniversary Sales for several years now. I can usually predict which items will sell out or be the most popular among shoppers. When the sale is active, I check the sale activity on Nordstrom's site daily and I also follow other fashion bloggers to see what they are buying. See the Popular Predictions* below.
Bookmark this page and use it to shop the sale!
Earlier this week, I posted the Nordstrom Anniversary Sale 2020 | Sneak Peek +Shopping Tips, which shows how to shop the sale, shopping tips, plus a few first picks of the sale.
Many of you depend on me to bring you the best items of the sale and to know which items will be trending for the Fall and Winter so you can add them to your closets. I'm sharing with you all this HUGE blog post so you will know which items to buy in the sale.
What Is The Nordstrom Anniversary Sale?
The Nordstrom Anniversary Sale #nsale #nordstromanniversarysale is considered the most important sale of the year. While Nordstrom holds half-yearly sales throughout the year, this sale has become legendary among Nordstrom customers who enjoy outstanding savings on the most exciting new fall and winter merchandise. There's also summer merchandise on sale too at deep discounts!
The Anniversary Sale is when I buy my core closet essentials that I use in my capsule wardrobes! Essentials like tees, jeans, sweaters, cardigans and shoes. If there are any clothes or shoes in my wardrobe that need replacing, the sale is the perfect opportunity to buy quality-made items at lower prices.
When Is The Anniversary Sale?
Nordstrom usually sends out a printed preview catalog to cardholders showing several items in the sale, but this year it's different…everyone will be able to preview all sale items. This way, you have plenty of time to save items to your wish list so you can check out faster when it's time to shop.
The first Tier of cardholders can start shopping August 4. If you are a Nordy Club Insider , you can start shopping August 13. Nordy Club cardholders with Icon, Ambassador or Influencer status will get even more time to shop Early Access. The higher your status, the earlier you shop. This is on top of the six days of Early Access all cardmembers get.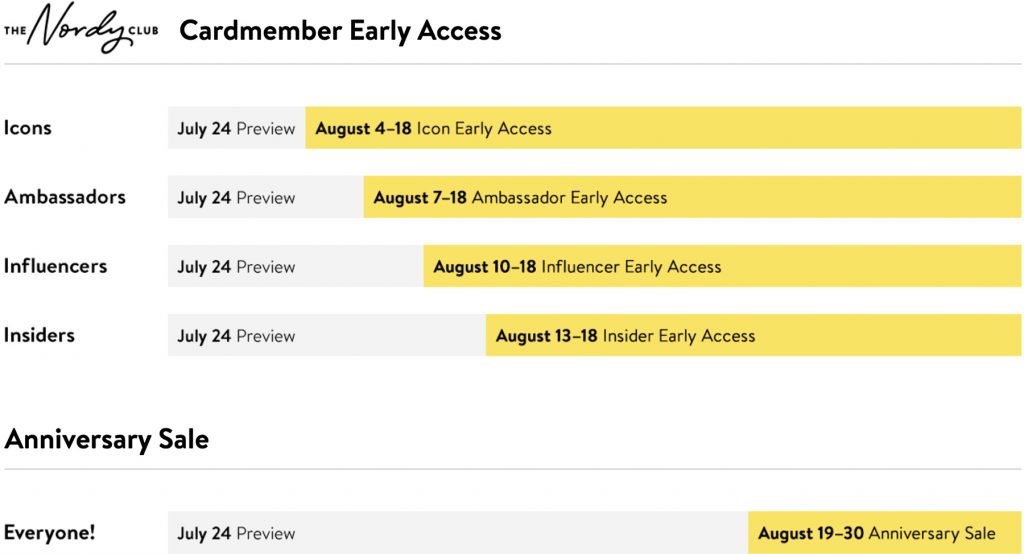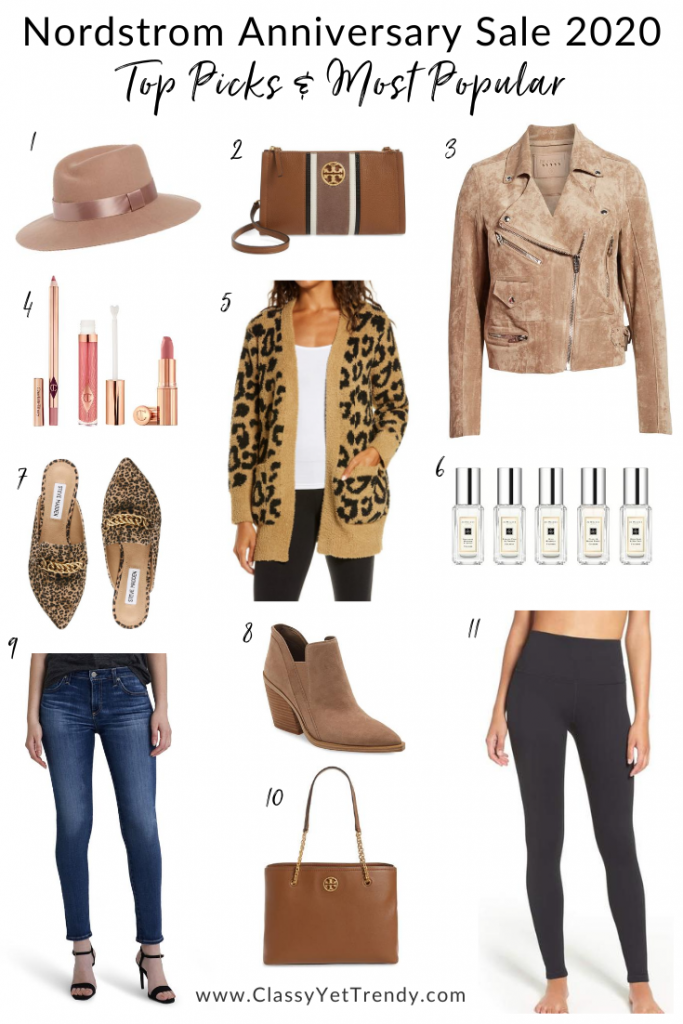 Shop The Post:
1. Satin Trim Wool Hat
2. Carson Stripe Crossbody Bag
3. BlankNYC Suede Jacket in "brick wall"
4. Pillow Talk Lip Set
5. CozyChic Leopard Cardigan (comes in 3 colors)
6. Jo Malone Cologne Collection
7. Forever Chain Leopard Mules (comes in other patterns and colors)
8. Gradina Block Heel Bootie (comes in several colors)
9. The Legging Ankle Skinny Jeans
10. Carson Leather Tote (comes in brown or black)
11. Zella Live In Leggings
You may also like:
How To Start A Capsule Wardrobe: A 5-Step Visual Guide
Capsule Wardrobe 101: What Is A Capsule Wardrobe?
How To Clean Out Your Closet
10 Ways To Wear A Denim Jacket
Popular Predictions*
Similar items to these in the sale have either sold out or have had limited sizes in prior sales. These items are the ones to have in your closet! Several are good staples you will wear a lot and others are trending items for the upcoming season. YOU DON'T WANT TO MISS OUT ON THESE! Tory Burch bags are always popular and there are special editions made just for the Nordstrom Anniversary Sale! My favorites of the sale are the Carson Convertible Crossbody Bag (comes in brown or black) and the Carson Stripe Crossbody Bag. Wool hats were trending last Fall and they are expected to be this year too. This Wesley Wool Fedora and this Satin Trim Wool Hat are both gorgeous hats that are both likely to sell out.
These Live In High Waist Leggings and these High Waist Pocket 7/8 Leggings (I have these and LOVE them!) are popular staples in prior sales. This Faux Suede Moto Jacket is a gorgeous color and will likely be a best seller as well as this Quilted Panel Faux Suede Moto Jacket in the "buff" color. This CozyChic Leopard Cardigan (available in 3 color patterns) is a trending pattern in this cardigan and will likely be a top seller. You can count on AG jeans being the most popular selling jean brand of the sale and this AG Legging Ankle Super Skinny Jeans is likely to go quick. I have seen Halogen cardigans sell out quickly, like this year's Halogen Open Cardigan (my fav is the Rust Sequoia color). Nordstrom's cashmere sweaters are popular items and there are huge savings when buying them in the sale, like this Halogen Crewneck Cashmere Sweater and this Nordstrom Signature V-Neck Cashmere Sweater.
My Picks By Category
My favorites include all the Popular Predictions above plus these items shown by category…
Shoes
Vince Camuto boots and booties tend to be popular in the Anniversary Sale and sell out the fastest. I'm excited to see one of my favorite shoes, The Feather-L Leopard Loafers are included in the sale! They are so comfy and I wore them A LOT this past Fall. The Arendara Bootie (low heel) and Gradina Bootie (block heel) are both gorgeous shoes that will most likely be popular. This Leopard Pattern bootie is another gorgeous shoe with a beautiful pattern (I may have to buy these!). I LOVE these feminine looking Corlea Lace-Up Booties that zips up on the side!
Cardigans & Sweaters
Barefoot Dreams cardigans are always popular during the Anniversary Sale and this CozyChic Leopard Cardigan (available in 3 color patterns) is gorgeous and you can wear this one while you are working from home! My favorite cardigan is the Halogen Open Cardigan (I loved the burgundy one from last year's sale) and I also favor this Shawl Collar Open Cardigan in the "red baroque" and "heather oatmeal" colors and this J Crew Long Cardigan in the "heather khaki" and "heather grey" colors. I love the stitching on this BP. Open Stitch Cardigan in the beige, grey and olive colors. This Side Snap Tunic Sweater will be perfect to wear with leggings, pants or jeans and Caslon Cowlneck Turtleneck Sweater looks so cozy!
Activewear
If you are working from home or need athleisure pieces to wear while at home or if you go out, there are several favorites in the sale. This Zella Amazing Crewneck Sweatshirt looks amazingly comfy and comes in a few colors to choose from! This Wubby Fleece Pullover will keep you warm on chilly Fall days and nights. And, I love these Live In Jogger Pants and Soft Pocket Jogger Pants!
Tops
Striped tees always sell out during the Anniversary Sale and this Caslon Long Sleeve Stripe Tee and this Halogen Striped Modal Tee will both be in the sale. I'm loving this Leopard Rounded V-Neck Tee and have this on my Wish List! I also have this High Cuff Henley Top in the "white" color in my Wish List too!
Bottoms
I'm excited to try on these Wit & Wisdom Ab-Solution Ankle Straight Leg Jeans and these Ab-Solution Gray Ankle Skinny Jeans. I'm also loving the "Agave" color of these 7 For All Mankind Ankle Skinny Jeans and will most likely order these too! The Spanx Faux Leather Leggings (here for Petite) are included in the sale! I recommend sizing up as they run small.
Jackets & Coats
I found a few jackets and coats that are gorgeous and you will love! My favorites are the BlankNYC Suede Jacket in "brick wall" and the Kut From The Kloth Quilted Panel Faux Suede Jacket in "buff". I love the style of this Caslon Utility Jacket and have the "olive sarma" color in my Wish List. How darling is this Leopard Bomber Sweater Jacket?! And, this Double Face Wool Coat is such a beautifully styled coat.
Loungwear & Lingerie
I love wearing Zella socks and this 3-Pack Low Training Socks includes all neutral colors. These BP. Jogger Pants come in several colors to choose from and will be comfy to wear while working at home or relaxing on the weekends. I have these UGG Fluffette Slippers in the "goat" color in my Wish List!
Bags & Wallets
In addition to the Tory Burch bags mentioned above, there are several gorgeous bags included in the Anniversary Sale! I have the Madewell Transport Tote and Crossbody and LOVE them, and I recommend this new Striped Transport Tote and Striped Crossbody bag. And, this Leopard Print Suede Tote would be great for carrying your laptop and and other things to work!
Accessories
If you are needing accessories like jewelry, watches, sunglasses and hats, there are lots of good stuff in the sale! My favorite hats that I have in my Wish List that I mentioned above are the Wesley Wool Fedora and this Satin Trim Wool Hat. This Brixton Joanna Straw Hat is included in the sale and you can wear it now. This Flower Etched Layered Necklace is so pretty and I love this Tory Burch Classic-T Bracelet Watch!
Beauty
Several of my favorite items I have bought in previous sales are included again! I highly recommend these products I use everyday: T3 Ionic Hair Dryer, T3 Tourmaline Curling Iron, Kiehl's Creme de Corps lotion, Pillow Talk Lip Set, Sugar Lip Balm Set, Jo Malone Cologne Collection (includes the Nectarine Blossom & Honey scent I wear everyday).
Home
There are a few items in the sale that I have and LOVE! The popular Barefoot Dreams Cozy Chic In The Wild Throw Blanket is included (I have the "stone/cream" color and it is SO SOFT; I even use it as a background sometimes in my flatlays on Instagram!), Astro Aromatherapy Diffuser and 3-Pack Essential Oils. If you have a dog you NEED to buy this Barefoot Dreams Leopard Print Dog Sweater for them; it is the same softness of the blanket and your dog will love it!
Look for more coverage of the Nordstrom Anniversary Sale here on the blog!
"I have told you these things, so that in me you may have peace. In this world you will have trouble. But take heart! I have overcome the world."- John 16:33
*Popular Predictions are my opinion only (based on similar items from previous anniversary sales) and do not necessarily mean these items will be popular, be sold out or will have limited sizes.