Simplified Style® The Athleisure Collection Preview
The capsule wardrobe many women have requested is here…Simplified Style®: The Athleisure Collection. Just like Simplified Style®: The Dressy and Casual Collection, the athleisure collection is a complete year-round core closet essentials capsule wardrobe, but an athleisure-style. It is now available in the Capsule Wardrobe eBook Store.
The Simplified Style® concept is one of simplicity and makes getting dressed easy! The series is a complete wardrobe of all the core essentials for your closet which can be worn year-round. Once you have the pieces, you never have to shop again. This type of wardrobe is perfect for those living a sustainable lifestyle or for those that prefer to wear neutral colors. You can use the capsule as it is or add clothes and shoes in accent colors to expand the wardrobe!
I had received many requests from women for an athleisure wardrobe that could be worn year round. They needed a complete wardrobe of athletic-style pieces in neutral colors that would never go out of style. I decided to use the Simplified Style® concept and create a wardrobe just for athleisure style enthusiasts.
Simplified Style® includes 42 clothes and shoes in athleisure styles which make 400+ outfits! This collection is perfect to wear as your everyday wardrobe, while working at home, taking the kids to school, to sport events, out running errands and on the weekends!
Simplified Style® The Athleisure Collection is…
A Complete Year-Round Wardrobe – It has all the core athleisure essentials you will need for a complete wardrobe that be worn year round.

A Core Wardrobe

– Since all the pieces in this wardrobe are neutral colors which never go out of style, you can use this wardrobe along additional pieces either from your closet to create a mixable wardrobe customized for you. You can add clothes and shoes in your preferred accent colors to expand the wardrobe creating even more outfits!
Simplified Style® The Athleisure Collection can be viewed on any computer or device. It is recommended that when you download the eBook, that you save it to your computer, device or online storage account for easy, convenient access. You can even print the eBook for quick reference. Place it by your closet and use the outfit calendar to know which outfit to wear everyday!
You can fit the entire capsule wardrobe collection on a wardrobe rack…
exact wardrobe rack / Chanel: Collections and Creations book / Louis Vuitton book
marble top gold round endtable (similar) / more Target marble top tables
wood hangers (similar)
Here are a couple of outfits using pieces from the collection. First, here an outfit from the eBook from the Fall season…
Fall Season
Outfit #12
Here is a flatlay of the clothes and shoes in the outfit (I subbed gray leggings for the black leggings)…
Outfit Details:
striped long sleeve tee (exact)
gray leggings (exact) LOVE these, my favorite leggings brand!
Shop all Zella leggings
denim jacket (exact)
white leather sneakers (exact)

Let's look at another outfit in the eBook in the Winter season section…
Winter Season
Outfit #106
Here is how I created the outfit. I already had this half-zip gray pullover in my closet, so I included that one. I didn't have gray sneakers, so I subbed my black sneakers for the gray sneakers in the outfit.
I always encourage everyone who uses the capsule wardrobes, if you have similar pieces in your closet, you those instead of buying another piece, so "Shop Your Closet" first.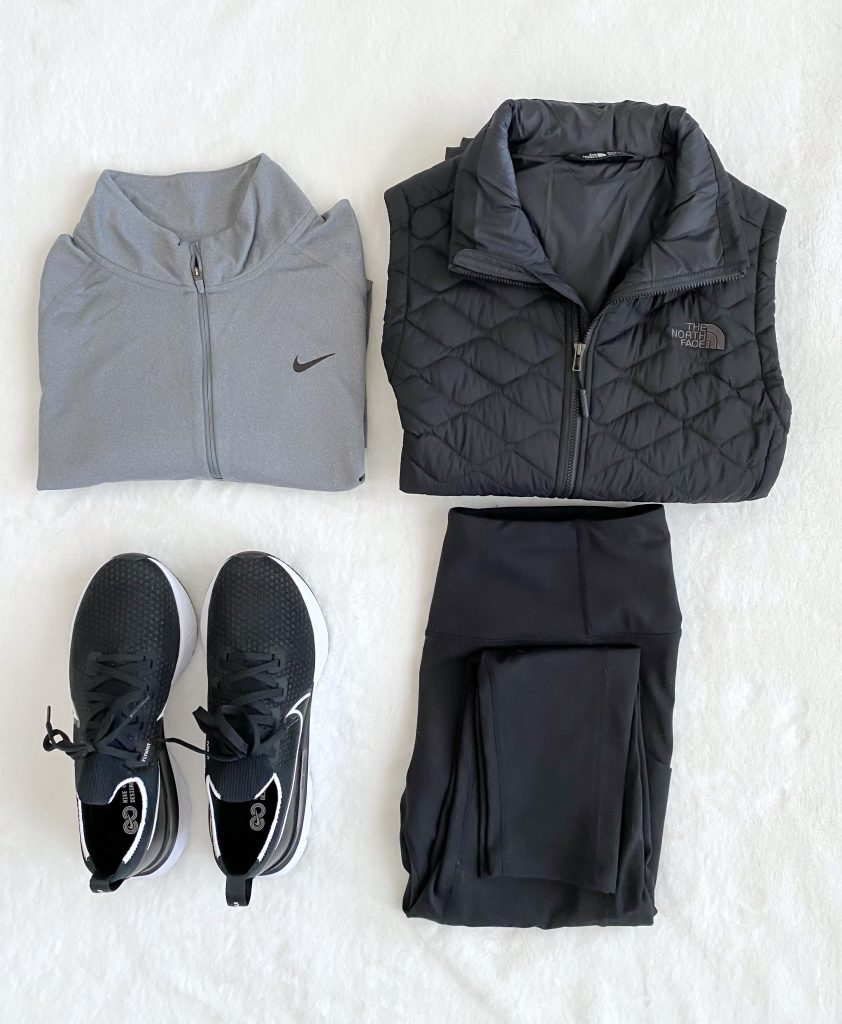 Outfit Details:
half-zip gray pullover (exact)
black leggings (exact)
black quilted vest (similar)
black sneakers (exact)