How to Style 4 Budget-Buy Spring & Summer Dresses
When warm weather is here, dresses are a favorite to wear! Since a dress is one piece, all you have to do is throw it on, add a pair of shoes and accessories and you're dressed, easy peasy! If you're like me, you want to have a few dresses in your closet to wear out and on vacation, but dresses can get rather expensive.
My favorite places to shop for budget-buy dresses are Old Navy, Target, Amazon, Kohls, Wal-Mart, Banana Republic Factory and J. Crew Factory.
I found four dresses for spring and summer at Old Navy that I just have to share with ya'll! I styled them in outfits, complete with shoes and accessories. Be sure to see the Cami Midi Striped Dress I styled as a pool/beach coverup below! Which dress is your favorite?
Dress #1
This Blue Striped Midi Dress is gorgeous and looks very Madewell-ish! It is a rayon/cotton/linen blend and has a button front with a tiered bottom, ladder-lace raglan seams, puff sleeves and a tie waist belt. I styled this dress with these Lace Up Strap Sandals, which are also at Old Navy. The White Pearl and Gold Necklace and White Pearl Hoop Earrings are in the New Summer Collection at Kendra Scott. The outfit is completed with the Straw Hobo Bag. This would be a great outfit to take with you on vacation to wear sightseeing or to dinner.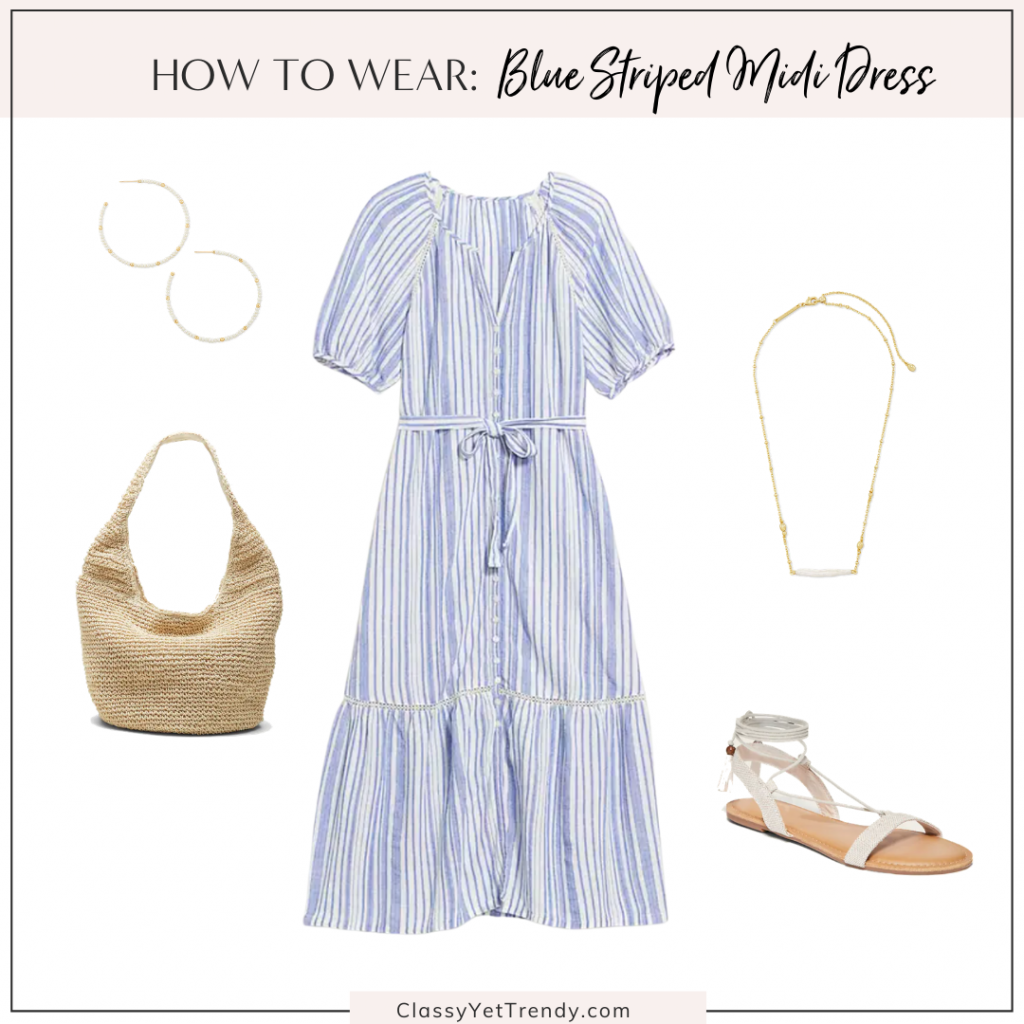 Shop Dress Outfit #1: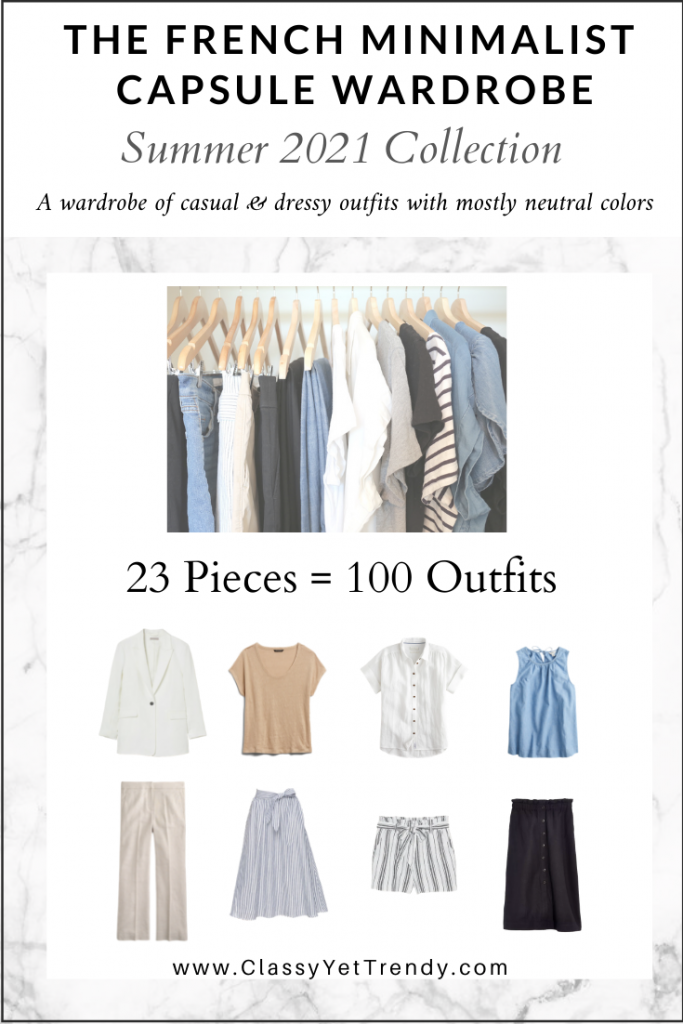 Dress #2
Tiered dresses are on trend for the Spring and Summer seasons! This Tiered Sleeveless Midi Dress comes in three colors: Linden (the green color shown below), Guava Nectar (coral), Panther (a faded black) and Copper Moon (spice color). I found this Floral Print Chiffon Kimono that coordinates beautifully with the dress! I also found these Gold Twist Hoop Earrings and this Gold Bracelets Set, both budget-buys at Amazon. The outfit is completed with these neutral Espadrille Wedge Shoes and Kate Spade crossbody bag.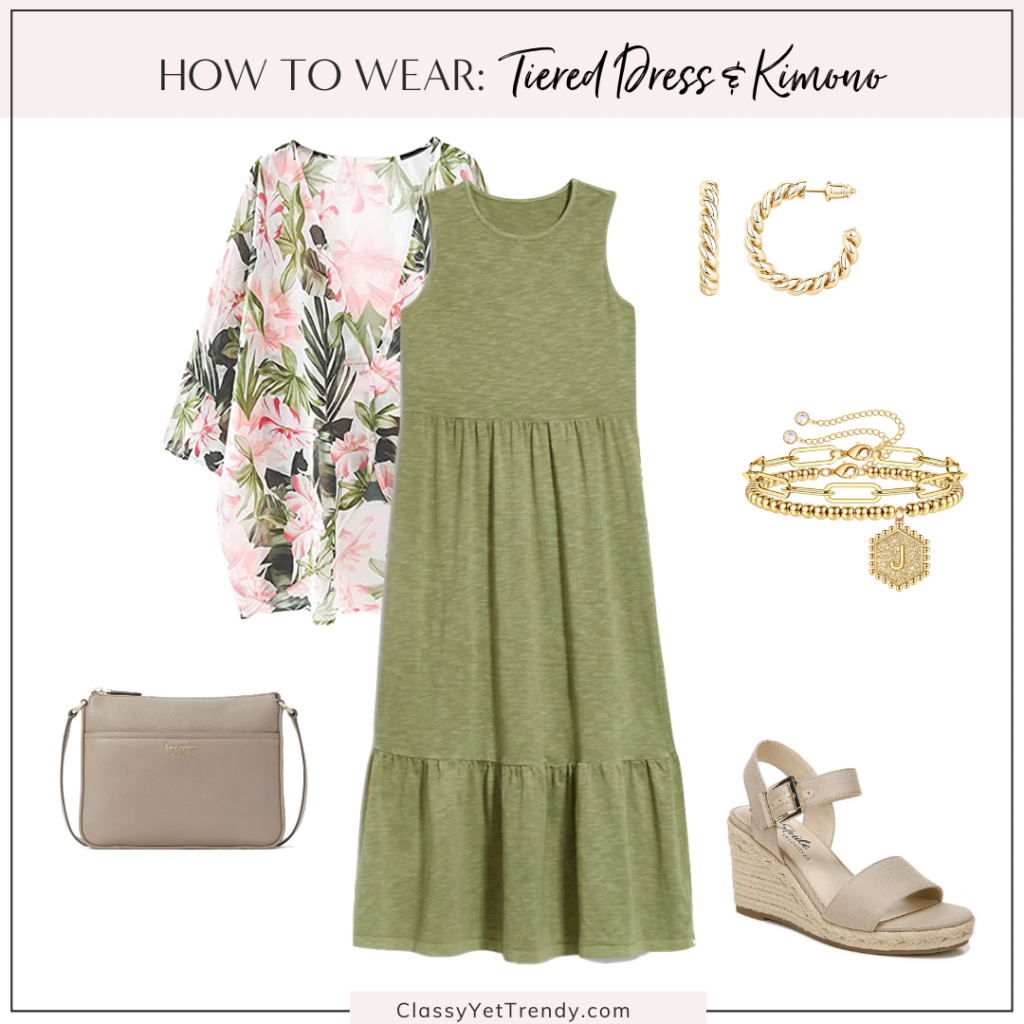 Shop Dress Outfit #2:

Dress #3
The spice color "Butterscotch" of this Ruffle Midi Wrap Dress is gorgeous and the style of the dress is so feminine! The ruffles are on the inside seams and around the bottom of the dress and comes with a tie waist belt. There is clip-dot stitching on the dress, providing texture to the fabric. Simple, yet elegant gold jewelry is added, with these Droplet Hoop Earrings and this Figaro Chain Necklace. These Honey Slide Sandals, which have a block heel and minimal straps, along with this Fringe Straw Bag complete the look.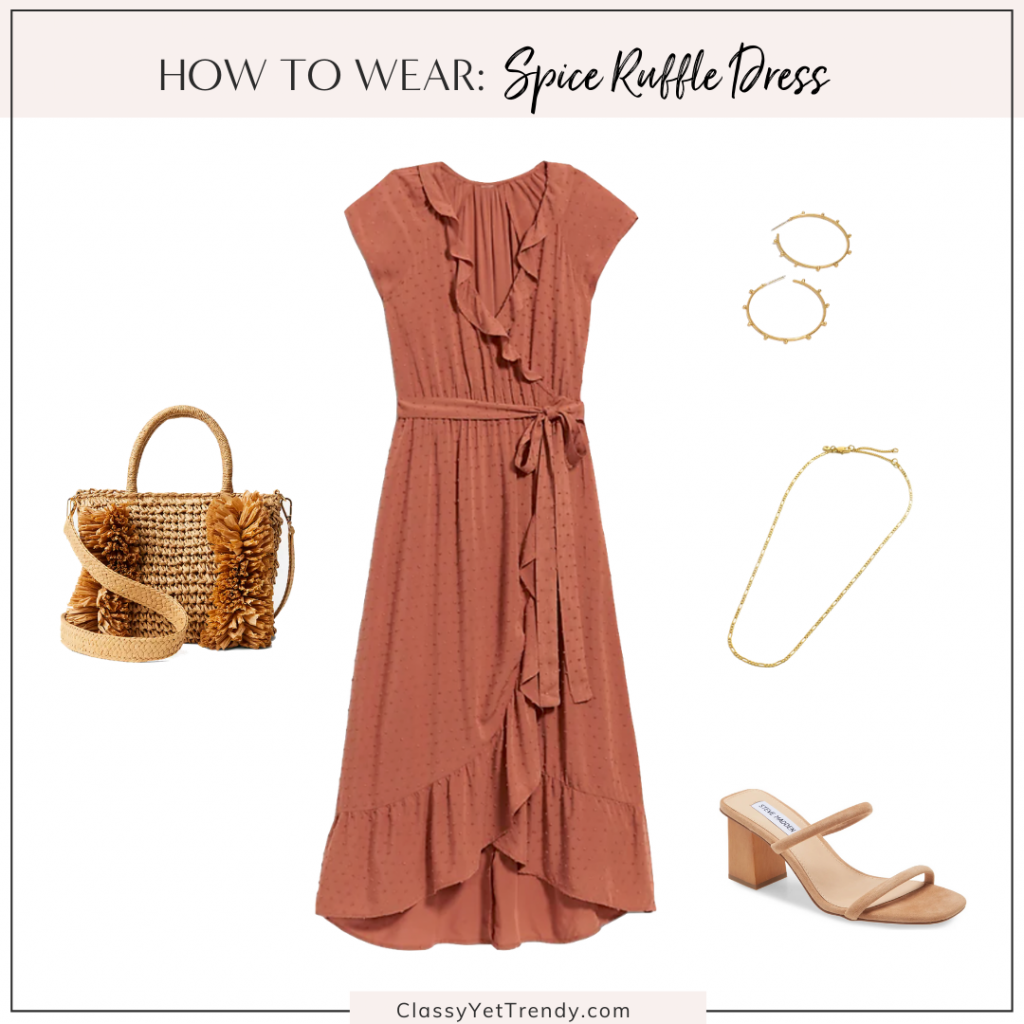 Shop Dress Outfit #3:

Dress #4
As a capsule wardrobe enthusiast, I love styling clothes multiple ways! You maximize your closet by styling clothes and shoes in multiple ways giving you so many outfits. When I saw this Cami Midi Striped Dress, I immediately knew you could wear this to the pool or the beach as a coverup! This Ruffle French Bikini Top and High Waisted Bikini Bottom are bottom budget buys, as well as these Padded Slide Sandals, Summer Straw Hat (perfect for the pool or beach) and this Straw Tote to carry all your things to the pool or beach.
Other Ways To Wear This Dress: This Cami Midi Striped Dress would also look great with: 1) this denim jacket and these espadrille flats to go out to lunch, 2) this linen blazer and these slide sandal heels to wear to work and 3) with this short sleeve cardigan (unbuttoned as a layer) and these strap sandal heels to go out to dinner.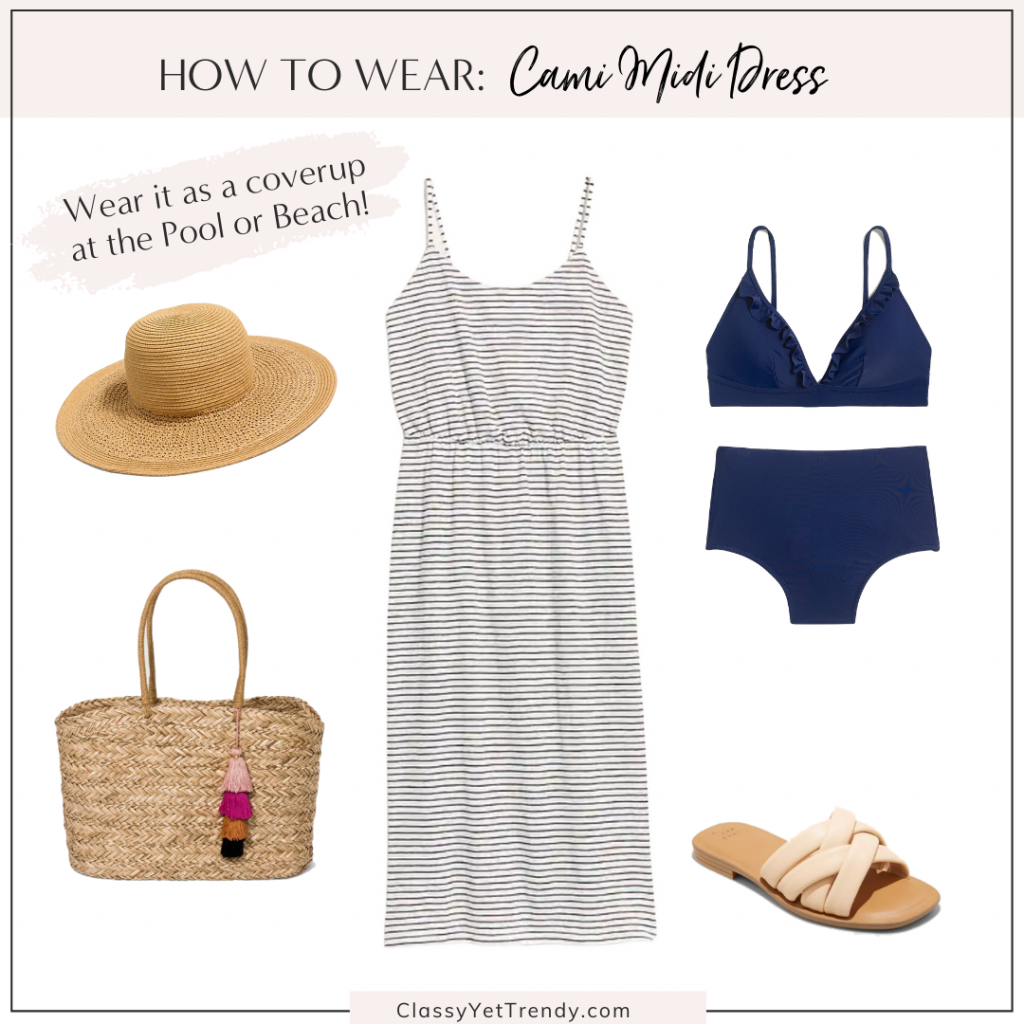 Shop Dress Outfit #4:

I hope you enjoyed the post and this gave you some outfit ideas for Spring and Summer dresses! Which outfit is your favorite?
A Bit Of Inspiration For Your Day:
"Love the Lord your God with all your heart and with all your soul and with all your strength." – Deuteronomy 6:5