How To Shop Online For Clothes: 8 Best Tips To Actually Love What You Buy
Shopping online is a convenient way to buy clothes and is becoming more common now. But, not knowing how the clothes look in person and how they will fit you may lead to returning them. In turn, you may waste your time or money on clothes that that you don't like.
I have received several questions about shopping online, from choosing the right fit and size to knowing if you will actually like the style you receive. So, I thought I would put together a guide to help you navigate the process of shopping online to love what you buy and avoid returns.
How Shopping Has Changed Over The Years
Before the internet, to shop for clothes, you would visit your local mall or boutique. Stores would have lots of clothes and shoes to choose from, basically overwhelming the shopper with options. We would often go shopping for a whole day and literally "shop 'til you drop". Amazon was one of the first online retailers who revolutionized the way we shop. So, now the majority of all retailers and boutiques are online, making it easy to click and buy and have your clothes shipped directly to your door, without ever leaving home! We can shop online and find exactly what we are looking for in the color and style that we want, avoiding excessive buying for things you don't need, thus saving us both time and money!
The internet has put the power of shopping into the hands of the customer. When you shop in a store, sometimes a sales person tries to push additional incentives to you, like applying for their credit card to receive a discount off your purchase, offering to receive a discount but only if you use their store coupons or other incentives, when all you want to do is checkout and be done with your purchase. When shop online, chances are retailers offer a discount code to save money on your purchase. When you shop in the store, you may or may not receive a discount and stores have to rely on signage to let the customer know if there is a sale. To make shopping in store fun again, retailers need to look at how they do business and change the shopping experience for the customer. Covid has also changed the way we shop. Many of us are shopping online to avoid shopping in the stores.
How Shopping Online Changes Your Spending Mindset
I myself shop about 95% of the time online. When I used to shop mostly in the stores, I would buy what I liked in the store and didn't think how I would wear it. Now, I shop with purpose, only buying what fits into my wardrobe. Shopping online has also changed my mindset to how I shop for everything in my life, thus saving me time and money!
When you shop online, you avoid the store crowds, avoid the mindless wandering throughout the store trying to find what you are looking for and almost always save money by using retailers online discounts and you can see if they are having a sale. You can look at what is in your shopping cart at any time, keeping up with your total order cost. This is handy when you are on a budget and have a set spending limit!
Because I shop mostly online, I have learned several tips and tricks to buy what I love to wear and am sharing everything with you all in this post!
1. Know Your Personal Style
When you know what styles you like and which ones you don't like, it makes it easier to shop online. Also, when you use a capsule wardrobe in your closet, you know which styles you like to wear the most. To discover your personal style, see the blog post, "How To Find Your Personal Style."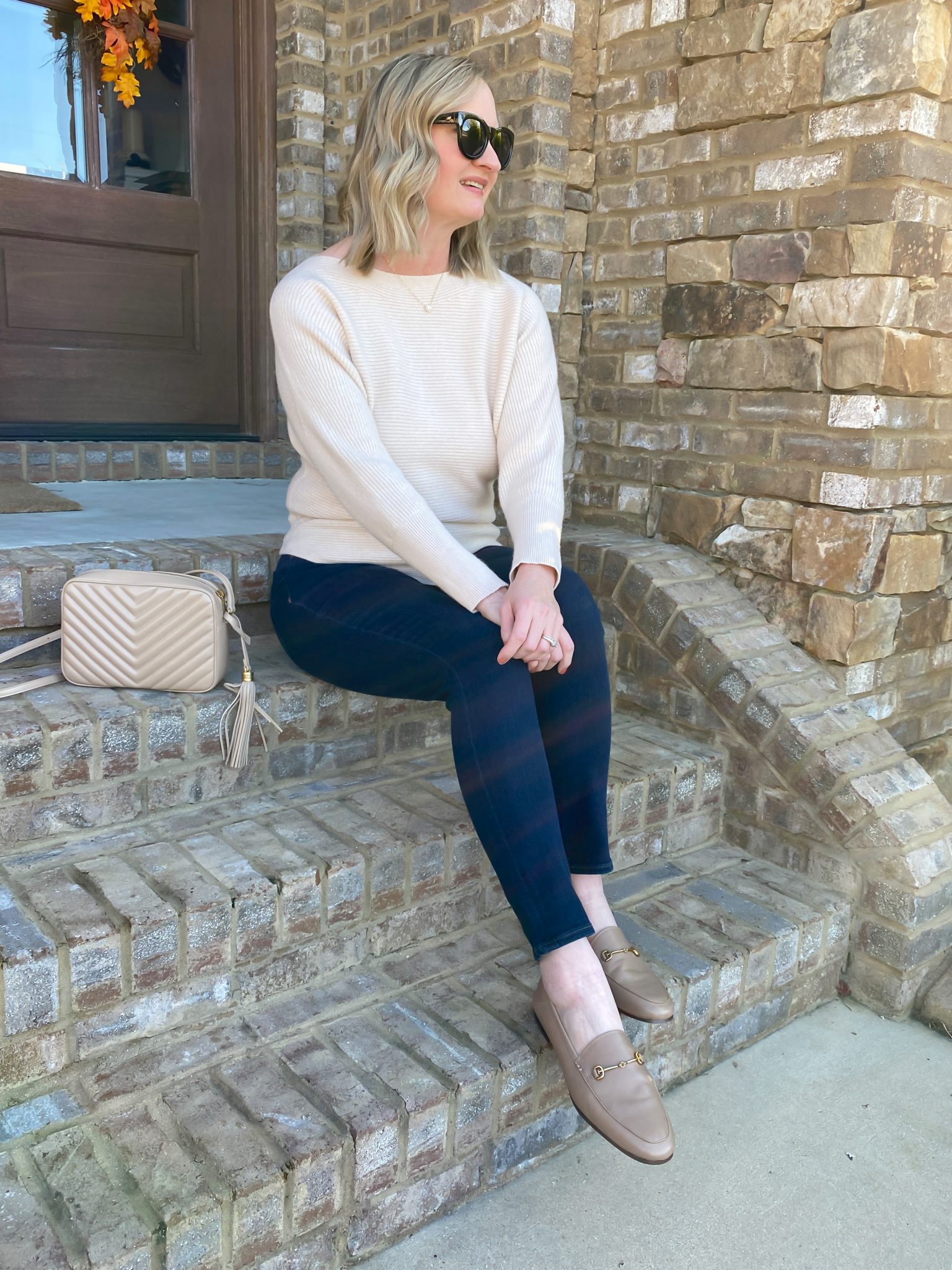 When you are figuring out your personal style, it does help to visit a retailer store and try on a few styles you like and feel comfortable wearing. Retailers most often will have full-length mirrors in their dressing rooms and in the store, so you can see how an item fits your body shape. So, if you do this in the store without buying anything, you will know what styles to buy online. But, if you do find anything in the stores that looks beautiful on you, you may want to grab it and bring it home with you!
2. Know Your Body Measurements
By knowing your body measurements, it makes it easy to know what size to buy. Size charts vary by retailer since they determine their own sizing, so you may wear a size Medium at one retailer and a size Large at another retailer. But you can best determine what size to order based on the retailer's size chart.
Take the following body measurements with a fabric measuring tape and either write them down or keep them in a notes app on your phone for easy access.
Bust
Waist
Hips
Shoulders
Back Length
See the "How To Take Body Measurements" video below from Joann Fabric and Craft Stores for an easy tutorial on taking your Bust, Waist, Hips, Shoulders and Back Length measurements.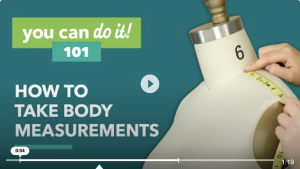 img/video credit: Joann Fabric and Craft Stores
Want to find your perfect fit in jeans? You will need to also take these measurements:
Nordstrom's "How To Measure Jeans" video shows you how to easily take these measurements. Nordstrom also has a Women's Jeans Fit Guide with tutorials and videos!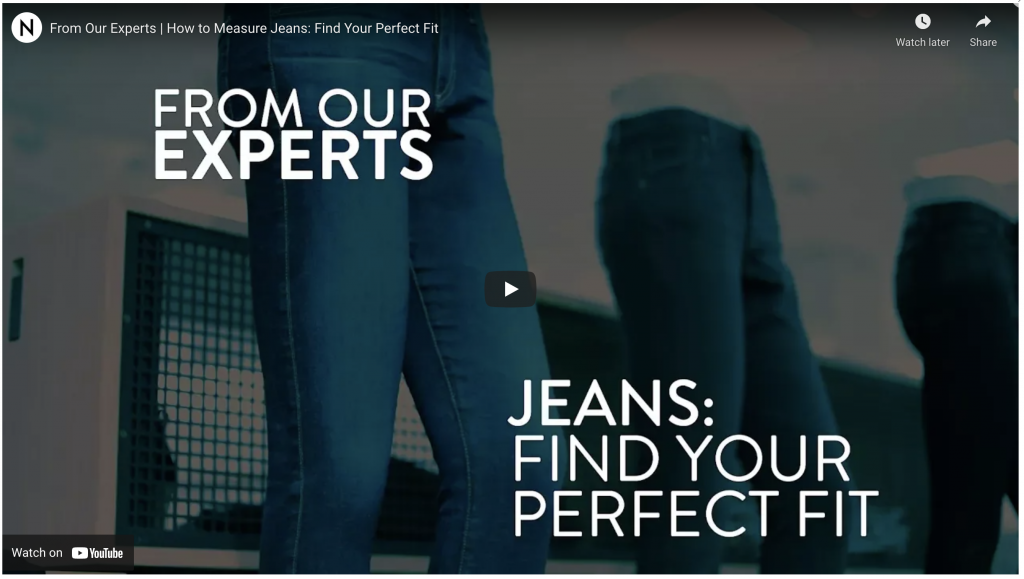 3. Check The Retailer Size Guide
This step is important in knowing what size to order. Sizes vary between retailers, so matching your body measurements to their size charts will ensure you order the correct size. If you have shopped at the retailer before, chances are you know what size you wear and can order your usual size. But, if you have never shopped at the retailer or if it is a style and fit you have never worn, I recommend ordering two sizes and returning the one that does not fit.
Retailers will have links to their size charts on the product page itself or at the bottom or top of their website. If you cannot find their size chart, reach out to their customer service and ask for one.
Here is a snapshot of J. Crew's Size Chart, for example, showing the Bust and Waist measurements and how they line up with their sizing…
J. Crew's Size Chart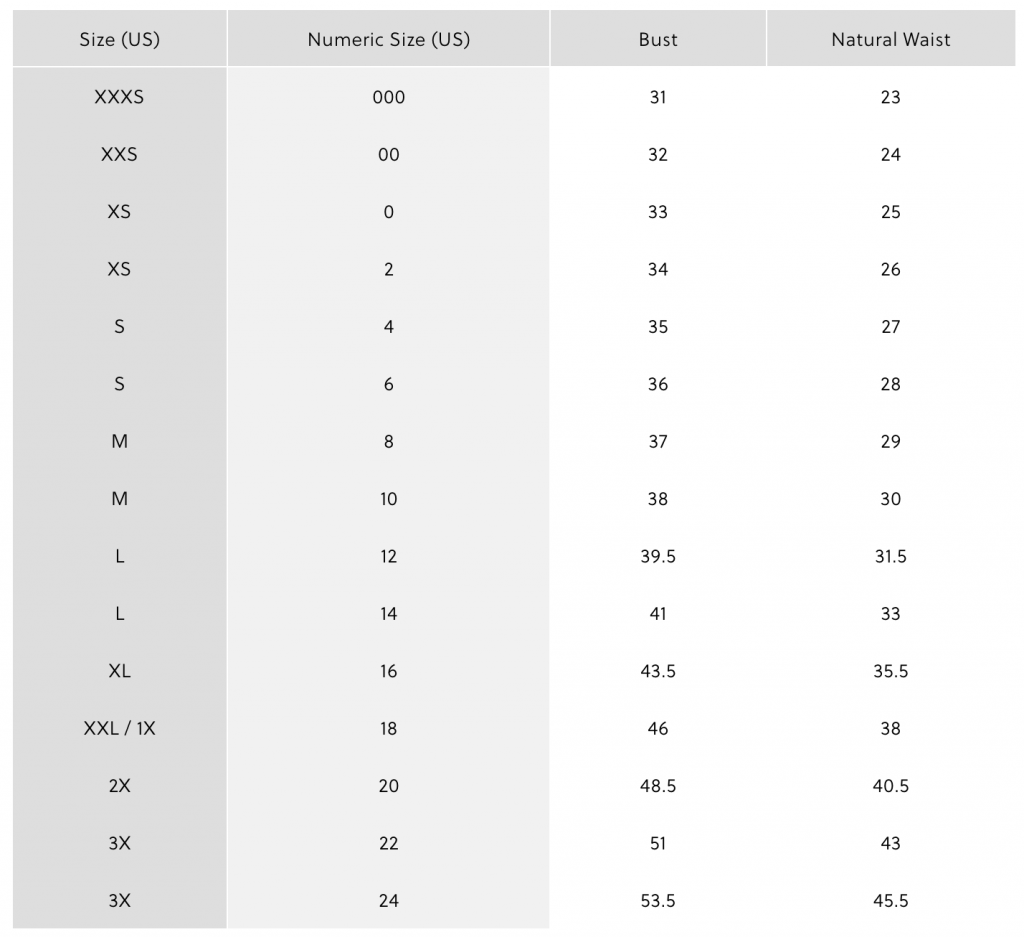 4. Buy Two Sizes and Return One
As I mentioned above, if you are unsure which size to order, order two sizes, then return the one that does not fit. If the online retailer offers free shipping and free returns, you won't pay anything extra for this service! Even if the retailer charges a small return fee, it is worth the convenience of returning items that don't fit.
Getting your correct size at Nordstrom online is even easier as they include a size fit note on mostly all of their items, where they indicate if an item fits "true to size", "runs small" or "runs large", based on the various brands product pages. I love this feature and helps tremendously when shopping online at Nordstrom!
If you have a full-length mirror, it helps to try on both items in different sizes then stand in front of the mirror to see how they look on you. Also, style the item in a few different outfits to see how well it fits into your wardrobe. You can take a mirror photo with you phone or camera to refer to later if you forget how they fit.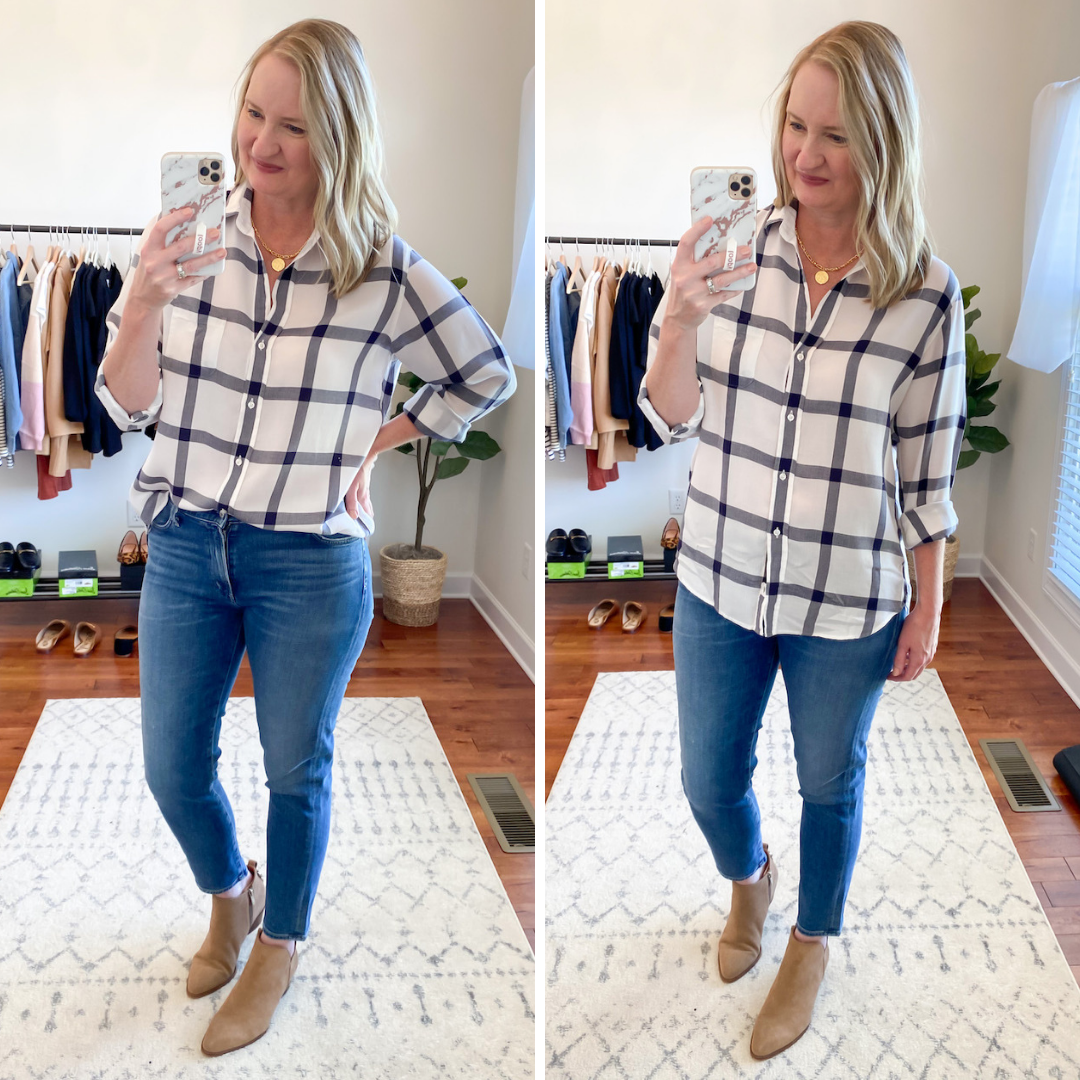 You may also like these posts on Classy Yet Trendy:
How To Start A Capsule Wardrobe: A 5-Step Visual Guide

How to Build A Travel Capsule Wardrobe
5. Shipping and Returns
Before you order from a retailer online, check their shipping rates and return policy. Some retailers, like Nordstrom and Shopbop offer free shipping and free returns, while several other retailers will charge you for shipping and/or returns. So, even though you saving money with their online discounts, it will cost you extra for shipping and/or returns. On a positive note, when you figure taking your time to drive to the retailer, along with the cost of gas to get there, especially if the retailer is an hour or two away from where you live, it may be worth it to pay a nominal fee for shipping.
Be sure to check the return policy and make sure the online store accepts returns. You don't want to order an item in two sizes and want to return the item that doesn't fit, only to find out the item is noted as "final sale" or "no returns accepted." If an item is labeled as "final sale", usually noted on the product page, that means that most likely the retailer is getting ready to stop selling the item. Another retailer note to check is the number of days they will accept returns. Big retailers usually have a 30-day window for you to return an item, but some online stores may only have a 7-10 day return window, from the date your order was shipped or from the date the order was delivered, so check with the retailer first.
6. Read The Customer Reviews
Before I buy an item, I always read several customer reviews before I purchase, even from large retailers. This is very helpful since other people have bought the item and are letting others know how well they like it, how it fits and if it is worth buying it. Sometimes, a review may be from a person who just didn't like the item for them and they may write a negative review, which isn't negative about the item itself, just that they didn't like it. What you want to pay attention to on the reviews is how well does the fabric hold up when it is washed, does the fabric shrink in the dryer, did the color fade after washing it, if the fabric is itchy, if shoes are uncomfortable, etc.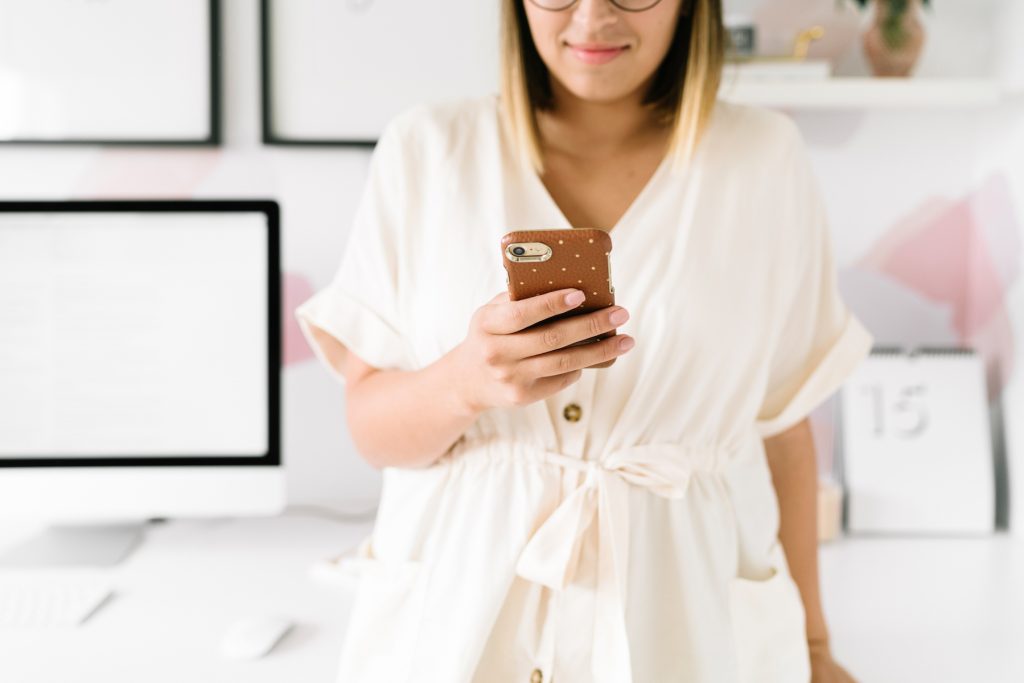 7. Consider The Fabrics
Consider the fabrics and materials in your clothes and shoes when shopping online. Since you cannot see or feel the fabrics, you have to rely on the retailer to note the fabric and its percentage amount in the item's description. If you see a top and it is wool or a wool-blend, but you live in a warm climate where you have mild winters, you may want to avoid purchasing that top. If you prefer to dry your clothes on a low setting in the dryer (I personally wash all my clothes in cold water, then hang them to dry to preserve the fibers in the material), you want to look for clothes with fabrics that won't shrink in the dryer, like cotton/polyester blends. If you prefer sustainable fabrics, which are made with a low footprint on the environment, like recycled cotton, organic linen, tencel, etc., look for those in the description as well.
8. Reliable Retailers vs. Retailers To Avoid
When you shop online and pay your money to a retailer, you want to receive a quality product, reasonable shipping item and security with your method of payment. Well-known retailers, like Nordstrom, Madewell and J. Crew, for example, make the online shopping experience enjoyable and are reliable in their shipping and order accuracy.
There are some online shopping sites where you need to be aware of excessively long shipping times (several weeks) and reviews from customers who have received lesser quality items that shown on the product page. Be careful when ordering from them! Sometimes, if an item is priced cheap, it may be cheaply made, which won't fit correctly and the fabric may not hold up to washing. Always check the estimated shipping time and read the customer reviews to make sure an item is worth buying. If you are buying from an online store, make sure they have a customer service number and physical address; if they don't, you may want to avoid buying from them.
Recommended Online Retailers
Here are several clothes and shoes stores I enjoy shopping online and have had a great experience with…
Abercrombie
ABLE 
Ann Taylor
Anthropologie 
Athleta 
Banana Republic 
Bloomingdale's 
DSW
Evereve 
Express 
Francesca's 
Gap 
Grayson (My favorite shirts!) – use code "LEANNEBLACKMON" at checkout for $25 off your order
H&M
J. Crew 
J. Crew Factory
Jenni Kayne
Kendra Scott
Levi's 
Loft 
Macy's 
Madewell
Mango
Nisolo 
Nordstrom 
Old Navy 
Pink Lily 
Rothy's <- $20 off your first order using this link
Saks Fifth Avenue 
Sam Edelman 
Shopbop
Steve Madden 
Talbots 
Target
Victoria Emerson 
Shop Online For Your Capsule Wardrobe
Shopping online makes it easy to have a capsule wardrobe! When you use a capsule wardrobe in your closet, you wear the clothes you love the most and those clothes can easily mix and match with each other so you will have lots of outfits! When you want to buy clothes and shoes for your capsule wardrobe, you narrow down what you want to buy, then just go online to shop for what you need! If you need a foundation wardrobe, you will love Simplified Style®: The Dressy & Casual Collection – A Year-Round Core Closet Essentials Capsule Wardrobe. In this foundation wardrobe collection, there are 400+ outfit combinations for every season of the year, outfit calendars and more!
CLICK HERE to get your copy today
& build your foundation wardrobe!
Simplified Style®: The Dressy & Casual Collection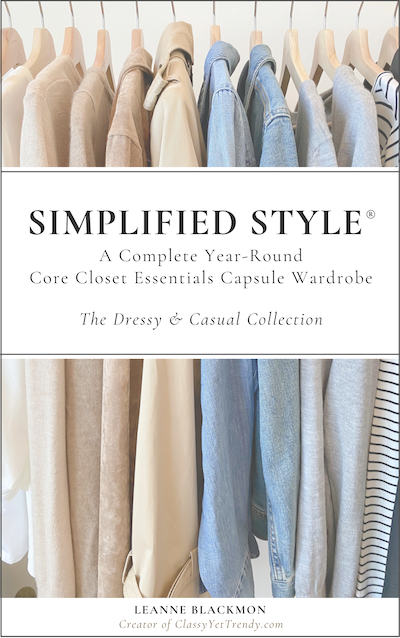 I hope you enjoyed this post! Thank you for visiting the blog!
A Bit Of Inspiration For Your Day:
"Rejoice always, pray continually, give thanks in all circumstances; for this is God's will for you in Christ Jesus." – 1 Thessalonians 5:16-18