What I Wore On Vacation To Key West Florida
Thank you to Nordstrom and rewardStyle (LTK) for sponsoring this post. As always, all opinions are my own.
My hubby and I were planning a vacation to Philadelphia this past week to the National Pool Expo (he's an avid pool player!) and had wanted to visit a few historical sites while we were there. We had packed all our cold weather clothes the night before, but had a change of plans due to some unforeseen circumstances. Instead, we repacked for warm weather and took off to Key West, Florida, somewhere we have always wanted to go! I packed some clothes from my Spring capsule wardrobe, but also packed some shorts, pants and sandals.
Since I packed everything the morning we left for vacation, I didn't have time to plan for a blog post on what I wore. However, I did get my husband to take a couple of outfits photos to share with you all!
When I am packing clothes and shoes for a vacation, I choose mainly neutral color clothes so they can mix and match easily. I also choose comfortable shoes that I can walk in all day or that are comfy while riding in the car. The number of clothes and shoes I pack depends on the number of days we will be on vacation and also depends on the temperatures of where we are going. I don't pack "outfits", but individual tops, bottoms, layers (depends on the temps) and shoes.
Nordstrom is one of my most favorite stores and I look there first when I need anything for my wardrobe! I especially love all the name brands that Nordstrom carries (see their extensive Brands List here), like AG, Madewell, UGG and Tory Burch, just to name a few. They even carry their own Nordstrom-Made Brands, which are unique styles which you can buy only at Nordstrom! I have bought many pieces of their Nordstrom-Made Brands, like Caslon, Halogen, Treasure & Bond and my most-favorite athleisure styles from Zella. Nordstrom also has free shipping and free returns so there is no risk to shop there!
Where We Went On Vacation
Our main destination was Key West, but we visited a few other sites on the trip. We drove from where we live in Northeast Alabama all the way to Key West and back, staying overnight in hotels along our route. We drove through Orlando, south to Key West, then drove back up the west coast, along Sarasota and Clearwater, then headed west to the 30A area in Santa Rosa Beach to eat dinner at Stinky's Fish Camp (they have excellent food), then headed north back home.
Places we visited and things we did on our vacation included: The Hemingway House & Museum, ate Key Lime Pie at Kermit's Key Lime Pie Shoppe (it was delicious!), had our picture taken at the Southernmost Point in the U.S., took an airboat ride and walked the Pahayokee Trail in the Everglades National Park, saw the Ansel Adams and Clyde Butcher exhibits at The James Museum of Western & Wildlife Art, visited the DeSoto National Memorial Park and walked along the beach at sunset in Santa Rosa Beach.
We had a great time on our much-needed vacation and hope to go back to the beach soon!
Here are a couple outfits I wore on our vacation…
Camp Shirt, Linen Shorts & Sneakers
I wore this outfit while sightseeing in Key West. My hubby snapped this photo after we had just eaten at the Conch Republic Seafood Co. and were walking around the harbor. Since the temperature that day was doing to be in the low-80's, I wanted to wear clothes that were cool and fabrics that were breathable, plus comfy shoes for walking. I wore this Caslon linen-blend camp shirt (sizes are limited, but here are three more colors to choose from, plus a striped style in 2 colors), these Karen Kane linen shorts (this year's style) and these casual Veja Campo sneakers. We were outside all day and walked a lot and I enjoyed wearing this outfit! Since the top and shorts are linen, it is natural for them to look a bit wrinkled. I could have styled the shirt with a front tuck, but instead, I left the bottom button unbuttoned and crossed the front tails of the shirt through the last button opening, giving it a front tied look.
For accessories, I carried my Madewell Zip-Top Transport Crossbody Bag and wore these Gold Halo Earrings (which I wear nearly everyday). This Madewell crossbody bag is my favorite to take on trips, since it is lightweight, holds a lot and coordinates well with my outfits. I have had it for years and love it!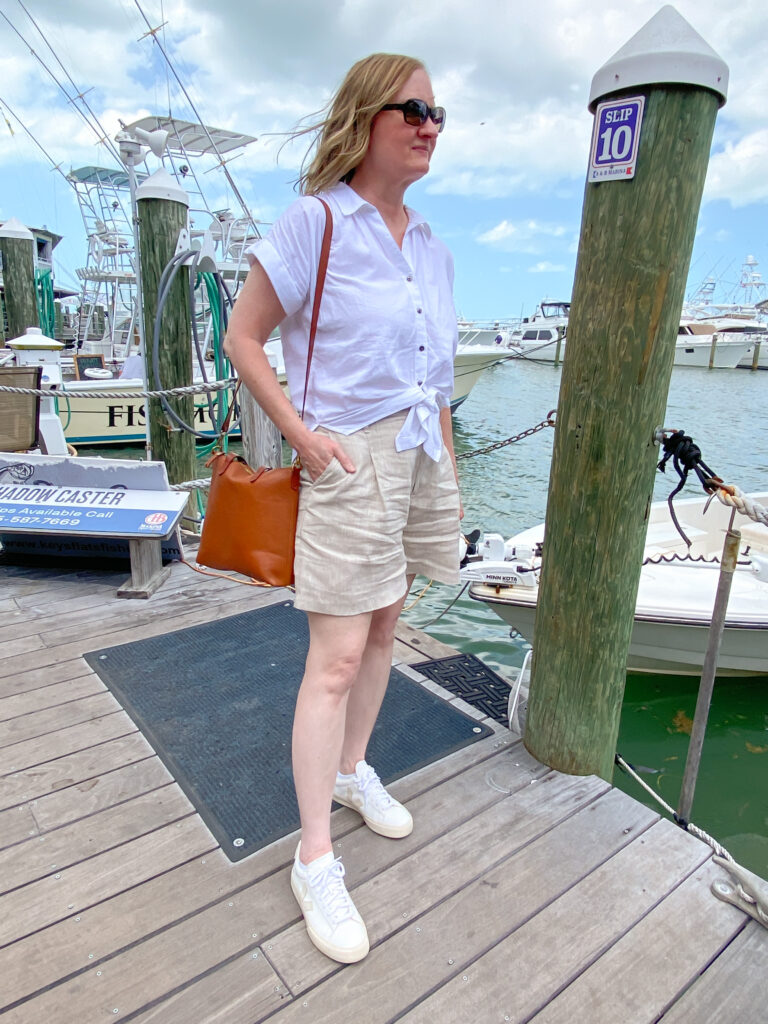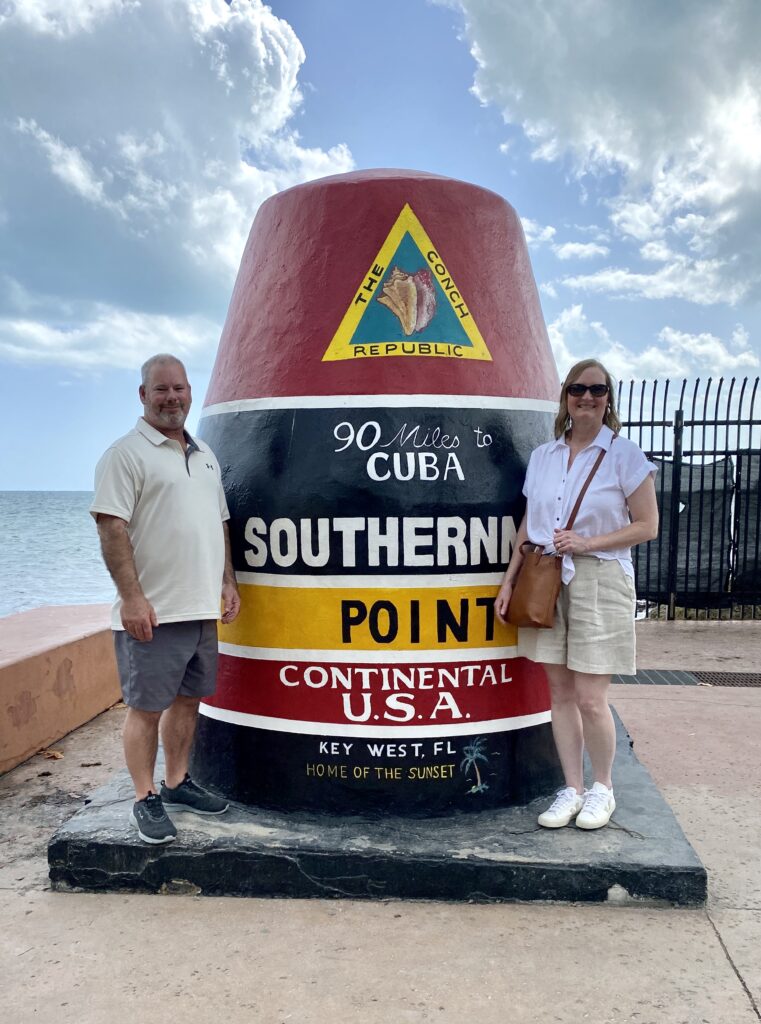 Shop These Short Sleeve Shirts:

Shop These Linen Shorts:

Shop These Casual Sneakers:

Shop These Crossbody Bags:

Striped Tee, Drawstring Pants & Sandals
I wore this outfit the day we drove up the west coast of Florida and stopped at the DeSoto National Memorial Park. It is part of the National Park Service and is the site where Hernando DeSoto made landfall. The site has a visitor center, village reproduction and a sandy walking trail by the shore around the park. It is a beautiful place to visit!
The weather that day was a bit breezy, so I wore pants. I wore my Caslon Navy Striped Tee, Linen Drawstring Pants and these Sam Edelman Bay Slide Sandals in the "saddle" color. The sandals are very comfortable and were great for walking on the sandy path!
For accessories, I carried my Madewell Zip-Top Transport Crossbody Bag and wore these Gold Halo Earrings again.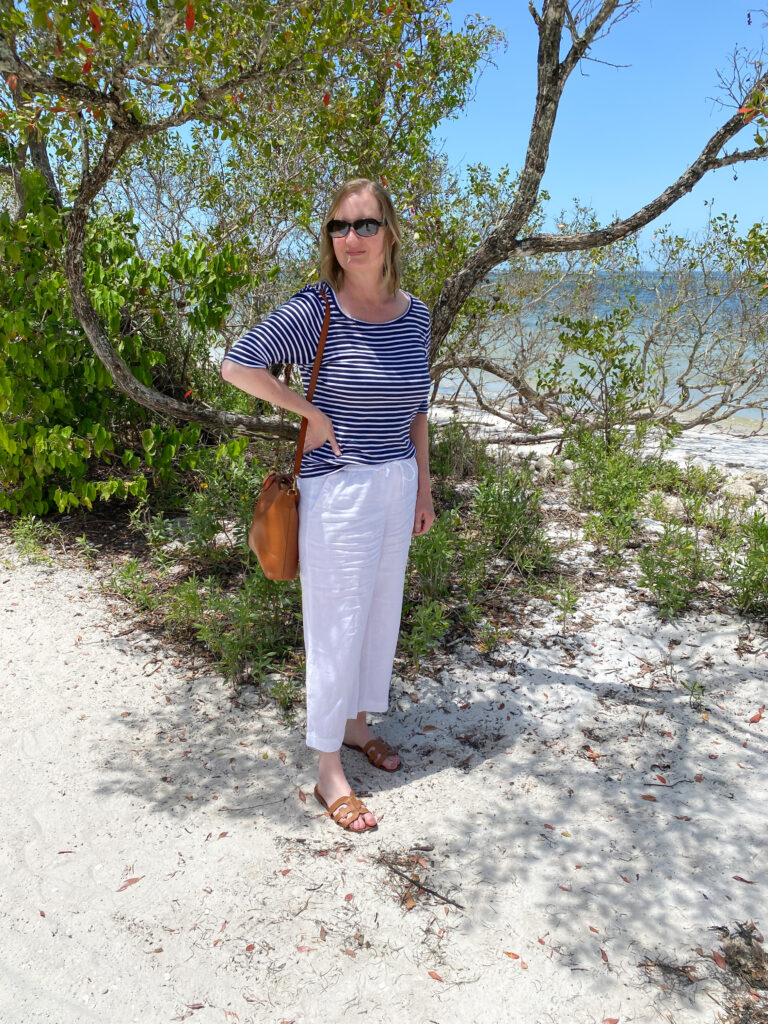 Shop These Striped Tees:

Shop These Drawstring Pants:

Shop These Sandals:

Shop These Crossbody Bags:

I hope you enjoyed this post and thank you for visiting the blog! ❤️