How I Dry and Style My Hair with T3
The T3 Airebrush Duo featured in this post was gifted to me by T3 Micro. As always, my opinions are my own.
A few months ago I changed my hairstyle. My hair was a longer length, which was heavy for my fine texture hair and I it was a bit too blonde for my cool skin tone. I had my hairstylist cut my hair shoulder length and add some light layers throughout. She also darkened my hair color to my natural hair color with just a few highlights. I absolutely LOVE it now and it is SO EASY to style!
I have received several compliments on my new hair style and natural color from my friends and family and from you all too! Thank you!
T3 Micro reached out to me and asked if I wanted to try the NEW T3 Airebrush Duo hair dryer. I have been using T3 styling tools for several years and I couldn't say "yes" quickly enough! I tested out the new hair dryer tool a few times and was so impressed by how quickly my hair was dryed, plus how soft it is when I use it! The T3 Airebrush Duo actually makes it easier to style my hair using my T3 Convertible Base and T3 Undone Waves 1″ Barrel Wand attachment.
Use the code "MOMLOVE" at t3micro.com to receive a free accessory set for Mother's Day at checkout (expires May 8).
I put together a short video on Instagram showing how I dry my hair using the NEW Airebrush Duo hair dryer, then styling my hair using my T3 Convertible Base and T3 Undone Waves 1″ Barrel Wand attachment, plus my hair products.
Step 1 – Towel Dry & Detangle Hair
After you have shampooed and conditioned your hair, towel dry your hair with your bath towel. I use my Yves Durif Vented Hairbrush to detangle my hair. This hairbrush is expensive, but it is WORTH IT! Before I started using this brush, lots of my hair had broke off due to the brush I was using previously. Now my hair is growing back out and is no longer damaged.
After you detangle your hair, use your bath towel again and squeeze the towel against sections of your hair to towel dry your hair more. I found that towel drying my hair as much as I can, it doesn't take as long to dry my hair with the hair dryer.

Step 2 – Apply Styling Balm
After I have towel dried my hair, I apply 2 pumps of the Oribe Balm d'Or Heat Styling Shield. I have been using this styling balm on my hair for about a year now and LOVE it! It is lightweight and provides just enough smoothness and prevents frizziness on my hair.

Step 3 – Dry Hair Using The T3 Airebrush Duo
In the video, I'm using the round brush attachment on the Airebrush Duo. Because I have shoulder length hair, the round brush is my favorite of the two attachments! With my hair being damp, I pulled up a section of my hair, pulling it up behind my ears and clipping it on top of my head with a T3 hair clip (similar to this set). I attached the round brush to the tool, turned on the power and started drying my hair in small sections.
When I had dried the bottom section of my hair, I took out the hair clip and dried the top section of my hair. I used the brush on the hair dryer to comb over my hair to the side, then used the brush attachment to smooth out my hair until all dry.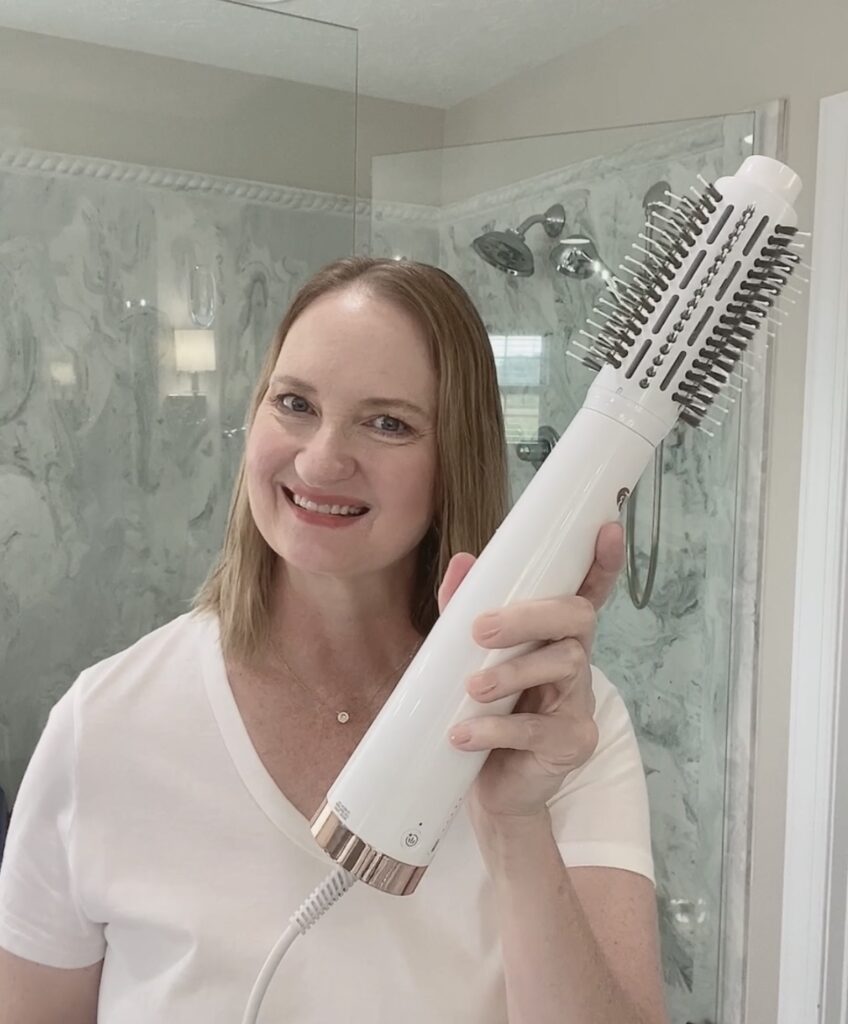 I first sectioned my hair and held it in place with one of my T3 hair clips (similar to this set) …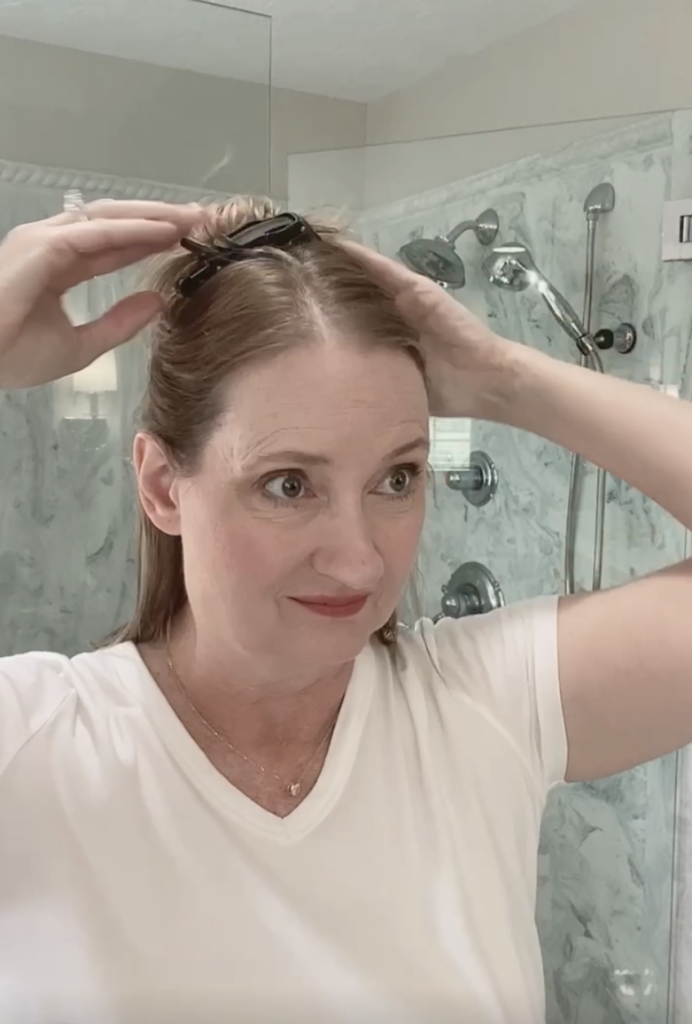 I started using the T3 Airebrush Duo hair dryer with round brush attachment. I ran the brush through small sections of my hair drying each one.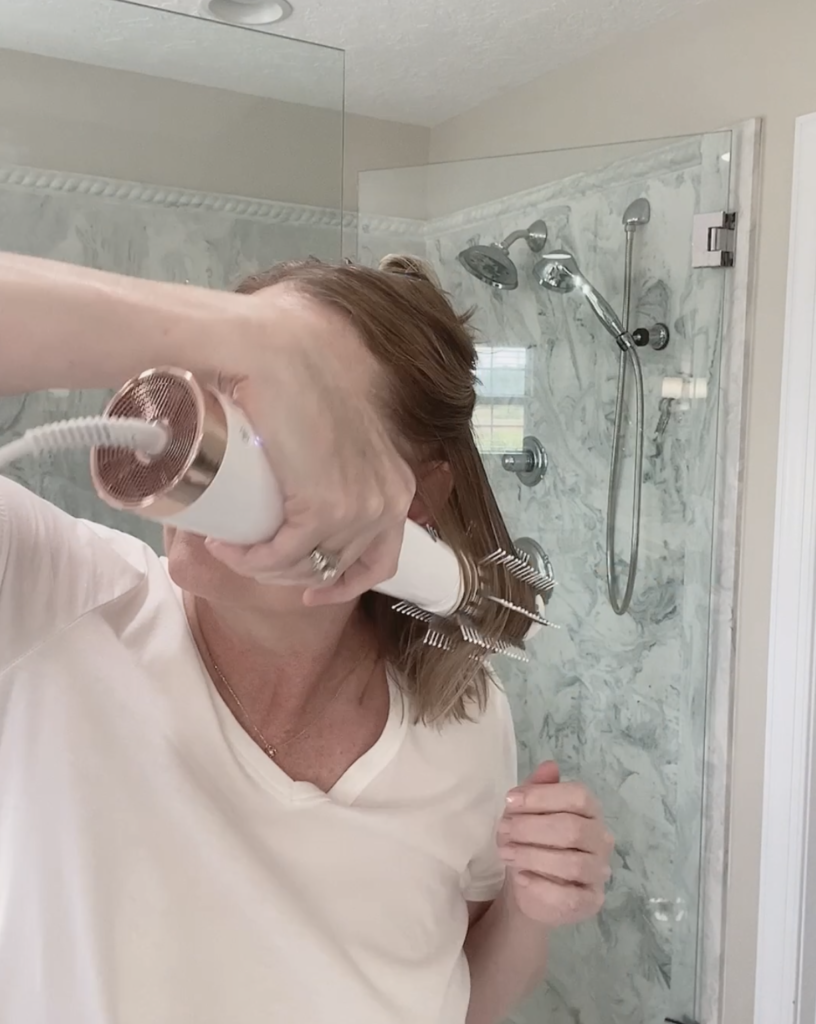 How my hair looks after it is all dry…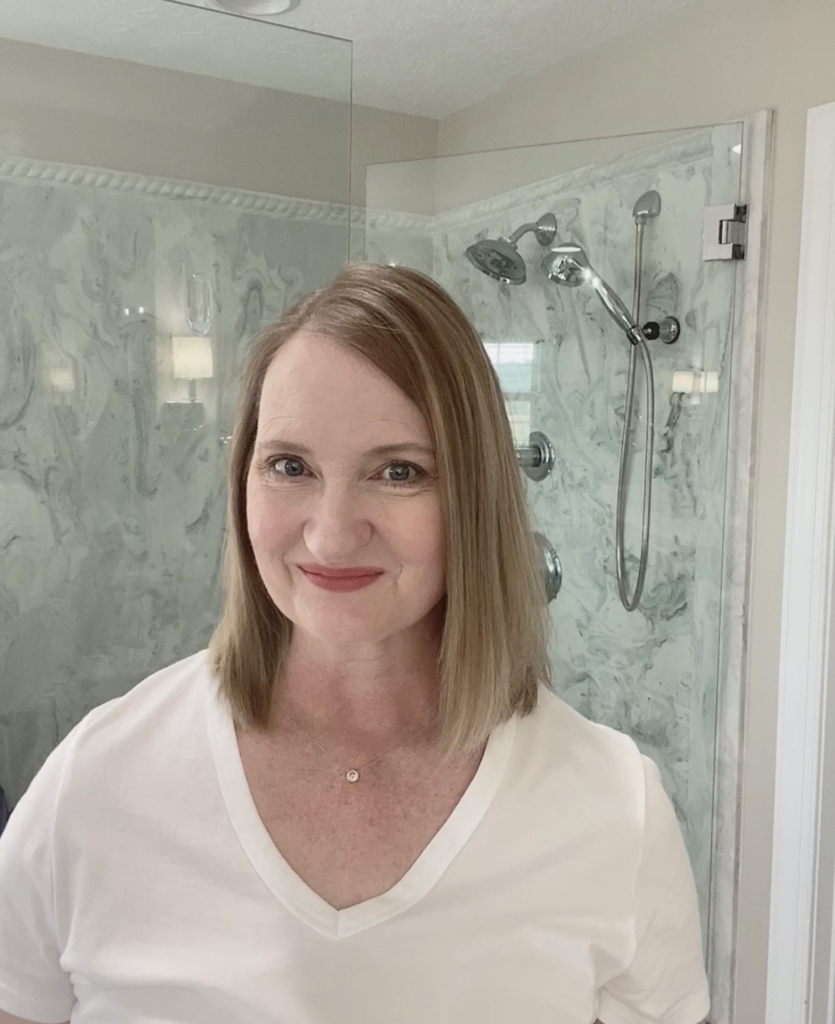 Step 4 – Style Your Hair
I style my hair by creating loose waves all over. I don't section off my hair, but instead I curl small sections starting from the front of each side working my way to the back, in all one direction. By using the T3 Convertible Base and T3 Undone Waves 1″ Barrel Wand attachment, it doesn't take long at all to style my hair. I have used a curling iron in the past, but a curling iron would flatten my hair causing it to be limp. I have found that the T3 Undone Waves 1″ Barrel Wand attachment is faster to use, plus it keeps my fine textured bouncy and full looking!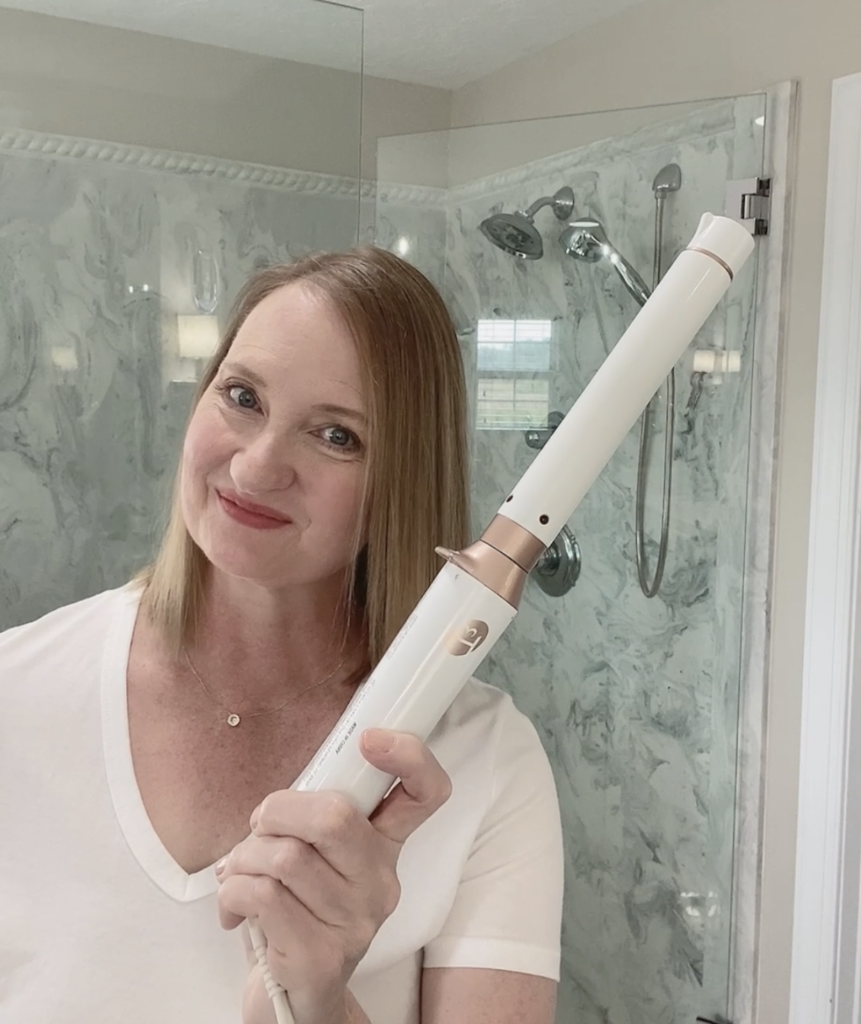 When I am curling each section of my hair, I leave about an inch out off of the curling wand so that the ends are straight and uncurled. And, I don't curl the bottom-most layer of my hair, so that my hair will have loose waves with a tousled style.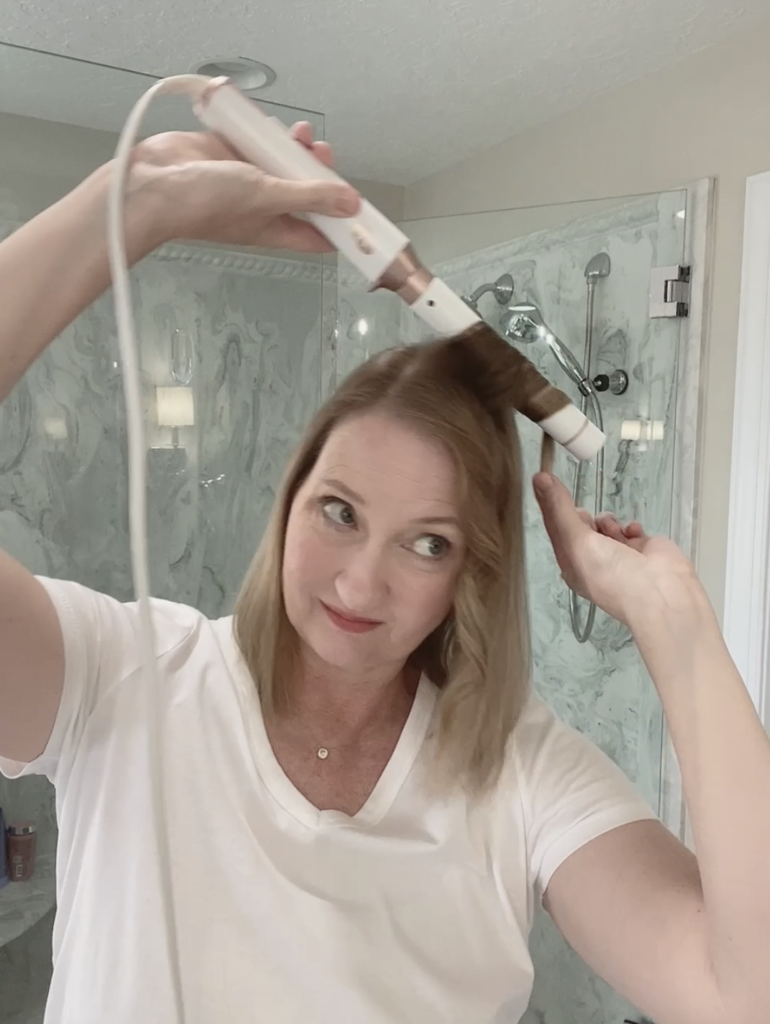 I use my Yves Durif Vented Hairbrush to brush lightly through my hair and fluff my hair with my fingers, until the curls are separated. Next, I lift up a few sections of the top of my hair and spray the roots with Oribe Dry Texturizing Spray and spray several sprays onto my hair with Oribe Superfine Hair Spray to finish my hairstyle.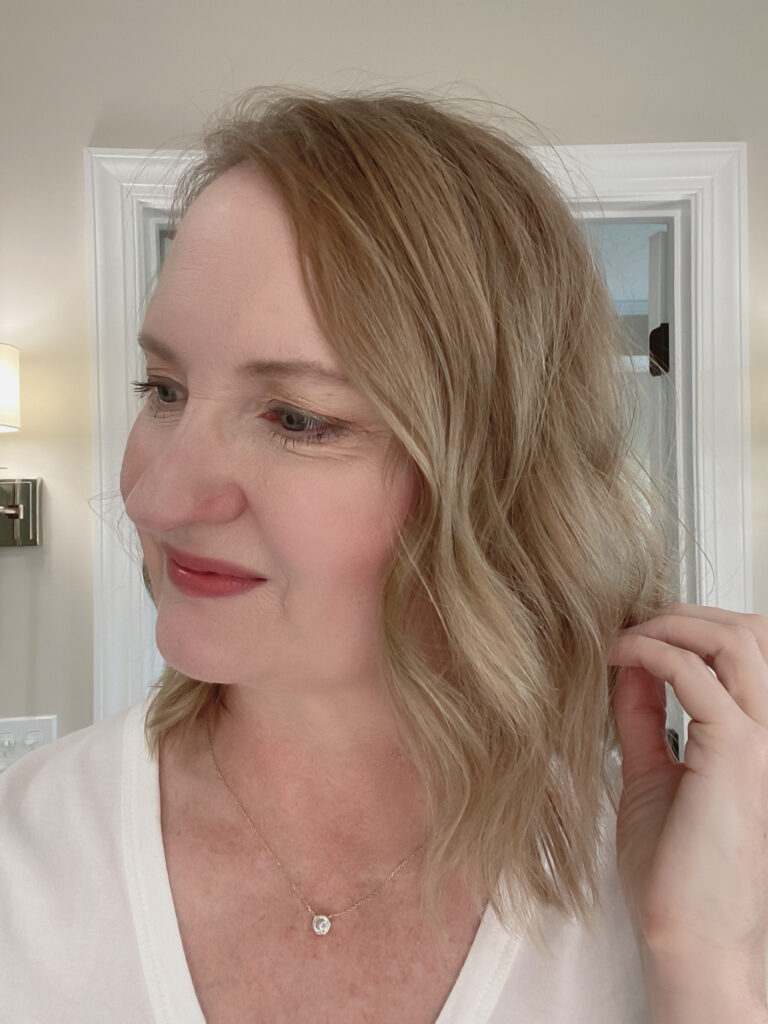 That's it…all done!
I hope you enjoyed this post!
Thank you for visiting the blog!
Shop The Post: