3 Ways To Elevate Basic Essentials In Your Wardrobe
Thank you to Nordstrom and rewardStyle (LTK) for sponsoring this post. As always, all opinions are my own.
When it comes to putting together an outfit, you probably include at least one basic essential in your outfit. Wardrobe basic essentials, especially in neutral colors, are the building blocks of a cohesive wardrobe. Without our basic essentials, our outfits would look too busy and too trendy. We need one or more basic essentials to balance out our outfits.
Basic essentials include a t-shirt, jeans and other solid, neutral color pieces like pants, a blouse, a blazer, etc. You can have a whole wardrobe of just basic essentials or your can include a few trending pieces in accent colors to add your own personal style to your outfits.
Nordstrom carries lots of brand names so you can shop for all your basic essentials for your wardrobe! Just a few name brands at Nordstrom are Madewell, AG and Wit & Wisdom, plus Nordstrom also has their Nordstrom-Made Brands, which are exclusively at Nordstrom. One of the perks of shopping at Nordstrom is The Nordy Club, their rewards program! Whenever you shop at Nordstrom, your purchases earn you points, which in turn you receive in Nordstrom Notes. Then, you spend your Nordstrom Notes on anything at Nordstrom!
My Basic Essentials
Everything I'm wearing in my outfit is from Nordstrom. I recently added this Liverpool Los Angeles V-Neck White Tee to my closet and love the way it fits. I just ordered it a couple of weeks ago and looks sold out online, but keep checking back because it is a great tee. Here are more items from the Liverpool Los Angeles brand at Nordstrom as well as a selection of White Tees.
I'm also wearing a pair of my most favorite jeans brands, Wit & Wisdom Slim Straight Jeans. I love the slightly relaxed fit, which are so comfy, plus they are budget-friendly! Shop all these Wit & Wisdom Jeans at Nordstrom.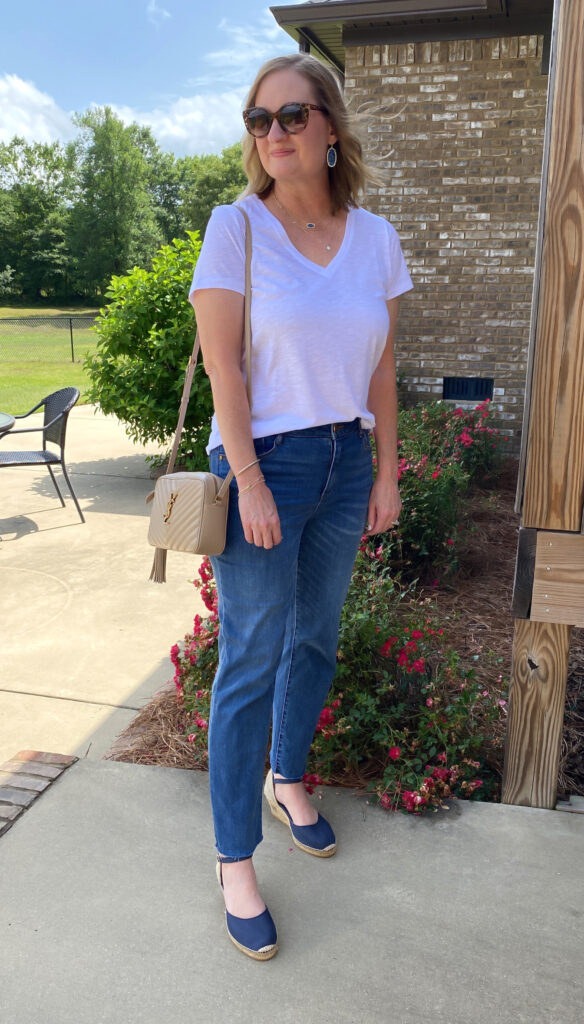 My Outfit Details:
Liverpool Los Angeles V-Neck White Tee (more White Tees)
Wit & Wisdom Slim Straight Jeans
Toni Pons Caldes Linen Wedge Sandal in the "navy linen" color
YSL Lou Camera Bag in the "dark beige" color
Elle Gold Earrings in Navy Abalone
Elisa Gold Necklace in Navy Abalone
Clove Gold Multistrand Necklace
Fern Gold Multi-Strand Bracelet
Ott Lux Gold Slider Bracelet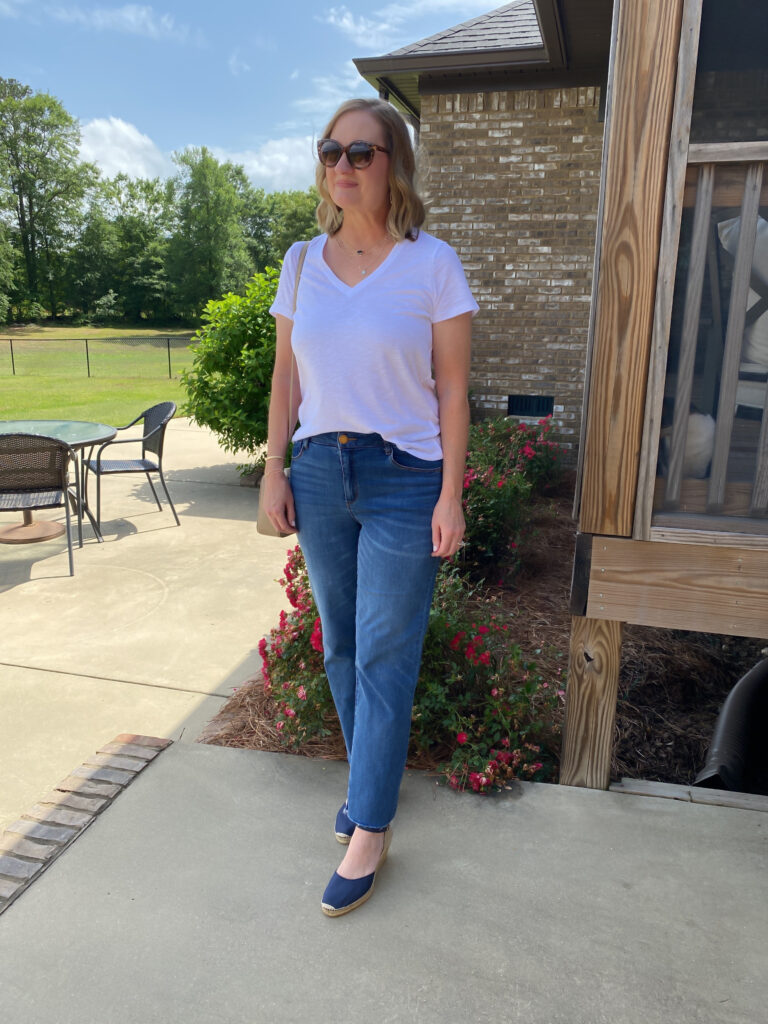 Here are 3 ways to elevate your outfits, even if you are wearing just your basic essentials! Instead of your outfits looking plain with no color or texture, add one or more of these items to complete your outfits so you will look your best!
1. Add Statement Shoes
Adding a pair of shoes with color and texture can make your outfit more interesting and can dress it up a bit! What are statement shoes? These are shoes that have texture, a stylish design or color that make them stand out!
I bought these Toni Pons Caldes Linen Wedge Sandal a few weeks ago in the "stone" color and love them so much that I also bought them in "navy linen". I usually don't buy the same style shoe in different colors, but these shoes are so comfy that I wanted them in two colors. I have already worn the stone color shoes to church and received several compliments on them! Since I'm wearing more navy in my wardrobe now, the navy color will look great with skirts, pants, shorts and jeans!

Toni Pons Caldes Linen Wedge Sandal in the "navy linen" color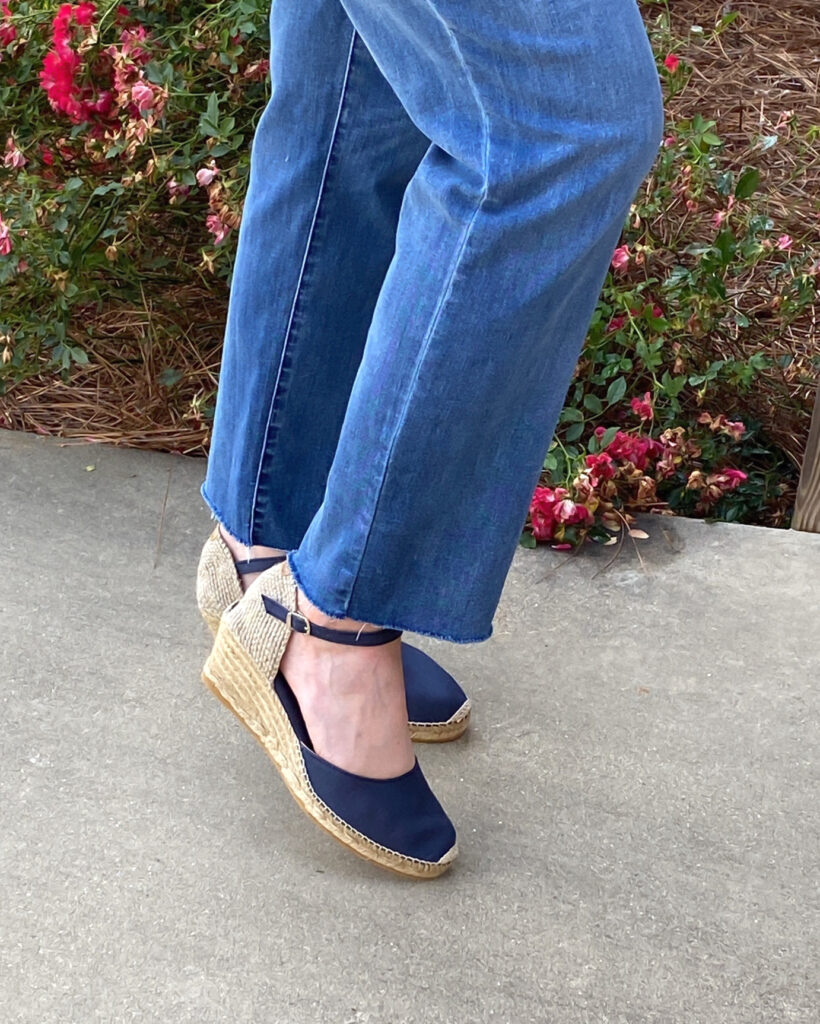 Shop These Statement Shoes:

2. Add A Statement Bag
Just like a pair of statement shoes, a statement bag can add texture, a unique design and color to your outfit. A statement bag can be in a neutral color with a design element added, like a tassel, chain, designer logo or have a unique style.
For my outfit, I added one of my favorite bags, the YSL Lou Camera Bag in the "dark beige" color that I purchased at Nordstrom last year. Even though the color of the bag is a neutral beige, the chevron stitching on the bag and the tassel has texture. This Tory Burch Kira Shoulder Bag is a similar bag at a lower price point and I love this McGraw Crossbody Bag.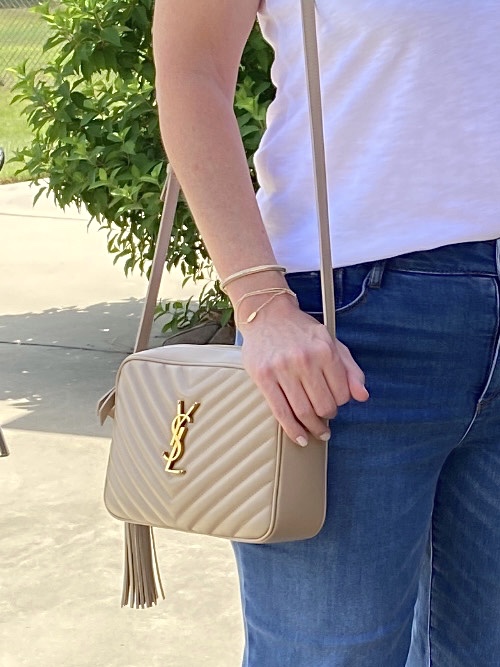 YSL Lou Camera Bag in the "dark beige" color
Shop These Statement Bags:

3. Add Jewelry
My most favorite jewelry brand is Kendra Scott and did you know Kendra Scott is available at Nordstrom? I have been wearing Kendra Scott jewelry since I started this blog back in 2014! What I love most about Kendra Scott jewelry is how all the pieces can mix and match with each other creating different looks!
By adding jewelry in metals and stones can add interest to your outfits and make them look complete! Even adding a just a simple necklace or a pair of earrings can elevate your outfit. I like to layer my jewelry and mix metals and stones together.
The Navy Abalone stone is a new addition to Kendra Scott. I'm wearing the Elle Gold Earrings in Navy Abalone and also the Elisa Gold Necklace in Navy Abalone. I love how this stone radiates and shines in the sun and I can't wait to wear it more this Summer! I added the Clove Gold Multistrand Necklace on the longest setting, giving a layered look. I also layered my bracelets by wearing the Fern Gold Multi-Strand Bracelet with the Ott Lux Gold Slider Bracelet.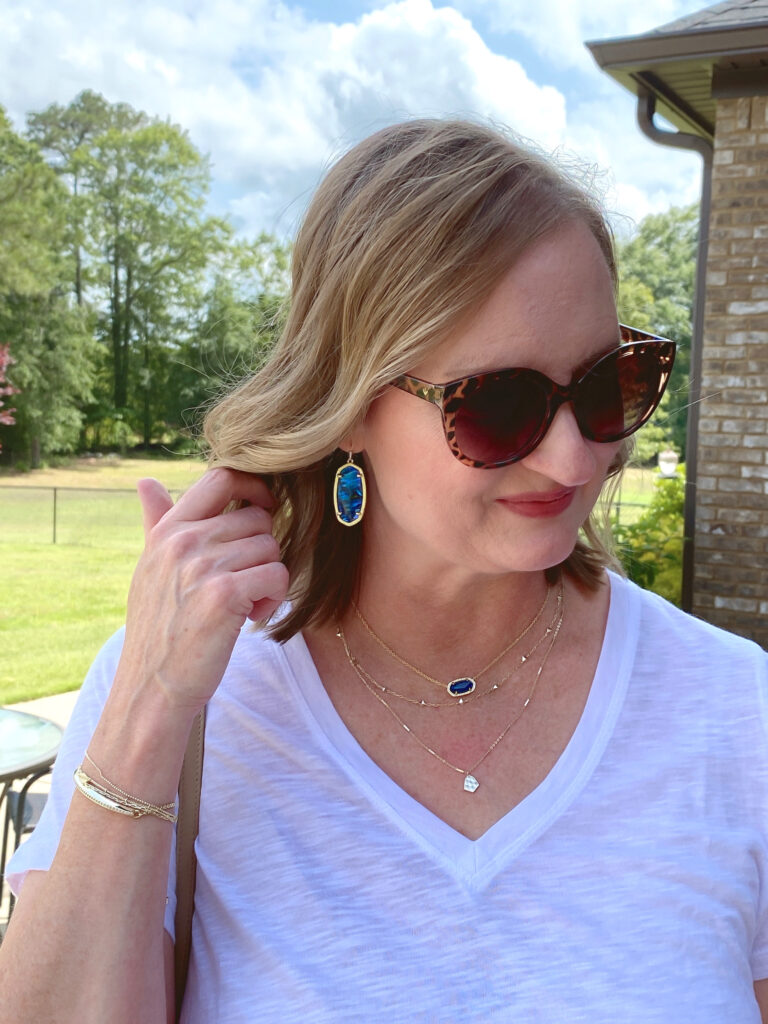 Kendra Scott Jewelry I'm Wearing: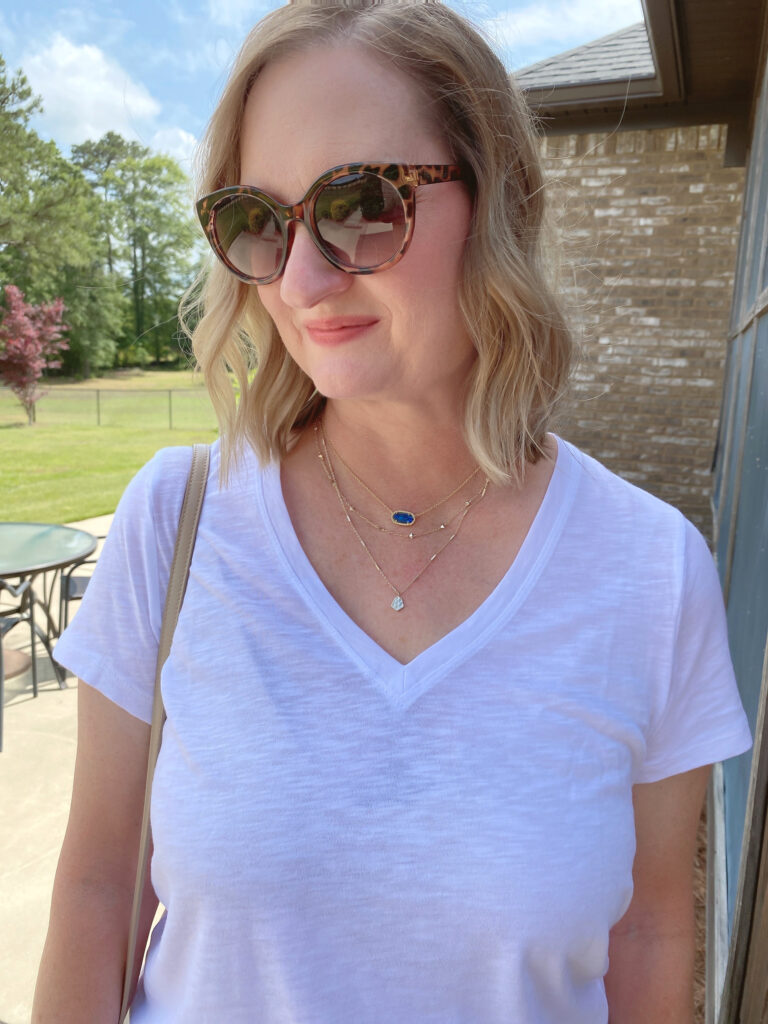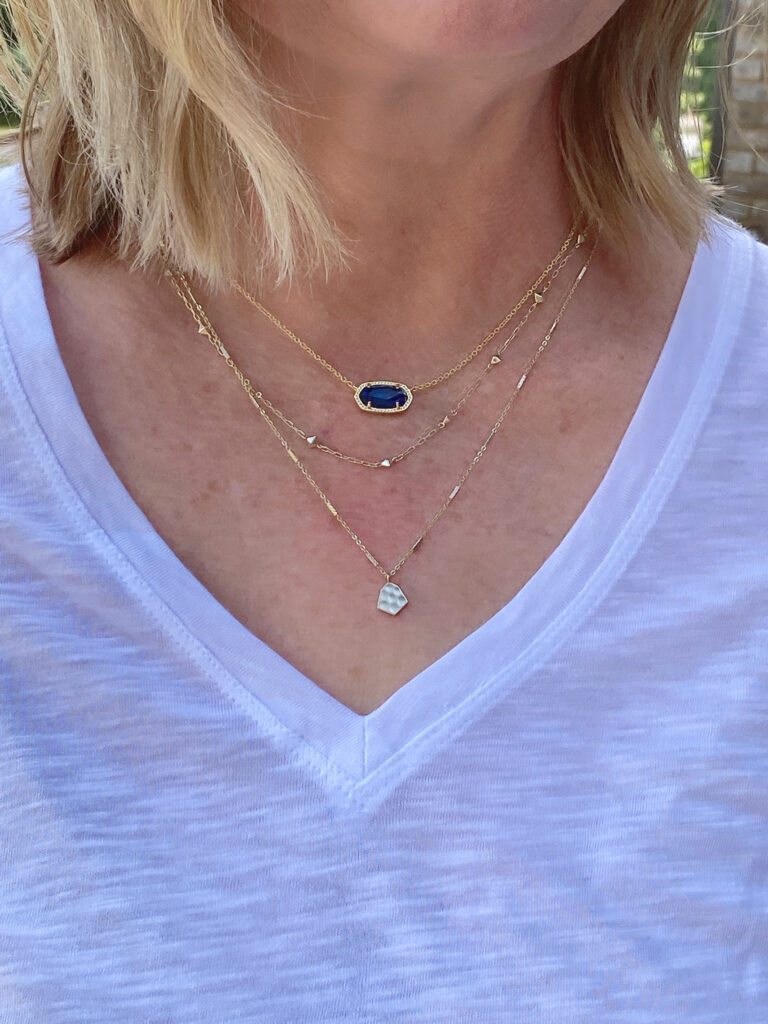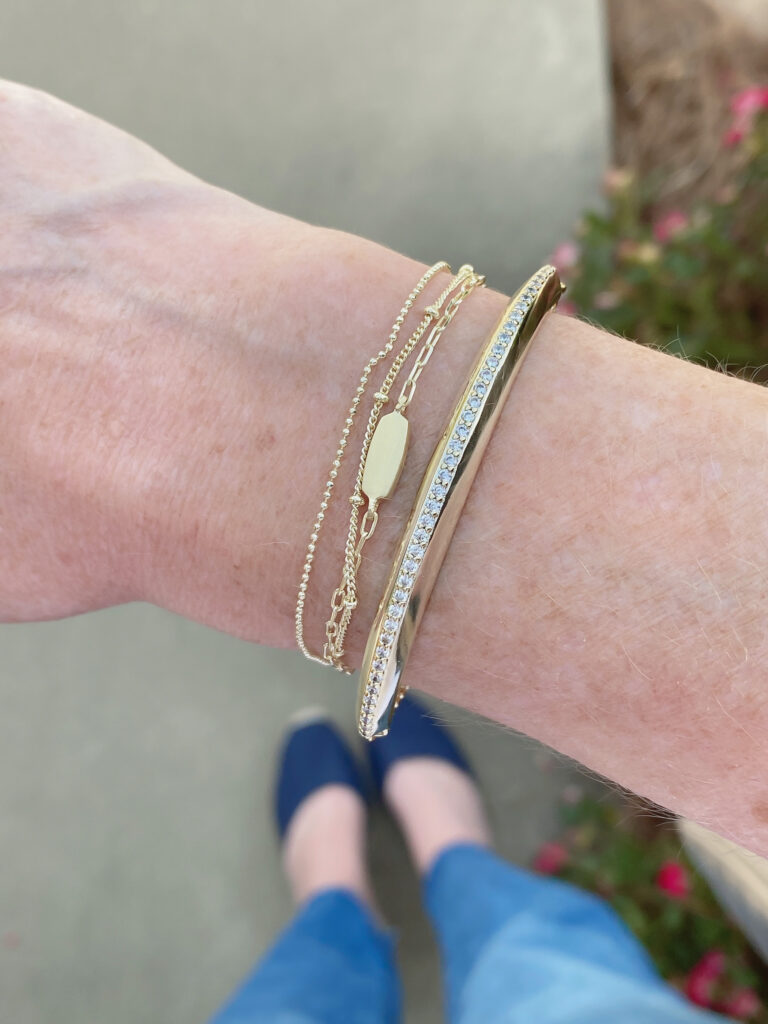 Shop Kendra Scott At Nordstrom: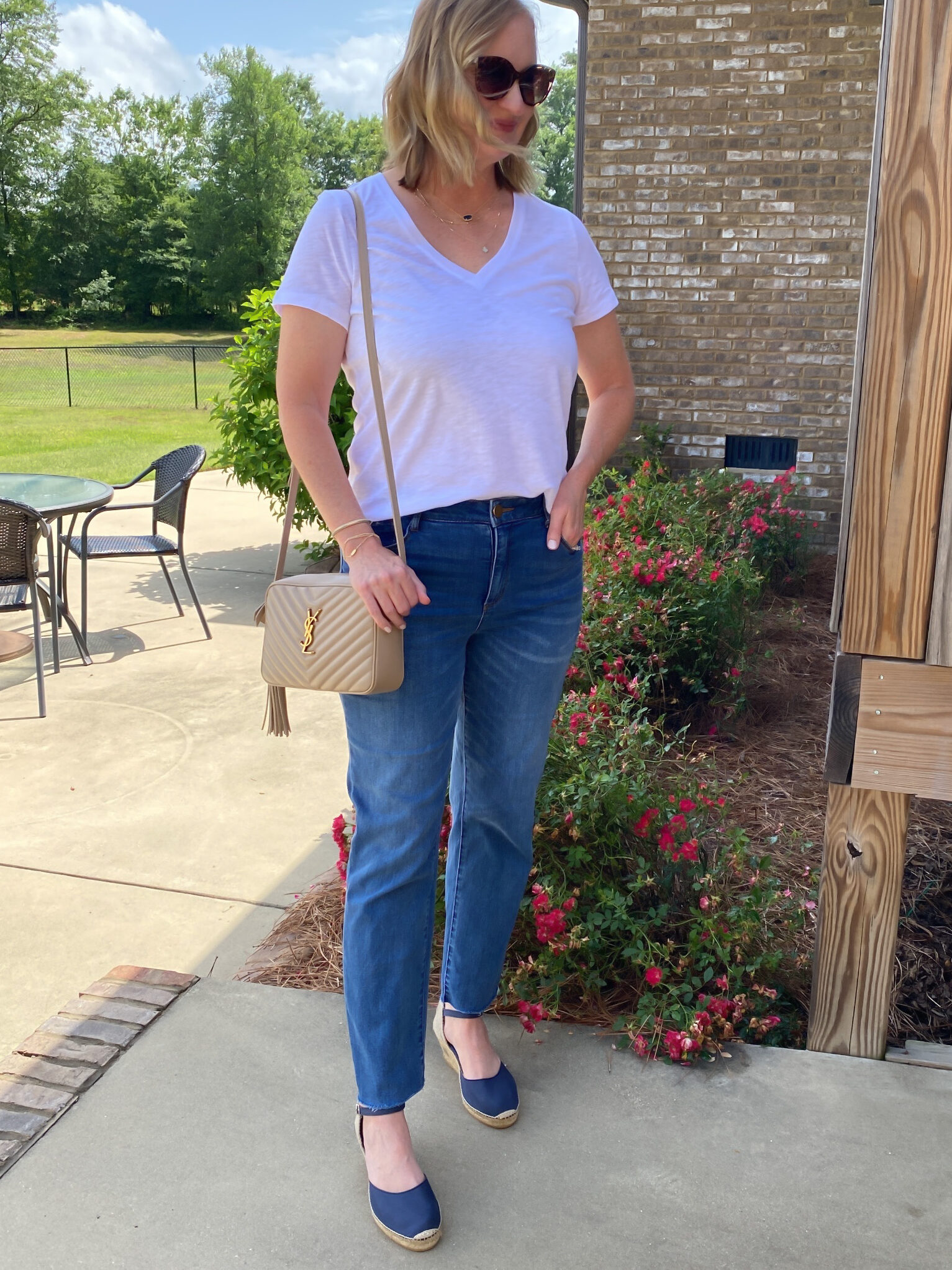 I hope you enjoyed this post!
Thank you for visiting the Classy Yet Trendy blog!