Summer Essentials Outfit Mix and Match: 9 Pieces = 27 Outfits
Summer may be the easiest season to get dressed, but it depends on the weather where you live. If you live in a hot and humid climate, you want to wear clothes with fabrics that breath well, like cotton or linen. Just simple tops, bottoms and lightweight shoes are the best to wear. To get the most outfits from our closets, we need to include several basic essentials in neutral colors to coordinate with each other and other colors.
I created a mini capsule wardrobe using basic essentials…9 classic, neutral pieces. You can wear these pieces by themselves or add other pieces to get even more outfits. The color palette of this capsule is black (base color), white and chambray denim, but instead of the black base color you could substitute navy, gray, beige or any other neutral color. Instead of the black sandals, you could choose a different style and color, like brown, taupe or navy.
I shared the Summer outfit mix and match below on my Instagram @classyyettrendy and it kinda went viral, so I thought I would also share the mini capsule here on the blog! Follow along on Instagram @classyyettrendy for more outfit ideas and see what I wear from my capsule wardrobe!
If you live in a cooler, less humid climate, you can substitute the shorts for pants and/or skirts and add a cardigan or two in case you need them.
The idea for this blog post came from the popular capsule wardrobe, Simplified Style®: The Dressy & Casual Year-Round Core Closet Essentials Capsule Wardrobe. Simplified Style® is a complete classic and neutral-color for all 4 seasons of the year. It includes over 400 outfit ideas, wardrobe layouts for all seasons, outfit calendars, plus more!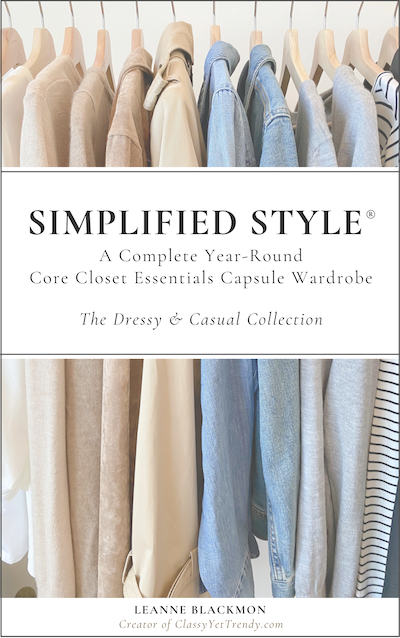 Here are the 9 pieces I shared on Instagram @classyyettrendy…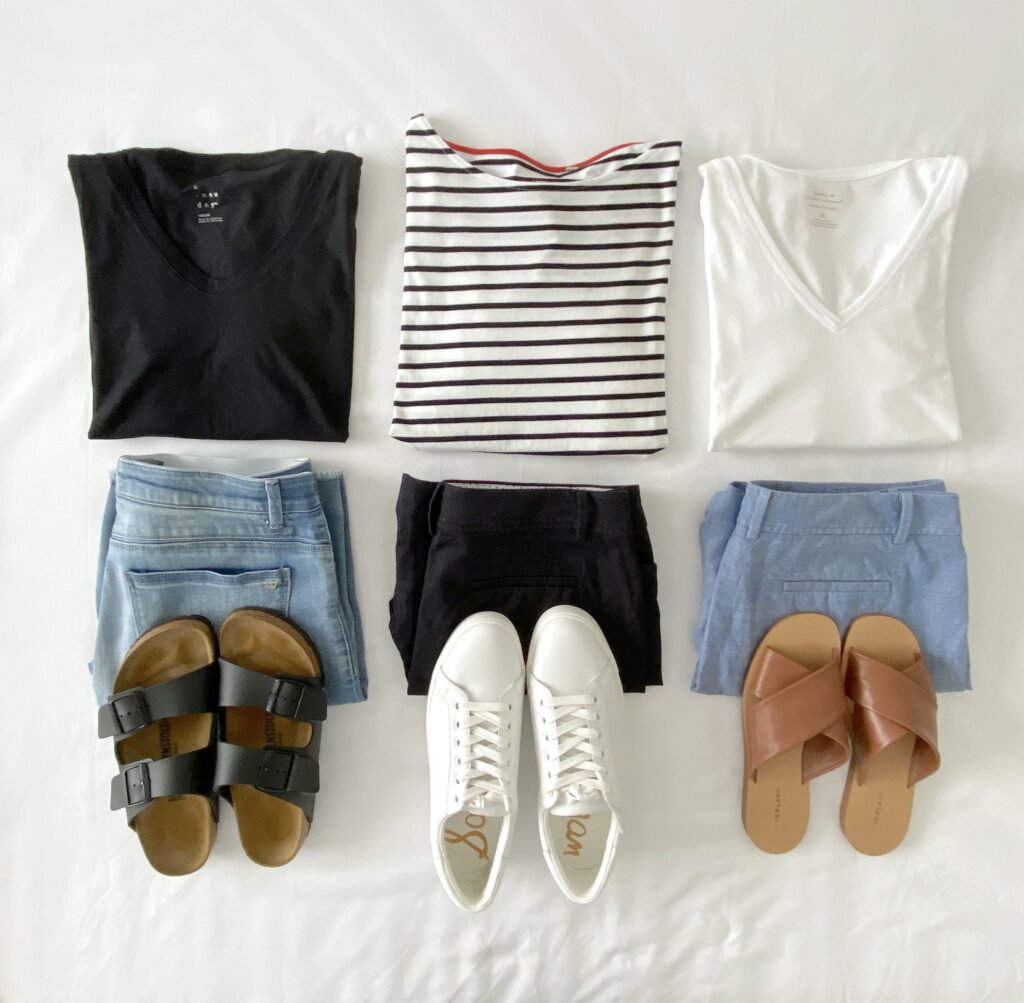 THE TOPS (left to right):
Black Tee – This one from my closet is a black scoopneck tee from Target. I also love this one from Banana Republic Factory in black, like my white tee shown on the right. Very budget-friendly too!
Striped Breton Tee in "ivory/black stripe" – If you want to use navy as the base color, you can choose the "ivory/navy stripe". I have had this tee in my closet for several years and it is consistently my most favorite striped shirt. I bought the ivory/black stripe color a couple of years ago and use one or the other depending on the base color I'm using in my capsule wardrobes.
White Tee – I bought this tee a couple of months ago and was pleasantly surprised how well it fit and that it was not see through! It is a blend of cotton/modal, so the tee drapes on the body great and it washes well. Very budget-friendly too!
THE BOTTOMS (left to right):

Blue Denim Shorts – My exact shorts are sold out (they are the Wit & Wisdom denim bermuda shorts), but I also have shorts very similar to these Madewell Mid-Length Denim Shorts and love them too!
Black Chino Shorts – A pair of chino shorts, especially in black or navy, are a classic and timeless style.
Chambray Shorts – These chino style shorts are in the chambray material, so they are soft and a lovely shade of blue, which will coordinate with many colors.
THE SHOES (left to right):
Black Strap Sandals – I bought these Birkenstock sandals in white a couple of weeks ago and loved them so much that I bought them in black! I almost never buy multiples of an item, but these Birkies were just too comfy to pass up! If you don't like Birkenstocks, you can substitute single strap sandals, like these beautiful sandals from Nisolo ($50 off your first order at Nisolo HERE)
White Casual Sandals – These sandals from Sam Edelman are included in the Nordstrom Anniversary Sale. These Madewell sneakers are also an option.
Cognac Crossover Sandals – These sandals from Everlane are super soft and comfy and the rich cognac color looks great in outfits!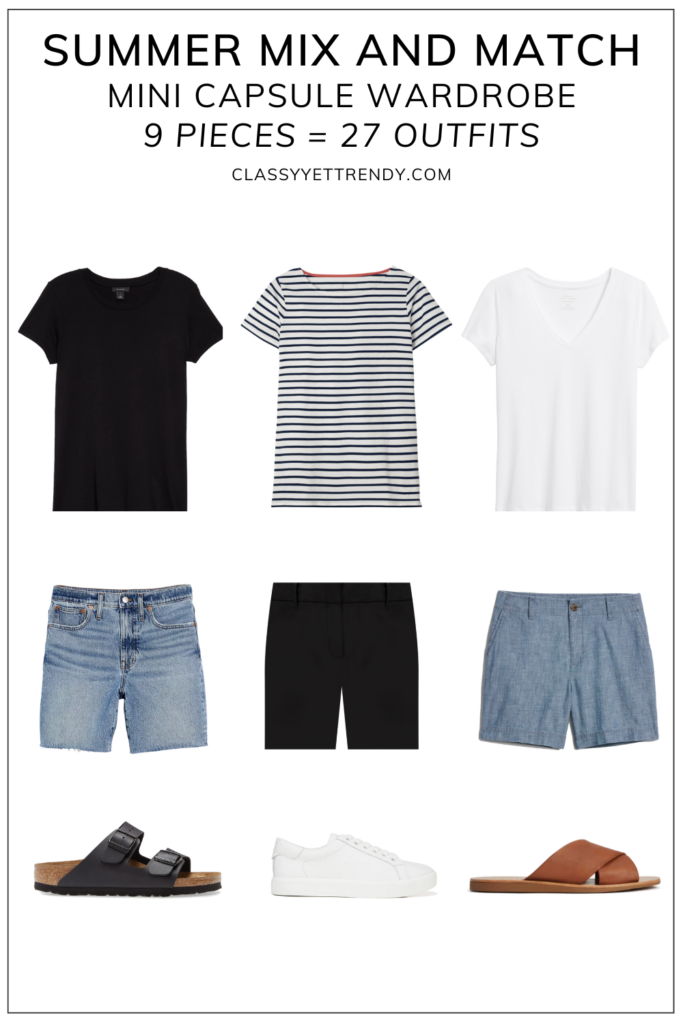 THE OUTFITS
You can mix and match these 9 pieces to make 27 outfits…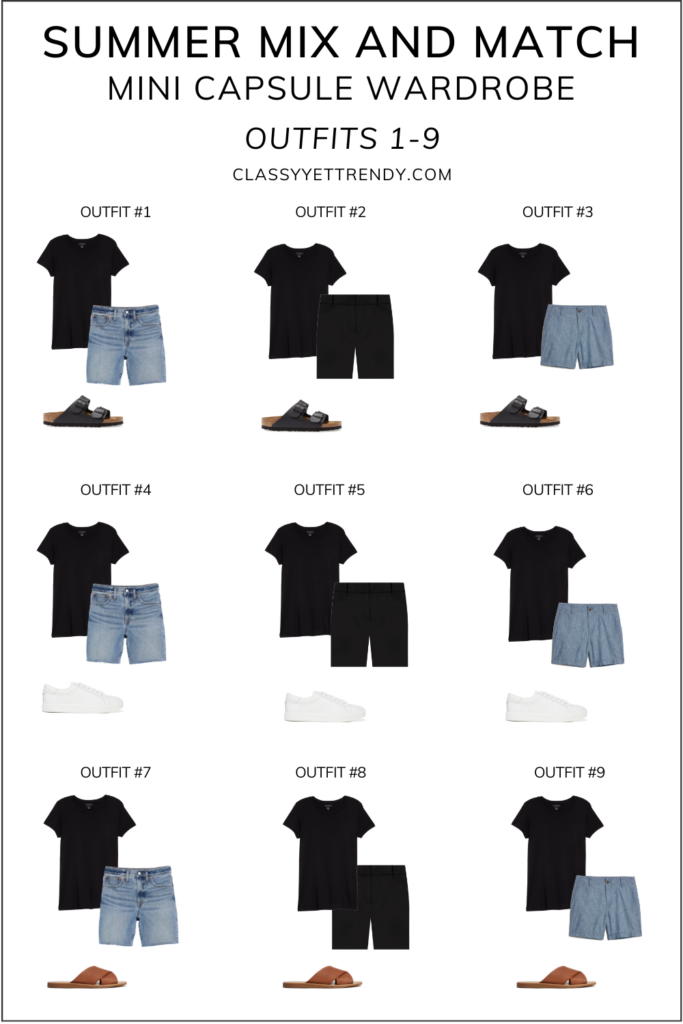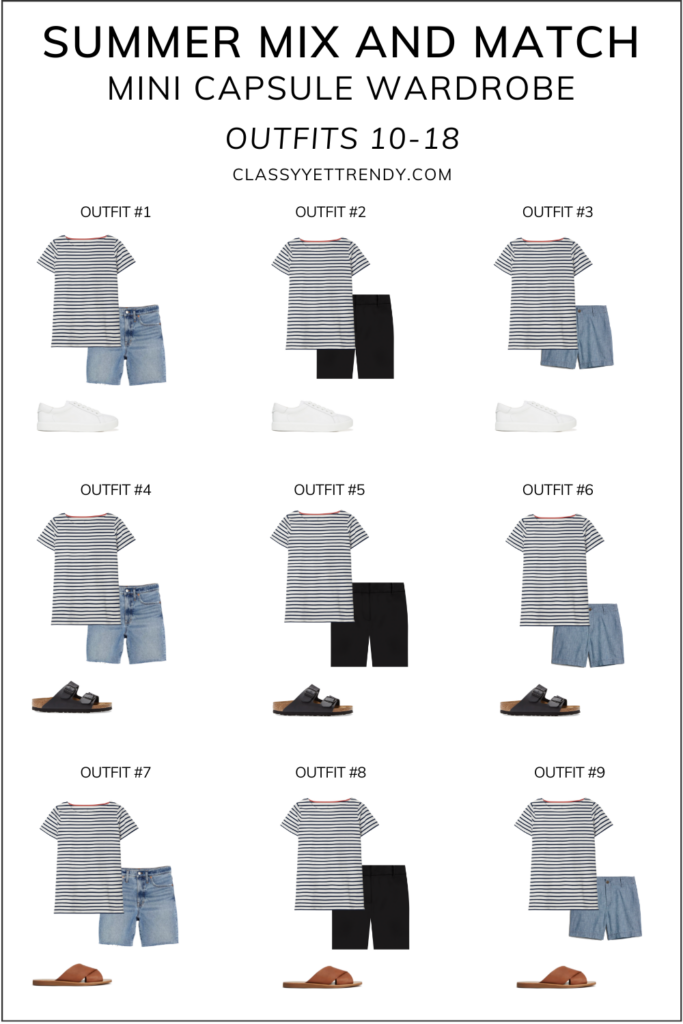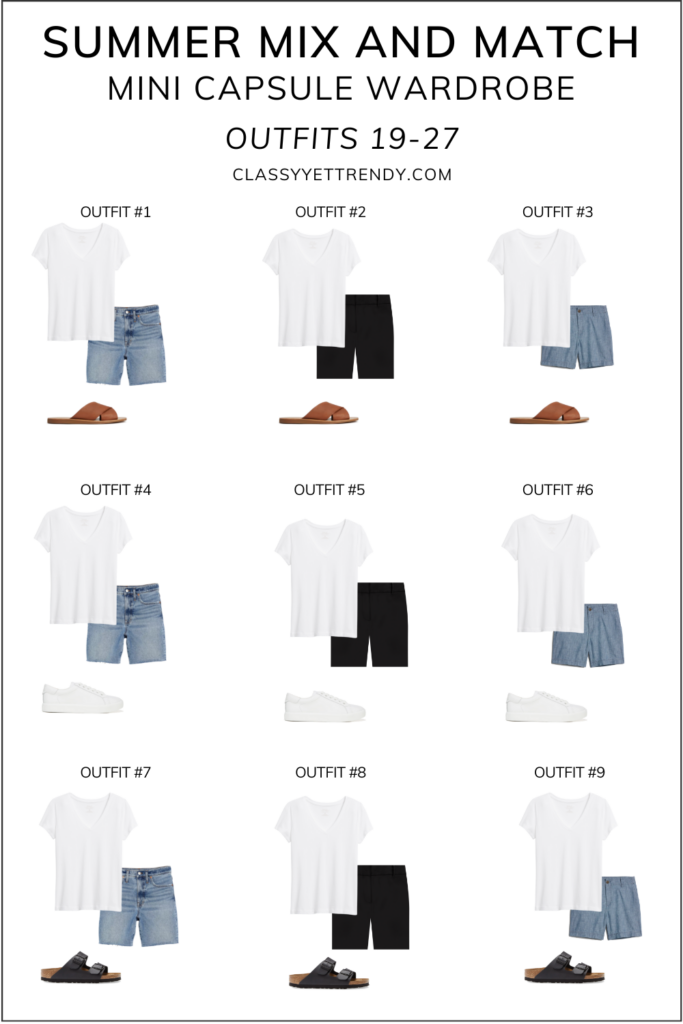 Shop The 9 Pieces:

Complete Your Outfits With These Accessories:

A Bit Of Inspiration For Your Day:
"Trust in the Lord with all your heart, and do not lean on your own understanding. In all your ways acknowledge him, and he will make straight your paths." – Proverbs 3:5-6