Old Navy Fitting Room Reviews – Fall Favorites
I found a flannel shirt online at Old Navy that I really wanted to have for the Fall season. We have an Old Navy in our area, so I went to the store yesterday to try it on. While I was there, I saw a few other styles and tried those on and snapped some photos for you all to see what I found. I wish I would have had time to try on more things in the store, but I had other errands I had to do.
When I was putting together my own Fall capsule wardrobe, I wanted to include a flannel shirt, but I couldn't find a pattern I liked. I received an email from Old Navy the other day that showed the gray plaid flannel shirt (that I tried on in this post) and I really liked the pattern with neutral colors, especially that it was gray, which was different than most dark color flannel shirts. I went to Old Navy's website and found the flannel shirt, selected the pattern and size, then chose the local store location and it said that size was in stock at the store, yea! Having this feature on Old Navy's site is helpful, so you know if the store has the color and size in stock before you drive there! Several other retailers have a product in-stock feature on their websites, so it makes it easy if you want to see how it fits in the store before you purchase it.
Here is what I tried on at Old Navy and see what I bought…
For size reference, my height is 5'9″ and I weigh approximately 165 lbs. For tops, I typically wear a size Medium (10) or Large (12), depending on the brand and fit of the top (slim fit I usually wear a Large). For bottoms, my normal size is a 10 OR a 30/31 waist, a 10-inch high rise fits my waist the best and a 28 inch inseam falls right at my ankle. My shoe size is 9 medium or 40EU.
Since I'm drawn to neutral colors, I saw this Plaid Soft-Brushed Utility Shacket in the "gray plaid" pattern (sized down to a Small) while I was in the store. I usually wear a Medium or Large in jackets, but this one looked oversized, so I tried on Small. It fit very well and is a beautiful shirt jacket! It was rather warm, so I thought I would wait and purchase this for my Winter capsule wardrobe. I highly recommend this jacket! Scoop neck tees and bodysuits look great underneath shirts and jackets, so I tried on the Fitted Long-Sleeve Rib-Knit Top in the "sea salt" color (wearing a Large). These are the High-Waisted O.G. Straight Ankle Jeans. I tried on a size 12, since Old Navy jeans used to run small on me, but I should have tried on a size 10, as the size 12 was a bit loose on me. As I was walking to the fitting room, I spotted these Faux Suede Western Ankle Boots in the "mocha latte" color (size 9, true to size), so I tried them on too! They were comfortable while I was standing in them in the dressing room.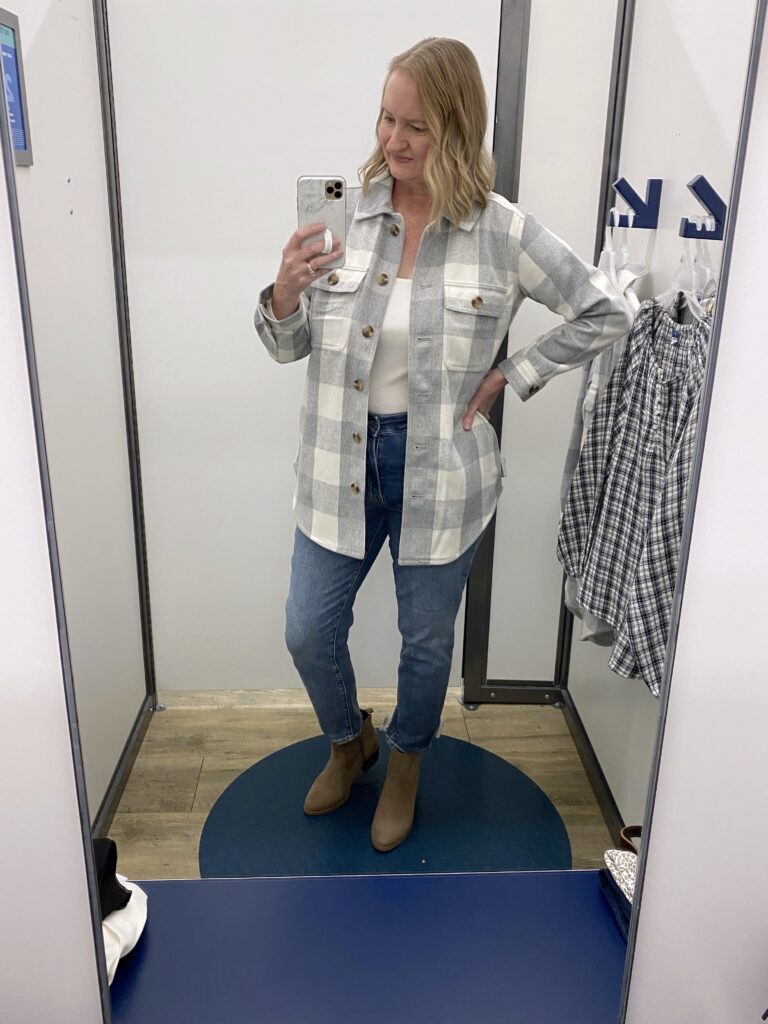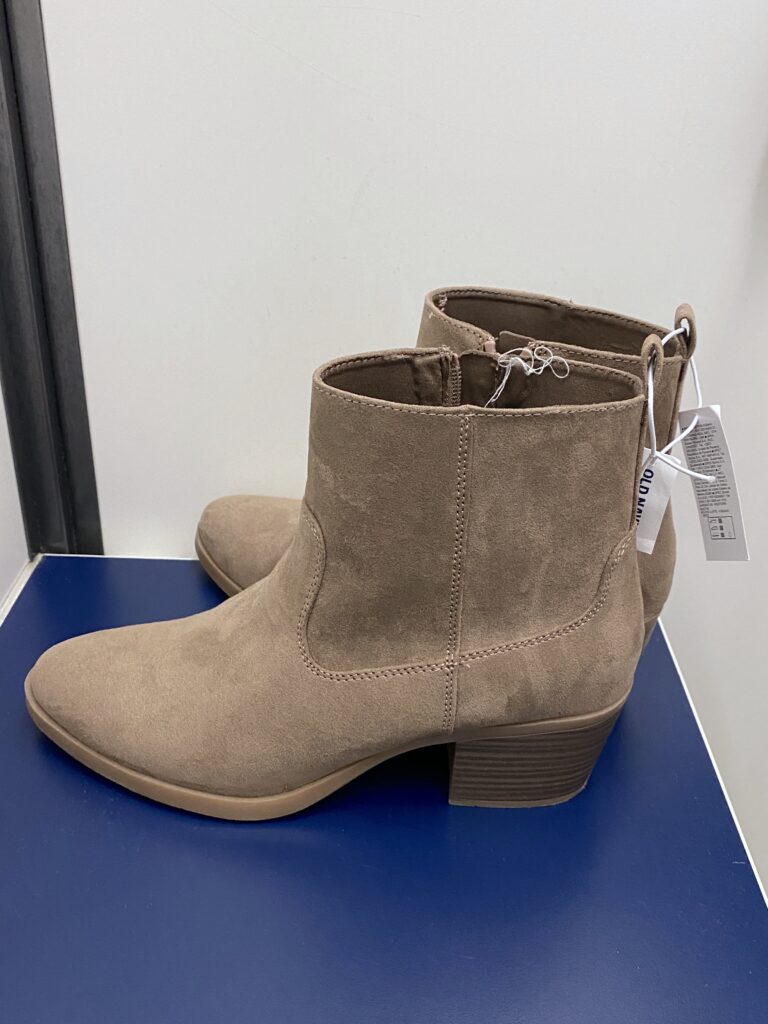 Shop The Outfit: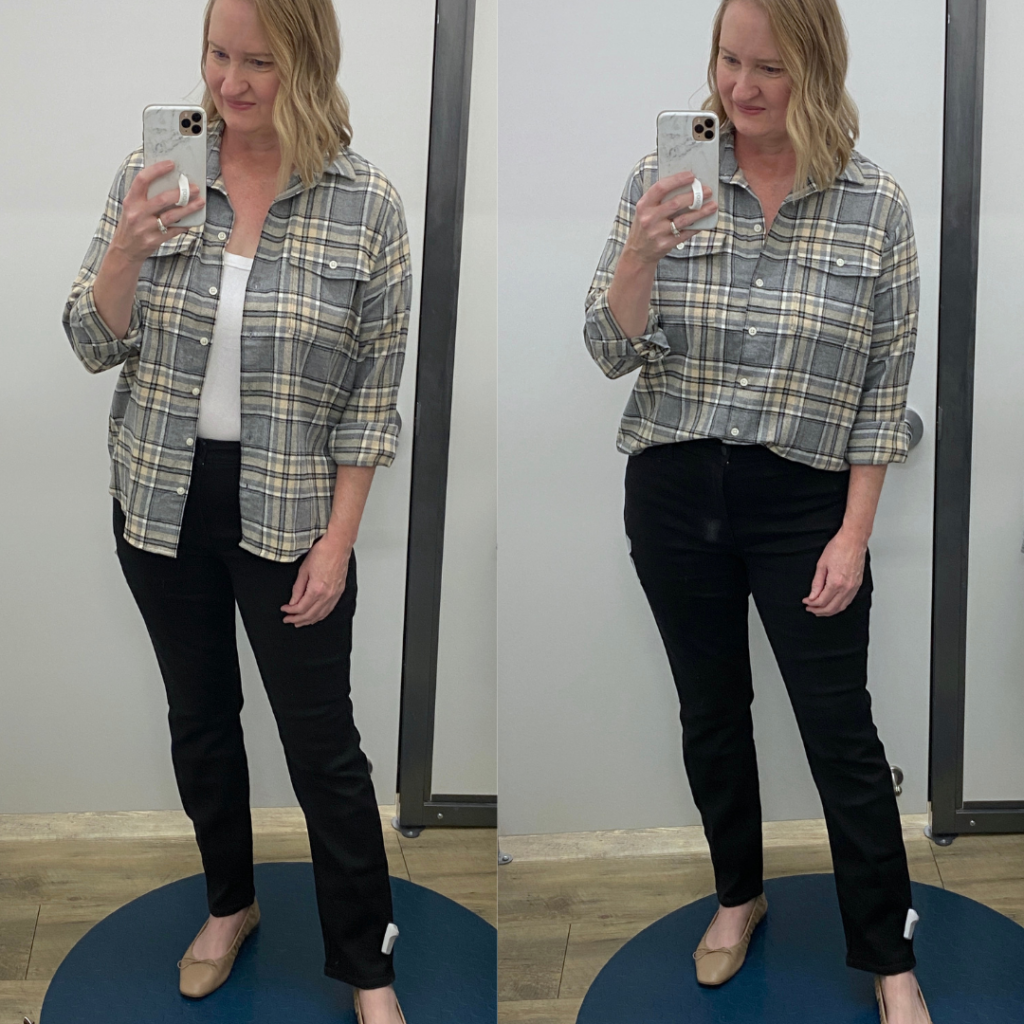 This Plaid Boyfriend Flannel Shirt in the "gray plaid" is the shirt I went to Old Navy to try on (size Medium). The material is soft and the fit and length are just right. I styled it in the photos above two ways: open over this Fitted Rib-Knit Scoop-Neck Tee in the "white lilies" color (size Large) and buttoned-down and front tuck. I really liked the style and material of the Fitted Rib-Knit Scoop-Neck Tee, so I bought it and the Plaid Boyfriend Flannel Shirt. I also tried on these High-Waisted Wow Slim Straight Black Jeans. I also tried on a size 12, but should have tried on the size 10 instead as this size was slightly loose on me. I really liked the material on these and they have some stretch with a mix of cotton/polyester/spandex. These jeans remind me a lot of my AG Slim Cigarette Jeans, but these Old Navy jeans are priced at only $30! If I didn't already have a pair of black jeans in my closet, I would definitely buy these!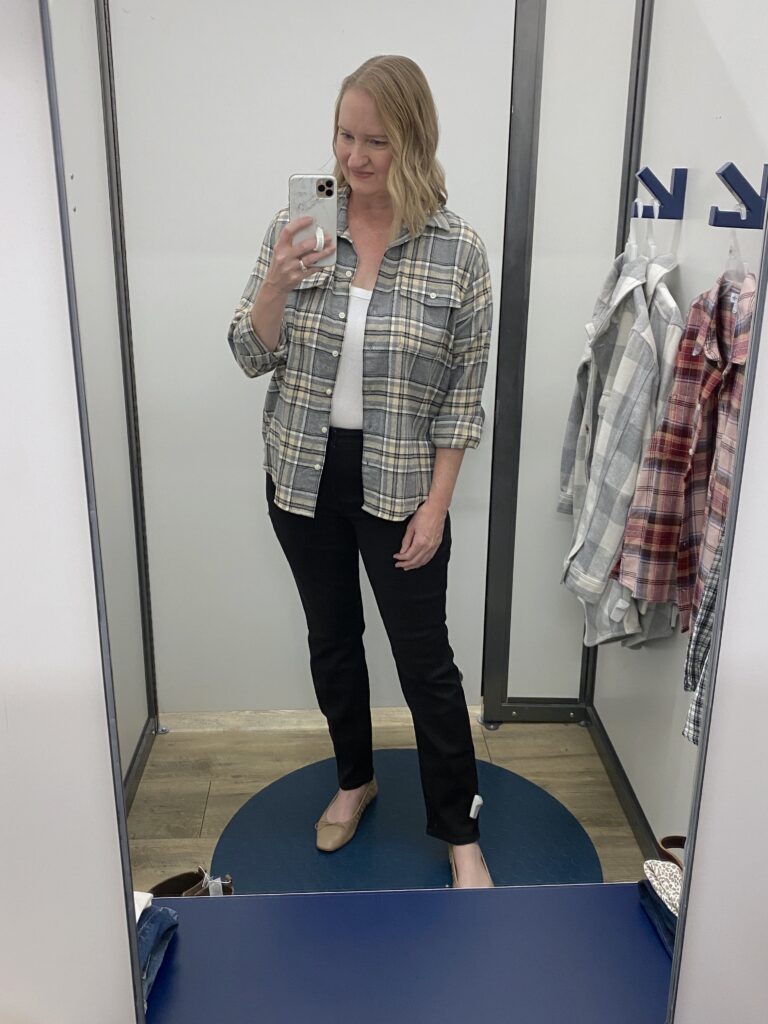 Shop The Outfit:

This Split Neck Poet Blouse in the "black plaid" color is in The Essential Capsule Wardrobe: Fall 2022 Collection. I had seen it in store and really liked it, as is the reason I included in the capsule. I'm wearing a size Medium and it fits true to size. I saw it the other day again while I was in the store and there was something about the style and pattern made me want to try it on. The material is so soft and feels good wearing it and the pattern is just lovely! I'm not usually one to buy anything spur of the moment, but this top just had to come home with me!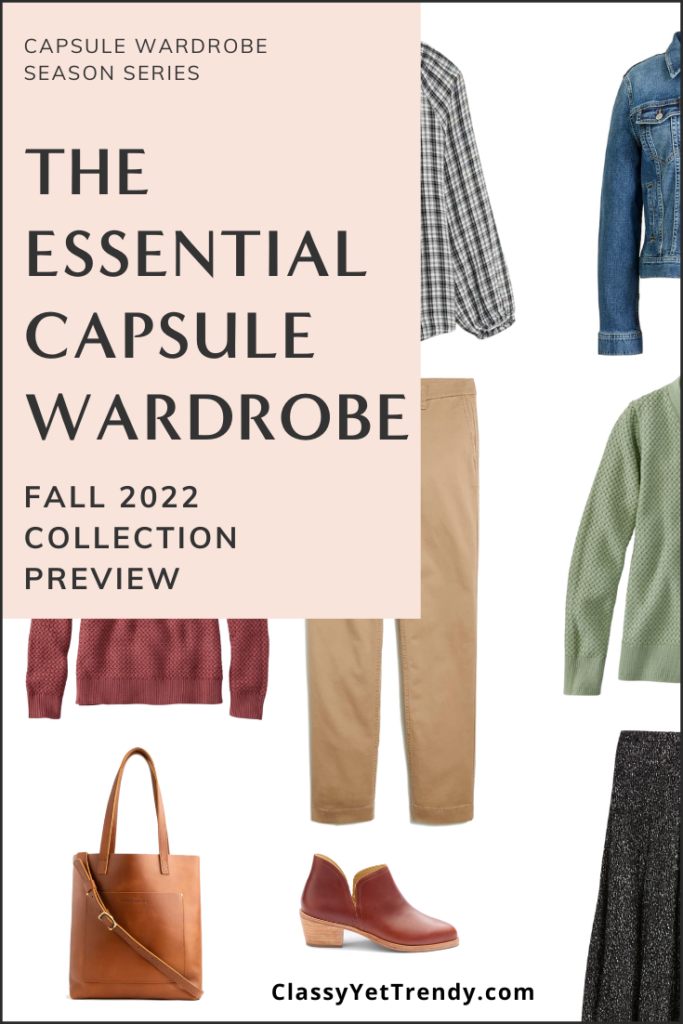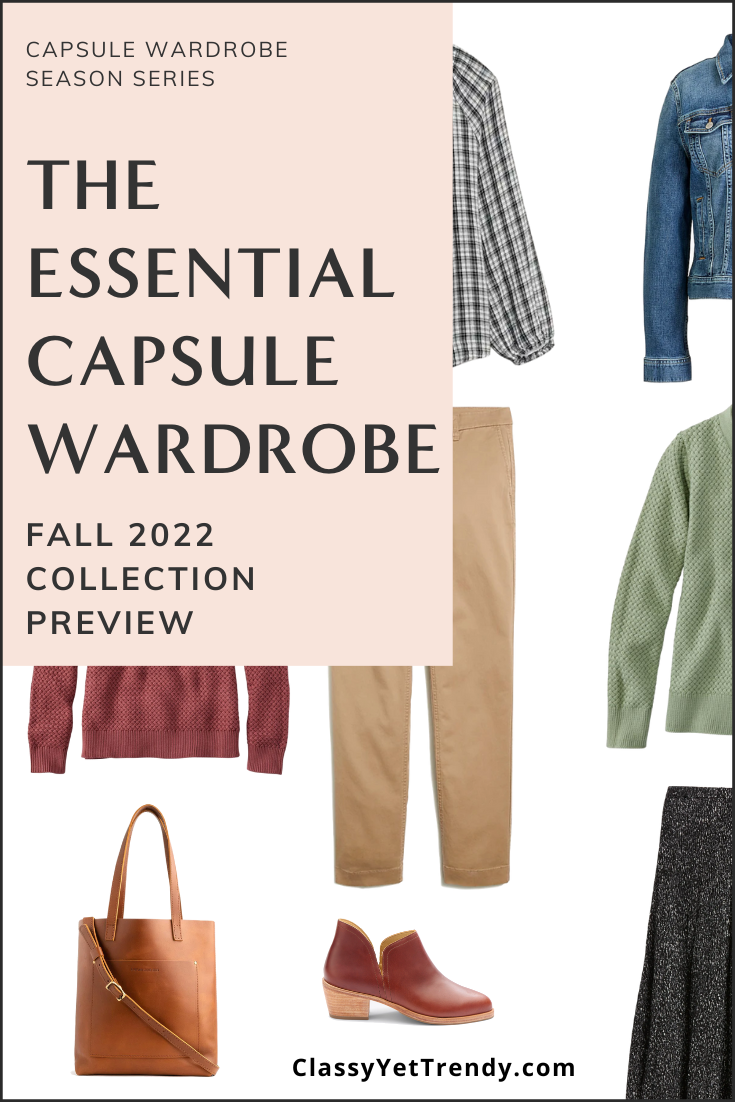 I know I'll be wearing it to church and events with pants and skirts this Fall and I may also wear it with my capsule wardrobe. I'm wearing this poet blouse with the High-Waisted Wow Slim Straight Black Jeans,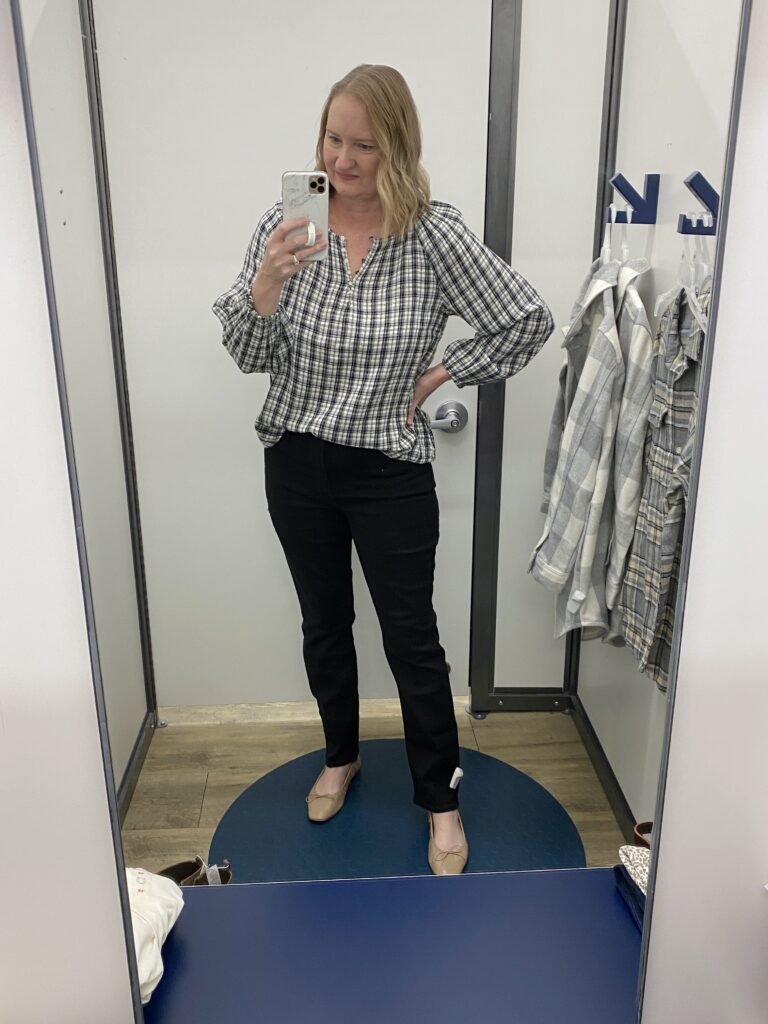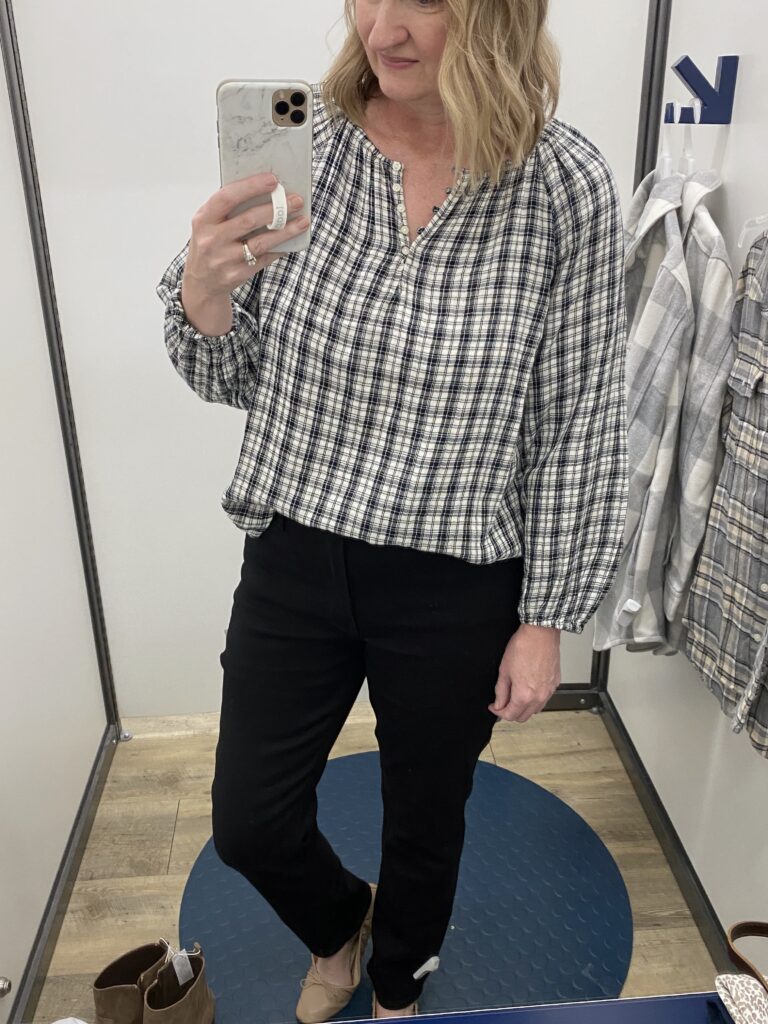 Shop The Outfit:

This Cropped Plaid Flannel Boyfriend Shirt is a different style so I tried it on to see how it fit. It is the "red plaid" color, but is more of a berry/pink color which is so pretty in person. I'm wearing a Medium, true to size) This cropped style is unique and the hem is straight rather than curved. You could still tuck it in, but you could also leave it untucked since it is a straight hem. You could also leave the shirt open and wear a solid color tee underneath. I'm wearing the Mid Rise Kicker Boot Jeans (size 12, but should have tried on a size 10). These jeans have an inseam of 32″, which is great if you wearing a high heel boot, but they were a bit long on me. I'm also wearing the Faux Suede Western Ankle Boots in the "mocha latte" color (size 9, true to size).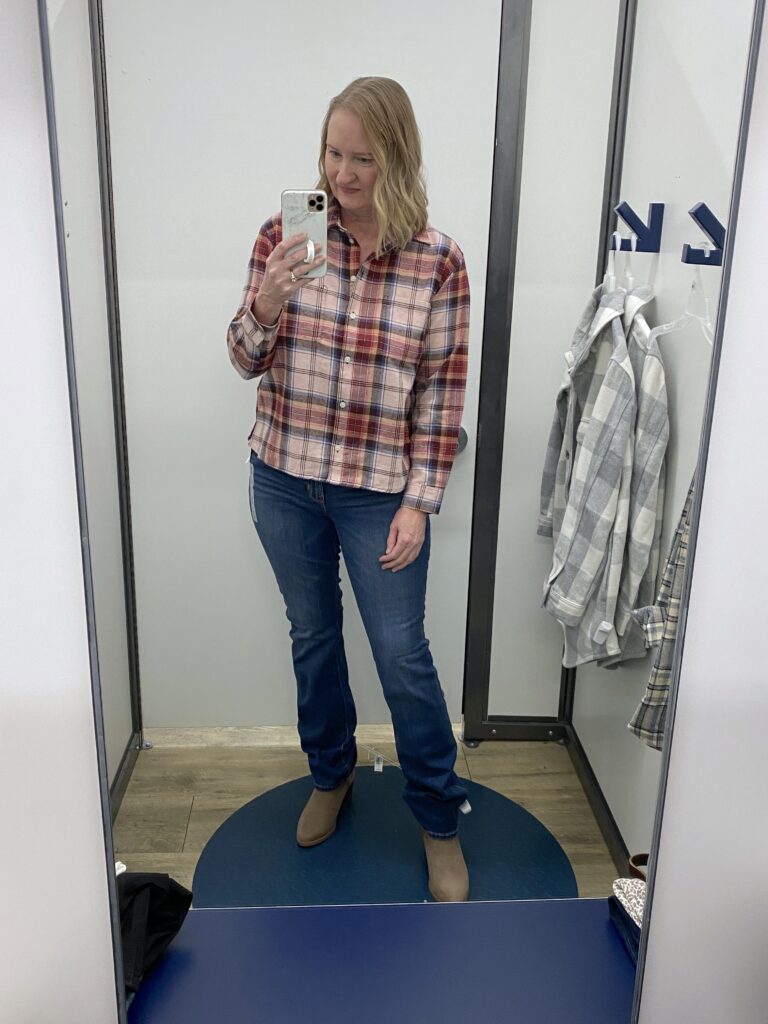 Shop The Outfit:

Shop More Fall Favorites at Old Navy:

Thank you for visiting the blog!
A Bit Of Inspiration For Your Day:
"My dear brothers and sisters, take note of this: Everyone should be quick to listen, slow to speak and slow to become angry, because human anger does not produce the righteousness that God desires." – James 1:19-20