Maternity Capsule Wardrobe: Spring/Summer 2019 (18 Pieces)
Are you pregnant and can no longer fit into your regular size clothes? Does the thought of getting dressed in the 2nd and 3rd trimesters seem overwhelming? I've created a Spring & Summer capsule wardrobe that will make it easier to get dressed everyday while you are pregnant so you can focus on more important things, like preparing for your baby!
If you need a maternity capsule for the Fall and Winter, I published a blog post a few months back, Maternity Capsule Wardrobe: Fall/Winter 2018.
I have blogged about capsule wardrobes for a few years now, about how to wear everything you love in your closet, get dozens of outfit combinations from just a few clothes, plus save hundreds $$$ each year by using a capsule wardrobe. I have received a few requests recently for a maternity capsule wardrobe, so I thought I would create one for the Spring/Summer season.
When I was pregnant with my daughter 14 years ago and my regular clothes no longer fit, I bought many tops and bottoms and spent hundreds on maternity clothes! That was before I discovered the capsule wardrobe system. I didn't layer any clothes, just wore tops with a jacket or coat, and went shopping every few weeks to buy more maternity clothes. I wish I knew then what I know now about using a capsule wardrobe, and I would have saved $$$, while getting many outfit combinations!
When To Buy Maternity Clothes
Everyone's body is different in exactly when regular-size clothes will no longer fit. As your pregnancy progresses, your regular tops will grow tight and your jeans/pants will become uncomfortable. Good news though! If you have any loose-fitting tunic tops, you will be able to wear those.
As you reach your 2nd trimester, you may need to buy your maternity capsule. Don't wait until your regular clothes no longer fit, go ahead and buy a few maternity clothes so you will have them on hand.
How Much To Spend On Maternity Clothes
When it comes time to buy maternity clothes, how much you spend is a personal preference. I created this maternity capsule to be budget-friendly!
Keep in mind that you will be wearing your maternity clothes approximately 6 months. You will need just enough clothes to get you through those months, then you will be back to wearing your regular clothes. As a rule of thumb, you will want to invest more in your bottoms, like jeans, pants and leggings, since it will be important to get the right fit and style. The maternity band on bottoms makes a difference in being comfortable and keeping your pants pulled up all day.
Generally, you can find tops that are budget-friendly and they won't get as much wear as your bottoms. You may be able to wear your existing layers, like cardigans, vests, jackets and coats, over your maternity tops, so you may not have to buy any of those. I included non-maternity layers in this capsule wardrobe.
Maternity Essentials
As with a non-maternity capsule wardrobe, you will want to focus on the basic essentials in mostly neutral colors. Dressing in neutral colors will yield the most outfits, getting you through to the end of your pregnancy.
T-Shirts: Those t-shirts will be important in building your maternity capsule. Choose colors in white, gray and/or black. A striped tee is a good basic essential also. If you want to add 1 or 2 accent colors to your maternity capsule wardrobe, add a couple of tees in those accent colors as well.
Tunic Tops: These types of tops are great for maternity wear and for good reason…they are long enough to cover your growing belly, yet are slightly fitted across your chest.
Jeans: As with any capsule wardrobe, jeans are a must-have, so add 1 or 2 pairs of jeans in different washes.
Leggings: When you are pregnant, you want to wear clothes that are comfortable, yet still look nice. Leggings in black or gray go well with long length tees and tunic tops.
Shoes: With carrying the added weight of your baby, you will want to wear flats, comfortable shoes, like cushiony flats, sneakers, booties and boots. I recommend investing in a few pairs of comfortable shoes…

your feet with thank you

!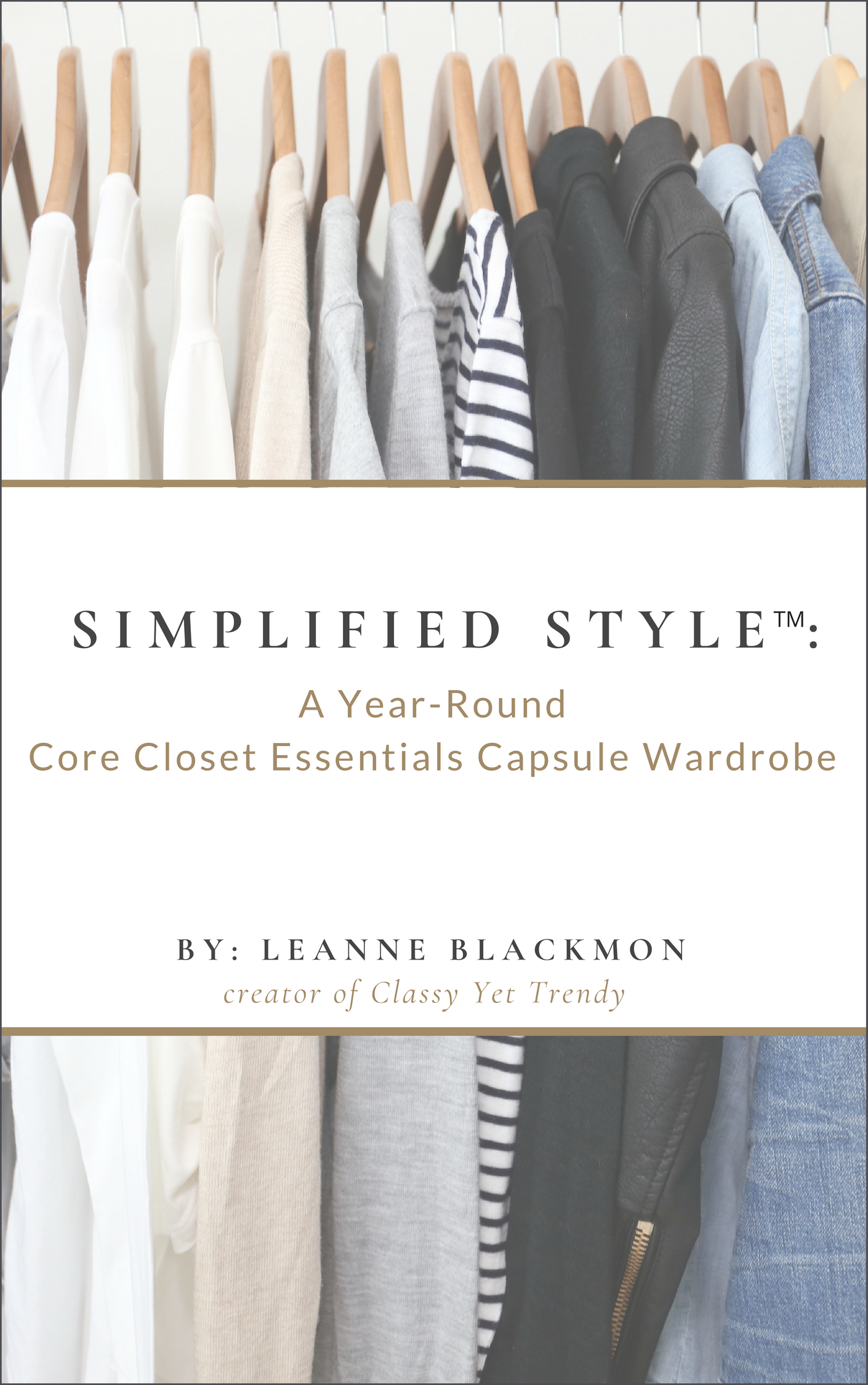 Where To Buy Maternity Clothes
There are a few retailers I recommend when buying maternity clothes. If you are Plus-Size or Petite, check with these retailers for your size.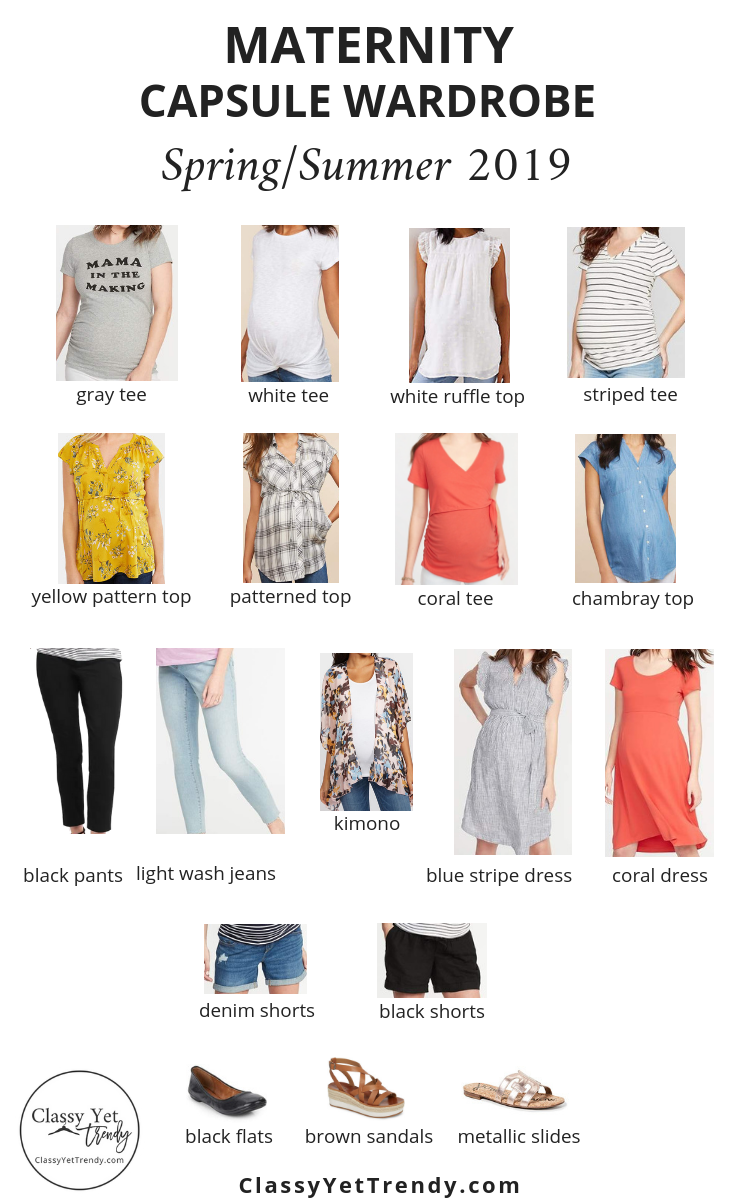 TOPS:
gray tee
white twist tee
white ruffle top
striped tee
yellow pattern top
patterned top
coral tee
chambray top
LAYER:

BOTTOMS:
black pants
light wash jeans
denim shorts
black shorts
DRESSES:

SHOES:
black flats
brown sandals
metallic slides
SHOP THE POST: