Shoes and Bag Combos For Your Summer Outfits
I received a reader request for some shoes and bag combinations to wear with their Summer outfits. I searched online and found several shoes and bags that would look beautiful together. To keep things simple, I narrowed it down to 4 sets of shoes and bags. See the outfit ideas in this post; which outfit is your favorite?
The most versatile colors for bags and shoes are neutrals, like brown, almond, tan, ivory, taupe and black. If you tend to wear a lot of one or two colors in your wardrobe, you can also add a colorful bag or a pair of colored shoes in those colors you wear. If you wear black, the best shoes and bag colors to wear are the neutral colors mentioned above. If you wear navy, you can wear any of the neutrals mentioned above, except black, but navy instead.
I have ordered the Sam Edelman Bay Slides in "almond patent" and the Steve Madden Hadyn Sandals in "cognac" featured in this post for myself, for my own Summer capsule wardrobe! These two shoes are my personal favorites since they will coordinate well with all the Summer outfits!
The Market Tote in "black" is from Portland Leather Goods. I personally have several bags from Portland Leather Goods and carry at least one of them a few times each week! They are my favorite full-grain leather bag brand and they are also budget-friendly! I carried my Mini Crossbody Bag all week on our Charleston vacation (seen in this blog post). Portland Leather Goods also has a Facebook Group, Portland Leather Insiders. It is such a fun group! According to PLG, it is "the OFFICIAL group for customers and fans to get the inside scoop on all things Portland Leather! Join us for sneak peeks, early access, special giveaways, VIP discounts and exclusive content from the PLG team you won't find elsewhere."
The Shoes & Bag Combinations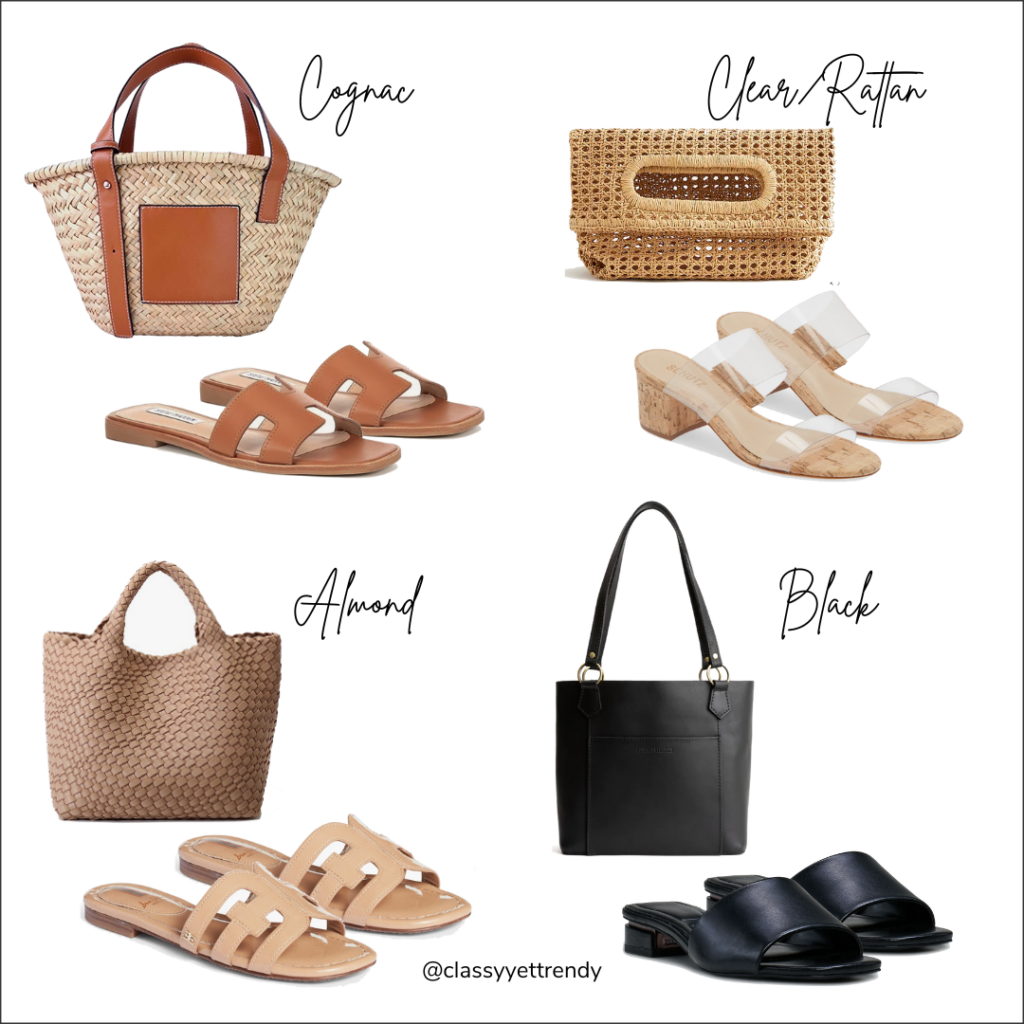 Shoes & Bags Details:
Cognac Straw Tote (Amazon inspired style for the Loewe's Raffia Tote) but is only $39.99! / Cognac Slide Sandals
Rattan Clutch / Clear Sandal Heels (also here)
Almond Textured Bag (Amazon inspired style for the Naghedi Nomad – I have this one) / Almond Slide Sandals
Black Leather Market Tote / Black Slide Sandals
Shop The Shoes & Bags:

Outfit Ideas
I have paired the shoes and bags with dresses, but you can also wear them with all your Summer pieces such as tees and shorts, shirts and pants and blouses and skirts.
The first outfit pairs the Cognac Straw Tote (Amazon inspired style for the Loewe's Raffia Tote) and the Cognac Slide Sandals with this Cotton Rib Sleeveless Midi Tank Dress, which comes in several colors ("black" color is shown). This dress is so versatile since you can wear it casually as shown here, dressed up with heels and either a blazer or cardigan or as a beach coverup!
Click on the outfit collage below shop it on the LTK account app @classyyettrendy!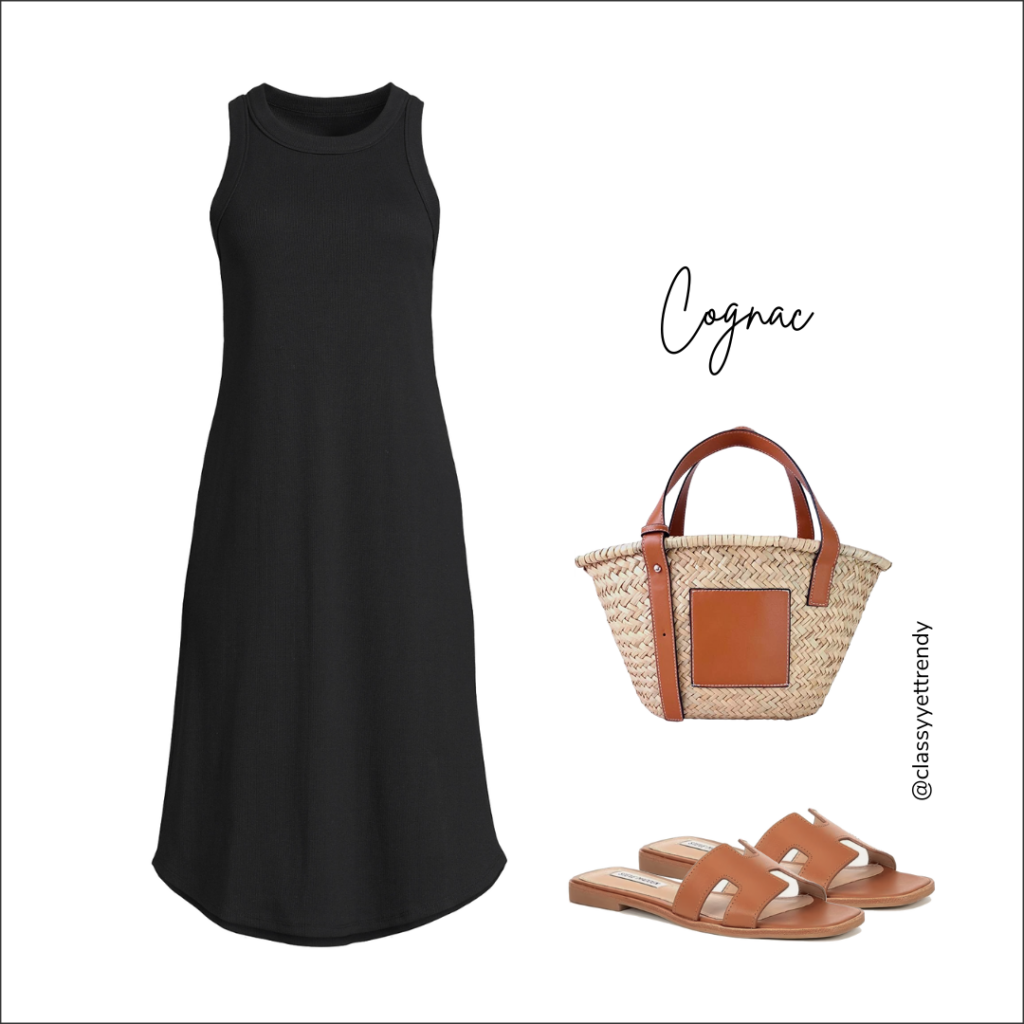 Shop The Outfit:

This outfit features this lovely Ruffle Neck Denim Shift Dress. Talbots made this dress in a top last year, which I bought and wore it so much last Summer. This dress is lovely and you can wear it casually with this Vegan Leather Woven Bag (similar Naghedi brand "ecru" color <- I have this bag and love it!) and these Sam Edelman Bay Slide Sandals in "almond patent".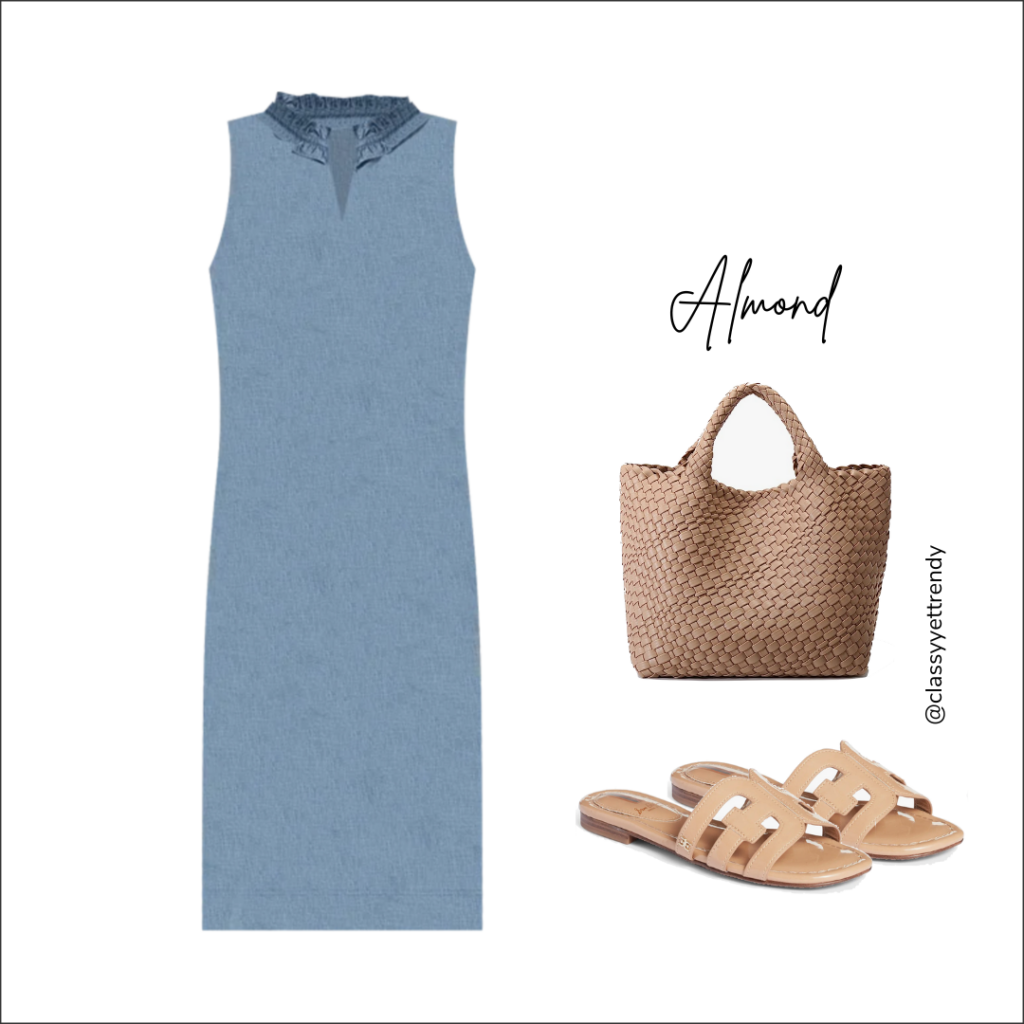 This Ruffle Sleeve Tiered Maxi Dress is a budget-friendly one on Amazon and has many 5 star reviews! It comes in many other colors to choose from. This Open Weave Foldover Clutch and these Clear Strap Sandal Heels (also here) looks lovely with this dress and also will coordinate perfectly with your skirts and pants!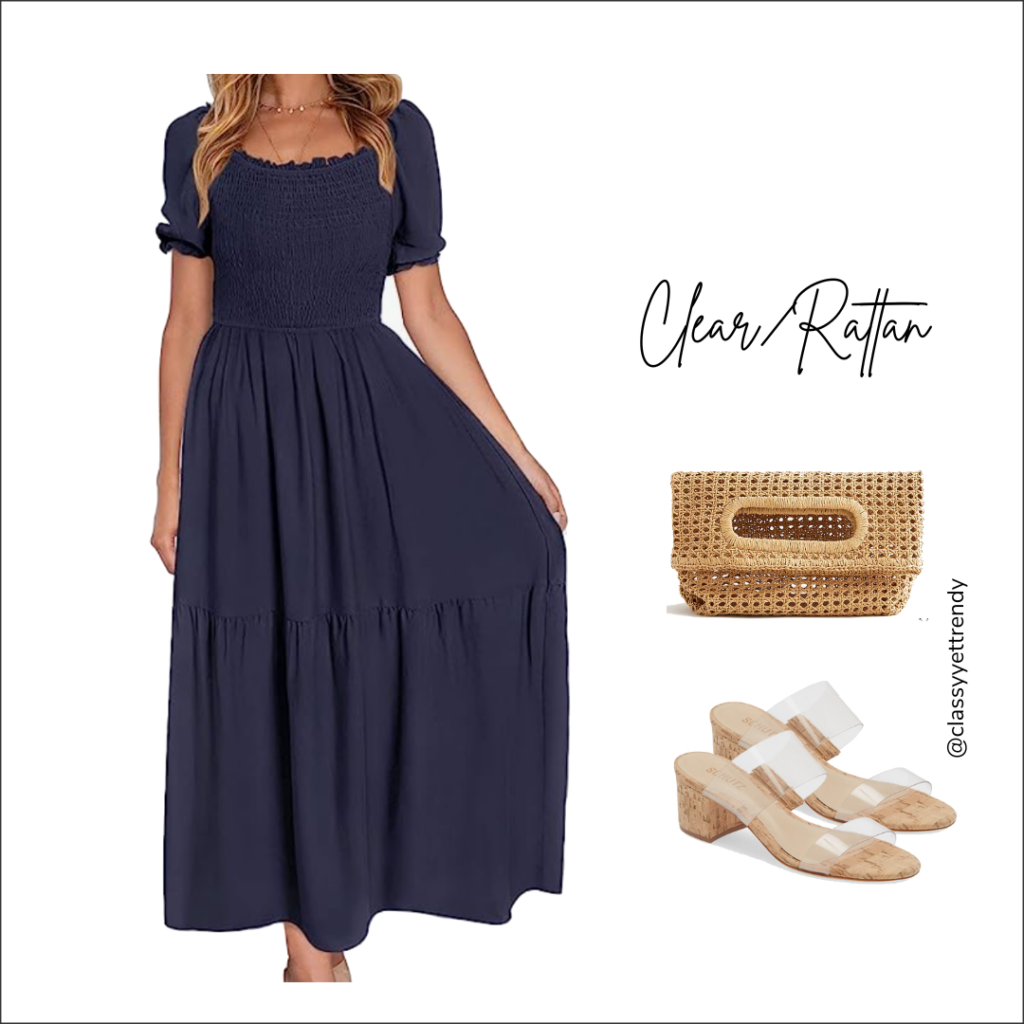 Stripes are always in style and this Striped Tie-Waist T-shirt Dress is lovely! This full-grain leather Market Tote in "black" from Portland Leather Goods coordinates perfectly with this dress; the bag comes in other colors too and also available in the Market Tote "Almost Perfect" style which is on sale!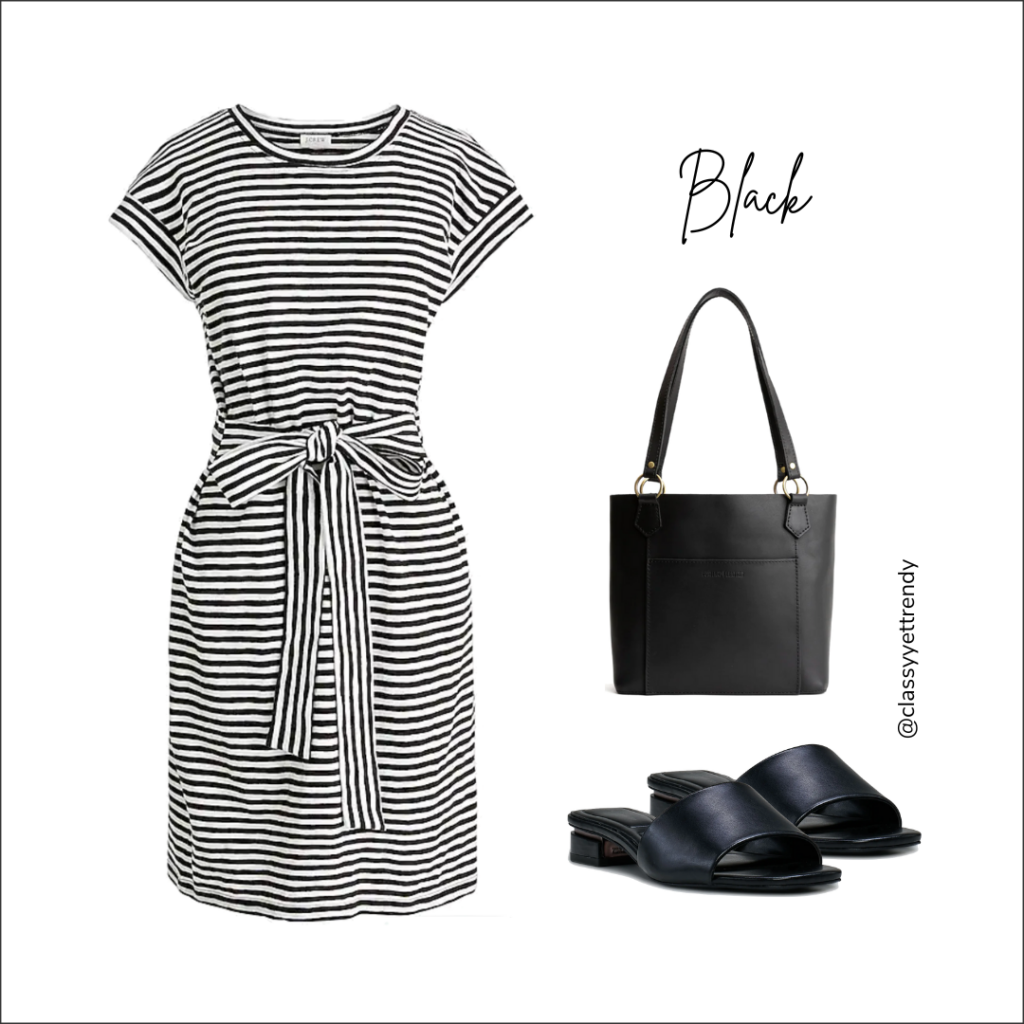 Thank you for visiting the blog!
A Bit Of Inspiration For Your Day:
"Give thanks to the Lord, for he is good, his love endures forever." – 1 Chronicles 16:34