7 Days of Outfits (French Minimalist Fall Edition)
When it comes to getting dressed well everyday, it's not how many clothes you have that you can pick from.  It's how you use the clothes you have to make an array of outfits to choose from!  If you have just a few clothes in your closet that can coordinate well with one another, you can go right to your closet, pick two or three items, get dressed and you're done!  No need to stress over trying to find this top or that skirt because your closet is packed full of clothes.
The key to having many outfits ready to wear in an instant is knowing where everything is in your closet and that everything coordinates.  When I make a choice to buy any clothing item, I usually plan to buy it: I see what I'm missing in my closet, use shopstyle.com to find just the right item, then I'll make sure it will coordinate with at least 3 other items in my wardrobe.  Sometimes, I'll see an item in the store and really like it (beautiful style and the right colors for me).  In that situation, if it's a possible impulse buy, I will still think it through to make sure it will fit in my closet and that it will last for several seasons.  That way you'll buy clothes with no regrets.  We work hard for our money, so we are careful in how we spend it!  
Using a capsule wardrobe will literally change your life!  It changed mine.  Before I used a capsule wardrobe, my closet was in disarray.  It was packed full of clothes that had too many patterns, some that didn't fit well, plus I didn't really know how to create outfits.  I always dressed with a top and pants or top and jeans and that was it.  I wore shoes that looked too old for me.  Another problem I had…since I wasn't pleased with the clothes I had, when I felt that "I didn't have anything to wear", I went shopping.  I spent more money and stuffed my closet with more clothes.  Little did I know, I was making my closet worse!
One day while browsing on Pinterest, I discovered a "capsule wardrobe".  I was desperate to make my closet better, so I tried it for a couple of seasons.  I discovered that using a capsule wardrobe really improved my closet!  I was starting to feel better about myself because I was creating outfits with clothes I loved to wear and that looked great on me.  Since I could see everything in my closet, there was no stress in getting dressed everyday.  For the first time in my life, I went from "not having anything to wear" to thinking "I had lots of outfits to wear and I look great too"!
In the few years that I have been using a capsule wardrobe, I found that there are "core closet" items.  Those items are the building blocks of your wardrobe, that you use almost everytime to create each season's capsule wardrobe.  You can see several "core closet" items in the How To Create A Core Closet post.  You can create outfits using just those core closet items; see How To Create Outfits With A Core Closet: 6 Outfit Ideas.
This blog post uses a few of those core closet items to create 7 days of outfits.  All the clothes, shoes and accessories are from The French Minimalist Capsule Wardrobe: Fall 2017 Collection, which is in the Capsule Wardrobe eBook Store.
In The French Minimalist Capsule Wardrobe: Fall 2017 Collection, only 21 clothes and shoes are used to create 100 outfits!  In the eBook, there is a guide to shows how to create a capsule wardrobe, which clothes and shoes (and optional accessories) to make 100 outfits, a 100 outfits visual guide, a travel packing guide using just a few of the items, plus more!  For the recommended clothes and shoes, there are shopping sources for different price points, from budget-friendly to splurge.
Find out how to make many outfits using just a few items in your wardrobe with my eBook!
(click on the image below to get your copy)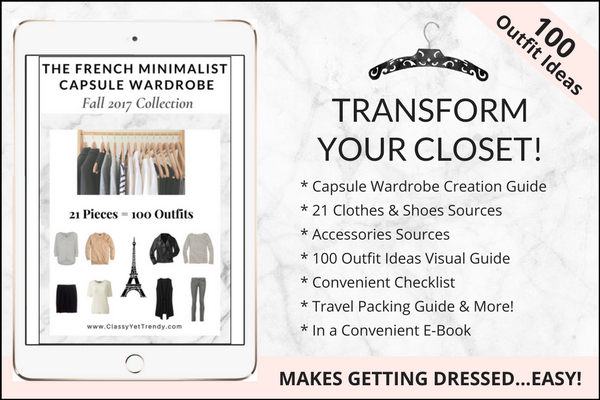 Day 1
white tee / black blazer / skinny jeans / pendant necklace / handbag / black flats
Day 2
striped top / leather jacket / black midi skirt / scarf / clutch / black pumps
Day 3
white tee / beige cardigan / black jeans / bandana / handbag / black flats
Day 4
camel sweater / black jeans / black sleeveless cardigan / necklace / handbag / ankle boots
Day 5
white tee / gray cardigan / black skirt / necklace / clutch / pumps
Day 6
camel sweater / skinny jeans / black blazer / bandana / clutch / ankle boots
Day 7
striped top / black skirt / black sleeveless cardigan / necklace / handbag / black flats

Plus-Size Options