Starter Capsule Wardrobe (10 Pieces / Summer)
Start your capsule wardrobe using just 10 pieces!
If you've been on Pinterest or have read some posts here on my blog, chances are you've seen the subject "Capsule Wardrobes".  I'm a BIG FAN of capsule wardrobes!  They have helped me 1) save on average about $1,000 a year and 2) changed my shopping habits.  Having a capsule wardrobe can literally change your life.  I save money by being conservative at shopping.
Here's how I used to be with clothes: I would carelessly buy clothes not thinking about if they would go with other clothes in my closet.  The clothes I would buy would only go with one or two other items in my closet.  I would wear them a few times, then get tired of them.  Oh, and I can't forget about if something was on sale, I just HAD to buy it!  I couldn't pass it up because it was on sale.  I couldn't leave it on the rack…it was half-price!  Once again, not thinking if I could wear it for a few years or if it was made of quality material.  Some clothes I would buy wouldn't be made well and would stretch or fade after a couple of washings.
Thank goodness for the internet and finding out about capsule wardrobes.  A couple of years ago when I was researching about the capsule wardrobe concept, I thought I would give a try.  It took a couple of seasons to NOT want to wear ALL the clothes in my closet.  I think we can be emotionally attached to the clothes in our closet.  I know I was.   Now, things have changed and I have a different approach when it comes to clothes.  When I do shop, I ask myself "can this item go with at least 3 other things in my closet?"  If it doesn't, I don't buy it.  Also, I would rather spend $50 on a shirt that's well made and is mixable with several items in my closet, and NOT buy a $20 shirt that is cheaply made and can go with only 1 other item.
I have 30 clothes in my Summer Capsule Wardrobe.   Other than adding a pair of shorts to wear on the weekend, I stick to those 30 items.  I don't feel weighed down by having all those clothes in my closet.  I feel more refreshed and organized and it takes me only 5 minutes to get dressed in the morning.  Life is better with a capsule wardrobe!
If you like this 10-Piece Starter Capsule Wardrobe,
you'll love The Minimalist Capsule Wardrobe E-Book!
25 pieces will make 85 Outfits
All 85 Outfits are created for you!
If you are just starting out with wanting to try a capsule wardrobe, you can start with just 10 items.
These 10 wardrobe essentials

 can easily mix and match with one another.  They are popular styles, neutral colors and solid materials.
You
can create at least 20 outfits

with all these pieces!
You may also like these posts: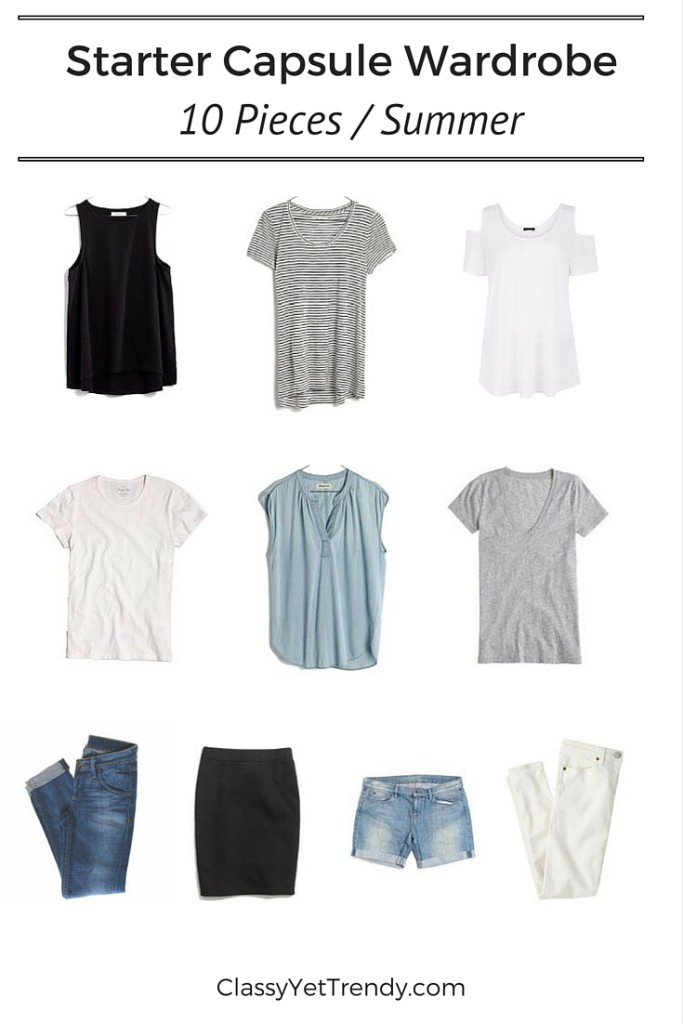 Row 1: black tank / black striped tee / ivory cold shoulder top
Row 2: white tee / gray tee / chambray shirt
Row 3: black skirt / white jeans / indigo jeans / denim shorts
Click images to shop the post
 Add shoes to complete your outfits (click images to shop)