See how to transition a Striped Dress & Gray Tee from summer into  fall!
Do you have a striped dress or a gray tee that you love wearing right now in the summer?  You can wear them in the fall too!  Just add a layer and a pair of ankle boots and you'll be good to go!  Also, check out my Wear Now, Wear Later: Summer To Fall from last week.  In that post, I show how to transition a chambray shirt dress and a black tank from summer to fall.
Outfit #1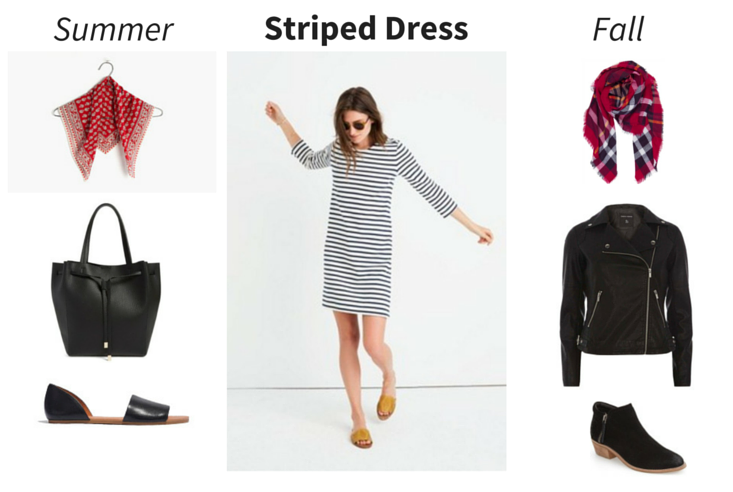 Outfit #1 features a 3/4 length sleeve striped dress.  In the summer, you can wear it with a red bandana around your neck, black tote and black flat sandals.  In the fall, just add a faux leather jacket, plaid scarf and black ankle booties for a warmer outfit.
Shop the Outfit:
Outfit #2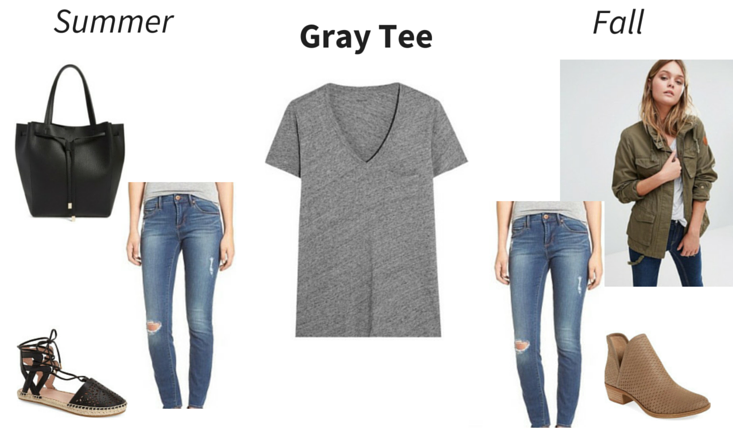 Outfit #2 carries your favorite gray tee, worn in the summer, into fall.  Gray Tees are wardrobe essentials and since they are a neutral color, they can be worn in multiple seasons.  In the summer, you can wear your gray tee with your favorite distressed jeans, black tote and black espadrilles.  In the fall dress for cooler weather by adding a utility jacket and a pair of tan ankle boots.
Shop the Outfit:
Now,

you've saved money

by getting the most out of your summer clothes!