In-vested In Essentials and a New Camera (Trendy Wednesday #112)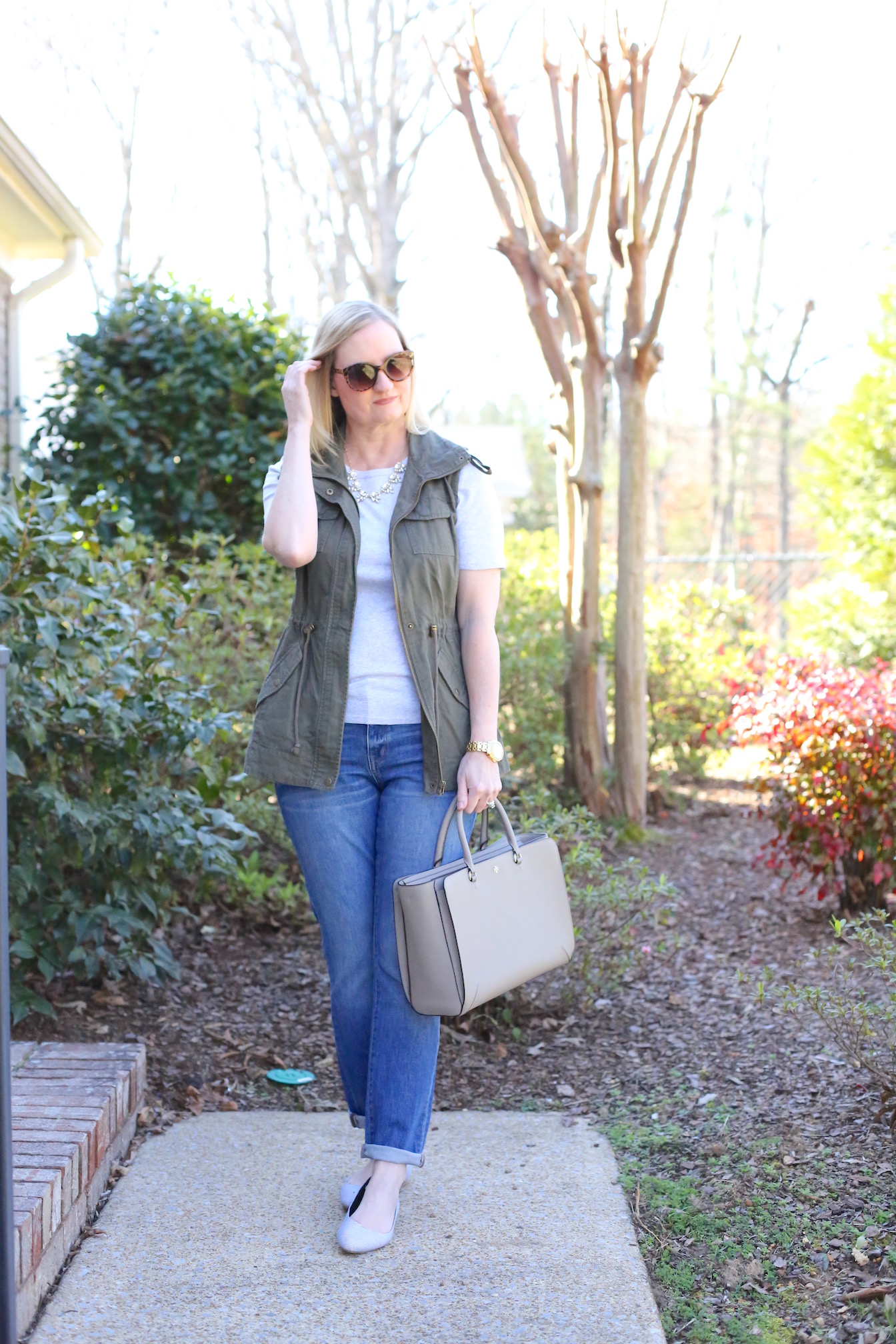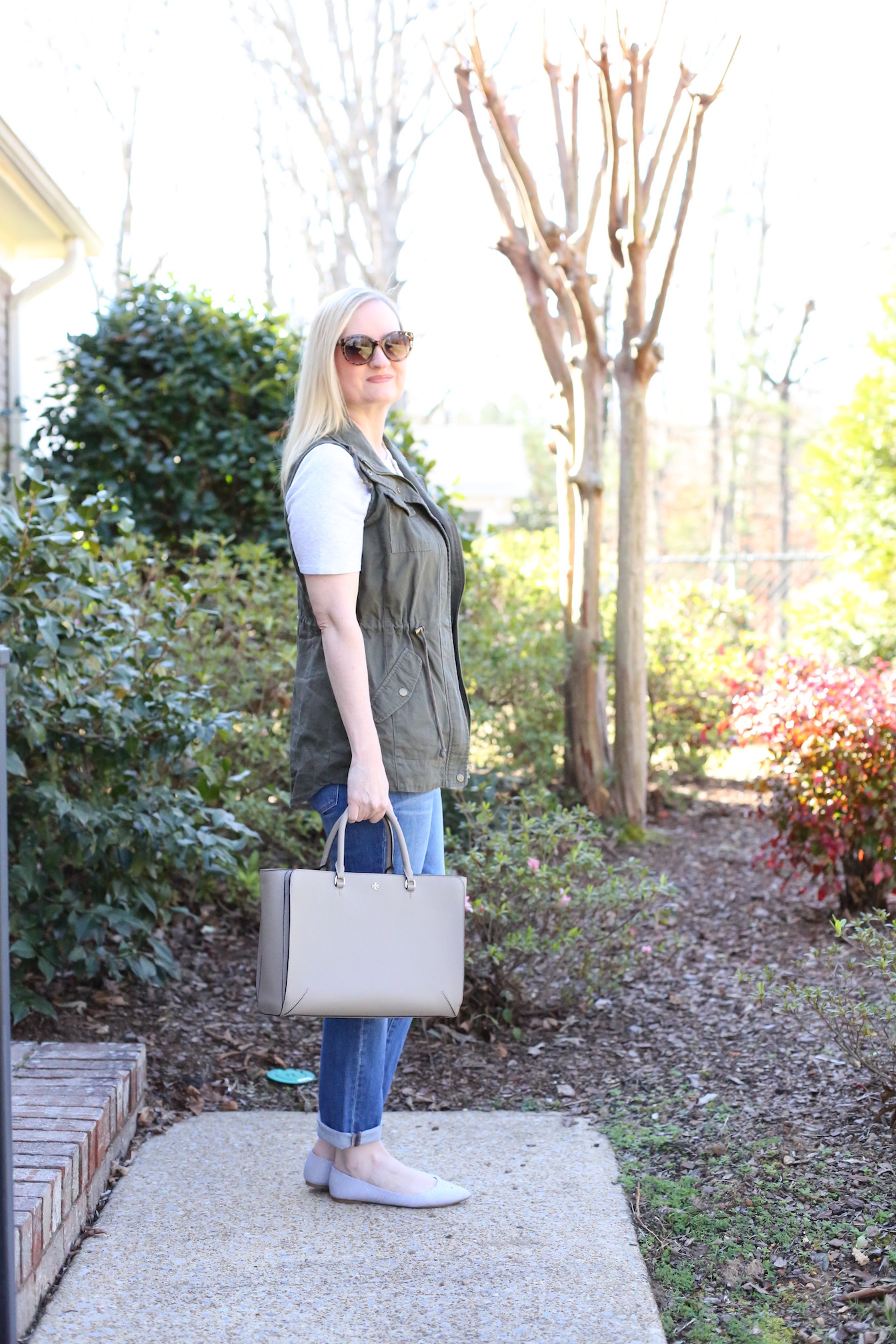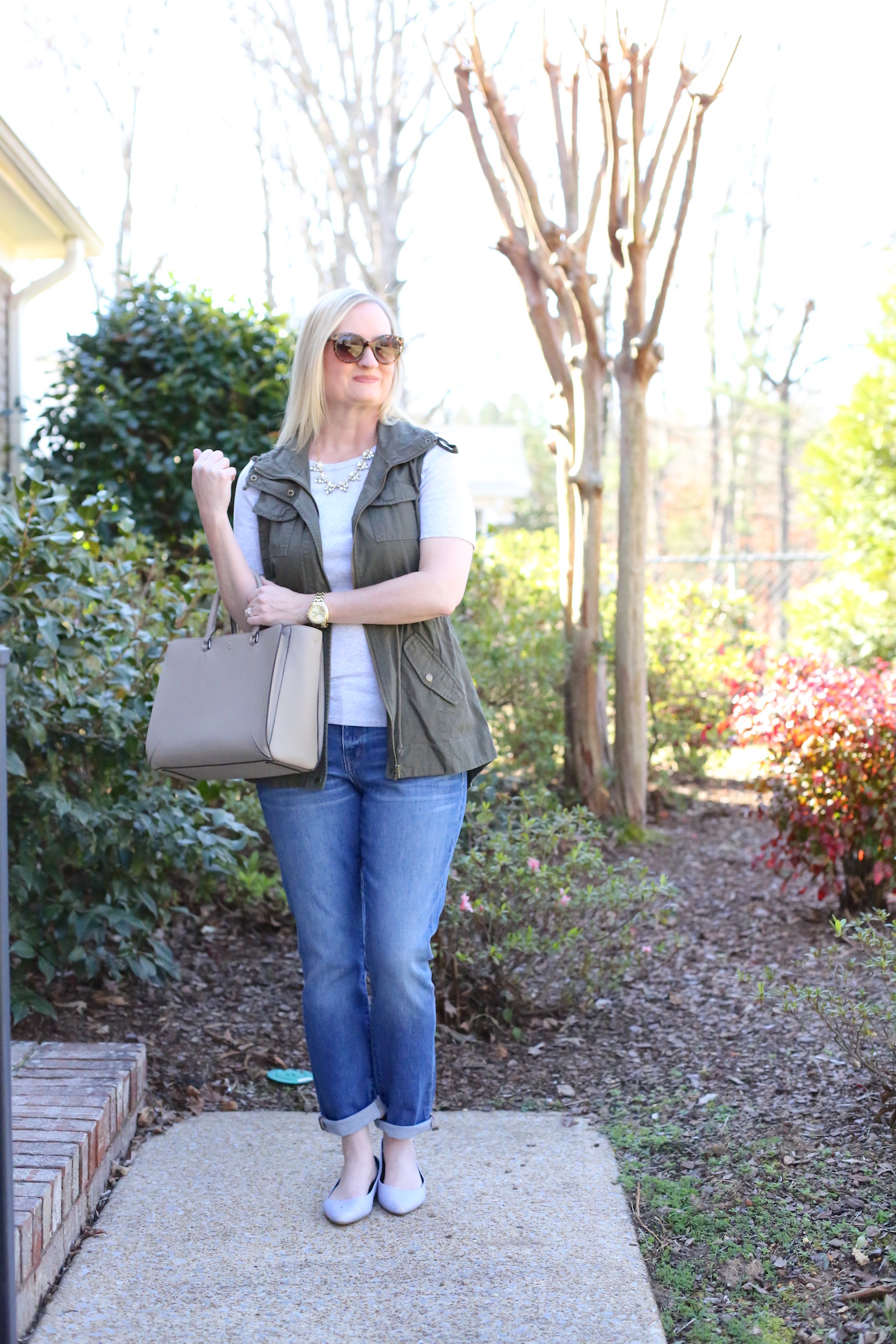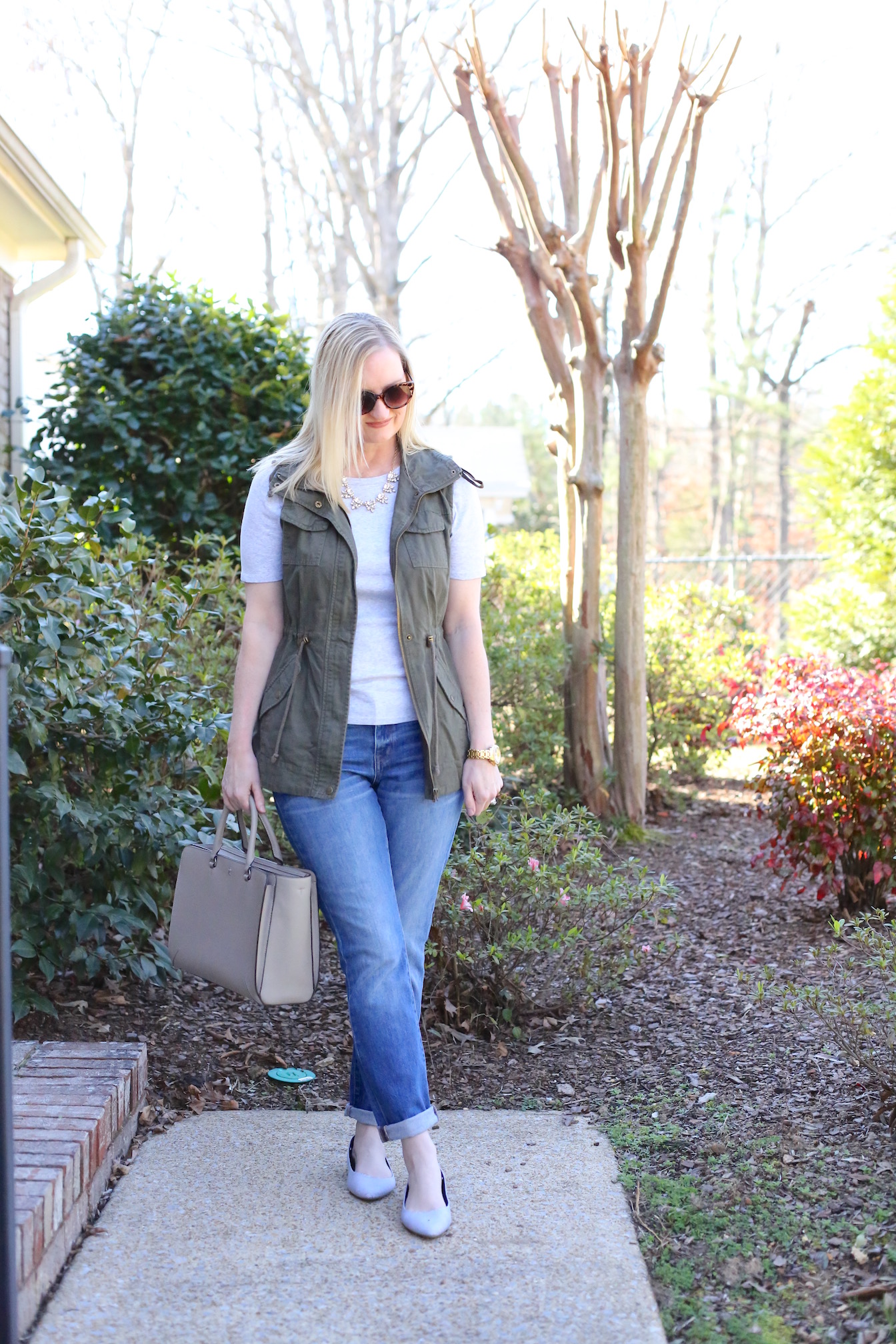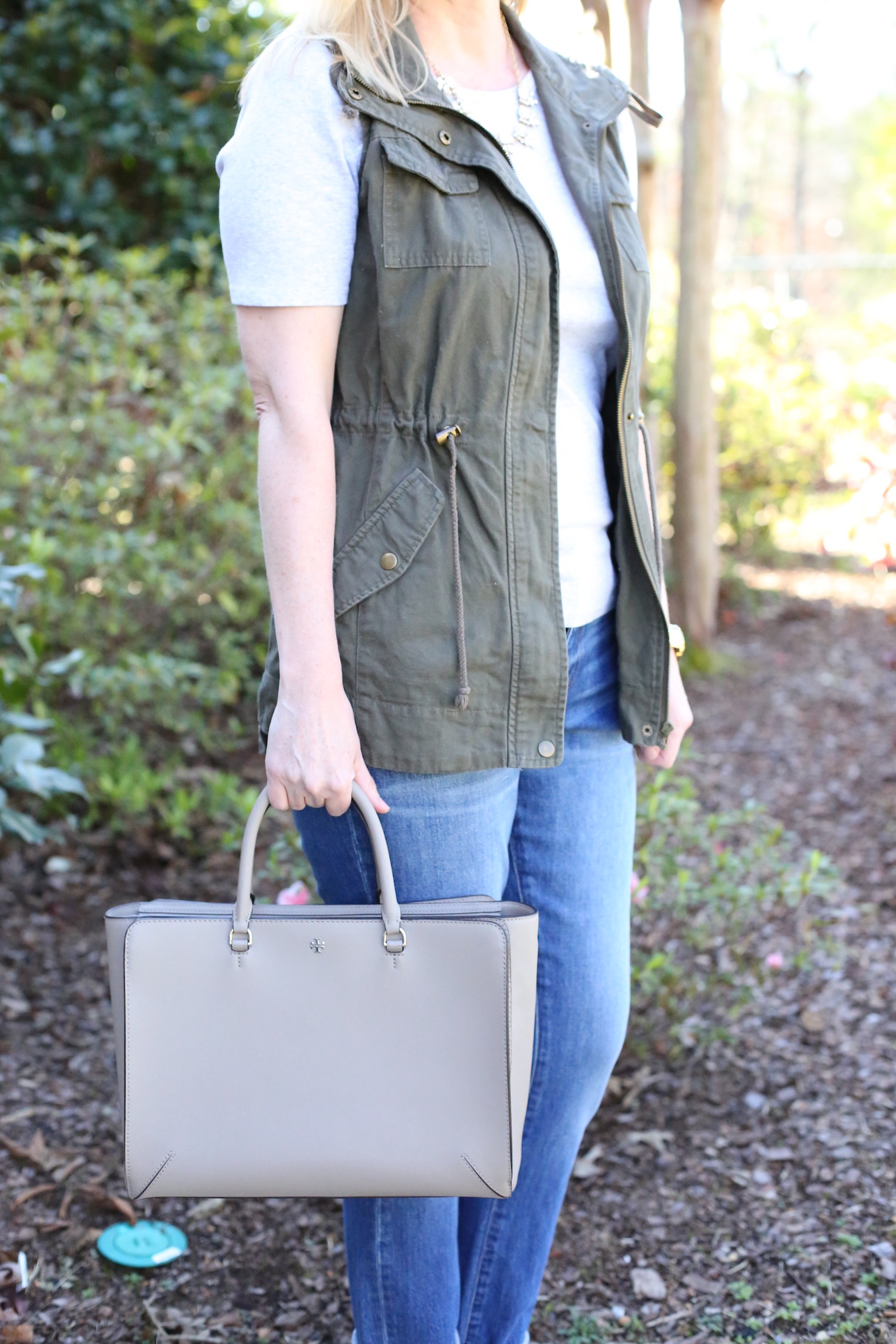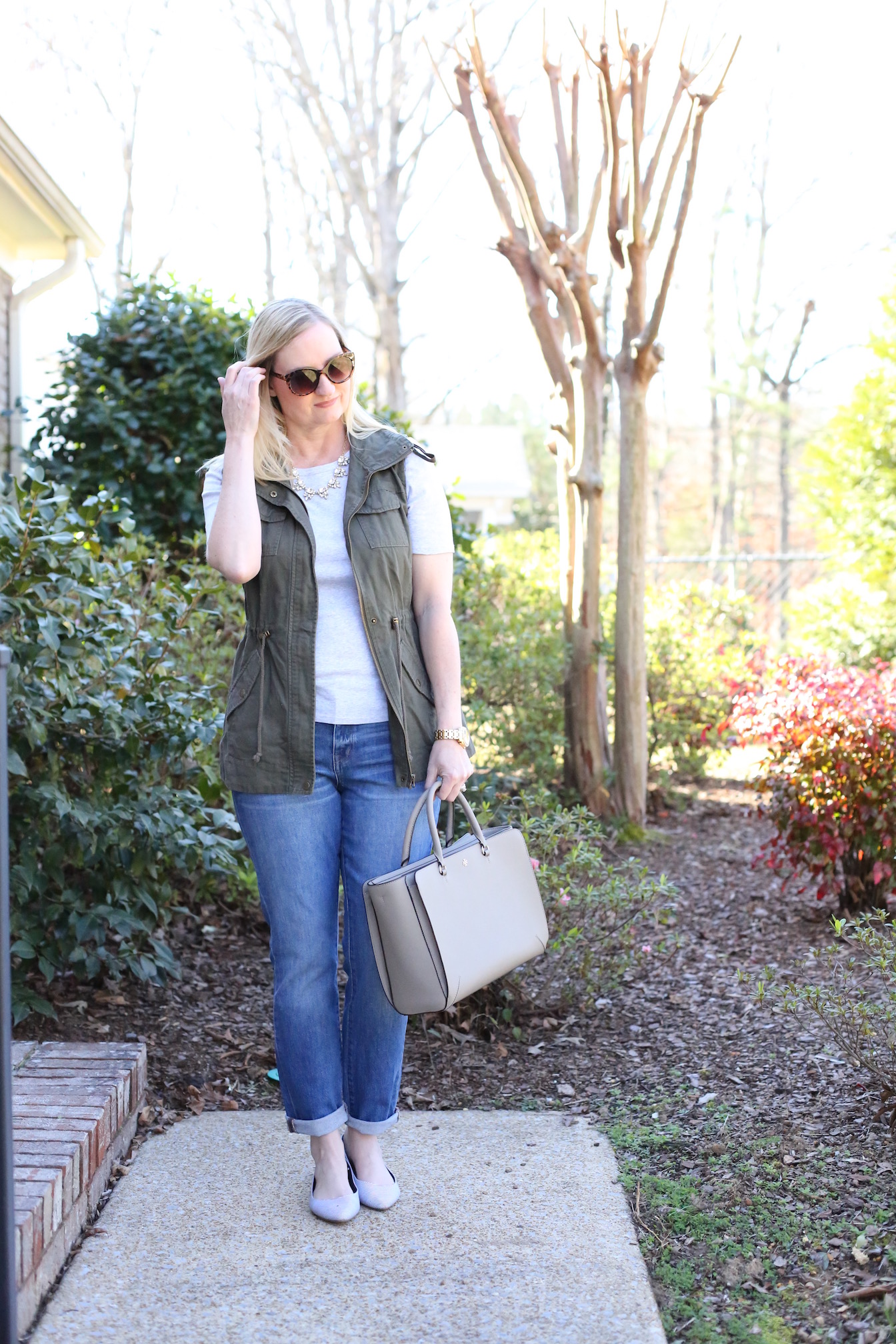 Outfit Details:
gray "perfect" tee
olive utility vest
tortoise sunglasses
crystal necklace
slim boyfriend jeans
watch
Tory Burch tote
blue striped ballet flats
Spring is here and we've had warmer temps this week!  I've officially packed away my winter capsule wardrobe and have been wearing a few pieces of my spring capsule wardrobe.  Last Fall, I saw these slim boyfriend jeans.  I wanted to buy them then, but I already had bought two pair of skinny jeans for my Fall capsule, so I told myself I would wait until the Spring to get them.  Well, two weeks ago I bought these slim boyfriend jeans!  They are so comfy and are a medium denim wash so they will go with several things in my capsule.
About a month ago I bought this gray "perfect" tee and an identical one in white.  I liked the way they are more of a fitted tee with longer sleeves.  Since these tees are more fitted, I can dress them up by wearing them with skirts or dress pants!
I've had this olive utility vest for quite a few seasons and it's still going strong!  I almost didn't include it in my spring capsule wardrobe, but I needed another layering item in my capsule, so I included it.  It's one of my favorite pieces I have "in-vested" in!
When Old Navy was putting out their spring clothes, I grabbed these blue striped ballet flats.  They are a great casual shoe that is comfortable and looks totally like spring!
You may have noticed the quality of my photos in today's post are clearer.  That's because I have a new camera and two new lenses!  Last year I bought a Canon Rebel DSLR camera with a 18-135mm kit lens and a Canon 50mm f/1.4 lens.  It's been a great camera and is easy to use.   Here lately, I have needed a camera with more detail capability to take clear photos of clothing and flatlays for my Capsule Wardrobe e-Books, Instagram, etc..  I upgraded my camera to a Canon 5D Mark III and added a Canon EF 24-70mm f/4 lens and a Canon EF 100mm f/2.8L Macro lens.  I absolutely love my new camera equipment!!!  For these photos today, I used the 50mm f1.4 lens (my favorite lens for taking outfit photos).  The Canon EF 24-70mm f/4 lens is a great lens for general photos.  The Canon EF 100mm f/2.8L Macro lens is designed to take close-up photos where you need to highlight detail (like food photography).  I also upgraded my tripod to a Manfrotto Tripod with Ball Swivel Head attachment.

hello

The two featured bloggers from the last linkup are:


1.  Please follow your Host 
2. Link up to 5 posts: 
it can be about fashion, style, beauty or lifestyle

(linkup to your blog post and not your main page)
3. Please include a link back to this post or place my linkup button in your post.
4.  Now, add your post(s) below!  I hope you enjoy the linkup and enjoy meeting other bloggers!
Each week I feature 2 bloggers from the previous link,
so link-up your blog posts for your chance to be featured!