20 Fall Wardrobe Essentials at Old Navy Under $35
Do you have your closet ready for the fall season?  I selected everything for my capsule wardrobe this past weekend.  It took me about an hour to take everything out, select which pieces would be in my capsule wardrobe and then put it all in my closet.  That's the beauty of having a capsule wardrobe, because it doesn't take you long to decide what you want to wear.  My closet consists mainly of wardrobe essentials…you know, those pieces that "go with everything".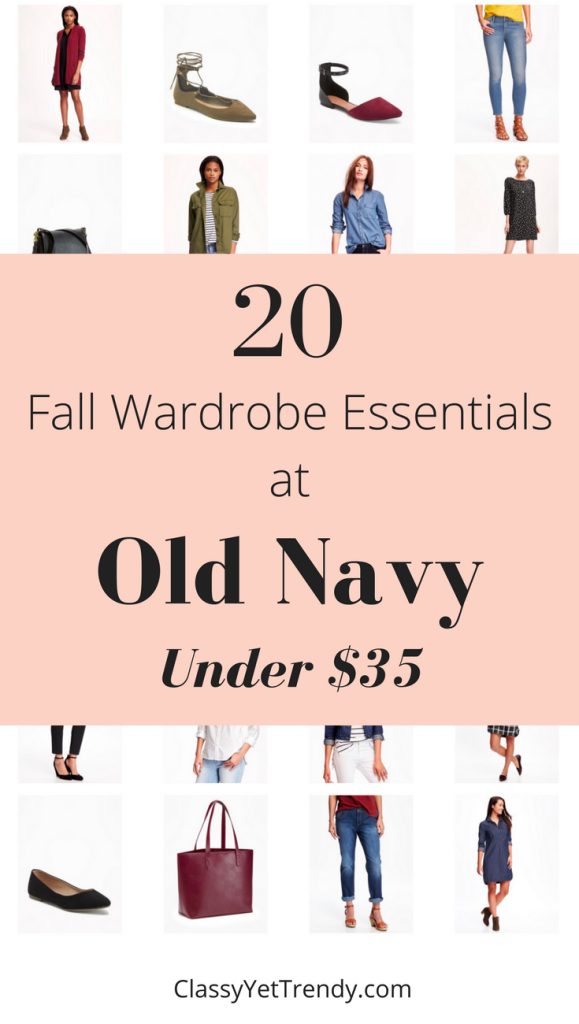 My favorite closet essentials are a pair of black ankle pants, a white button-up shirt, a chambray shirt, a black skirt, a utility vest, a black blazer and a pair of great fitting jeans.  Those are almost always the "anchors" of my cooler weather wardrobe.   I tend to reach for those pieces the most.  I feel great wearing them and they go with just about everything in my closet.
If you're interested in starting a capsule wardrobe of your own, or you are a fan of capsule wardrobes and want to have an e-book with all the clothes and shoes selected for you, dozens of outfit ideas and more, check out my Online Capsule Wardrobe E-Book Store.  I have 3 capsule styles to choose from!  See the most popular e-book, The French Minimalist Capsule Wardrobe: Fall 2016 Collection, by clicking on the image just below:
.
One of my favorite stores to shop is Old Navy.  My most favorite item at Old Navy are their cardigans!  I have a couple of boyfriend cardigans, a taupe-colored one and a charcoal-colored one, that I have had for 3 years.  They fit great and they wear well.  Their Rock Star jeans are awesome too.  They fit just right all over and hold their shape all day.  I've found several other clothes, shoes and accessories at Old Navy that are excellent wardrobe choices.  They would right in, in any closet!  And the best thing is…they are all under $35!  If you're on a budget, but are needing a few pieces for your fall wardrobe, look at these items below.
 You can click on any item to shop!