What's In My Popsugar Must Have January Box
Find out what came in my Popsugar Must-Have Box in January!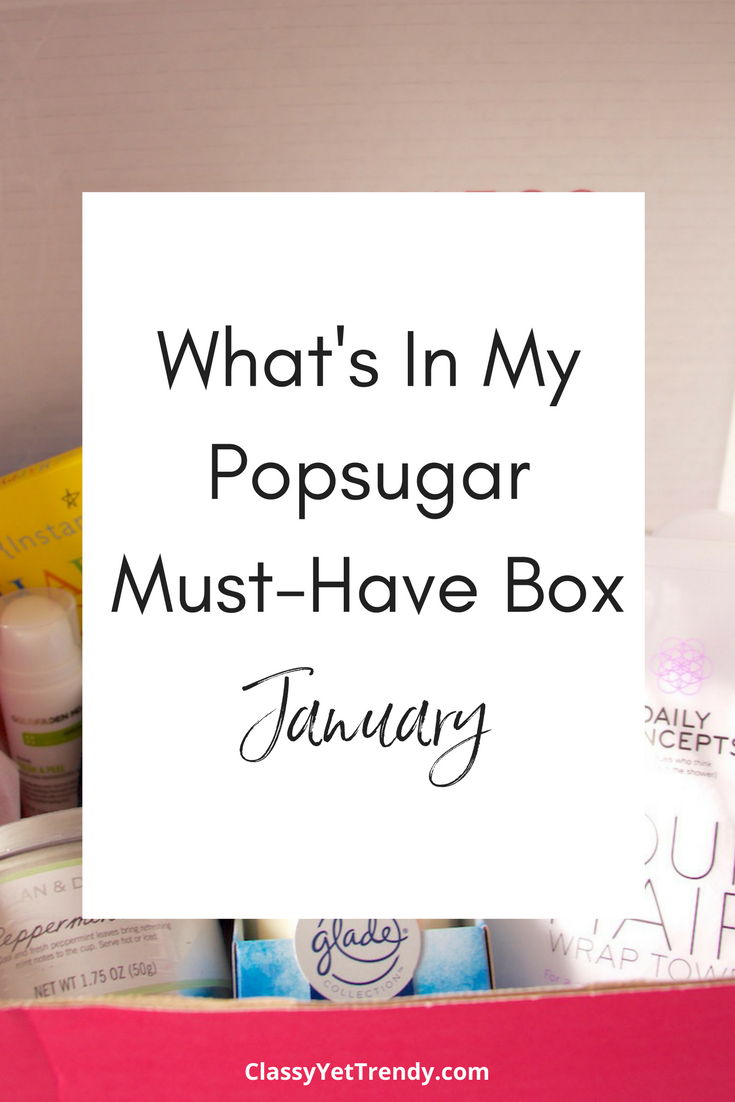 Do you subscribe to any subscription boxes?  Subscription boxes are a collection of items delivered to you monthly.  You pay one price and you receive a box of items.  Such subscription boxes are Popsugar Must-Have, Stitchfix, Rocksbox, etc.  I love subscription boxes because they are fun to get, include a great choice of items and are conveniently delivered to your home.  I'm super excited about January's Popsugar Must-Have Box!  It is filled with goodies!
The Popsugar Must-Have Box is a monthly lifestyle subscription box for women.  Each month it includes items such as fashion, beauty, food, fitness, home, etc.
You can sign up now to receive your first box for $5 off!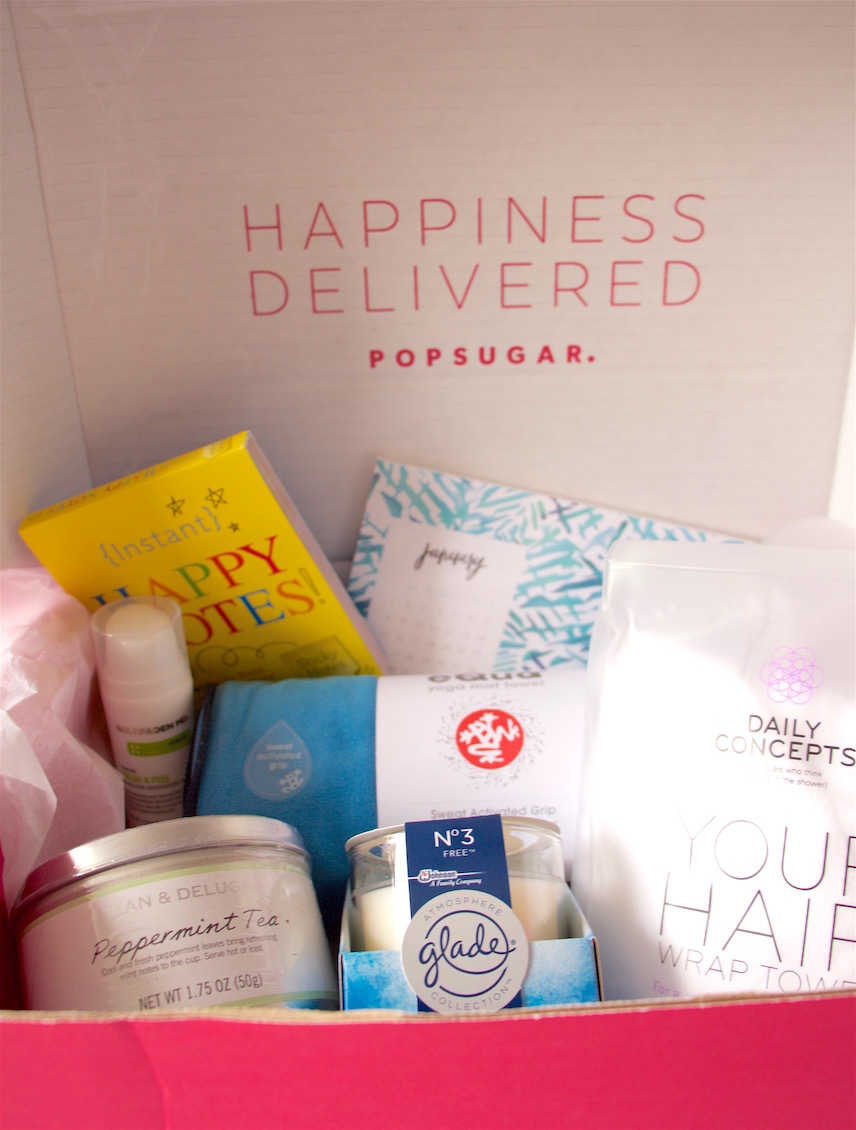 The subscription box: POPSUGAR Must-Have Box
The Cost: $39.95 a month
The Products: "Must Have" items for women selected by POPSUGAR editors. (Fitness, Home, Beauty, Food, and more)
Ships to: U.S. via USPS (United States Postal Service)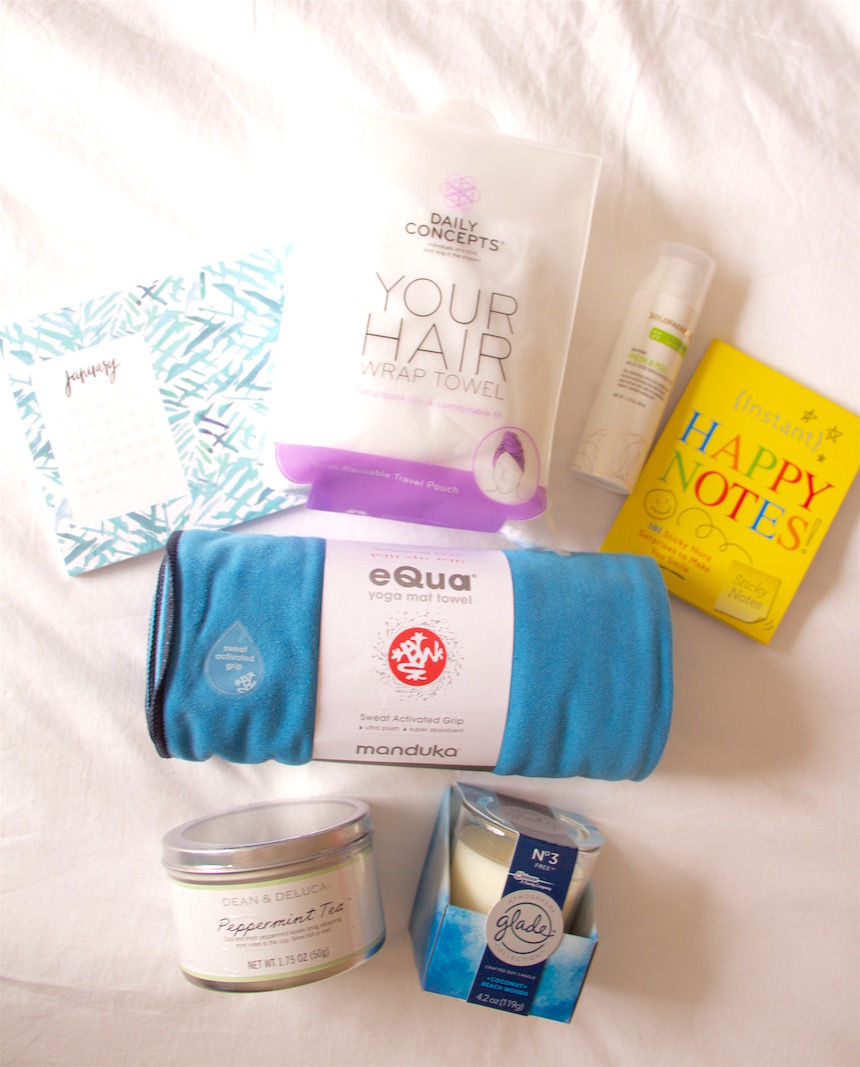 Item: Goldfaden MD: Value $85
I haven't used this yet, but oh my this comes in this month's box!  I'm looking forward to using this!
Item: May Designs Desk Calendar & Notecard, Value $25
There are one card for each month and comes with a little clear easel to sit them on your desk.  Cute!
Item: Daily Concepts Hair Wrap Towel, Value $18
This towel works great and is perfect for keeping my hair up while I'm applying my makeup!
Item: Manduka eQua Mat Towel, Value $38
Although I don't do Yoga, this towel is made well, and would be perfect for anyone in their Yoga class.
Item: Sourcebooks, Inc Instant Happy Notes, Value $8.99
What a neat idea!  Keep some notes for yourself and give some to others to brighten their day!
Item: Dean & Deluca Peppermint Loose Leaf Tea, Value $10.75
I'm a hot beverage drinker and drink a cup of coffee and a warm mug of tea everyday, so when I saw this tea in the box I was excited to try it.  It's very refreshing and tastes good!
Item: Glade Coconut and Beach Woods Candle, Value $4.99
I love candles and probably have one in every room of my house and on my desk at my office!  This candle smells divine!  This one is a soy candle, which I love because it burns clean.
Verdict: This box has a retail value of $190.73!  I really like the variety of items in this month's box.  My favorites are the hair wrap, desk calendar, peppermint tea and the candle!
You can get $5 off your Popsugar Must-Have Box by using the code SHOP5 when you checkout online.
POPSUGAR sent me this Must Have Box to try #sponsored #ad.  As always, all opinions are my own.