5 Summer To Fall Transition Essentials
As Fall approaches, we pack away our summer clothes to prepare for the crisp, Fall weather.  But, you may not have to pack away everything!  You can still wear several summer clothes into the Fall season.  Those transition items can be worn in both Summer and Fall, thus saving you money by not having to buy extra clothes for the Fall.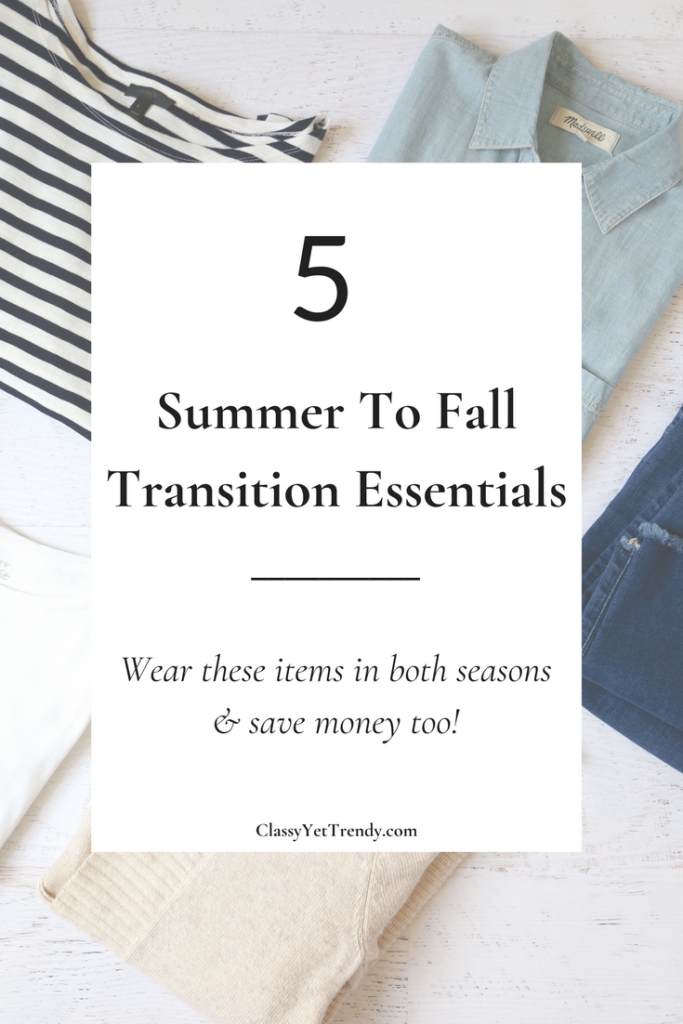 While you may not be able to wear summer clothes with bright colors or patterns in the Fall, keep those tops in your closet that have Fall-worthy colors.  Even floral-pattern tops with fall colors (like teal, burgundy and mustard) are on-trend.  Neutral tops, like black, white, ivory and gray are always in style, no matter the season.  Dark pastels are perfect to wear in the fall too.
Here are a few tops that you've worn in the summer to keep in your closet for the fall:
1. Tee
Whether it is a plain tee or one with a ruffled bottom, tie front or twist front, all these make great transition items.
2. Cami
If you like to wear cami's with your shorts on the weekend or with dress pants on a date, cami's are perfect to wear underneath practically all layering pieces.
3. Cold Shoulder Tops & Dresses
Keep those cold shoulder tops out and wear them in the Fall!  Certain cold shoulder tops wear well underneath cardigans, blazers or jackets.
4. Tank
Tank tops, especially swing tanks, make great layering pieces.  Use either solid color or patterned tanks.
5. Tank Dress
You can still wear your tank dresses too.  Neutral colors or striped tank dresses look great underneath cardigans, blazers or jackets.
Layers to wear with transition items:
If you are wondering what layering pieces to wear over your transition items, here are a few layers that are perfect to wear.
Sweater Vest
Sweater vests look great with tees, cami's or tank dresses.  The provide just enough coverage and warmth for a slightly cool day.
Cardigan
Cardigans are #1 when it comes to layering pieces.  They come in all colors and lengths.  I recommend at least two cardigans in your Fall wardrobe.
Suede Jacket
Suede jackets provide color, texture and warmth over fall transition items.
Utility Vest or Jacket
Utility vests and jackets are perfect lightweight layers to wear over fall transition pieces.
Blazer
Blazers look great dressed up with pants or worn casually with jeans.  Just wear your fall transition piece underneath and you are ready to go!
 What are your favorite Summer to Fall transition pieces?