Nordstrom Anniversary Sale: Beauty and Home Picks
The Nordstrom Anniversary Sale is going on now!  Friday was the first day of the sale, open to the public.  Several departments are on sale at discounted prices: clothes, shoes, jewelry, accessories, home, kids, men and more.
If you're not familiar with Nordstrom Anniversary Sale that happens this time every year, Nordstrom puts hundreds of items on sale, even NEW items!  As a blogger, I look forward to this yearly sale.  This is Nordstrom's biggest sale of the year!
For more details on shopping the sale, see the Nordstrom Anniversary Sale Guide and 6 Outfit Ideas From The Nordstrom Anniversary Sale.  See my Dressing Room Diaries I shared on Friday.  If you want to make the most of your budget and buy the right items for your closet, see How To Buy Clothes For Your Wardrobe.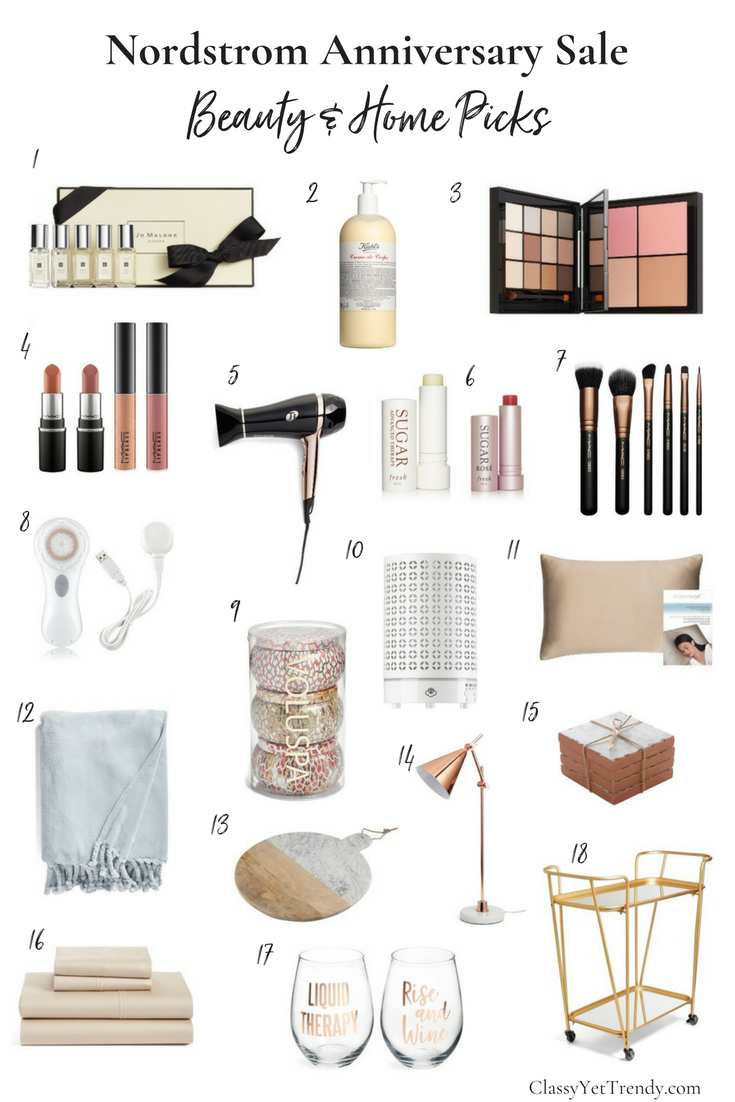 1 – Jo Malone fragrance collection
2- Kiehl's creme de corps lotion
3 – Bobbi Brown eyes and cheeks collection
4 – MAC lip color set
5 – T3 featherweight hair dryer
6 – Fresh Sugar lip romance duo
7 – MAC beauty brush set
8 – Clarisonic mia cleansing tool
9 – Voluspa candle trio set
10 – aromatherapy diffuser
11 – skin rejuvenating pillowcase
12 – plush fringe throw
13 – round marble & wood serving board
14 – coppertone table lamp
15 – copper edge marble coasters
16 – organic cotton sheet set
17 – stemless wine glass set
18 – metal mirrored rolling bar cart
There are several items I have spotted that I would love to have.  A few of these I already have and highly recommend them.   I'm a Jo Malone fragrance fan!   This Jo Malone fragrance collection has the scent I love, the Nectarine Blossom & Honey.  The other scents in this set sound wonderful too.  I ordered the Fresh Sugar lip romance set in the Early Access Sale and love it!  I apply the clear lip balm at bedtime and I like to use the tinted lip balm with a lipliner during the day.  I tried a small size Kiehl's Creme de Corps lotion earlier in the year and have used it all.  I have ordered the jumbo lotion pump to last me for a few months.  I have the T3 featherweight hair dryer and have been using it for a few days.  I can tell a big difference between the T3 and my old hair dryer.  I love the cool shot button too!  If you are looking for a facial cleaning tool, I recommend the Clarisonic Mia cleansing tool.  I had bought one for me a couple of years ago, but my daughter uses it now and she loves it too.  It works well cleansing your face, yet it is gentle enough too.  I have ordered the Voluspa candle trio set and am anxious to use these candles throughout my house.  I heard they smell wonderful!  Another item I bought from the sale is the Foreo Luna 2 Pro Facial Cleansing & Anti-aging Device.  I have heard great reviews on it, so I can't wait to try it.
If you don't have an aromatherapy essential oil diffuser, you should get one!  I don't have the one featured above, but I have an essential oil diffuser in my office next to my computer.  Every time I work on my website publishing posts or working on my capsule wardrobe e-books, I always have it on.  Just fill it with water, add a few drops of an essential oil to the water, turn it on and your room smells divine, plus the gentle mist is soothing.  I have ordered the plush fringe throw in "blue surf" to go in my living room.  When I watch tv, browse on my iPad or read, I always use a throw.  Plus, how cute is this set of wine glasses that say "liquid therapy" and "rise and wine"?
The Nordstrom Anniversary Sale ends August 6.  
Recent posts about the Nordstrom Sale:
Nordstrom Anniversary Sale: Dressing Room Diaries
6 Outfit Ideas From The Nordstrom Anniversary Sale
Nordstrom Anniversary Sale Guide!
How To Shop The Nordstrom Anniversary Sale