The Simple Trick For A Closet Cleanout
When it comes to cleaning out your closet, do you like to avoid doing so?  Does it seem like a daunting task that you dread?  I used to be the same way!  I rarely cleaned out my closet.  I used to buy clothes, wear them a few times, then push them in the back of my closet, keeping them to wear (hopefully) another day.  I did this over and over with my clothes and shoes too, until one day I realized my closet was packed.  It took me what seemed like forever trying to find something to wear.  My closet was so full of clothes, it was hard to actually know what all I had.
A couple of years ago, I tried out the capsule wardrobe concept.  The first thing I did was take everything out of my closet, to see what I had.  For each item that I went through I asked myself a few questions, kind of like a checklist, to see if I really wanted to keep it to wear again.  Looking back on my first closet cleanout, asking those questions about each item helped me to really cleanout my closet!
Following this simple trick is the first step in cleaning out your closet!  See How To Start a Capsule Wardrobe: A 5-Step Visual Guide to create your capsule wardrobe.  If you want to a convenient guide to creating a capsule wardrobe, with all the clothes and shoes picked out for you, plus 100 outfit ideas, and more, you may like The French Minimalist Capsule Wardrobe: Summer 2017 Collection, or another Capsule Wardrobe e-Book!
The simple trick for a closet cleanout is to ask yourself 5 questions.  If an item passes all those questions, then keep it.  If not, you probably won't be completely happy keeping it, so either sell it or donate it.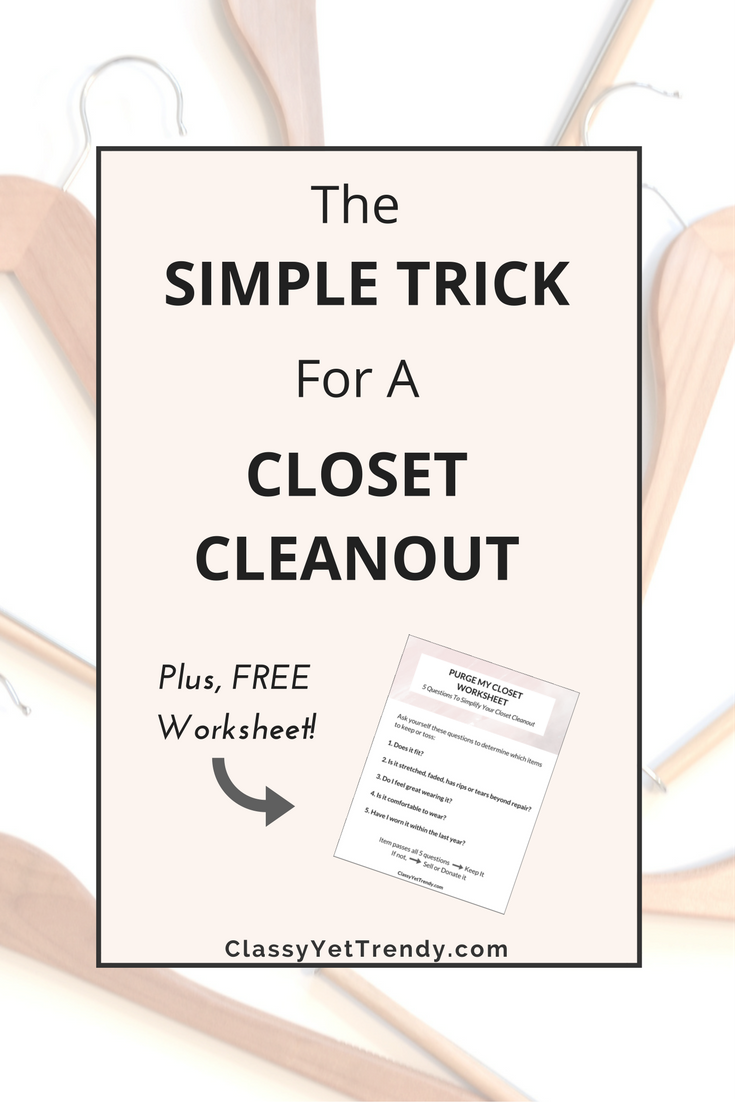 Download your FREE "Purge My Closet Worksheet" below!
So, ask yourself these questions for each item:
1. Does it fit?
Does the item still fit right?  Is it too tight or too loose?  Sometimes we keep an item if it is a smaller size than what we are wearing, because we hope to fit in it someday.  When it comes to your wardrobe, what's important is to wear what you can now.
2. Is it stretched, faded, has rips or tears beyond repair?
This is when an item is beyond it's useful life.  If it is stretched or faded, you won't look good wearing it.  If it has rips or tears beyond the point of mending, go ahead and toss it, recycle it or find another use for it.
3. Do I feel great wearing it?
If you feel great wearing it, you'll want to wear it over and over.  Also, because you feel great wearing it, it may give you a bit of confidence too!  If an item makes you feel great when you wear it, you'll want to wear it in several outfits!
4. Is it comfortable to wear?
Don't you just love those clothes that are so comfortable to wear?  They may be so soft that you'll want to wear them all day.  If it is a plush cardigan, it is perfect to wear on a cool, Fall evening.  If it is light and airy, it's perfect to wear on a hot Summer day.  You'll want to avoid fabrics that are stiff and itchy, as those are the ones that tend to be the most uncomfortable.
5. Have I worn it in the last year?
If you have tucked an item in the back of your closet, because you think you may wear it again, chances are you won't.  Even if an item still has the tags attached, doesn't mean you'll wear it.  Only keep the items that you wear within a year and get rid of the others.
Download your FREE Worksheet!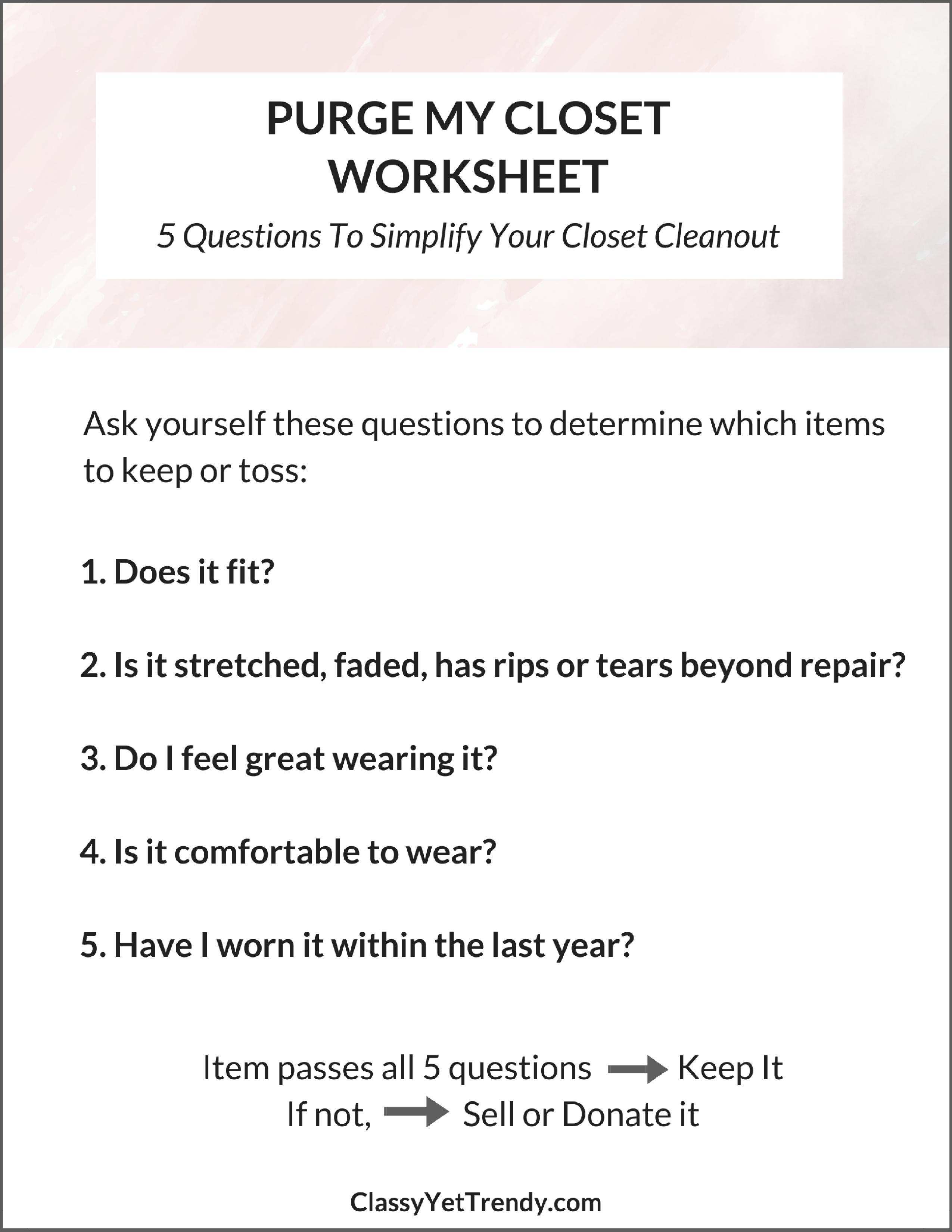 Here are a few items that should pass all 5 questions, as they are basic essentials to have in your closet: