What To Wear In Disney World In The Summer
Disney World is one of the most fun places you can go!  People of all ages love Disney World, as it such an enjoyable place to visit!  The first time I went to Disney World was when I was 11 years old.  It was just the Magic Kingdom and Epcot then.  Since then, they have expanded it to include Animal Kingdom, Hollywood Studios and two water parks.  I have been 3 times since then and if you are considering taking your family, it is definitely worth going!
If you will be going to Disney World this Summer, you may be wondering what to pack.  First of all, check the weather, because what you will pack will depend on what the temperature will be during your stay.  Starting in April, the temperatures begin to warm up.  In the Summer months it is humid, which makes it seem like a sauna outside!  I highly recommend wearing clothes made of cotton, so it will allow your skin to breathe.  You will do a LOT of walking, so be sure to pack comfortable shoes.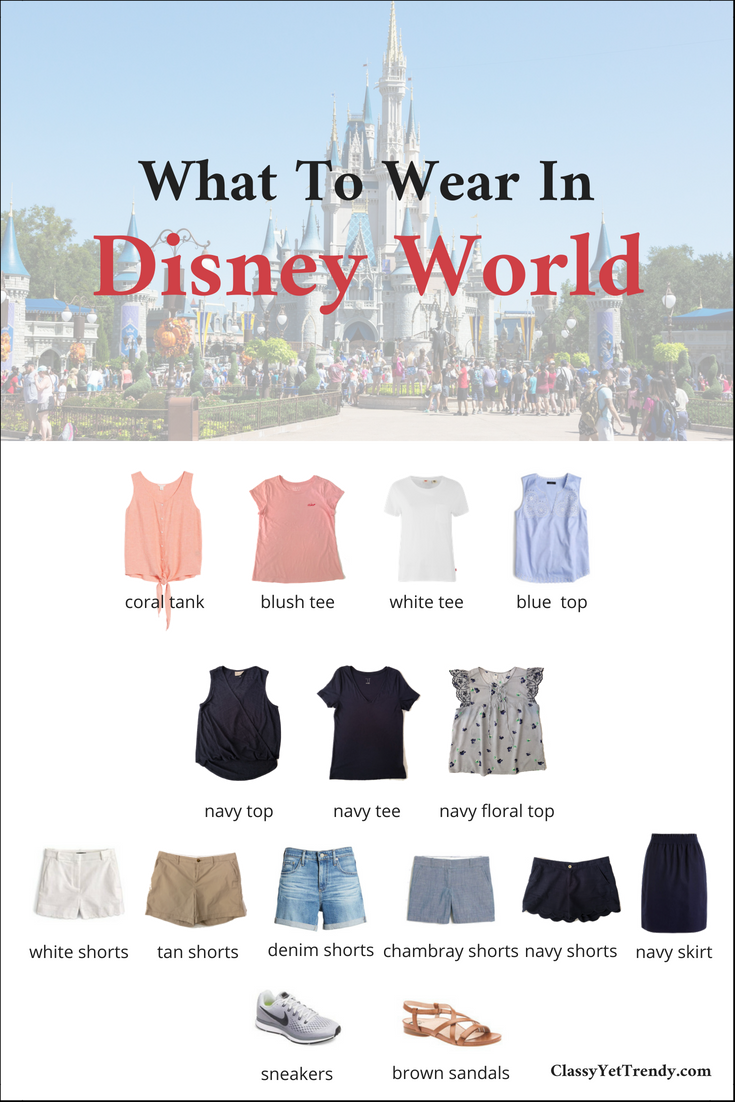 Shop The Packing List:
Row 1: coral tank / blush "Ciao" tee / white tee / blue top (old), similar, similar
Row 2: navy top / navy tee / navy striped floral top, love this one!
Row 3: white shorts (love these!) / tan shorts / denim shorts (exact), similar / chambray shorts / navy scallop shorts / navy skirt
Row 4: sneakers / brown sandals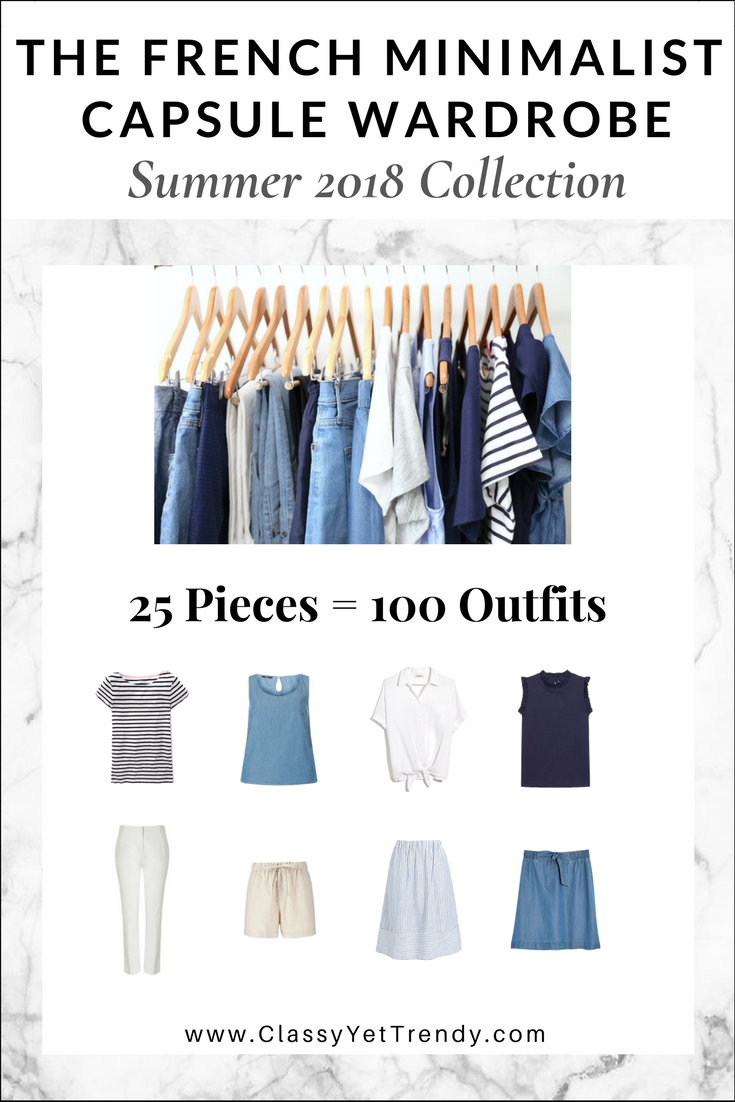 Here's a few tips on what to pack and wear in the parks:
Color palette of your clothes:
When deciding on what clothes to pack, choose a base color, like black or navy, similar to creating a capsule wardrobe.  Choose clothes with mostly neutral colors, like your base color, chambray, white and beige.  You can also add tops and/or bottoms in a coordinating accent color, like coral or blush, like I used.  You'll be able to mix and match all your clothes by selecting clothes with mostly solid colors.
Type of clothes to wear:
If you have been to Disney World during the summer months, you know it can get hot and humid.  It's mostly sunny every day, but a rain shower can happen anytime, so I recommend dressing in lightweight loose clothes.  I recommend wearing t-shirts and tank tops.  You will also see people wearing all kinds of Disney and Star Wars t-shirts.
Type of shoes to wear:
For your shoes, you want to wear your most comfortable shoes and ones that won't rub blisters on your feet, because you will do A LOT OF WALKING!  Sneakers and comfortable sandals are the best!  I love wearing Sam Edelman sandals, as they are the most comfortable, yet stylish shoe brand (in my opinion)!  Shop all these Sam Edelman Sandals.  These People Footwear Sneakers come in 3 colors: black, blush and white.  These Converse sneakers are comfortable too, my favorite are the Shoreline sneakers.
Type of bags to carry:
Crossbody bags and small backpacks, especially drawstring backpacks, work great.  You'll want to wear a lightweight bag, preferably that keeps your hands and arms free and that won't weigh you down.  You don't want to lug around a tote or heavy purse all day.  A fanny pack works great too.  Shop all these Fanny Packs!   This red floral one is darling and this Adidas one is a pretty blue color.  This fanny pack looks like a Gucci dupe, is under $30 and comes in light lavendar, gray and blue.  Shop all these Backpacks!  Carry the least amount of items in your bag, like your wallet, sunglasses, phone and lip balm.
Type of accessories to wear:
Since it gets really hot and humid, you'll want to wear minimal jewelry.  I wore a pair of earrings and necklace.  I love wearing Gorjana necklaces and earrings, as their gold jewelry looks beautiful with any outfit.  Shop all these Gorjana jewelry.
Other necessities to use in the parks: 
You'll want to use sunscreen every few hours to protect your skin against sunburn.  Travel sizes are perfect to carry in the parks.  Be sure to pack your sunglasses and sunscreen too!  You may want to wear a ball cap to keep your head cool.  This adorable red gingham ball cap would be perfect to wear in Disney World!
That is what I packed to wear in Disney World.  All the clothes featured will be in my Summer capsule wardrobe.  We were supposed to visit Disney World for 3 days, then spend 2 days in Universal Studios, Orlando.  Our trip was cut short due to my daughter being ill and having to go in the hospital, so we didn't get to stay the whole time.
Shop The Post: