The Best Closet Essentials In The Nordstrom Sale
The biggest sale of the year, the Nordstrom Anniversary Sale, is going on now and they have some awesome deals in the sale!  I absolutely love Nordstrom and have found myself buying more from them than any other retailer.  Even though I don't live close to a Nordstrom, if I'm visiting where there is a Nordstrom closeby, I'll make it a point to stop by and see what they have in the store.  I do the majority of my shopping online.  They always get my orders correct, have fast shipping and I love the brands they carry like Caslon, Halogen, BP. and they carry all my favorite brands like AG, Kendra Scott, Tory Burch, Vince Camuto, Madewell and more.
 Left to Right:
AG The Farrah Ankle Skinny Jeans
Caslon Rounded V-Neck Tee
BP. Stitch Curve Hem Cardigan
Leith Ribbed Shawl Cocoon Sweater
While Nordstrom has so many gorgeous clothes, shoes and accessories in the sale, I would love to buy one of everything I liked, but I use a capsule wardrobe and therefore limit my spending.  I do take advantage of the sale prices to buy any items that I need to replace in my wardrobe.  I sometimes will buy a couple of items to include in my capsule wardrobe for the upcoming seasons that are currently trending.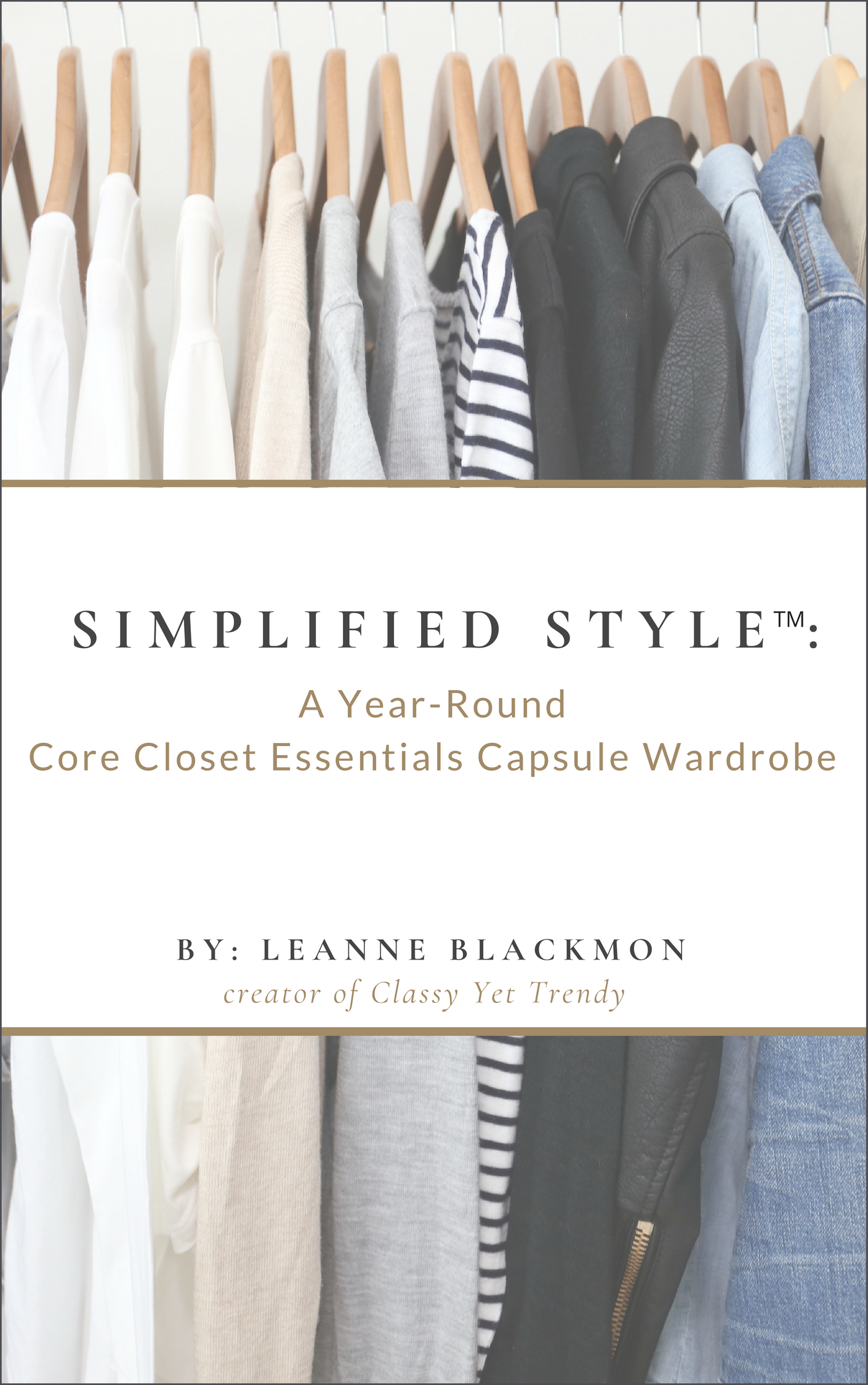 Also Read:
How To Start A Capsule Wardrobe In 5 Steps
Nordstrom Anniversary Sale 2018 Try On
Summer Beach Vacation Packing List Under $50
Here's my favorites that I always recommend purchasing during this sale:
1. Jackets & Coats
Since we have mild Winters where I live, I like to use my utility jacket, trench coat and leather jacket.  I tend to wear those the most in the Fall and Spring.  When it does get really cold, I always reach for my wool coat.  All these jackets and coats are essentials for your closet.  For a leather jacket, you can opt for real leather, faux leather or suede.
2. Sweaters & Cardigans
Besides tees, my favorite clothing item to wear is cardigans!  I wear them nearly all year.  I like to wear a cardigan over a tee, cami, shirt, turtleneck, you name it.  It seems I always buy at least one cardigan when Nordstrom has their Anniversary Sale!  This year, I bought this Leith Ribbed Shawl Cocoon Sweater in the Pink Adobe color, this Madewell Ryder Cardigan in the Heather Blossom color and this BP. Stitch Curve Hem Cardigan in the Grey Cloudy Heather color.  I bought one sweater, this Trouve Side Slit Sweater in the Tan Burlwood color.
3. Basic Tees
I love the tees at Nordstrom.  You can never go wrong by having a few tees in your closet to wear in your outfits.  Of course, I recommend having a black (or navy), white and gray one, as those are essential neutral colors that will coordinate with everything in your wardrobe.  I love the Calson Rounded V-Neck Tee to wear either by itself or under a cardigan.  There are several colors to choose from!  I wore it the other day in this post, "Nordstrom Anniversary Sale 2018 Try On".
4. Boots
One of my favorite shoes to wear is ankle boots.  I wear them in the Fall, Winter and the Spring.  I also love wearing tall boots in the Winter as my feet tend to stay cold during the Winter months.  I find myself reaching for ankle boots and tall boots pretty often during that time.  Nordstrom always has a great selection of boots to choose from, especially during the Anniversary Sale.  Here are a few boots I have spotted in the sale that you will love:
 Plus-Size Essentials