Sale Alert! Shopbop Sale of the Season
Shopbop is having a HUGE sale right now!  The sale is only open to Shopbop members (public access starts tomorrow), so make sure you sign up if you don't have an account.  Shopbop is offering 20% off orders under $500, and 25% off orders over $500 with the code STOCKUP18.  This sale includes full-price and sale items!  If you haven't shopped a Shopbop sale before, things sell out FAST, so act quickly.
Shopbop has a lot of well-known brands, like AG Jeans, Tory Burch, BB Dakota, Rebecca Minkoff, and Sam Edelman (Shop all these Sam Edelman shoes in the sale!)  You can get some really great deals in this sale, so things like these cognac brushed leather booties don't break the bank.  I'm loving this half-moon crossbody bag in the "grey heron" color, which is the perfect neutral color bag you can wear with all your outfits!  It also comes in the "claret" color, which is a burgundy tone…gorgeous!  This Shopbop sale is the perfect time to grab you a pair of AG Legging Ankle Jeans.  I wear my AG legging ankle jeans about twice a week and are my favorite jeans!  These jeans are in my Fall capsule wardrobe.
Shopbop's shipping is really fast, and they make returns super easy (they include a prepaid label) so it makes shopping online the way to go.
Let me know what you bought in the comments below!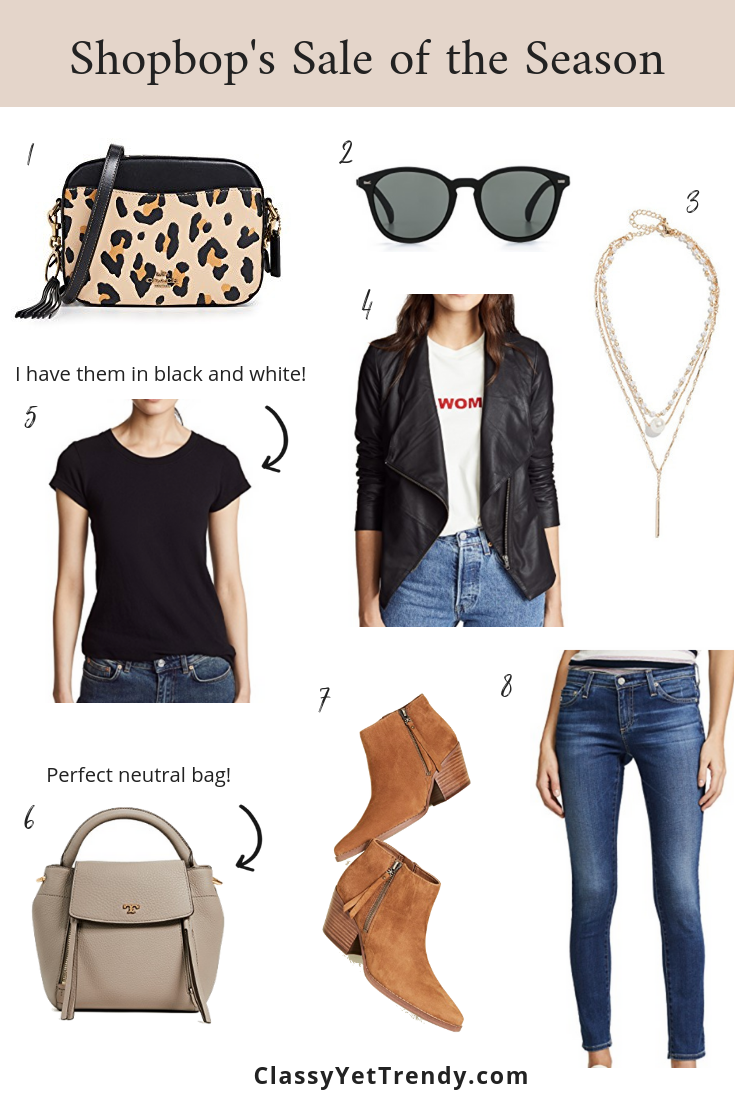 1. Leopard pattern crossbody bag
2. Le Specs black sunglasses
3. Sophia Solo Pearl Layered Necklace / SHOP ALL REBECCA MINKOFF
4. BB Dakota black leather jacket / SHOP ALL BB DAKOTA
5. L'Agence black tee (I have them both in black and white, love them!)
6. Half-moon crossbody bag / SHOP ALL TORY BURCH
7. Brushed leather cognac booties
8. AG Legging Ankle Jeans (I wear these a lot…my favorite pair!) / SHOP ALL AG JEANS