Life has been busy these last few months!  The last time I did an Instagram Lately post was in June, wow how time flies!  If you have been following my blog recently you'll see I'm posting 1 or 2 times a week and here is why…
Some of you may know that my daughter has an inoperable brain tumor, which I shared on the blog back in the Summer.  She took chemo and had radiation treatments for 6 weeks in the Summer and a month ago she started her first cycle of a stronger dose of chemo.  A couple of months ago she had an MRI scan and it showed that her tumor has shrank 50%!!!  She will continue the cycles of chemo for several more months.  There have been so many people praying for her!  It's a blessing that she is able to be homeschooled this year so we can work around doctor appointments and routine lab work.  She's doing so well and her oncologist has been amazed at her improvements.  She has spells of nausea and fatigue when she takes the chemo, but she is feeling better right now.  She has truly been a trooper through all this and we all have a positive attitude, she especially does, that she will make it through it.
With my calendar being full, I have to fit in blog posts and other Classy Yet Trendy projects in between!  I have all the Fall 2018 capsule wardrobe eBooks available in the Capsule Wardrobe eBook Store, including Simplified Style: A Year-Round Core Closet Essentials Capsule Wardrobe and this one…
Do you want to create you own capsule wardrobe, but don't know where to start?
The Essential Capsule Closet: The Complete Capsule Wardrobe Guide is a complete capsule wardrobe guide that will show you how to easily create your own custom capsule wardrobe!  This eBook will show you how to use a few Core Closet Essentials to create outfits, spanning multiple seasons, thus saving you money by not having to buy more clothes!  Included in the eBook are: 20 premade color palettes, 30 outfit ideas using core closet essentials, a guide to coordinating your outfits, shoes and accessories, worksheets and MORE!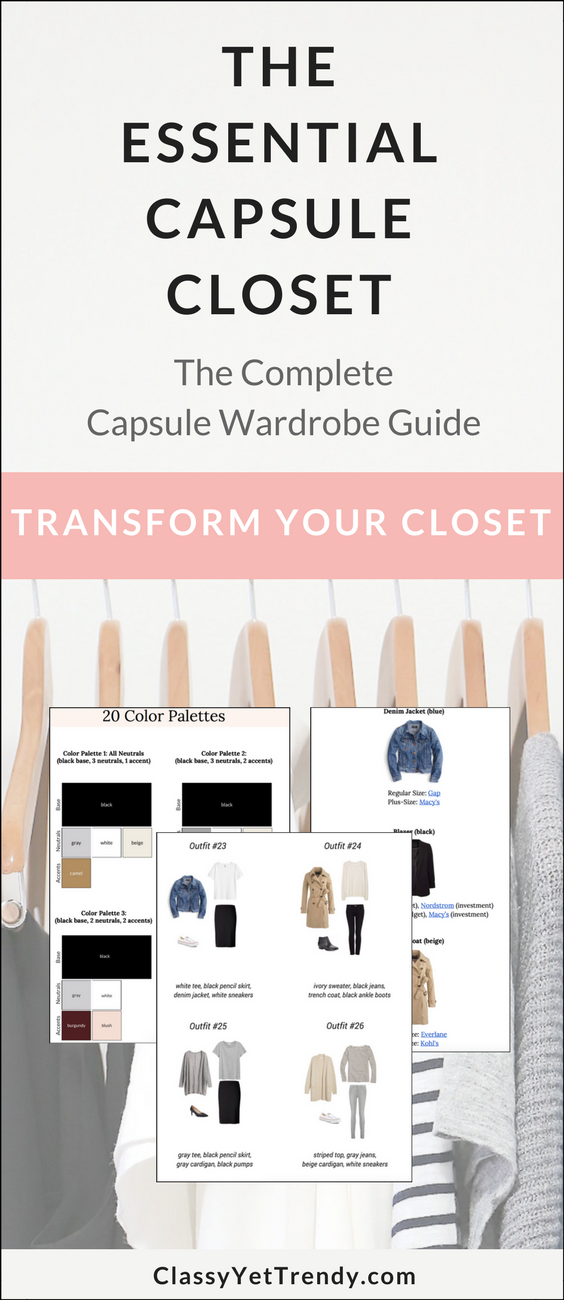 Here are a few outfit photos I've shared on my Instagram account (@classyyettrendy) lately, all from my Fall capsule wardrobe: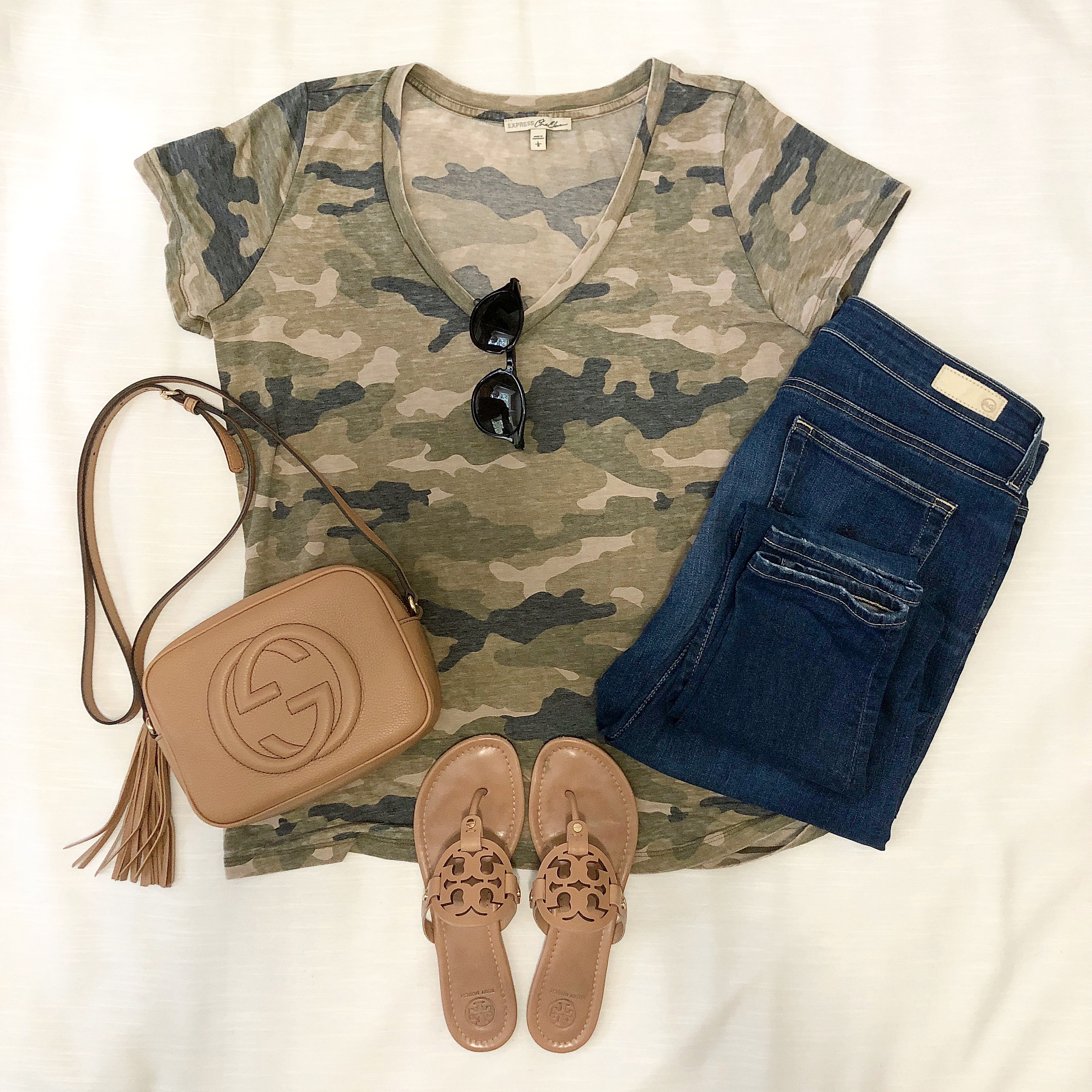 Outfit Details:
Express camo tee (love it! fits perfectly!)
ankle skinny jeans (my favorite blue jeans!)
similar black sunglasses
Miller sandals in "Makeup" color (I wear wear these a lot!)
Soho Disco crossbody / similar crossbody
Since camo is trending this Fall, I wanted to include a camo tee.  The one I had stored away, that I wore in this blog post 3 years ago, was worn and needed replacing.  I found this v-neck camo tee online and instantly loved the pattern.  When it arrived in the mail I tried it on, it fit perfectly and was buttery soft!  It's my favorite tee in my Fall capsule wardrobe!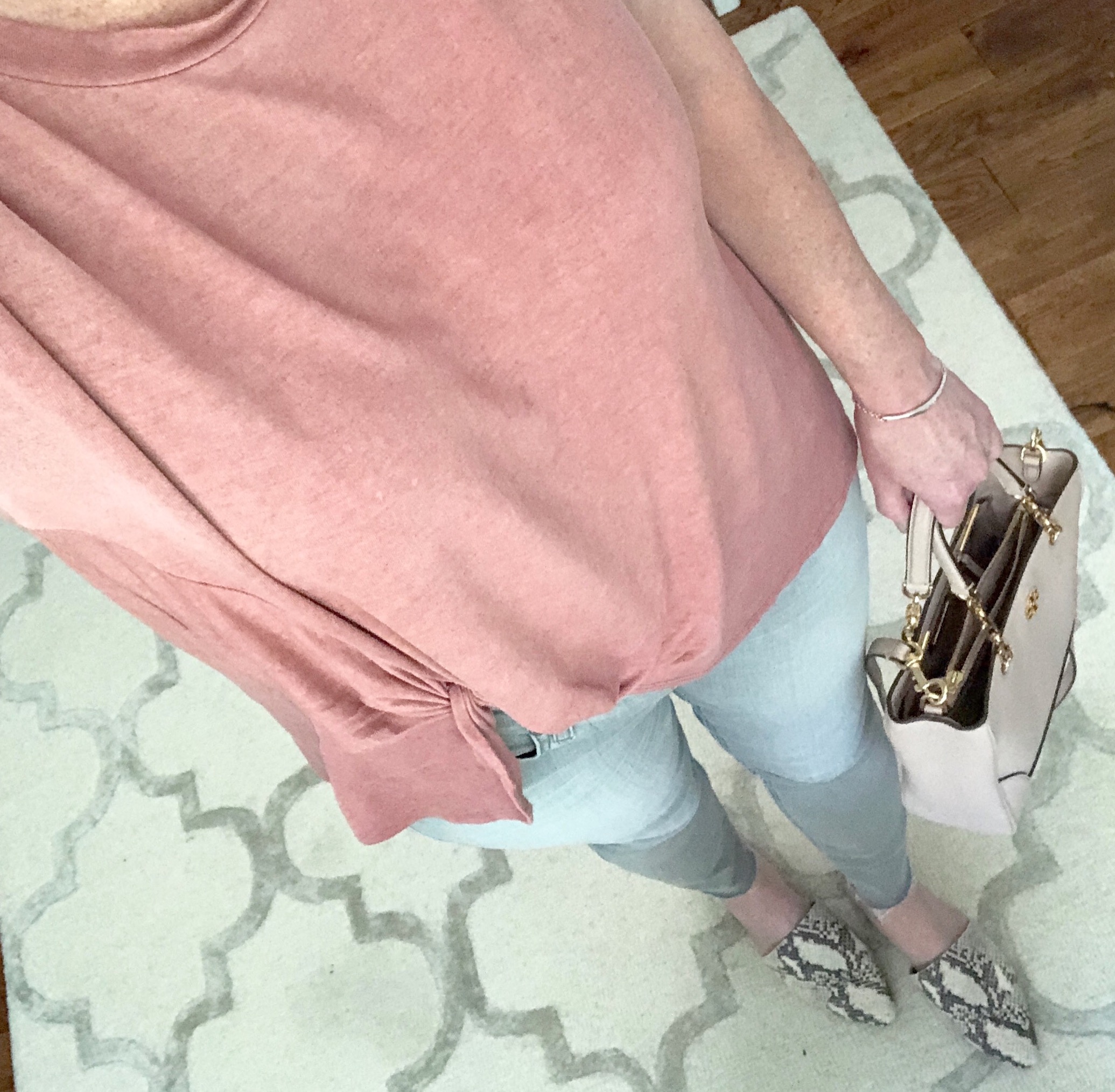 Outfit Details:
similar mauve twist top
gray raw hem jeans
silver druzy necklace
silver adjustable bracelet
Small Marsden leather tote in "Light Oak" (also comes in black) On Sale!
snake pattern mules (Have received so many compliments on these!)
Trellis Rug in "Nickel" (exact)
I've gotten so many compliments on these snake patterned mules!  They are super comfy and since the pattern is a neutral black and white, they perfect to wear with any outfits.  I'm carrying my Tory Burch small marsden leather tote in "light oak", which I bought in the Nordstrom Anniversary Sale in July.  It also comes in black.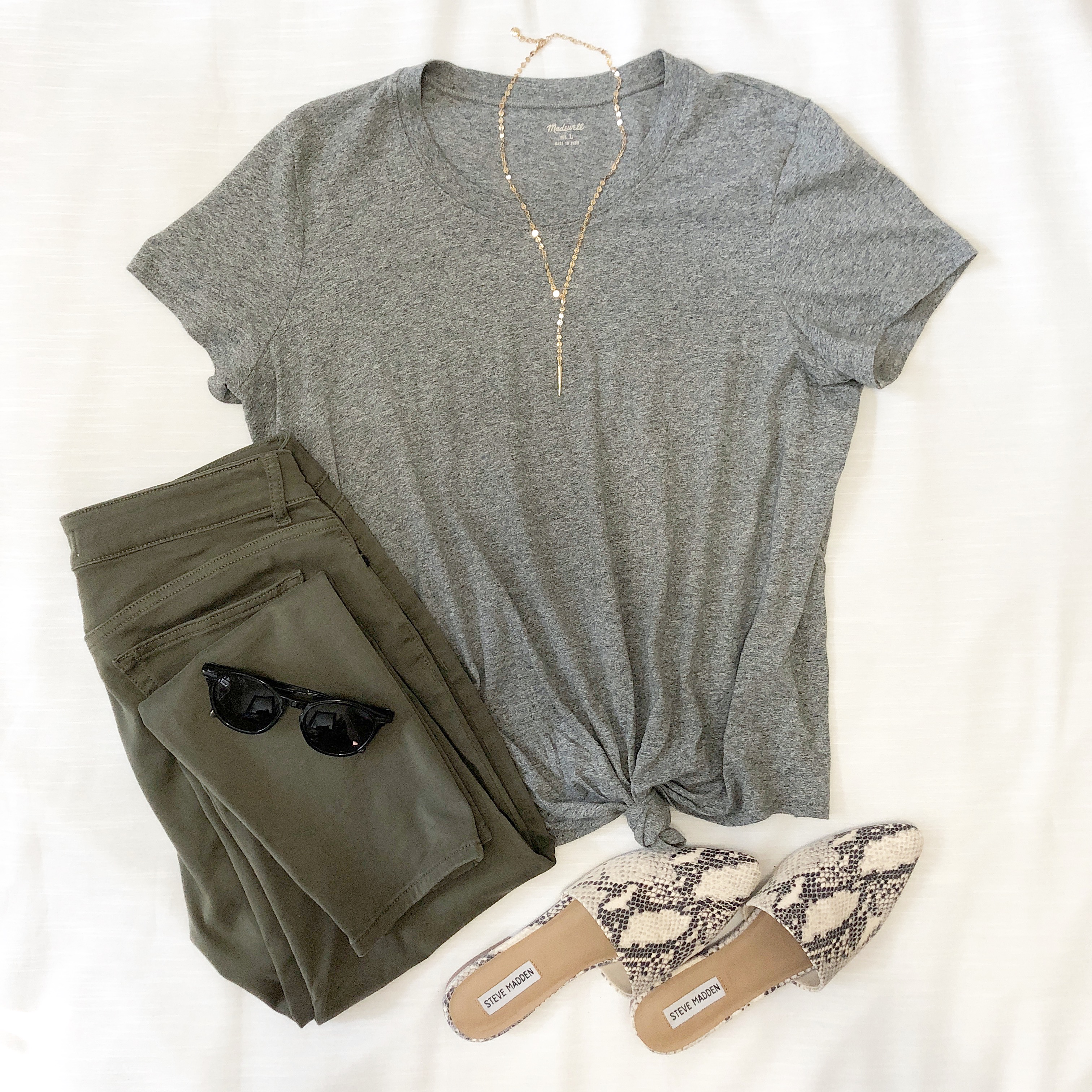 Outfit Details:
gray tie front tee
olive jeans
claire gold y-necklace
similar black sunglasses
snake pattern mules (Have received so many compliments on these!)
Well, here are these snake patterned mules again!  This time, I wore them with a simple Fall transition outfit…my gray tie front tee and olive jeans from my Fall capsule wardrobe.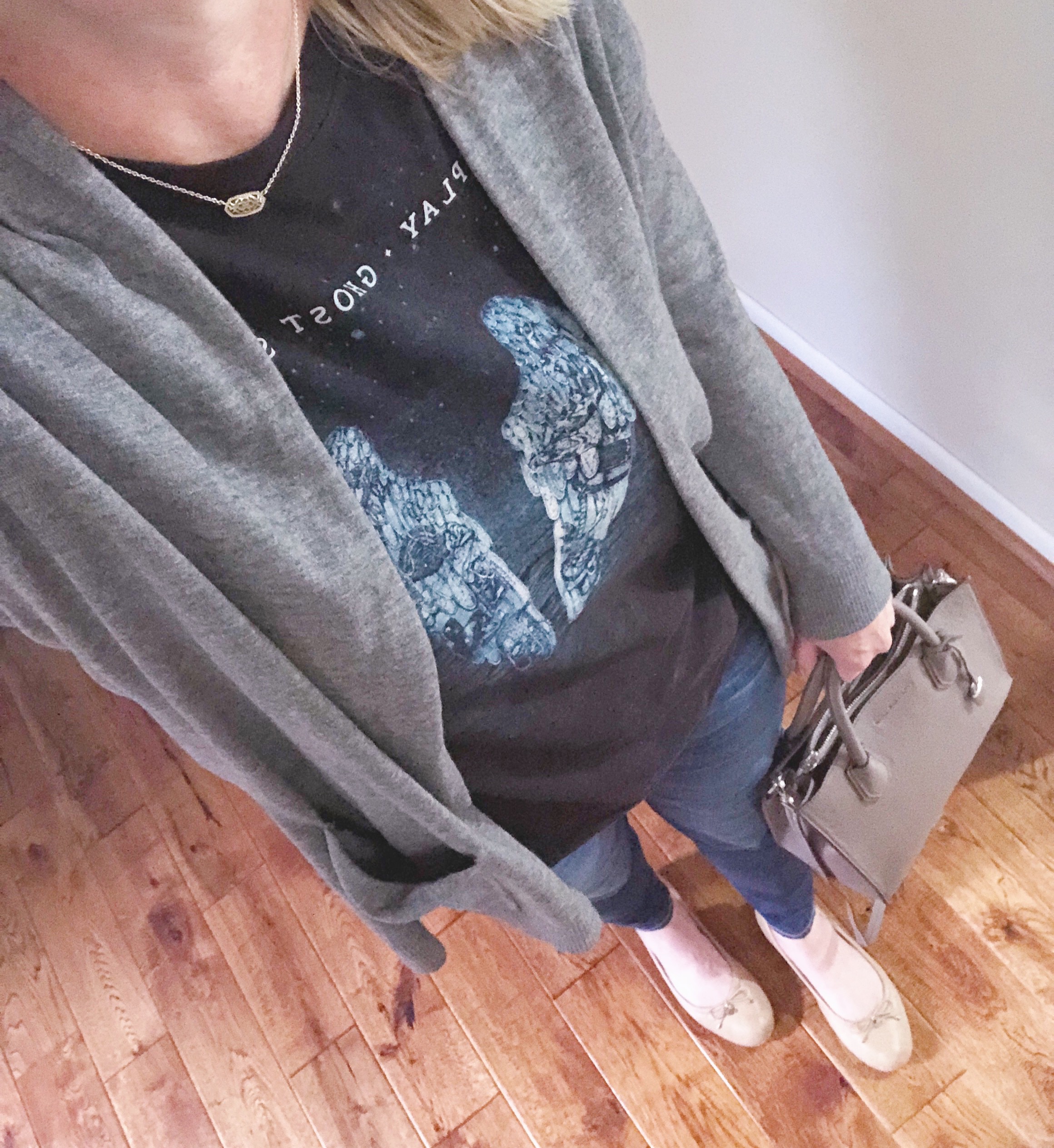 Outfit Details:
Coldplay graphic tee
similar gray cardigan
ankle skinny jeans (my favorite blue jeans!)
gold filigree necklace
gold adjustable bracelet
taupey-gray Mercer bag
beige ballet flats (So Comfy!)
I'm a Coldplay fan, so I thought I would add a graphic tee to my Fall capsule wardrobe!  We were going to eat at a restaurant I knew would be cold, so I threw on my gray cardigan to complete my outfit.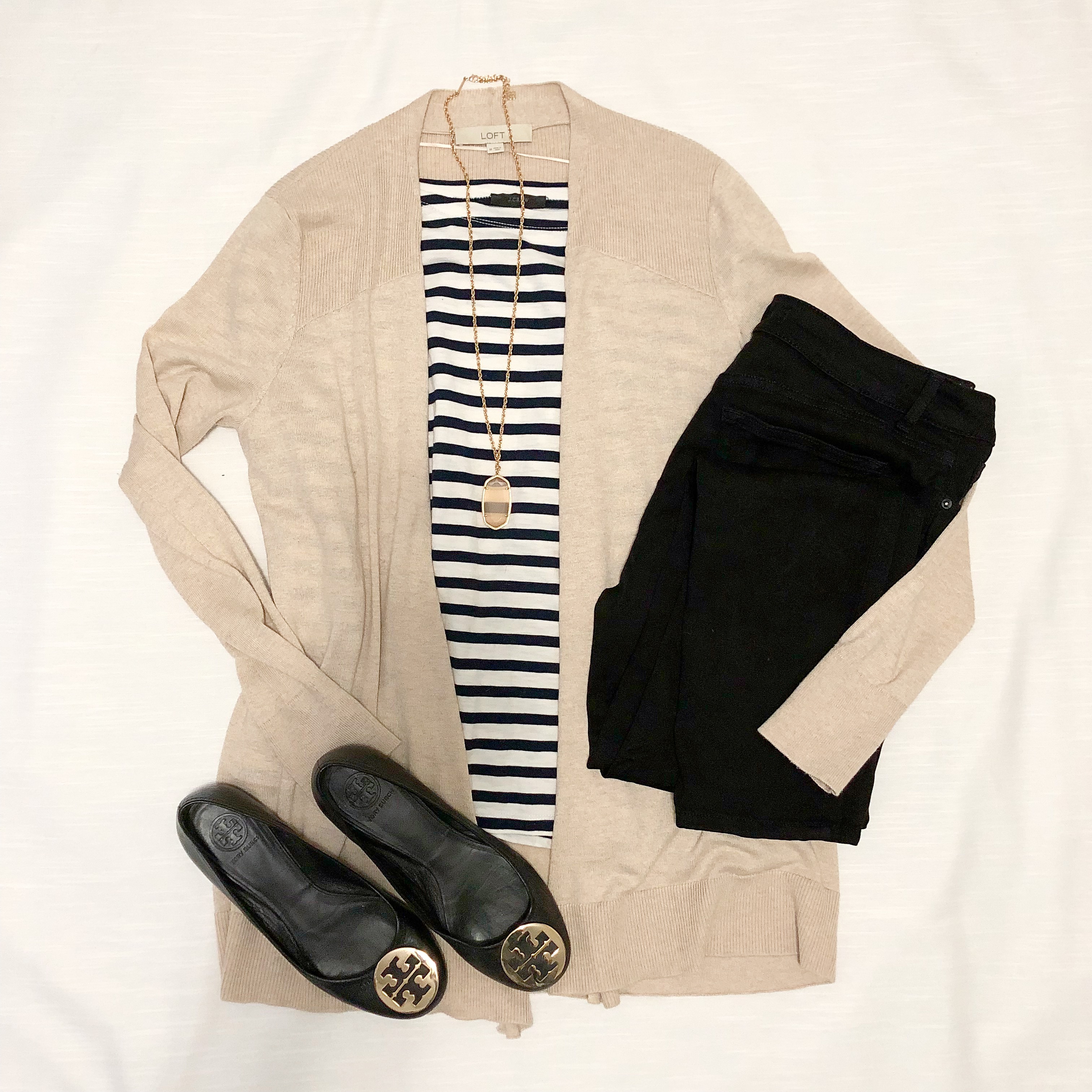 Outfit Details:
striped 3/4″ sleeve tee
black jeans
beige cardigan
rose gold pendant necklace (similar, similar)
Minnie black flats (I get compliments everytime I wear these!) (similar, budget-friendly)
Yesterday it was a rainy and gloomy day and was in the low 70's, so this cardigan outfit with comfy flats was perfect.  I love wearing all neutrals!