Do you like to wear pink?  I love to wear pink!   My favorite color is blush, but in the cooler months I like to wear a darker shade of pink.  I'm also a fan of the darker tone of pink I call "Dusty Pink."  It's a pink with a bit of mauve mixed in and is the perfect shade of pink to wear in the Fall and Winter!  Dusty Pink has a neutral tone to it, which is great for wearing it with base colors like black, navy or shades of brown.
I have this dusty pink cocoon cardigan and have included it in my 10×10 Fall Challenge.  What I love about it is that it is so soft, drapes well and that it tapers at the bottom giving it a feminine look.  I've got my eye on this chenille cardigan!  It looks so soft and it is priced within budget at under $30.  If you are needing a dusty pink blouse to wear to work, this lace v-neck blouse would be perfect to wear with your pants, skirts and blazers.  It comes in 4 colors, including a dark teal color which is also gorgeous!  I'm loving these velvet high rise ankle jeans and they come in regular, tall and petite sizes.
For you plus-size ladies, this scoop neck long sleeve tee is a great layering piece, as you can wear it under a cardigan, blazer and jacket.  And, this long sleeve tie front tee is so pretty and would look great in all your outfits!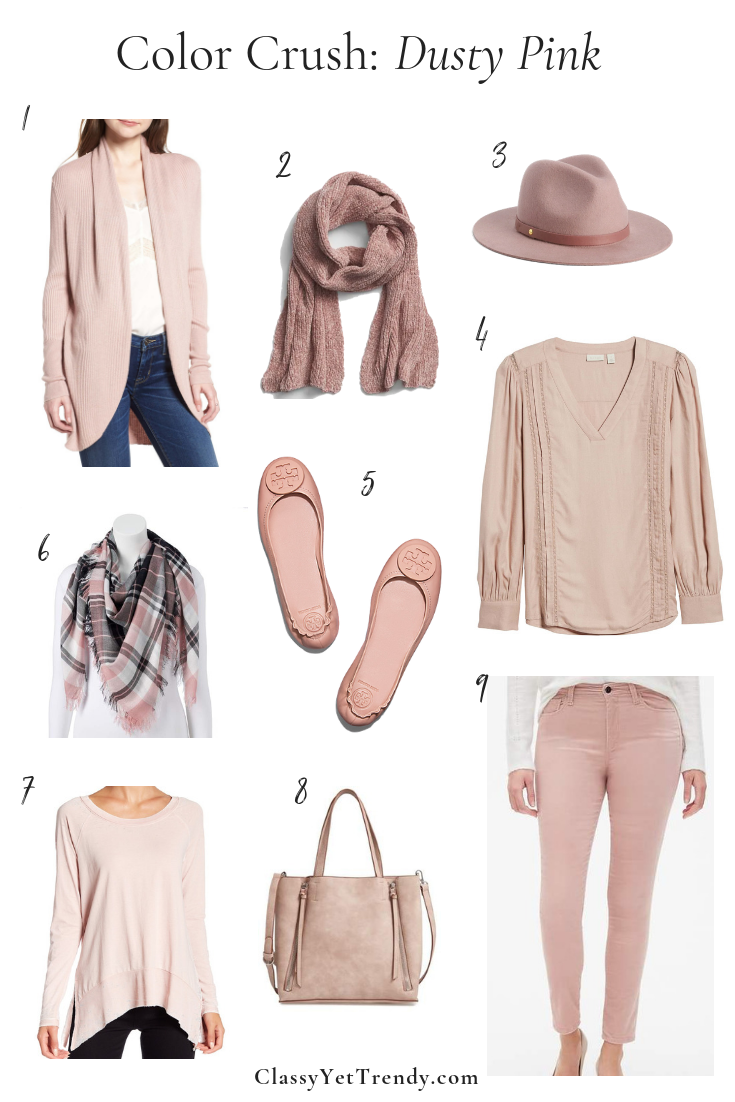 1. Cocoon Cardigan
2. Chenille Scarf (so soft!)
3. Wool Fedora
4. Lace V-Neck Blouse
5. Ballet Flats
6. Plaid Scarf
7. Tunic Top
8. Faux Leather Tote
9. Velvet Jeans