Winter Holidays Travel Capsule Wardrobe: 11 Pieces = 12 Outfits
Will you be traveling during the Christmas holidays to visit family or friends? When you travel, do you sometimes overpack?  Do you have to carry two big suitcases to hold everything?  Before I started using a capsule wardrobe, I used to pack individual outfits in my suitcase, plus an extra outfit for "just in case" I needed it!  When I would travel, I would pack so much, that my suitcase would hardly close.  That all changed when I started utilizing a capsule wardrobe for my closet.  My approach to getting dressed improved, including how I pack when I travel!  Since my closet is more efficient now, packing for travel is so simple and quick.
I realized just how efficient I packed for a trip, when my family and I went on a vacation for several days.  I carried 4 tops, 3 bottoms and two pairs of shoes.  My husband was amazed at how few clothes I packed.  Before we left, he asked, "Is that going to be enough clothes for the trip?"  While we were on vacation, he said he was amazed at how my outfits looked so different everyday!
The majority of the clothes and shoes  featured in the post are in my best-selling eBook, Simplified Style®: A Year Round Core Closet Essentials Capsule Wardrobe.  Transform your wardrobe using core closet essentials so you will have many outfit possibilities!  You'll find out several shopping sources for each piece, 400+ outfit ideas, how to create a capsule wardrobe step-by-step, checklist, worksheets & More!
Several pieces from this blog post
are included in Simplified Style®!
Would you like to create your own custom capsule wardrobe, but don't know where to begin?
Have you spent hours on the internet researching, but just give up the idea, thinking it's too complicated?
Everything you need is in one convenient eBook!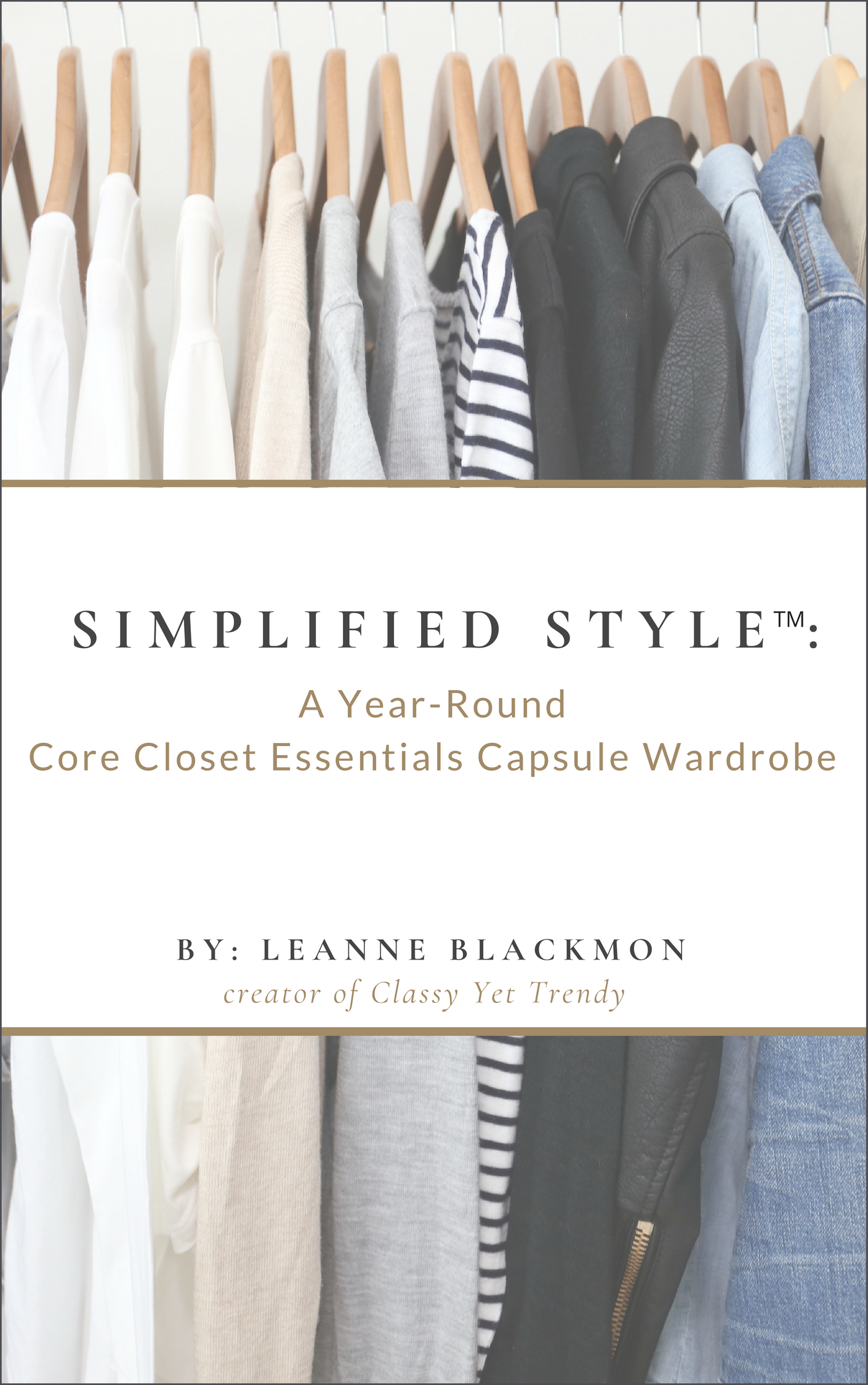 The secret to having many different outfits to wear is packing clothes with neutral, solid colors, with maybe 1 or 2 patterned tops. Colors like black (or navy), white or ivory and gray coordinate well together, so if you pack clothes with just those colors, you'll be able to create many outfits. Because of all the neutral colors, the color tones coordinate well together, giving you many outfit possibilities!
If you will be traveling for more than a few days, you can wash several of the items to freshen them up while you are traveling.  They can be washed, hung up to dry, and they'll be dry and ready to wear the next day!
Luggage
When you pack the clothes and shoes in this post shown below, you can fit everything in a carry-on suitcase. Wear one of the outfits shown below and pack the rest in your luggage. Use small containers to pack your toiletries and pack just a few items you'll need in zip-loc bags to save space in your luggage. If you will be flying to your destination and need more space to pack additional items, use a tote as your purse and pack them in there.  You can always pack a small crossbody or clutch in your tote as well!  Here are a few recommended luggage:
Traveling To Cold Climates
If you will be traveling to a cold climate, you may want to pack a couple of thermal tops and thermal bottoms to wear underneath your clothes and a few pairs of wool socks to wear with your boots.
You can pack these few items (don't forget to wear one of the outfits while traveling), which will make at least 12 outfits!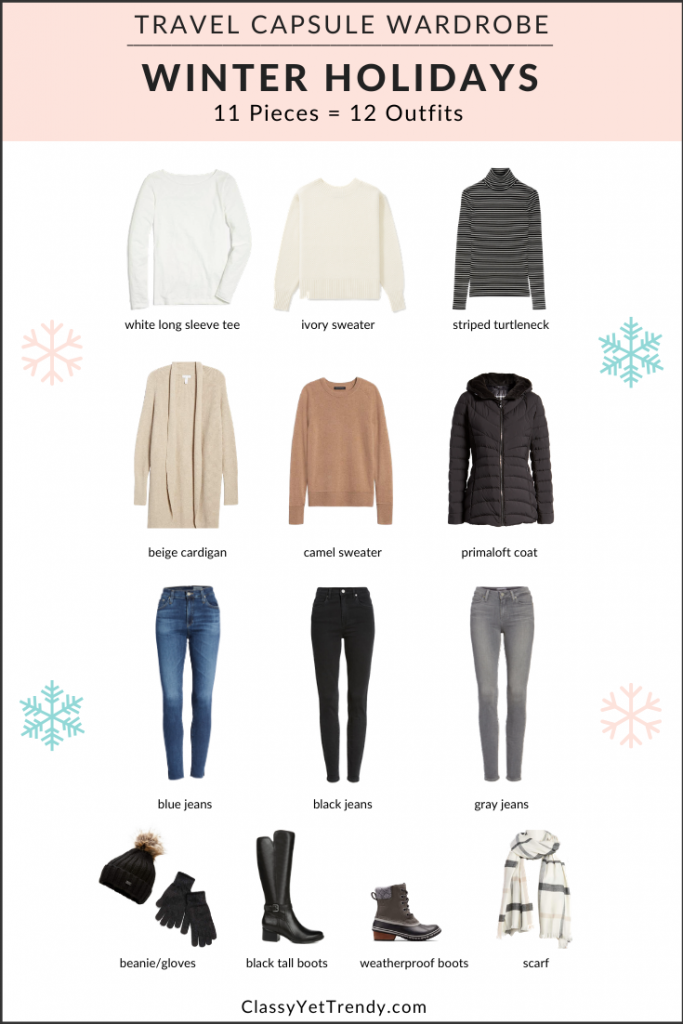 The Winter Holidays Capsule Wardrobe:
White Long Sleeve Tee
Ivory Sweater
Striped Turtleneck
Beige Cardigan
Camel Sweater
Primaloft Coat
Medium Wash Blue Jeans
Black Jeans
Gray Jeans
Black Tall Boots
Weatherproof Boots
Accessories:
12 Outfits: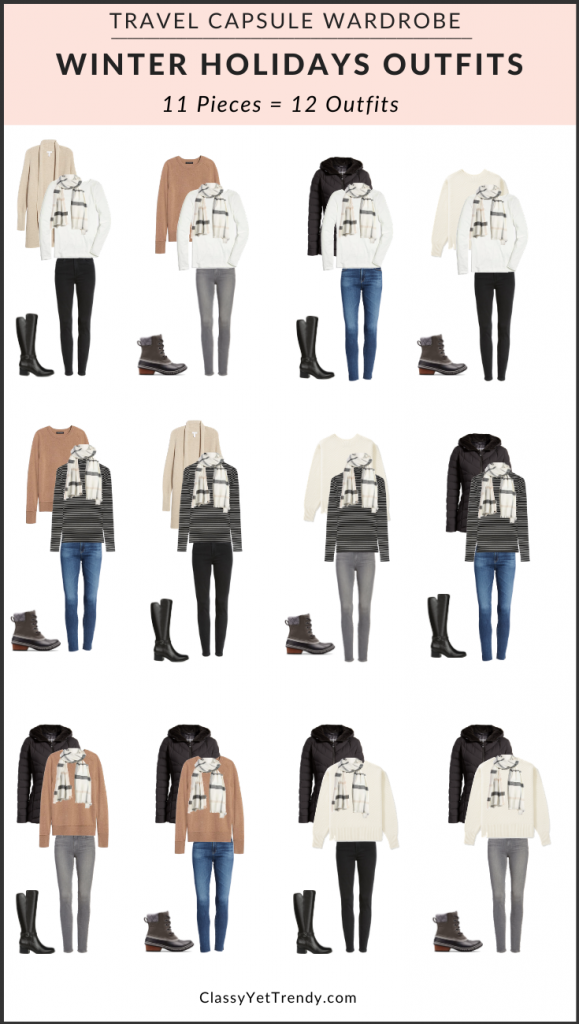 Shop The Post: