Teen Capsule Wardrobe For The Fall Season: 16 Pieces / 55+ Outfits
Capsule wardrobes make our lives better by simplifying our closets and it makes getting dressed easy!   Since a capsule wardrobe is mostly core closet essentials, we have many outfits on hand so we can get dressed quickly everyday.  Anyone can use a capsule wardrobe, just pick out your basic essentials in neutral colors that you want to wear and you're off to a great start.
My 13-year old daughter has recently discovered her personal style.  She's always loved to wear jeans and tees, but here lately she's gotten more into teen fashion!  The last couple of months she has been telling me about teen trends such as the slightly oversized sweaters, overall dresses, mom jeans and all kinds of casual sneakers.  She's been wanting me to help her setup her own fashion and beauty blog, so this weekend I started on the project with her.  When her blog is completed and she posts a few blog posts, I'll share more with you all!
If you are a teen, have a daughter that is a teen, or know of a teen who is looking to create their own capsule wardrobe, you may be wondering where to shop.  My daughter loves to shop at Urban Outfitters first and foremost!  That is where she looks to keep up with the trends.  Sometimes their prices can be expensive, so we are selective with what we buy there, especially knowing because she's a teen, she may outgrow her clothes.  She also likes to shop at H&M, Madewell, Nordstrom, American Eagle, Asos and Topshop.  For shoes, she favors Vans, Converse and Birkenstock.  She doesn't wear much jewelry, but prefers jewelry with a minimal look, like Kendra Scott and Madewell.
All the pieces, with the exception of the overalls dress, can be worn to school and are dress code appropriate.  You can also expand this capsule wardrobe by adding more pieces.  She chose a neutral color palette, but you could add a few pieces in 1 or 2 accent colors, like burgundy and olive.  You could add a denim skirt, jogger pants, utility pants, a couple more jackets, ankle boots, etc.
This capsule isn't just for teens!  Although I labeled this post for a teen, some of you in your 20's and 30's may also like to wear this capsule wardrobe too.
There are 19 clothes and shoes in this capsule wardrobe.  I calculated several outfit possibilities and there are over 55 possible outfits!  You can either wear the tops alone with the bottoms or with the overalls dress, or you can layer them under the cardigans and jacket for more outfits.
She picked out all the pieces of this capsule wardrobe.  She created the capsule wardrobe collage below by using one of my templates.  She's well on her way to becoming a fashion blogger and I'm proud of her!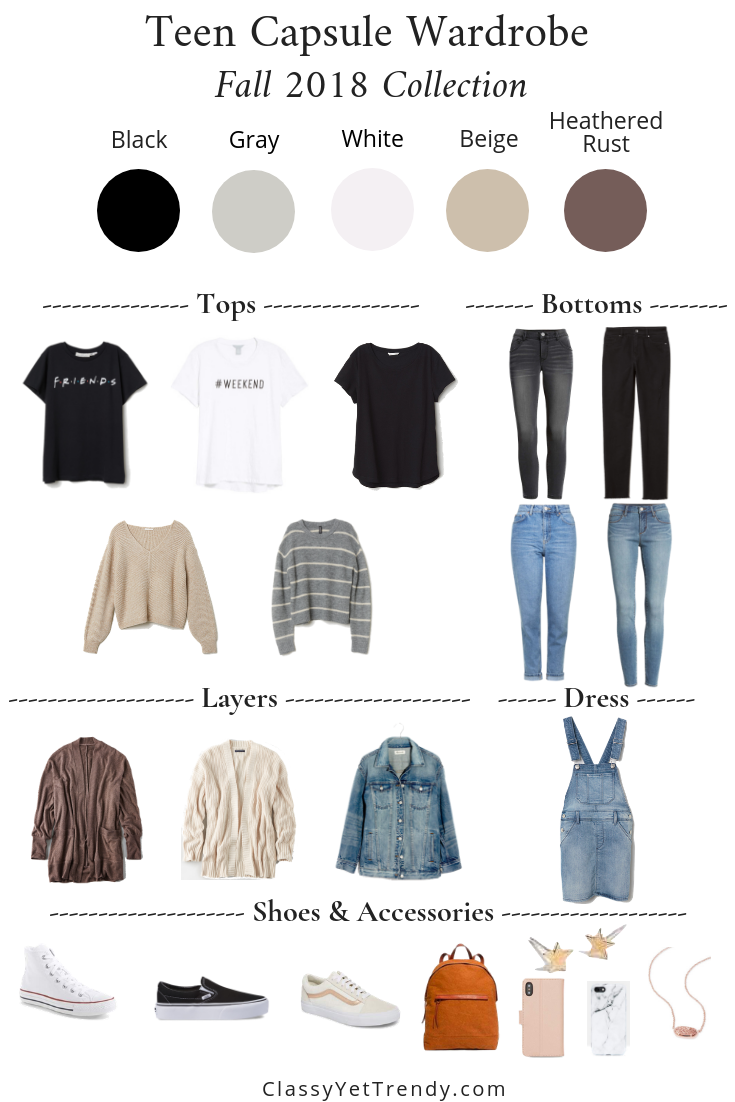 Here are the the pieces of the Teen Capsule Wardrobe for the Fall season:
Tops
black graphic tee
white graphic tee
black tee
beige sweater
gray sweater
Every casual wear capsule wardrobe needs a few tees.  My daughter loves to wear black and white, so she picked one solid black tee and two graphics tees.  You can either wear them alone or underneath either of the cardigans or the denim jacket.  She spotted the "Friends" graphic tee this weekend while we were at Urban Outfitters and thought it looked cool!  With Fall weather being unpredictable, you want to include a couple of sweaters to wear on those crisp or rainy Fall days.
Layers
heathered rust cardigan
beige cardigan
oversized denim jacket
My daughter loves to wear cardigans, so she picked out this heathered rust cardigan and this beige cardigan.  These two colors will go with a lot of other colors, you can wear them over the tees.  If you want to add more tops to this capsule wardrobe, the cardigans will look great over a plaid shirt like this one or a chambray shirt like this one.  My daughter picked out this oversized denim jacket from the Shopbop sale this past weekend.  She's wanted a denim jacket for a while and she loves the longer length on this one.
Bottoms
charcoal gray jeans
black raw hem jeans
mom jeans
skinny jeans
If you go to Urban Outfitters (my daughter's favorite store), you're most likely to see mom jeans like these.  You'll also want a pair of blue skinny jeans, a pair of black jeans and dark gray jeans look great too.
Dress
My daughter is wanting an overalls dress as they are trending this season.  They are popular and are sold out in several sizes at a few retailers.  I found this overalls dress stocked in plenty of sizes.
Shoes & Accessories
white high top converse sneakers
vans black platform slip-ons
vans cream & rose gold sneakers
madewell brown adelaide backpack
madewell star earrings
pink wallet phone case
granite phone case
rose gold druzy necklace
Converse and Vans are on trend and have been for several seasons.  My daughter has a pair of cream colored slip-ons like these black ones and she loves them!  She has a pair of these white high top sneakers and loves them.  She wants to get a new pair for this season since the sole is worn on the pair she currently has.  What teen doesn't love their cell phone?  My daughter spotted this pink wallet phone case and this granite phone case and loves both of them.  She picked out this brown adelaide backpack from the Shopbop sale this weekend and can't wait to start carrying it!
Here are a few of the many outfits you can create with this capsule wardrobe: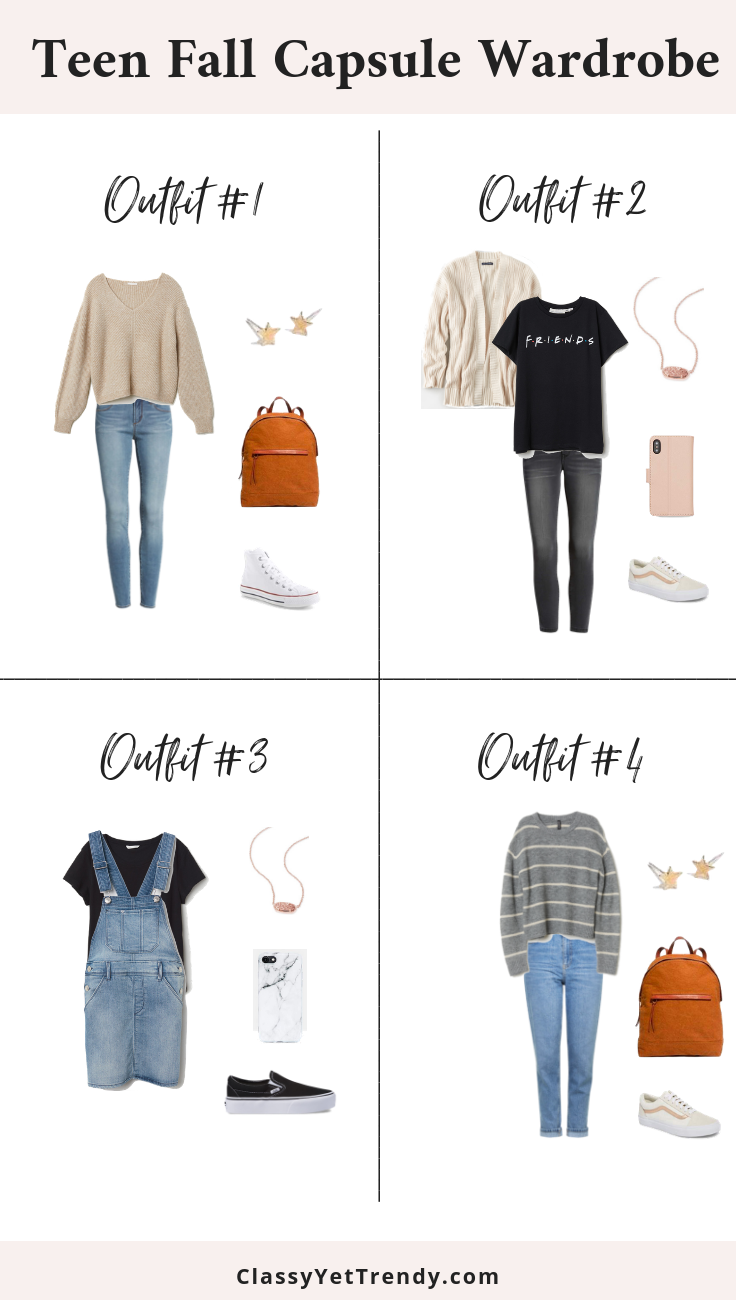 Shop The Post:
I hope you enjoyed this blog post on a Teen Capsule Wardrobe.  Thank you to my daughter who selected all the pieces in the capsule and helped create this post!  You did a fantastic job!