Casual & Dressy Accessories Under $25
As a fashion blogger and capsule wardrobe enthusiast, I often peruse the internet looking for the best clothes, shoes and accessories at the prices.  When you use a capsule wardrobe, you get the most wear out of the clothes and shoes you love wearing.  Those items usually remain constant in your closet.  An inexpensive way to freshen up your wardrobe is by wearing accessories.  Accessories such as jewelry, scarves, gloves, hat and bags are essential items that complete your outfits.  When you wear beautiful accessories, you look put together and you feel great about the way you look.  I have found several accessories under $25 definitely worth buying.
I'm loving this Plaid Blanket Scarf in the "tan" color and its $15 on-sale price point is a bargain.  It will add just enough color to your outfits, while keeping you warm too!  Every woman needs a structured black bag in her wardrobe to make outfits look classy and this $24.99 Saffiano Shopper Bag does just that (it also comes in a soft aqua green color too).  Speaking of bags, do you have a nice clutch in your closet to dress up your pants and jeans outfits or wear with dresses?  This Fold Over Clutch Bag is only $24 and comes in black, gold mix and nude.  It is just the right size and you can either use the chain strap as a shoulder bag or tuck in in the bag to use as a clutch.
All these accessories under $25 would fit in perfectly with The French Minimalist Capsule Wardrobe: Winter 2018/2019 Collection!  Since this wardrobe plan has an all-neutral color palette (black, white, gray, camel and denim), you can wear these accessories with the 100 casual or dressy outfits included in the eBook.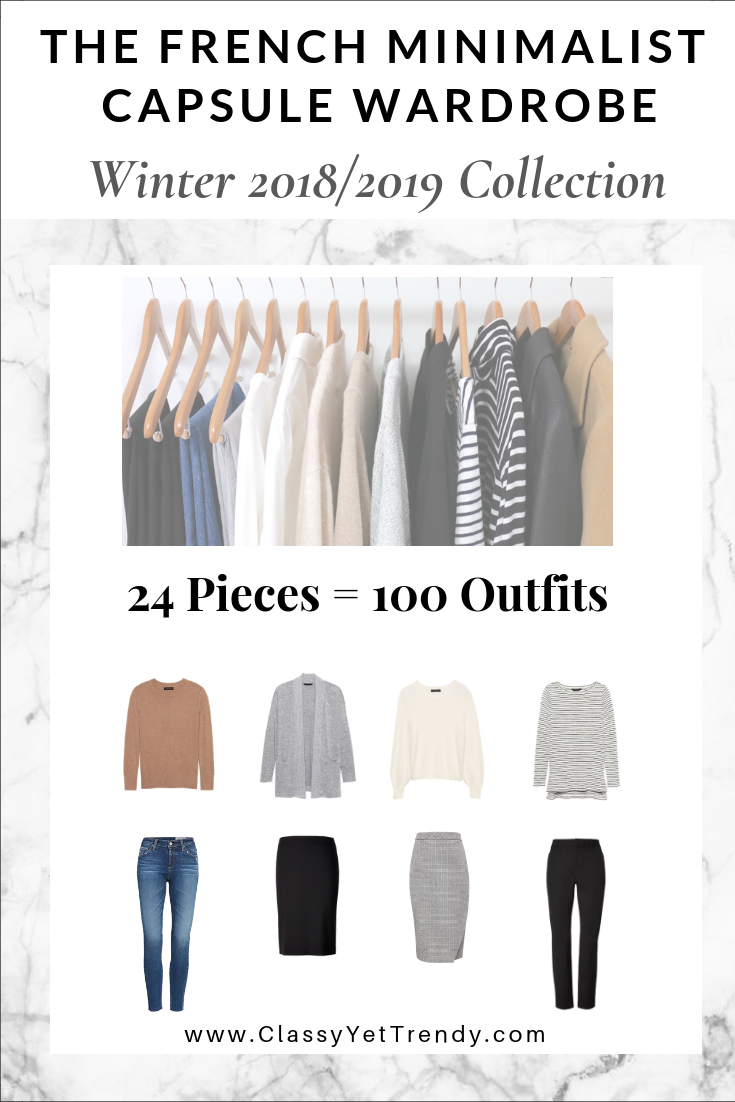 I just love this Chain Tassel Y-Necklace at 65% off, which is a steal!  It would look great with a turtleneck outfit, a dress, wear it to work or out to dinner!  These Cuff Button Wool Gloves will be perfect to wear with your dressy outfits.  They are so elegant and the camel color is gorgeous.  These gloves also come in black.
Have you seen women wearing Gucci belts, but they are too expensive for your budget?  I found this Double-O Gold Metal belt, that is almost the same design without the logo and is only $9.99 at a popular retailer!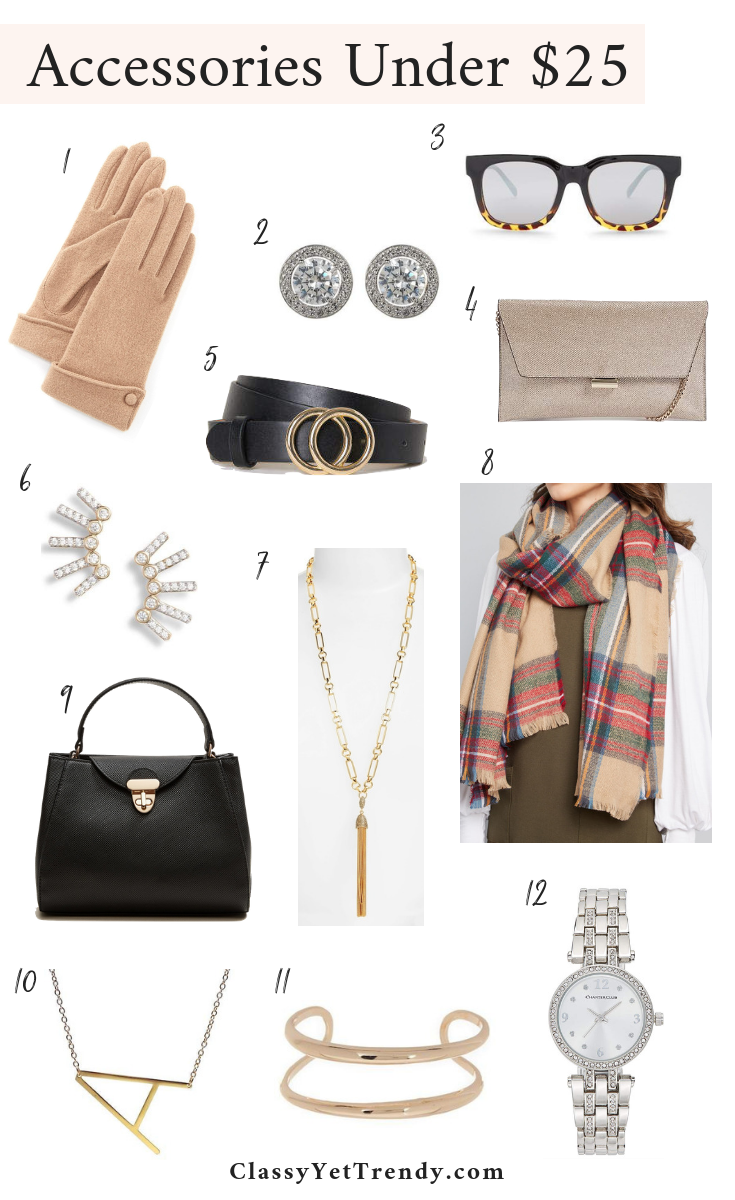 Accessories Under $25  Details:
1. Cuff Button Wool Gloves
2. Crystal Halo Stud Earrings
3. Libre 70mm Square Sunglasses
4. Fold Over Clutch Bag
5. Double-O Gold Metal belt
6. Cypher Crawler Earrings
7. Chain Tassel Y-Necklace
8. Plaid Blanket Scarf
9. Saffiano Shopper Bag
10. Initial Pendant Necklace
11. Double Row Cuff Bracelet
12. Pave Bracelet Watch 28mm
Shop The Post: