Athleisure Style has been popular for a few years and it's easy to see why it has stayed popular.  It's perfect to wear to and from the gym and away from the gym too!  Even if you don't go the gym, you can have a whole casual wardrobe based on the athleisure style.  These clothes are perfect for the stay at home mom, weekend wear, going to the kid's sports practices, running errands and for those that want to have an all-casual wardrobe.  If you need a few more pieces for your Winter athleisure wardrobe, here are a few more pieces in this wardrobe edit post.
For a few seasons now, I have published Athleisure capsule wardrobe eBooks.  These eBooks are complete wardrobe plans that include sporty core closet essentials, as well as a few trends to freshen up your wardrobe!  If you are looking to create an Athleisure capsule wardrobe, you can start one easily with these eBooks!  The most recent Athleisure eBook is The Athleisure Capsule Wardrobe: Winter 2018/2019 Collection.  It includes clothes and shoes in neutral colors, as well as a few pieces in Dusty Pink and Burgundy, perfect for the Winter season.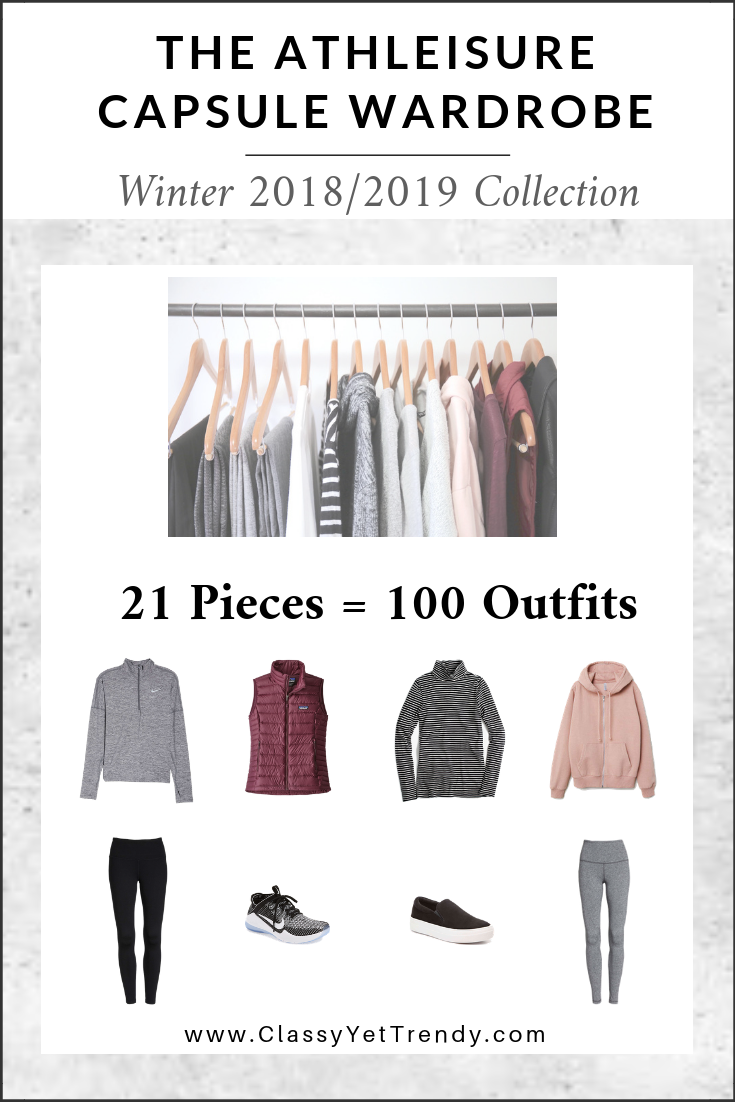 In this athleisure wardrobe edit, there are a few pieces you can add to your wardrobe that will take your outfits up a notch.  All these pieces will work with all the pieces in The Athleisure Capsule Wardrobe: Winter 2018/2019 Collection.  These High Waist Reversible Leggings are like getting 2 pairs in one!  One side is an ombre pattern and the other side is a gray heather pattern.  This pair of leggings can go with so many tops, like this Twist Cowl Neck Pullover in the "purple fragrant" color, this Twisty Turn Tee in the "Red Tannin" color or even this Sweater Knit Tunic in "Grey Marl".   Add this Black Quilted Puffer Vest and either these Air Zoom Structure 22 Sneakers or these High Top Platform Sneakers and must-have Low Profile Socks and you have an outfit!
Don't forget the accessories in this athleisure wardrobe edit to complete your outfit!  This pair of Logo Stud Earrings in "rose gold" will be just enough jewelry for your athleisure outfits and this 3-Pack Crystal Ponytail Holders will keep your hair out of your face when you are busy, plus adds a touch of sparkle.  As you go out the door, throw on this Gray Tassel Scarf for warmth and grab your Under $70 Marah Black Faux Leather Tote (also comes in Brown)!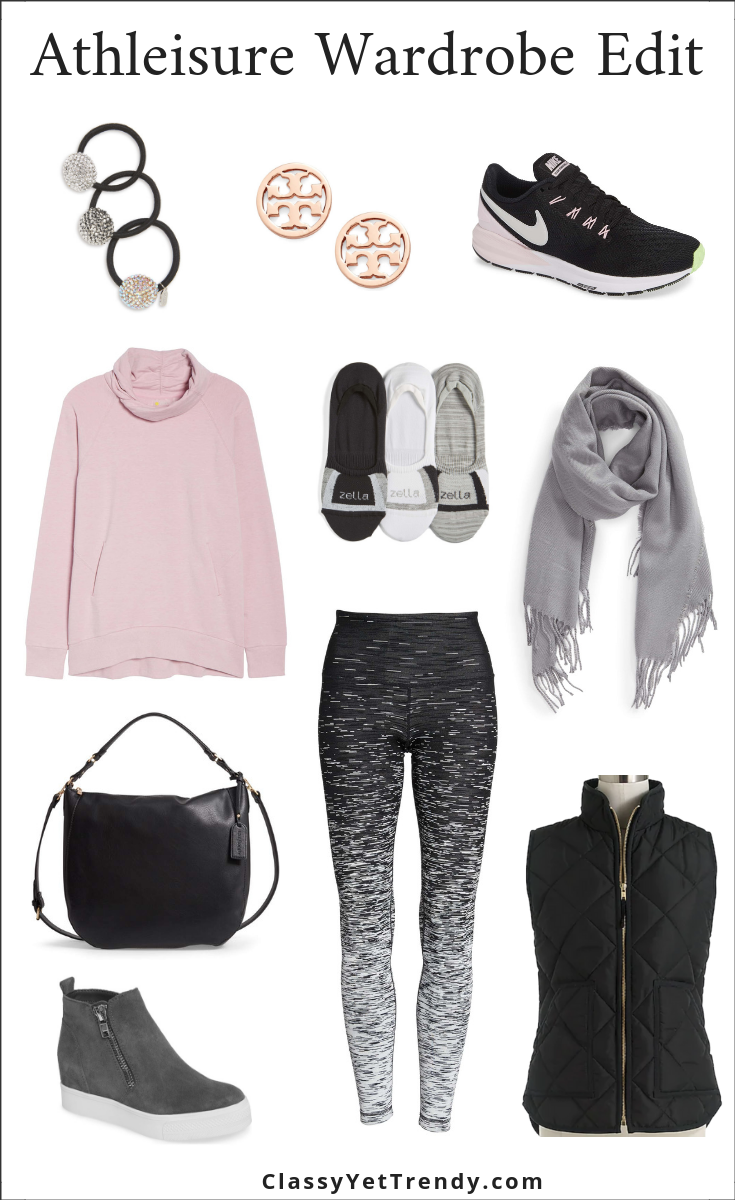 Details:
3-Pack Crystal Ponytail Holders
Logo Stud Earrings
Air Zoom Structure 22 Sneakers
this Twist Cowl Neck Pullover
Low Profile Socks
Gray Tassel Scarf
High Waist Reversible Leggings
Marah Black Faux Leather Tote
Black Quilted Puffer Vest
High Top Platform Sneakers
Shop The Post: