10X10 Challenge Outfit #3 and a New Watch
Today marks my final day participating in the 10×10 Fall Challenge #fall10x10.  I'm actually out of town on an extended weekend trip to Tennessee.  My husband and I took a 3 hour train ride through the Tennessee mountains and saw the gorgeous Fall landscape!  It's something we had been talked about doing for a couple years, so this year we made plans to go.
I packed the items in my 10×10 challenge and it was super easy to pack this time.  Before we left for our trip, I freshly laundered everything so it would be ready to wear.  For accessories, I packed a scarf and a few pieces of jewelry.  I carried a lightweight jacket since I knew we would be in the mountains and it can get chilly this time of year.
I also packed my new Daniel Wellington Classic Petite Ashfield, so I could keep up with the time and we wouldn't be late for our train ride.  What I love about this watch is that it has a matte black strap with a sophisticated black dial etched in rose gold (also in silver).  The watch isn't heavy; it is very lightweight!  It's a chic-looking watch that looks fabulous with all of my outfits.  They have the matching cuff bracelet in rose gold and silver to match the watch!  I have a special promo code for you!  You can get 15% off your order at www.danielwellington.com with code CLASSYYETTRENDY15.
Daniel Wellington has another watch that is brand new…the Classic Petite Sheffield 28mm.  The face is an eggshell white dial and has a leather strap.  The trim comes in either silver or rose gold.  It is a timeless watch that will look fabulous with all outfits.  #classicpetiteashfield #classicpetite28
In today's post, I'm sharing Outfit #3 in the 10×10 Fall Challenge and wearing my new watch, the Classic Petite Ashfield.  Last week I shared another outfit in the challenge.  You can see all the pieces in the 10×10 Challenge in this post.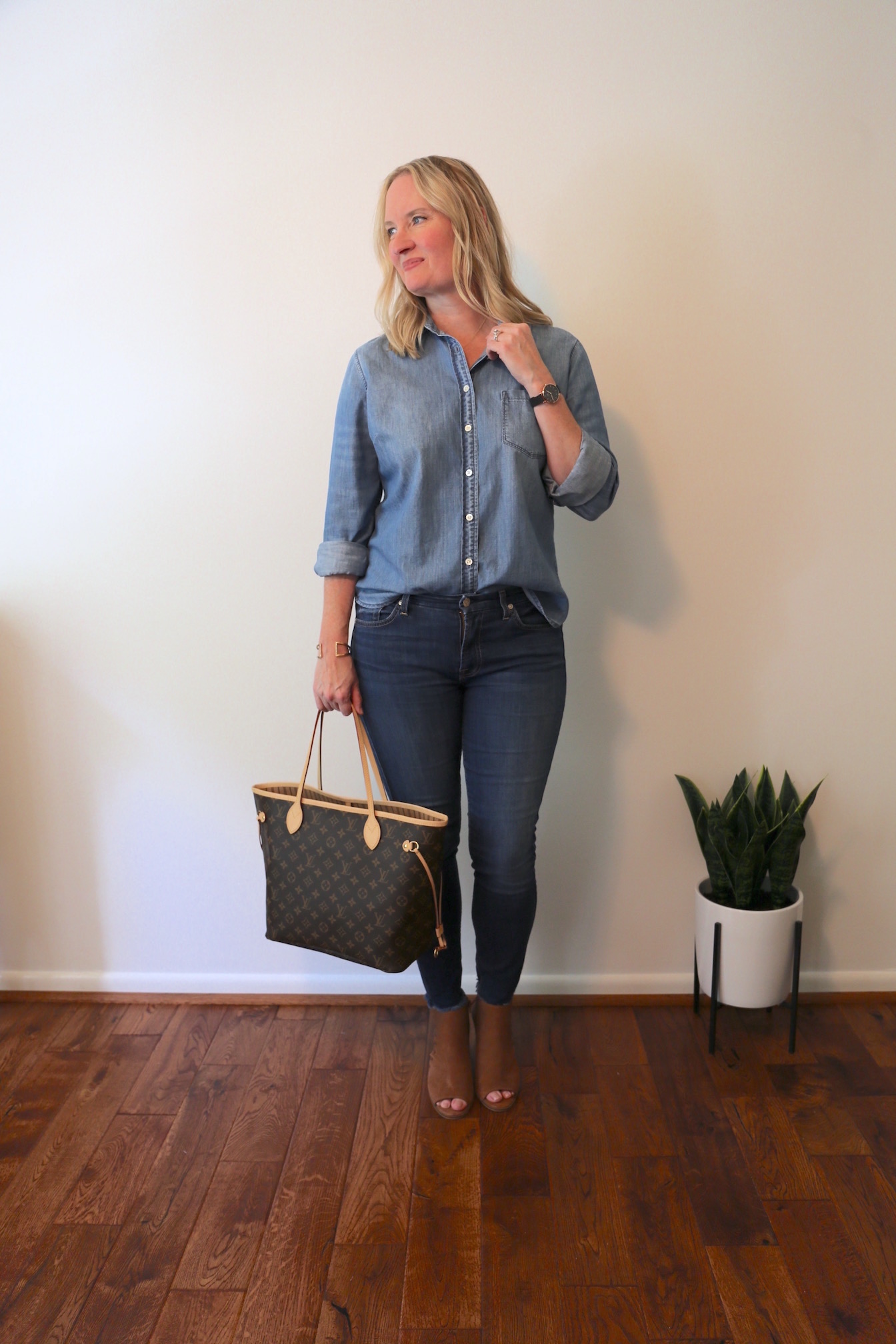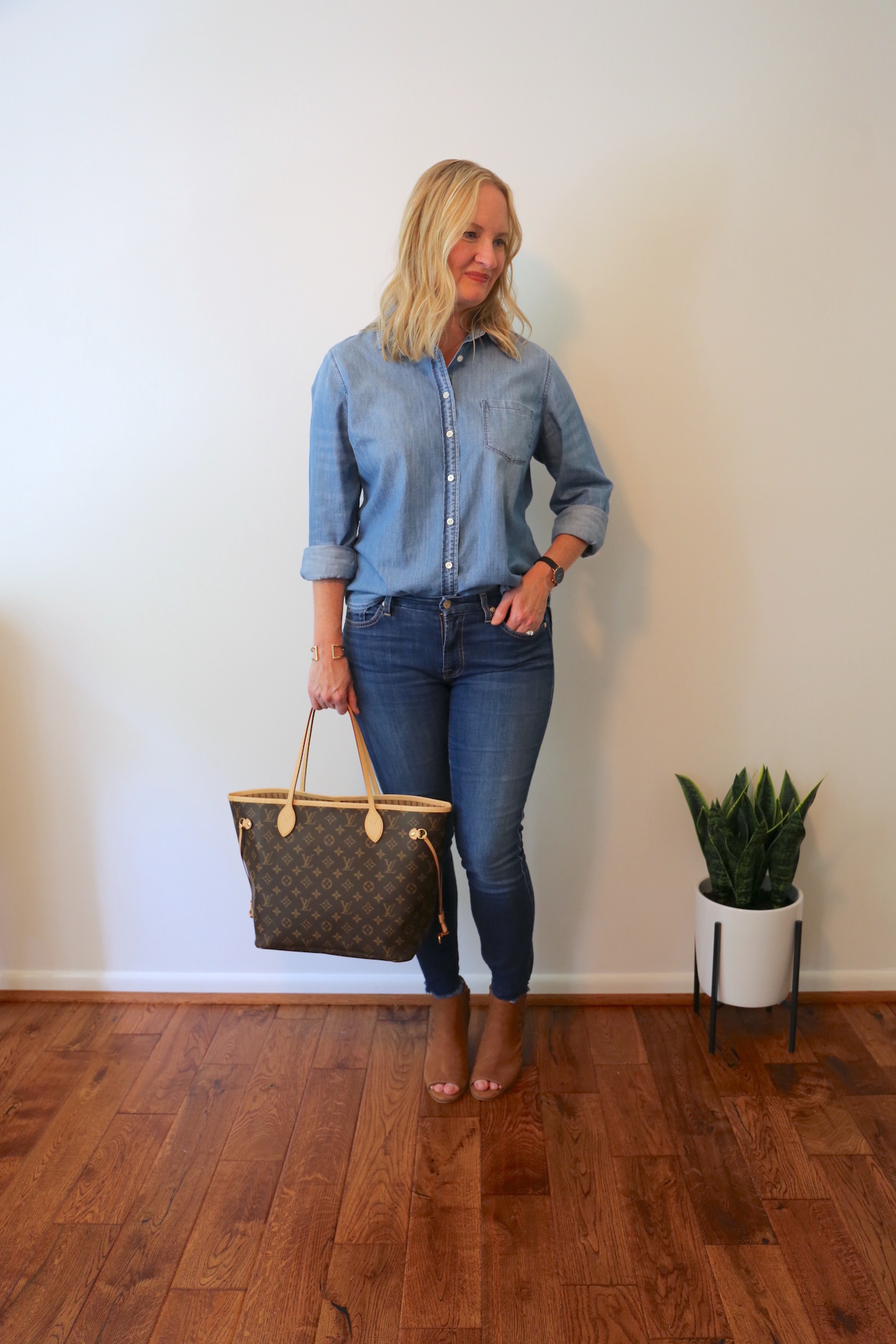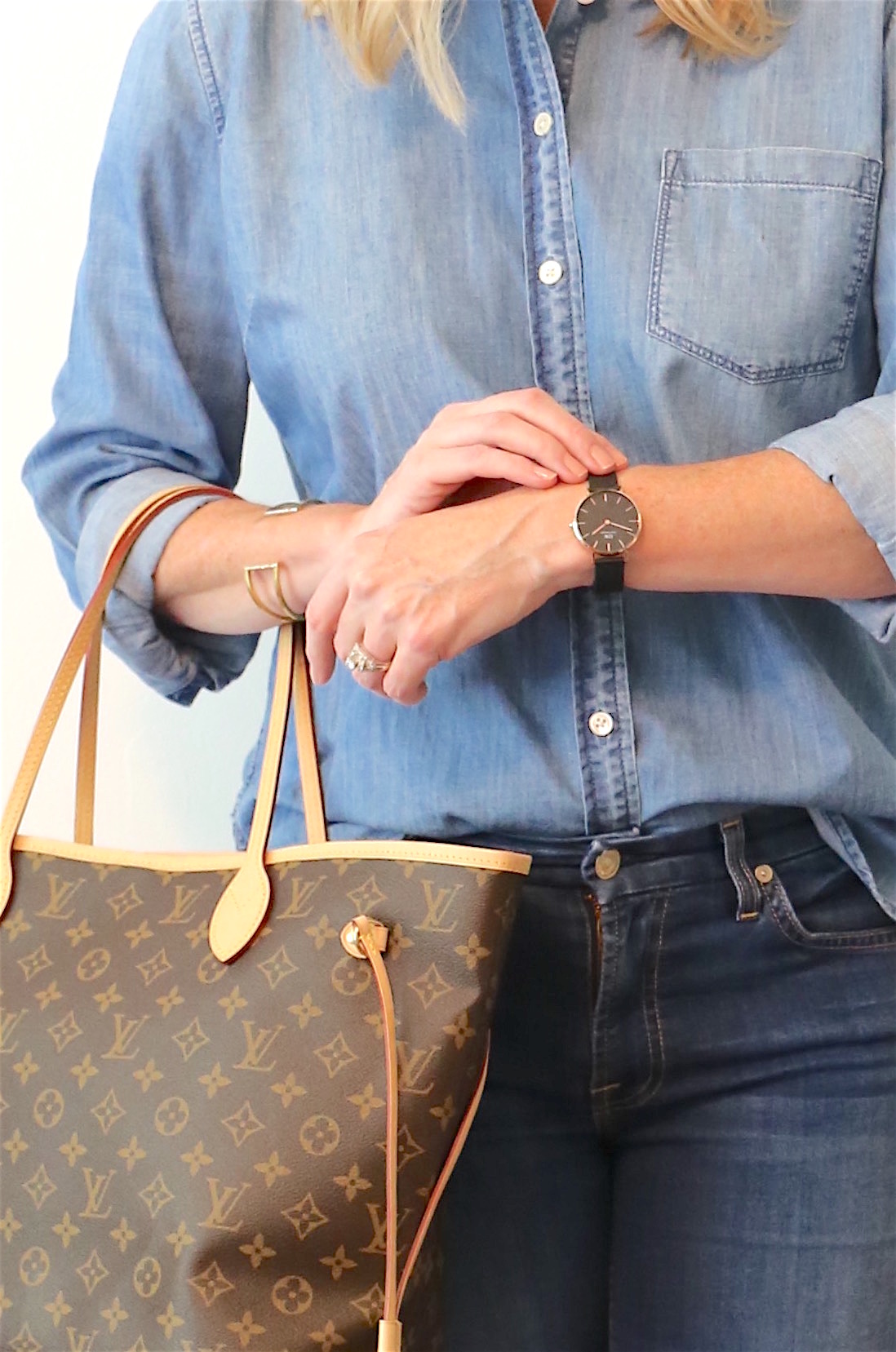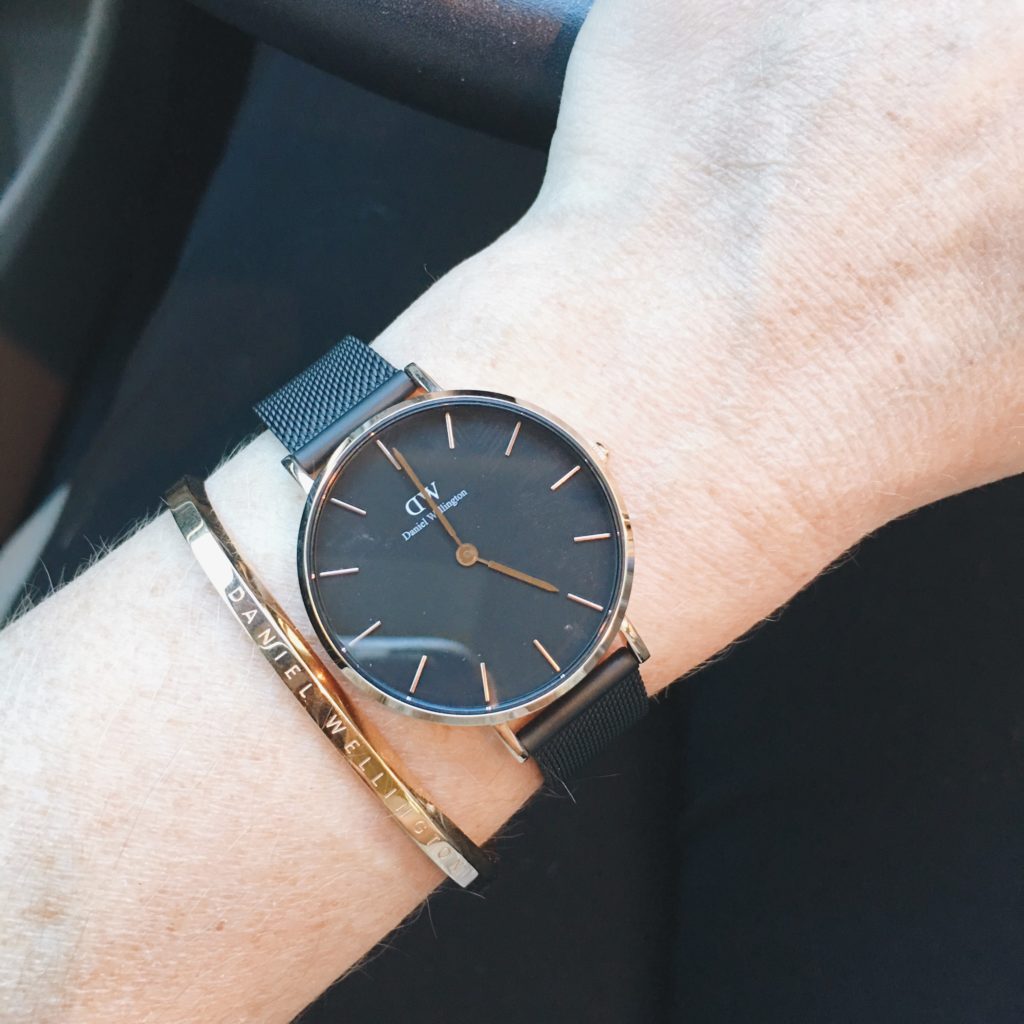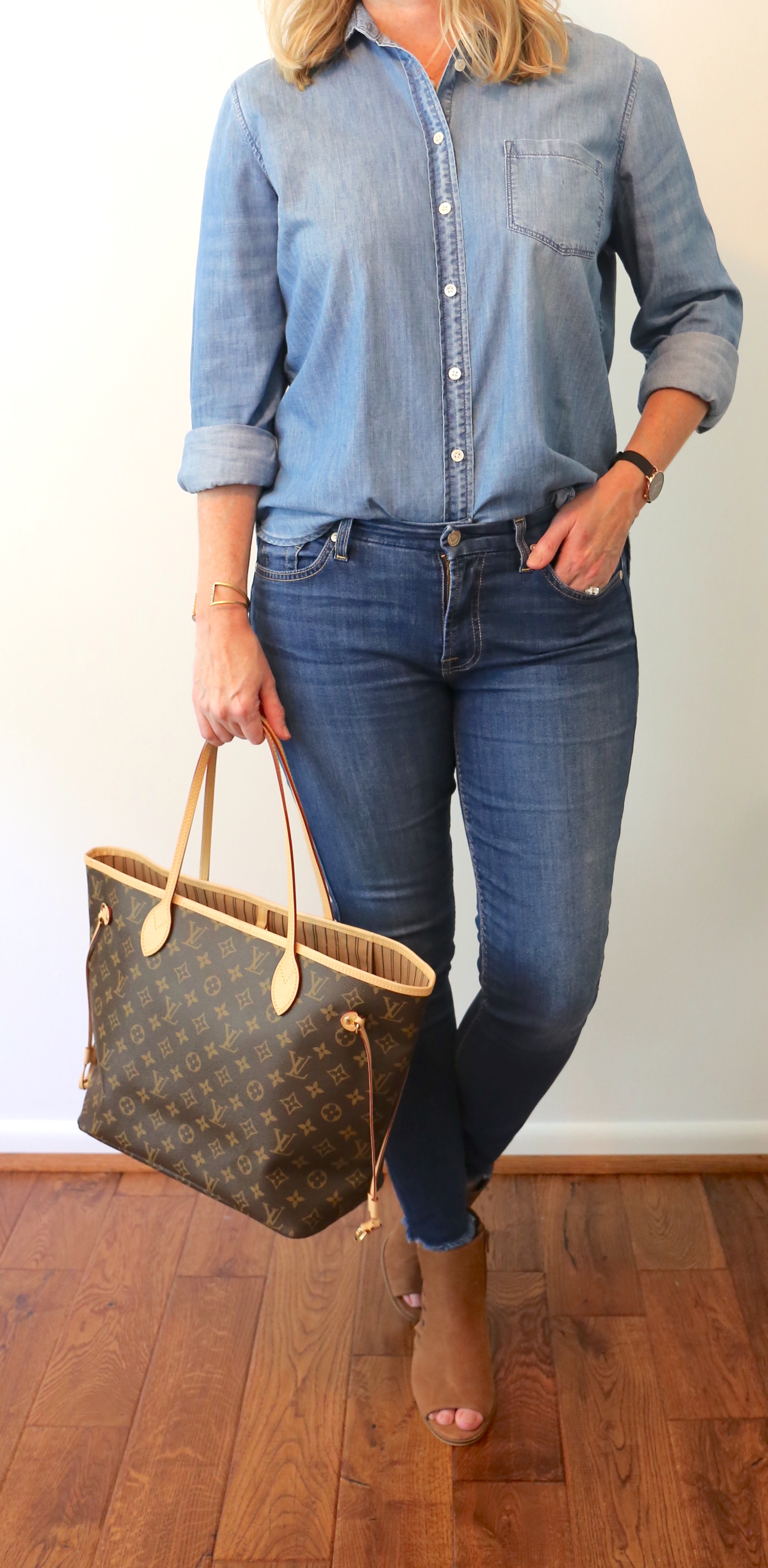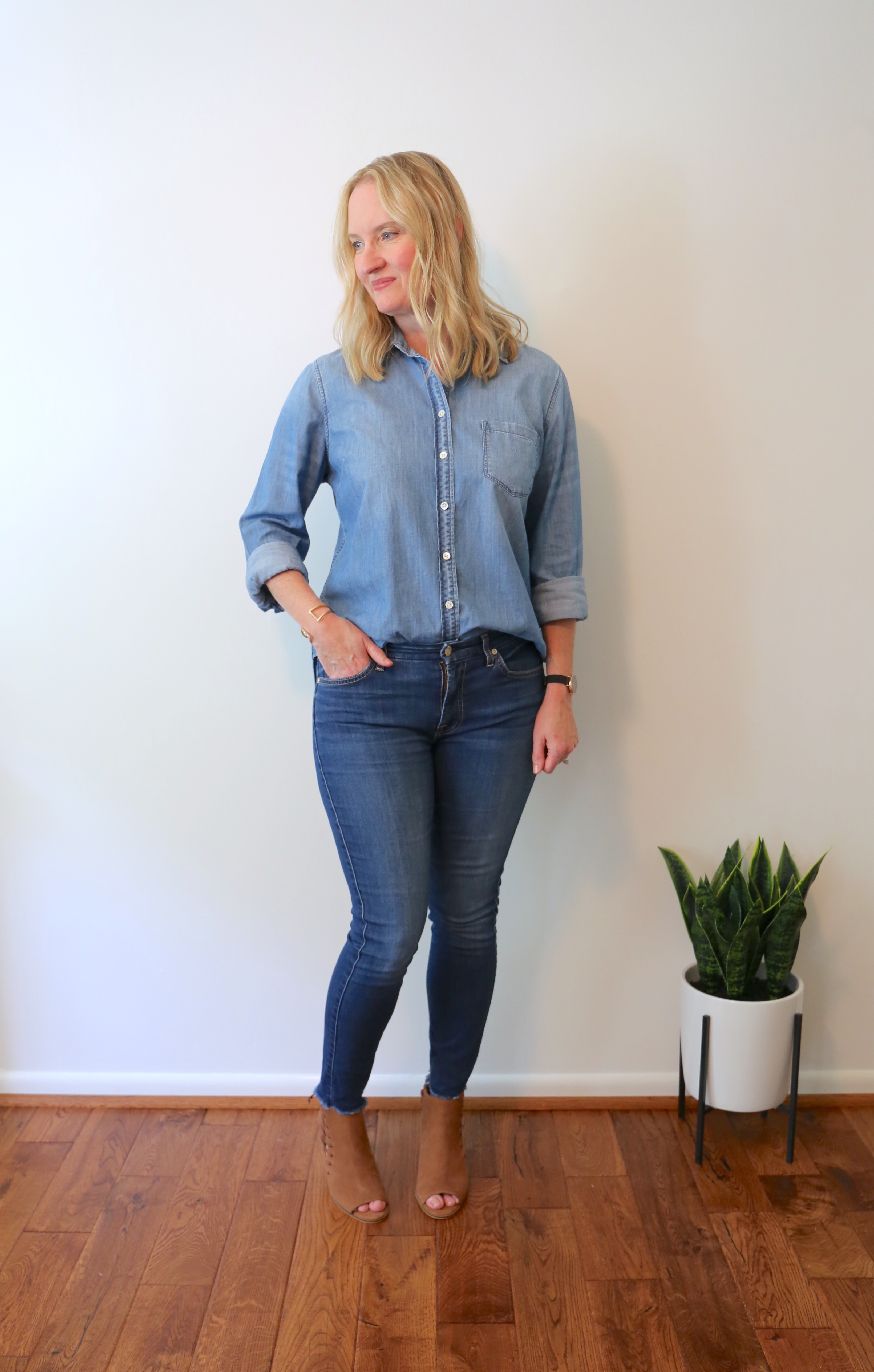 Outfit Details:
chambray shirt (this year's version, plus-size option)
raw hem ankle jeans (regular hem version, plus-size option)
Daniel Wellington watch
Sorority Gal Cotton Pearl Initial Gold necklace
gold cuff bracelet (sold out), (love this one, love this initial cuff)
Neverfull MM Tote (mid-priced, budget)
peep toe ankle boots
I've posted all my outfits in the 10×10 Fall Challenge on Instagram.  I'll have a recap of what I wore during the challenge here on the blog on Wednesday.  In the meantime, you can see them all on Instagram @classyyettrendy.
My shirt, jeans and ankle boots are similar to the ones in The Essential Capsule Wardrobe: Fall 2017 Collection.  This eBook includes 100 outfit ideas from just 20 clothes and shoes!  Transform your closet by following the step-by-step capsule wardrobe creation guide.  Plus, there is a travel packing guide, checklist and more!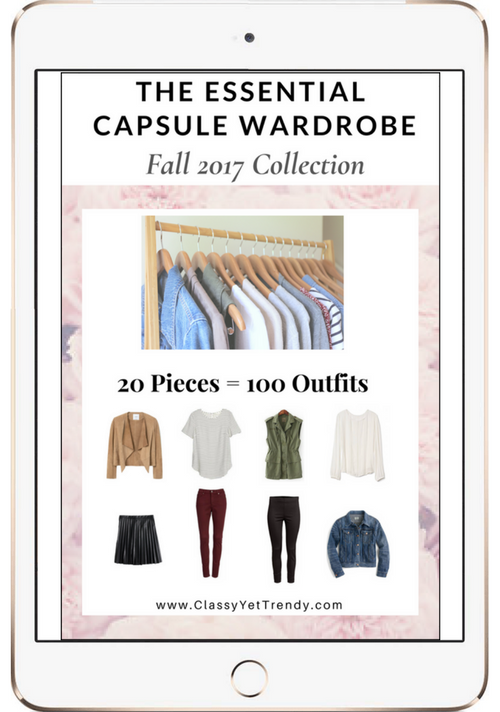 Here's a little bit more about my outfit, a denim on denim look.  I've had this chambray shirt for a few seasons and love it!  I invested approx. $75 on it and it was worth it.  I replace my other one since it was looking worn and didn't fit well anymore.  When I decided I needed a new chambray shirt, I followed my own advice…
When it comes to buying clothes and shoes, my philosophy is "choose well, buy once", meaning carefully choose an article of clothing to buy and buy just one of the item.  I take my time in researching about the item, read reviews (if they are on the product's page) and try it on.  When I try it on, I ask myself these questions: 1. Does the item fit well, like it was made for me?, 2.   Does the color look right for my hair and skin tone?, 3. Is it comfortable and easy to move around in?, 4. Will it coordinate with at least 3 other items in my closet?  If the answer is "yes" to all the questions, then I buy it.  I don't need 3 chambray shirts in the same style, I buy one that I love and that I know I'll wear over and over.  That's the foundation of building a capsule wardrobe.  You are selective about the clothes in your closet, but you love to wear every piece, they look great on you and everything coordinates well.
I've had these raw hem jeans since the Spring.  I really wanted a pair of raw hem jeans for my capsule wardrobe.  I really liked the medium wash denim and read good reviews on Nordstrom about the jeans.  I've had them in my Spring, Summer and now Fall capsule wardrobe and still love them.  They have been worth every penny.  They also come in the regular ankle hem version too.
I bought these peep toe side lace booties this past summer on sale.  I didn't have a pair of peep toe booties, so when I saw these were by Lucky Brand I bought them.  I usually don't buy something without putting a lot of thought into it first, but I could wear these booties were unique and would function well with my outfits, the color is gorgeous, the fit is perfect and they are comfortable.  Plus, they add interest to my outfits with the side lace-up detail.  They nearly sold out online, but if you can find them in stores, they are the Lucky Brand Hartlee boot.  I've linked a few similar styles below in case you need a pair of peep toe booties for your wardrobe.

I was given the Daniel Wellington watch to review, but as always, all opinions are my own. #danielwellington #ad