Valentine's Day Gift Guide
Valentine's Day is less than a month away!  Wow, it will be here before we know it!  I have always loved Valentine's Day, not only because it's the same day as my birthday, but I always have loved the decorations and colors.  Maybe that's why my favorite color is blush!
I remember as a child looking forward to Valentine's Day.  Each year when I was in elementary school, the teachers would have us decorate our own paper bag to hold our valentine cards from our classmates.  Since I loved art so much, I would enjoy decorating mine.  As we got a little older, instead of paper bags, we would use shoe boxes to make them look like mailboxes, so everyone in the classroom would drop their valentine cards in all the "mailboxes".  We all would enjoy looking at the valentine cards and some even included candy taped to them!  Since it was my birthday, when I got home from school, my mom would have my birthday cake she baked for me sitting on the kitchen table.  Ahh, such great memories!
I've found several items that will be perfect for Valentine's Day, whether it a gift to your loved one (or something for yourself)!  I've linked everything below with convenient shopping links!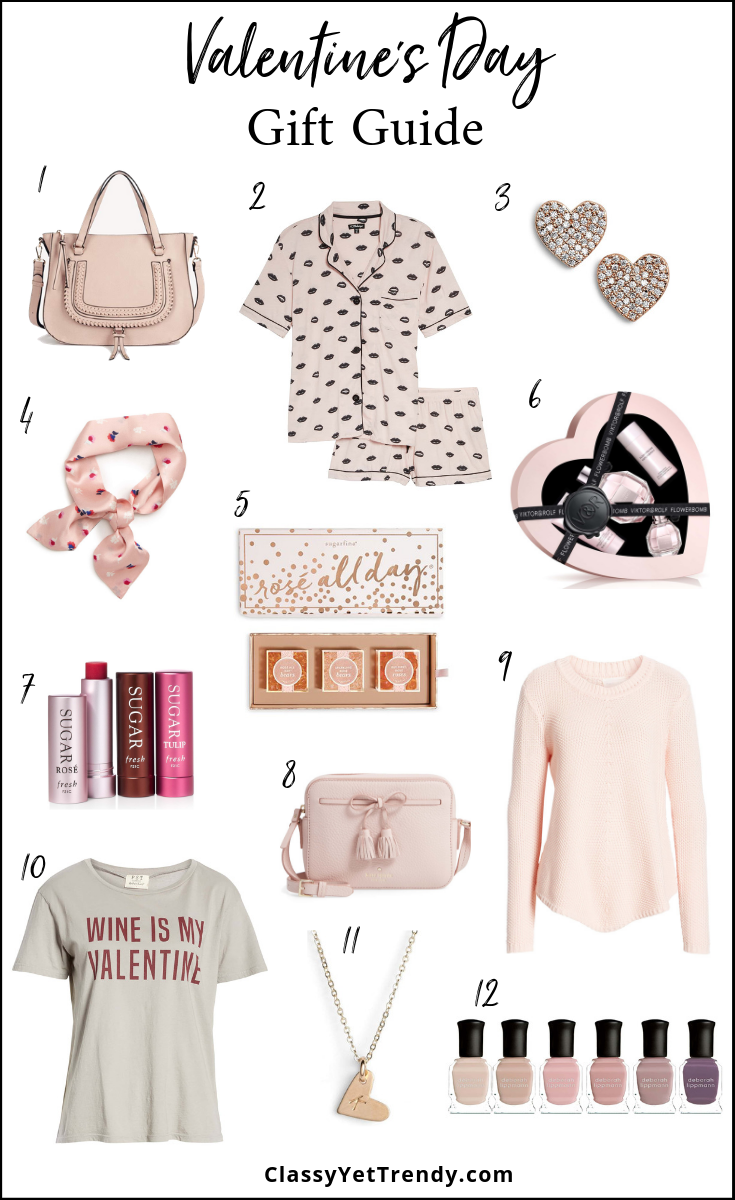 1. Destin Satchel Vegan Studded Whipstitch Satchel (under $70 and comes in 5 colors!)
2. Kisses Pajamas
3. Yours Truly Pave Heart Stud Earrings
4. Floral Silk Tie Scarf
5. Rosé All Day Bento Box
6. Viktor & Rolf Flowerbomb Set
7.  Lips Don't Lie Set (I use the lip conditioner everyday under my lipstick!)
8. Arla Leather Crossbody Bag
9. Cozy Stitch Sweater
10. "Wine Is My Valentine" Tee
11. Initial Heart Necklace
12. Deborah Lippmann Bed of Roses Nail Polish Set
Shop The Post:
Shop More Valentine Gifts: