Fall Essentials Under $35
Since the Fall season is here, it's time to bring out the cardigans, jackets and any other layers you may have.  Scarves are the perfect accessory to wear when it's Fall, to stay warm on the windy and chilly Fall days.  If you are on a budget and are needing a few essentials for your Fall wardrobe, you want find styles that look good, but won't break the bank.
I've searched the web to find several essentials under $35, perfect for your Fall wardrobe, especially if you have a capsule wardrobe!  If you have purchased any of my capsule wardrobe eBooks, you know that I create complete seasonal wardrobes with just a few clothes and shoes.  These are all the tops, bottoms, layers (season permitting) and shoes that you will need for a full season.  If you are wanting to add a couple of items to your capsule wardrobe, but are not sure what to buy, my blog posts keep you up to date on all things capsule wardrobe related, while keeping you informed of the latest trends!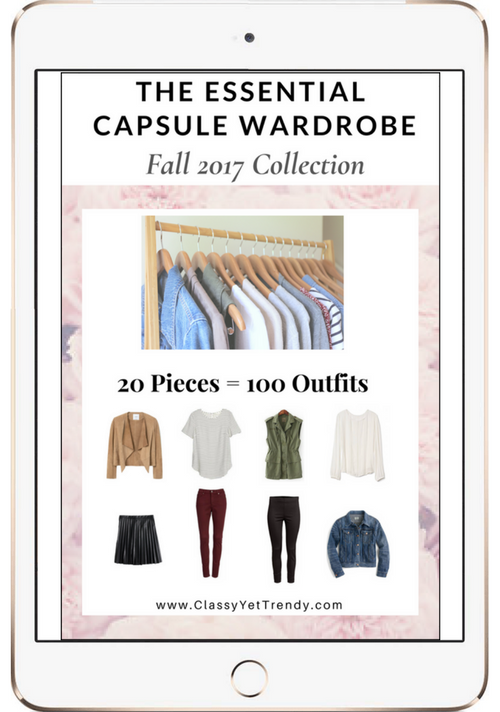 Are you needing a great fitting tee?  I have this Perfect Tee in white and love it.  The one I had accidentally got shrunk in the dryer with a few of my husband's clothes.  I loved it so much, I bought a replacement!  Muted pink colors are so popular right now, that this knit pocket cardigan in "powder pink" is a recommended item!  I just bought it in both gray ("natural white melange") and pink.  Having a couple of colored jeans in your wardrobe adds more outfit possibilities to the mix.  You'll love this pair of Mid-Rise Rockstar Jeans in "garnet"  and these High-Rise Sateen Jeans in "royal pine".  For shoes and accessories, this woven herringbone scarf in "ash rose" is a gorgeous rose gold color and these black mules with gold accent hardware look just like the Gucci brand, but a fraction of the cost.  Velvet is on-trend this Fall and these burgundy slip-on velvet sneakers are a steal at $29.99!  They also come in a gorgeous leopard print!  And, these burgundy velvet lace-up sneakers are on-trend at under $25.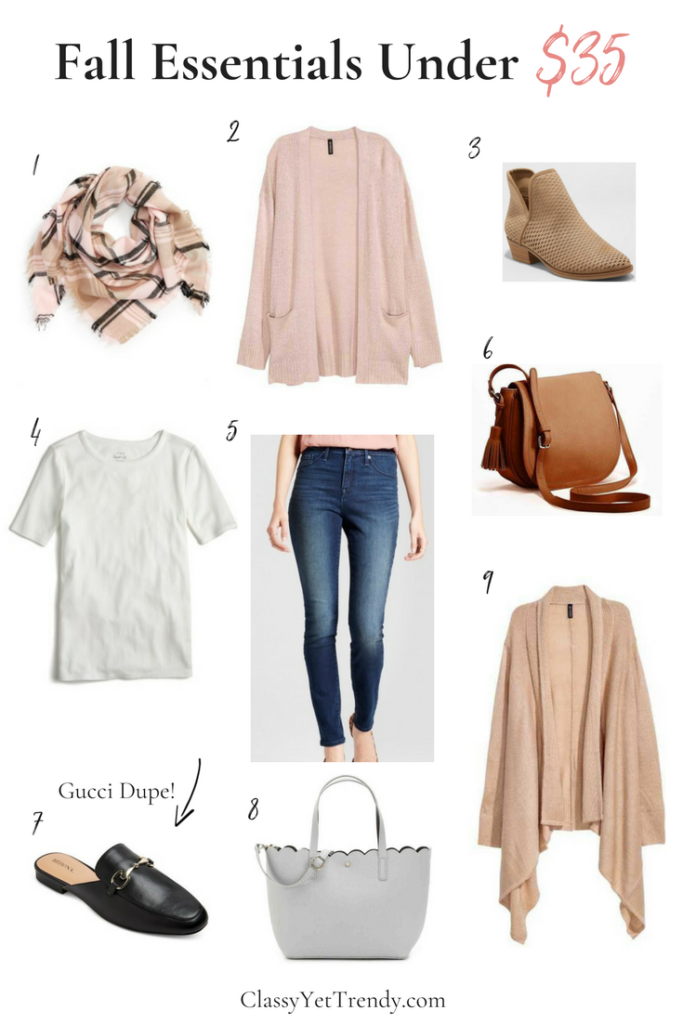 Collage Details:
1. plaid scarf
2. powder pink cardigan
3. ankle boots
4. white tee
5. high waist jeans
6. crossbody bag
7. black mules (looks just like Gucci!)
8. scalloped tote
9. drape cardigan

Plus-Size Options: