How To Create A Carry-On Capsule Wardrobe (Spring Edition) + Outfits
Do you get overwhelmed when packing your suitcase? Do you pack too many things in your big suitcase, then when you arrive at the airport, dread having to check in your luggage, plus having to pay the extra fee?
When you pack just enough clothes and pack just the necessities, you can fit everything in a carry-on suitcase. A "carry-on" is a small suitcase that can fit in the overhead storage on an airplane. It can hold a travel wardrobe, a pair of shoes, a compact hair dryer and your travel toiletries.
This travel capsule uses several items from the Simplified Style capsule wardrobe E-Book, available in the Capsule Wardrobe E-Book Store. Transform your wardrobe with all the core closet essentials you will need to have many outfit possibilities! You'll get access to several shopping sources for each core closet essential (in Regular, Plus & Petite sizes), over 400+ outfit ideas for all seasons of the year, step-by-step on how to create a capsule wardrobe, a checklist, worksheets + More! If you use a capsule wardrobe for your closet, packing for a vacation is even more simple and quick!


Would you like to create your own custom capsule wardrobe, but don't know where to begin?

Have you spent hours on the internet researching about capsule wardrobes, but just gave up the idea, thinking it's too complicated?
Everything you need is in one convenient eBook!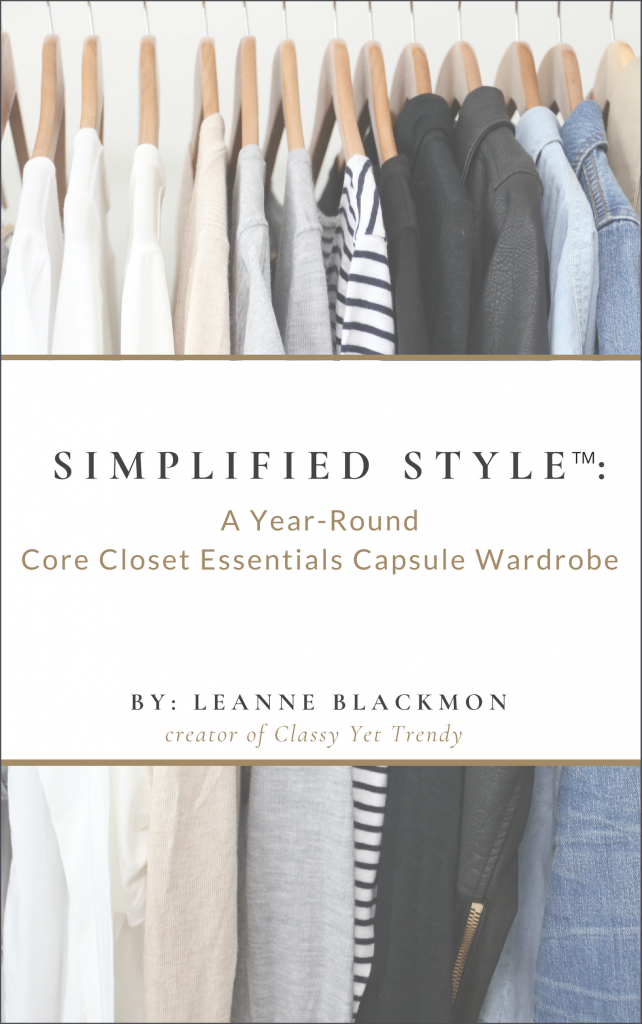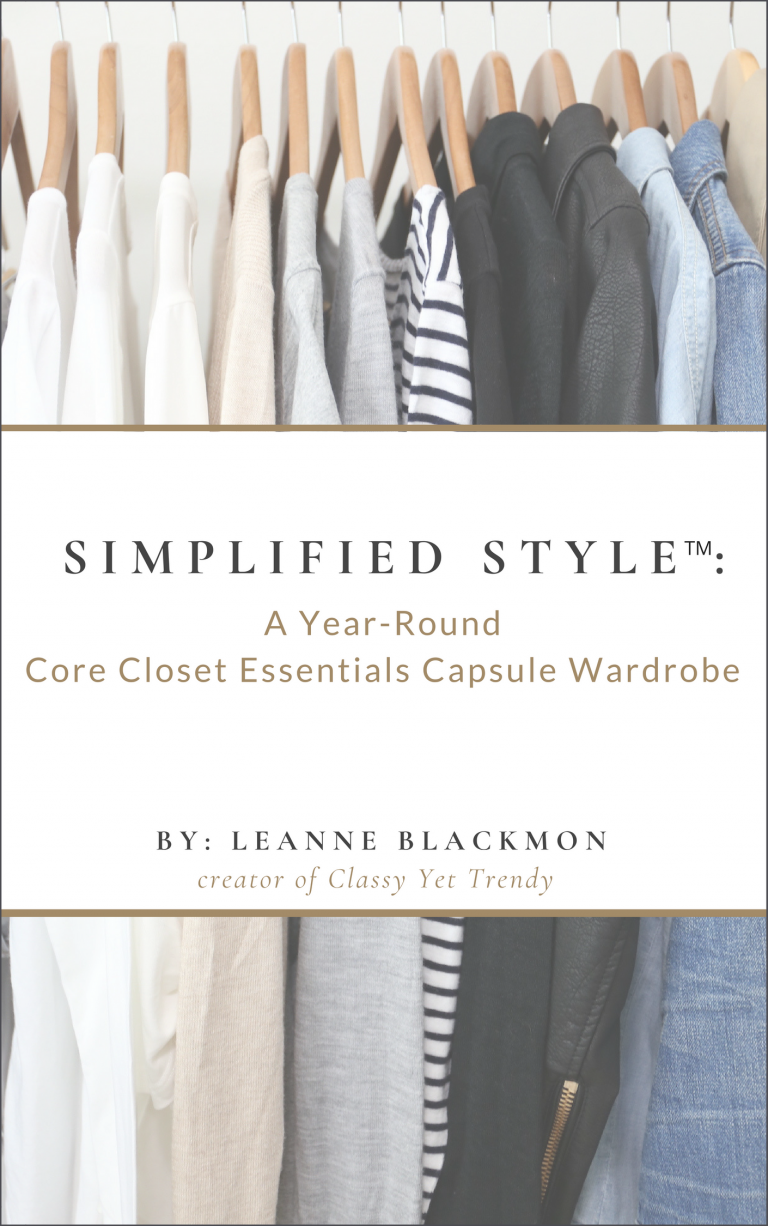 There is a secret to packing efficiently, so you will pack less, yet have many outfit possibilities.
Download your FREE Travel Packing Checklist below!
The secret to having many different outfits to wear is packing clothes with neutral, solid colors, with maybe 1 or 2 patterned tops. Colors like black (or navy), white or ivory and gray coordinate well together, so if you pack clothes with just those colors, you'll be able to create many outfits. Because of all the neutral colors, the color tones coordinate well together, giving you many outfit possibilities!
If you will be traveling for more than a few days, you can wash several of the items to freshen them up while you are traveling. They can be washed, hung up to dry in your hotel room, and they'll be dry and ready to wear the next day!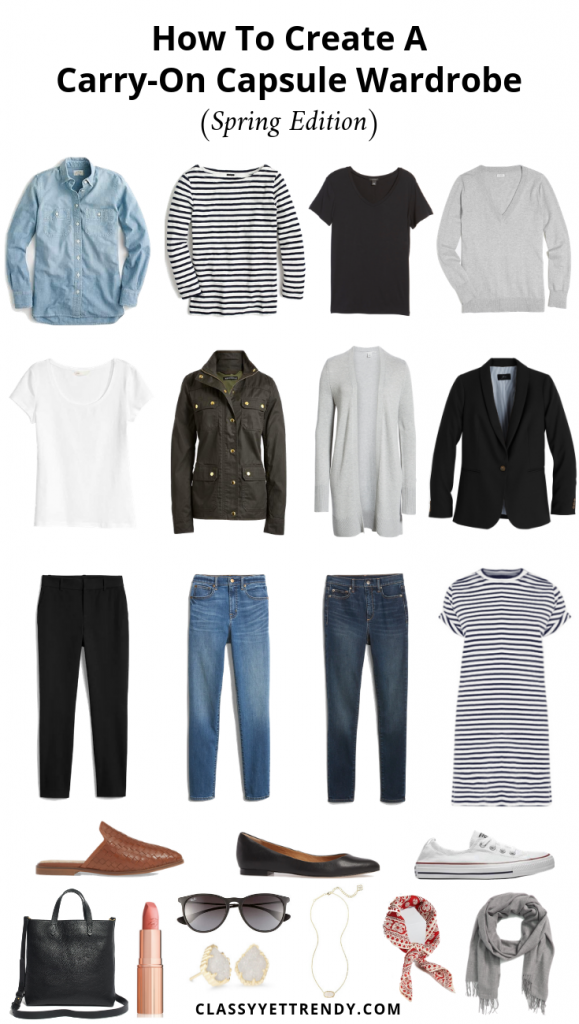 Carry-On Suitcases:
The Carry-On Capsule Wardrobe:
Chambray Shirt – You can wear this shirt many ways! Wear it alone or underneath the gray sweater, utility jacket cardigan or blazer. You can also wear it open over the striped top, black tee, white tee, and striped dress.
Striped Top – This neutral stripe pattern will coordinate well with all the other pieces in the capsule.
Black Tee – You can wear this piece alone or underneath the utility jacket, cardigan or blazer.
Gray Sweater – The Spring season brings unpredictable weather, so wearing this gray sweater will keep the chill away. You can dress it up with the pants and flats out to dinner, or wear it with the jeans and sneakers while doing some sightseeing.
White Tee – Just like the black tee, you can wear it by itself, or underneath the jacket, cardigan or blazer. You can dress it up with the pants and flats or wear it casual with the jeans and mules.
Utility Jacket – This piece is handy to wear to keep warm on the cool Spring nights. Plus, wear it in the daytime over your t-shirts.
Gray Cardigan – This is a versatile layer that can be worn casual touring a museum or dressed up for dinner at a nice restaurant.
Black Blazer – This versatile piece looks great dressed up with the pants and flats or worn over the striped dress, but also can be worn as a jacket with a tee, jeans and sneakers.
Black Pants – Always be sure to carry a pair of black pants when traveling. You never know when you will need to be dressy to dine out at a nice restaurant or go to a special event.
Medium Wash Jeans – Jeans are great for sightseeing as they are comfortable and rugged for walking. Try to avoid distressed jeans with rips or tears.
Dark Wash Jeans – Being a dark finish, these jeans can be worn with one of the tops, the blazer and flats for a slightly more dressy look.
Striped Dress – You can wear this dress alone or underneath the jacket, cardigan or blazer.
Brown Mules – This versatile, neutral color shoe will coordinate with all your outfits.
Black Flats – You can wear these shoes with your casual outfits and your dressy ones.
White Sneakers – These shoes come in handy on the days you will be walking a lot, they are very comfortable.
Accessories:
Black Crossbody Bag – This bag zips and has no outside pockets, so it keeps thiefs and pickpockets away, plus wear it as a crossbody to be even more secure. You can also wear it as a handbag or a shoulder bag. Also comes in a lovely cognac brown color!
Black Sunglasses – You will need a good pair of sunglasses when you do sightseeing outside. Also, don't forget the sunscreen!
Necklace and Earrings – You can wear this necklace and pair of earrings every day and they will coordinate with all your outfits.
Red Bandana – This buttery-soft bandana ("tropical coral" color) is a gorgeous shade of red and will add just a pop of color. Wear it rolled up and tied around your neck, unrolled and loosely tied around your neck or tie it in a knot on one of the handles of your bag.
Gray Scarf – Keep the chill away on those cool Spring days and nights with this cashmere scarf!
Shop The Post:
What To Wear On The Plane:
You can wear one of your outfits from your carry-on capsule wardrobe and pack the rest of the capsule in your carry-on suitcase: medium wash jeans, black tee, utility jacket and white sneakers.
What To Pack In Your Tote:
If you use a tote to carry onto the plane, it will not only double as your purse, but you can pack your crossbody bag, wallet, cell phone and necessities that won't fit in your carry-on suitcase! Other than your carry-on suitcase, which is stored in the overhead compartment, you are allowed to carry one personal item, such as a purse or tote. I recommended carrying a tote for extra storage, but make sure your tote isn't too big. Dress up your tote by tying your bandana on your tote handle to add some color to your outfit and also so you won't have to pack it your suitcase. Here are a few recommended totes:
What To Pack In Your Carry-On:
Pack the remainder of items that you are not wearing and don't have in your tote in your suitcase. A tip to save space: roll up your clothes and line them up in one side of your suitcase. Utilitize the space-saving pockets in your suitcase to pack things like a charging cable. Pack travel-size toothpaste, shampoo, conditioner, etc to save space in your suitcase.
A Few Outfit Ideas: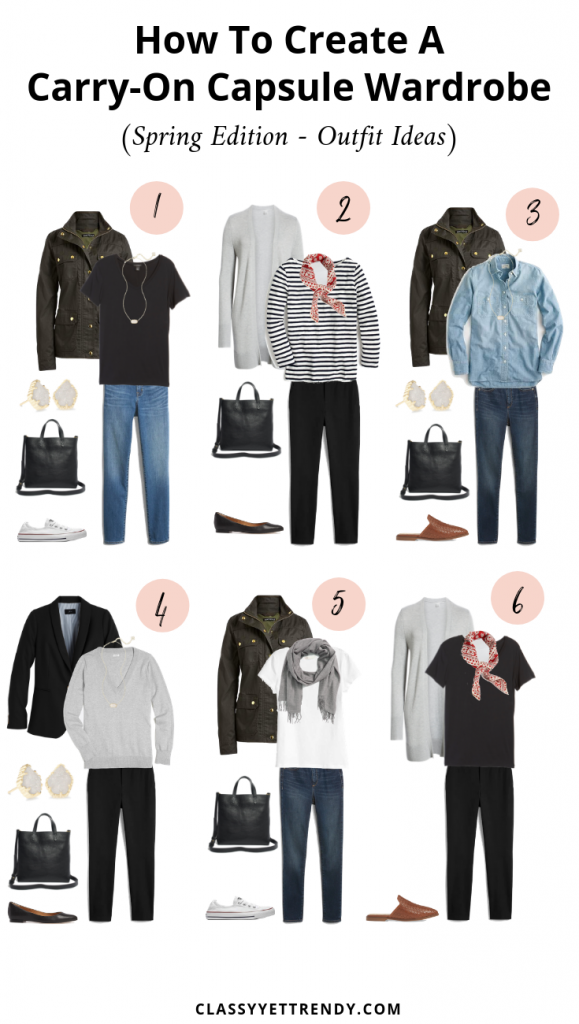 Travel Packing Checklist
Use the following checklist to help you pack for your trip ( you may or may not need to pack all these items). Use the "Notes" section to add additional items to your list or write your travel schedule.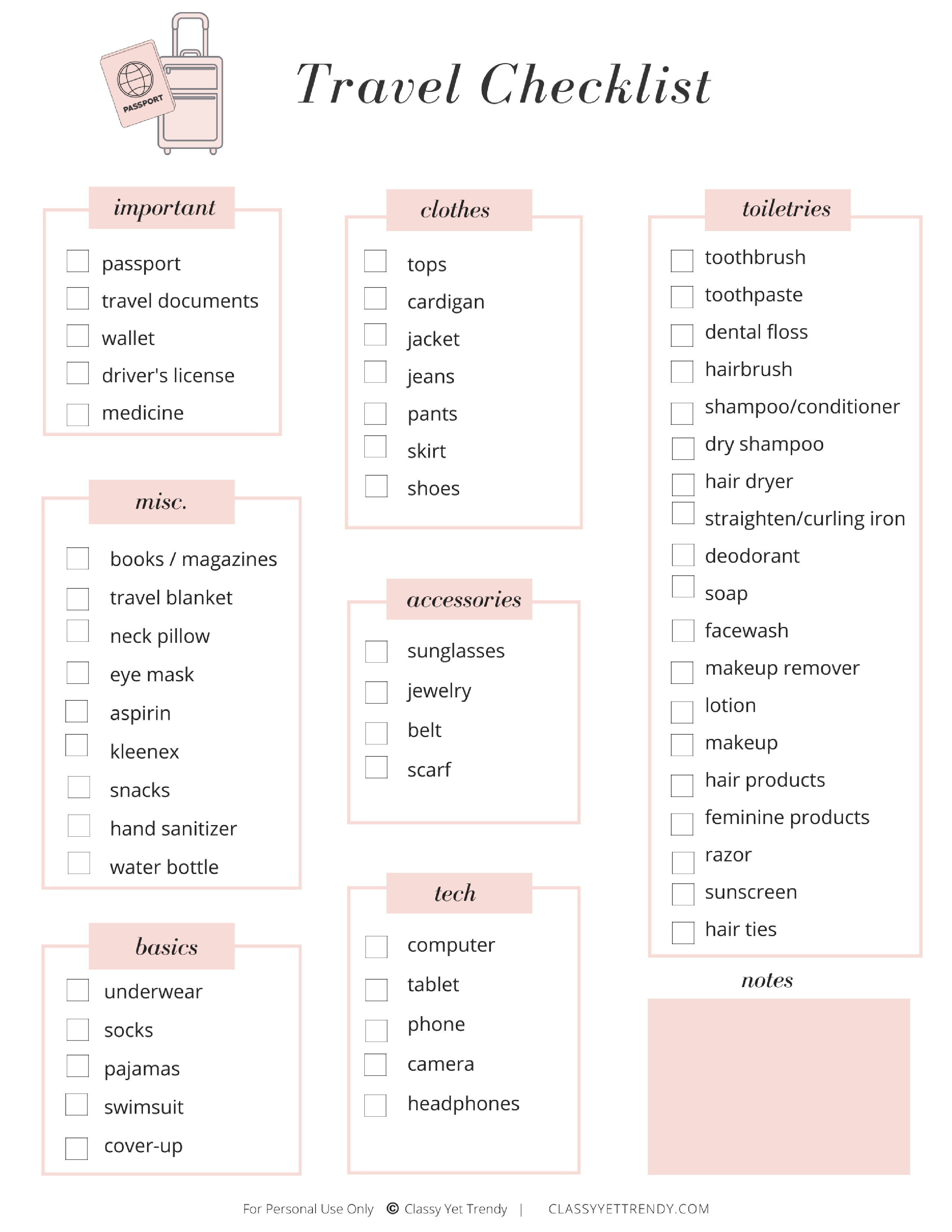 Click the image below or here to download your Travel Checklist.