Instagram Lately: March/April
Life has been busy these last couple of months! In March we moved to our new house. We hired a moving company to move all our furniture, but it took us longer to actually move everything else. We took time to clean out things we didn't need anymore, which took about a couple of weeks! Plus, have had contractors working on some remodeling in our old house before we list it for sale. We are completely moved in now and I have been able to focus more on blogging.
I updated my website theme to a new one Lauren just released called "Beloved" from Restored316. It is very similar to the one I was using before, but Beloved has a few more features. If you have a blog/website or are considering starting one, I highly recommend Restored316. I have used Lauren's theme's for a few years and in my opinion, they are the best ones on the market. They are well coded, well designed, very versatile and are easy to customize.
A few of you have asked how my daughter has been doing with her brain cancer treatments. She is still participating in a clinical trial in Augusta, Georgia and is doing well (now). She was sick all during the month of March from the radiation treatments she received in February and the chemo medicine and her appetite decreased. She is on monthly cycles of chemo and had been sick everyday. Last week the sickness dissipated, thank goodness, and she has a bit more of an appetite. We have to travel to Augusta once a month for her clinical trial doctor visit and every other month she has an MRI scan there. We will travel there next week for her bi-monthly MRI, so please pray that she gets good results again. Thank you!
Because the last few weeks have been busy, I haven't had time to post regularly on Instagram, but I thought I would share a few Instagram posts and what I have been wearing from my Spring capsule wardrobe. If you are on Instagram, follow me @classyyettrendy.
I shared this #flatlay of my #OOTD (outfit of the day) on Instagram that I wore the other day. The Button Front Knot Hem Tee is on sale for 40% off! These Jaycie Leather Flatform Espadrilles in Bronze Metallic are new this Spring. They are the Bronze Metallic color and they also come in black and dark brown. What I love about these is that they are so comfortable it feels like walking on air! Plus, the bronze metallic color is a neutral so they match all your outfits.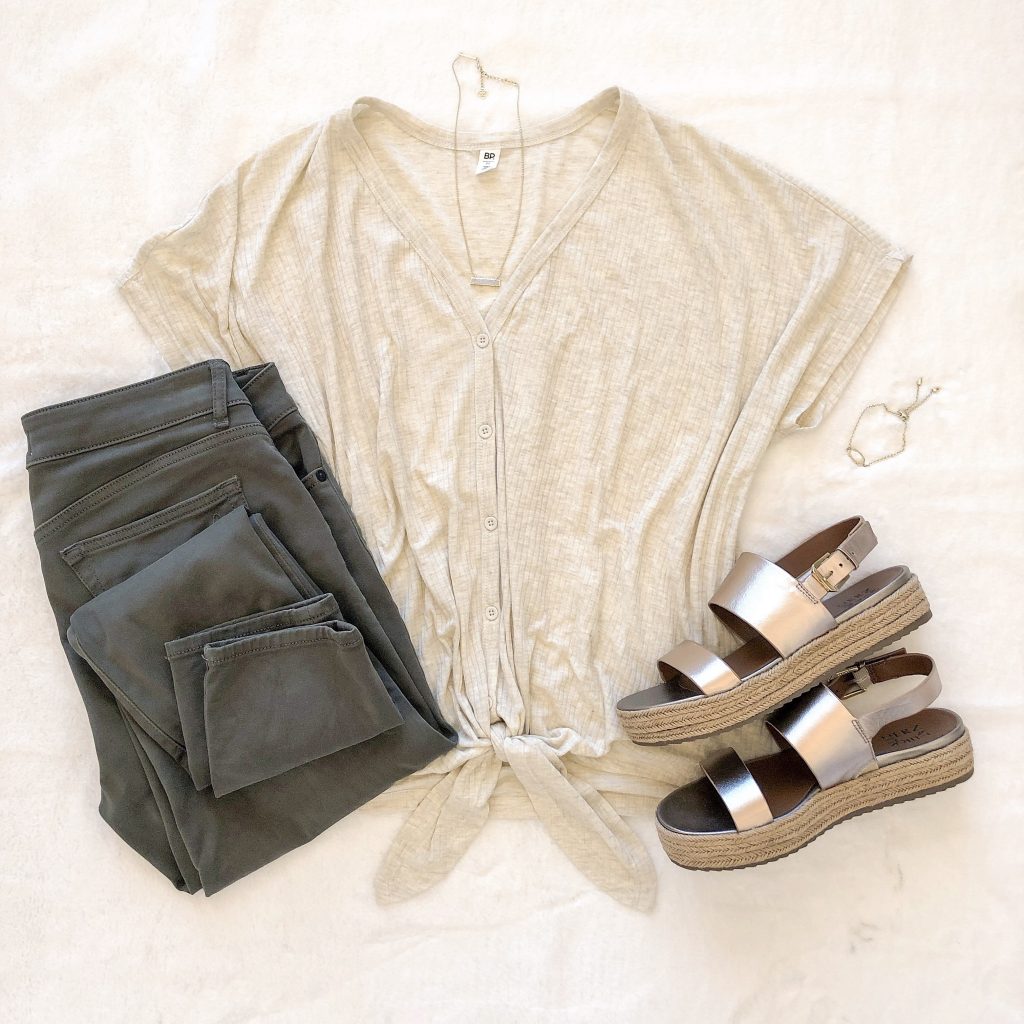 Outfit Details:
Button Front Knot Hem Tee / DL1961 olive skinny jeans / Jaycie Leather Flatform Espadrilles in Bronze Metallic / Leanor Necklace in Gold / Elaina Adjustable Chain Bracelet / Medium Transport Tote in English Saddle (not shown)

One Saturday last month, I went to J Crew Factory and Madewell and did a try-on session at each store. I posted everything I tried on in this blog post, "J Crew Factory Fitting Room Reviews" and "Madewell Fitting Room Reviews". I shared this photo on my Instagram of a few things I tried on at J Crew Factory:
Left To Right:
Gingham Tie Front Top / Blue Striped Tie Front Top / Striped Artist T-shirt
Mon Cheri T-shirt / Chambray Shirt / Navy Floral Blouse
Here is the outfit I wore while shopping at J Crew Factory and Madewell. It is from my Spring capsule wardrobe: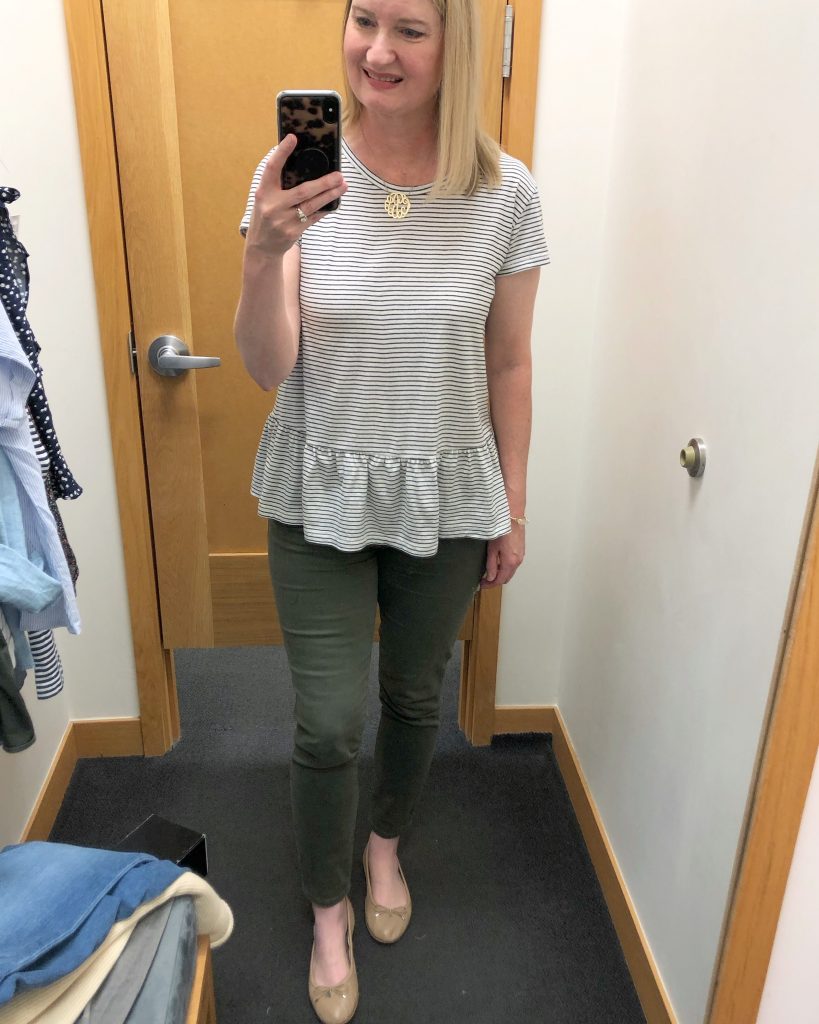 Outfit Details:
striped peplum tee / olive skinny jeans / beige ballet flats / initial necklace / similar cuff bracelet
I wore the Gingham Tie Front Top I bought: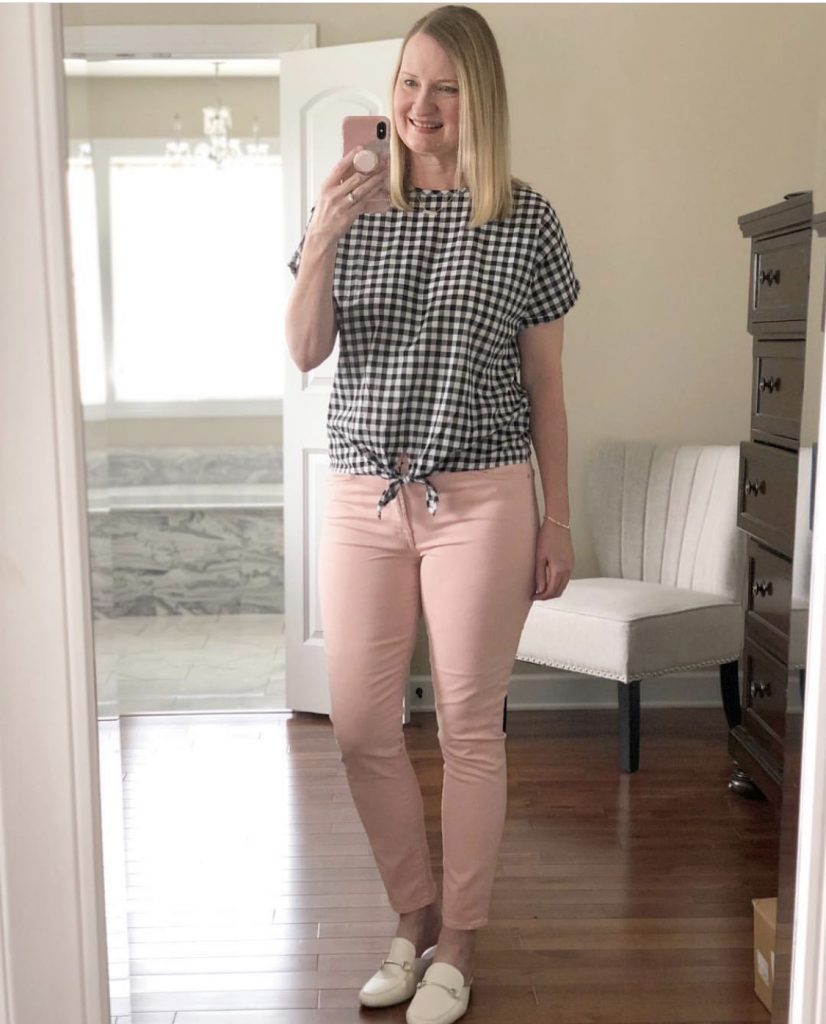 Outfit Details:
Gingham Tie Front Top / Jen7 Skinny Ankle Jeans / White Mules (this year's version Under $23!)
This outfit is a no-brainer! Stripes, jeans, utility jacket and mules. It's simple, comfortable and easy to wear.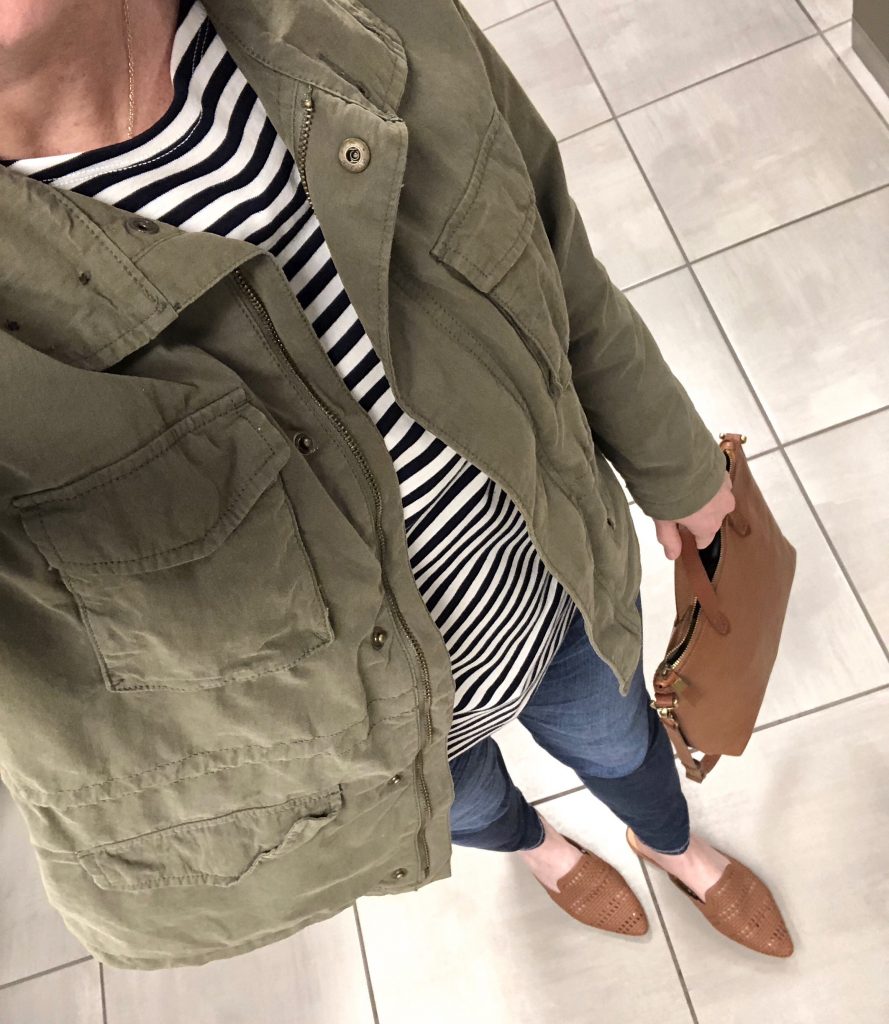 Outfit Details:
Striped Perfect Fit Tee / AG The Farrah Skinny Jeans / Utility Jacket (similar style) / Taner Bar Necklace / Tory Burch Logo Stud Earrings / Woven Slip On Mules (Under $25!) / Transport Crossbody Bag
Last week I shared several pairs of shoes on the blog (more info here) that I'm wearing with my Spring capsule wardrobe. This new pair of Vince Camuto Breshan Espadrilles looks like the Chloe Glyn Espadrilles, but a lot cheaper!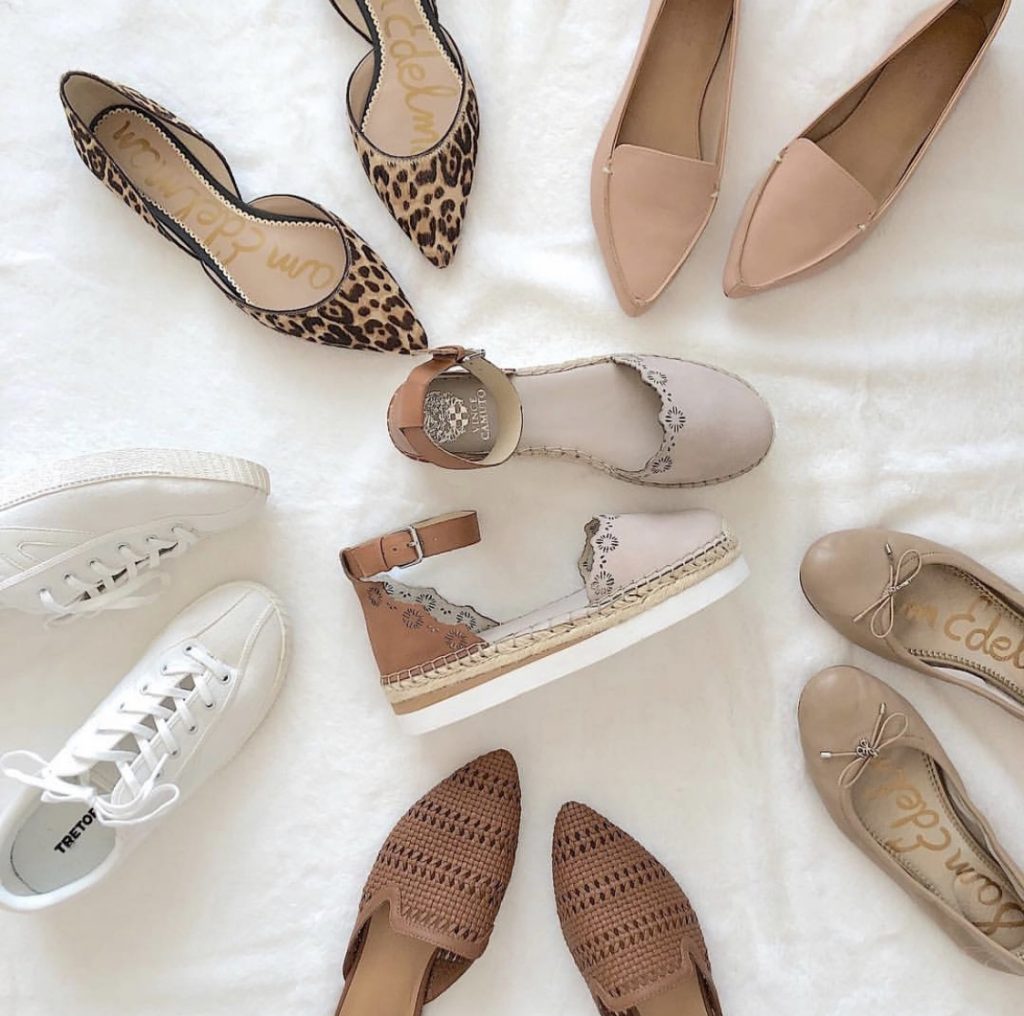 Clockwise From Top:
Edie leather loafers
Felicia Beige Ballet Flats
Woven Slip On Mules (Under $25!)
Tretorn Nylite Plus Sneakers
Rodney Leopard Print Calf Hair d'Orsay Flats
Vince Camuto Breshan Espadrilles
I'm so glad I added this Scoop Neck Camo Tee to my Spring capsule wardrobe! The material is buttery soft and the pattern is subtle enough, so it coordinates well with all my bottoms in my capsule. I invested in this Margaux Medium Satchel. The color is "Pale Vellum" and is a warm blush color and provides just a pop of color to my outfits. The size is perfect because I can carry it as a hangbag, shoulder bag or a crossbody.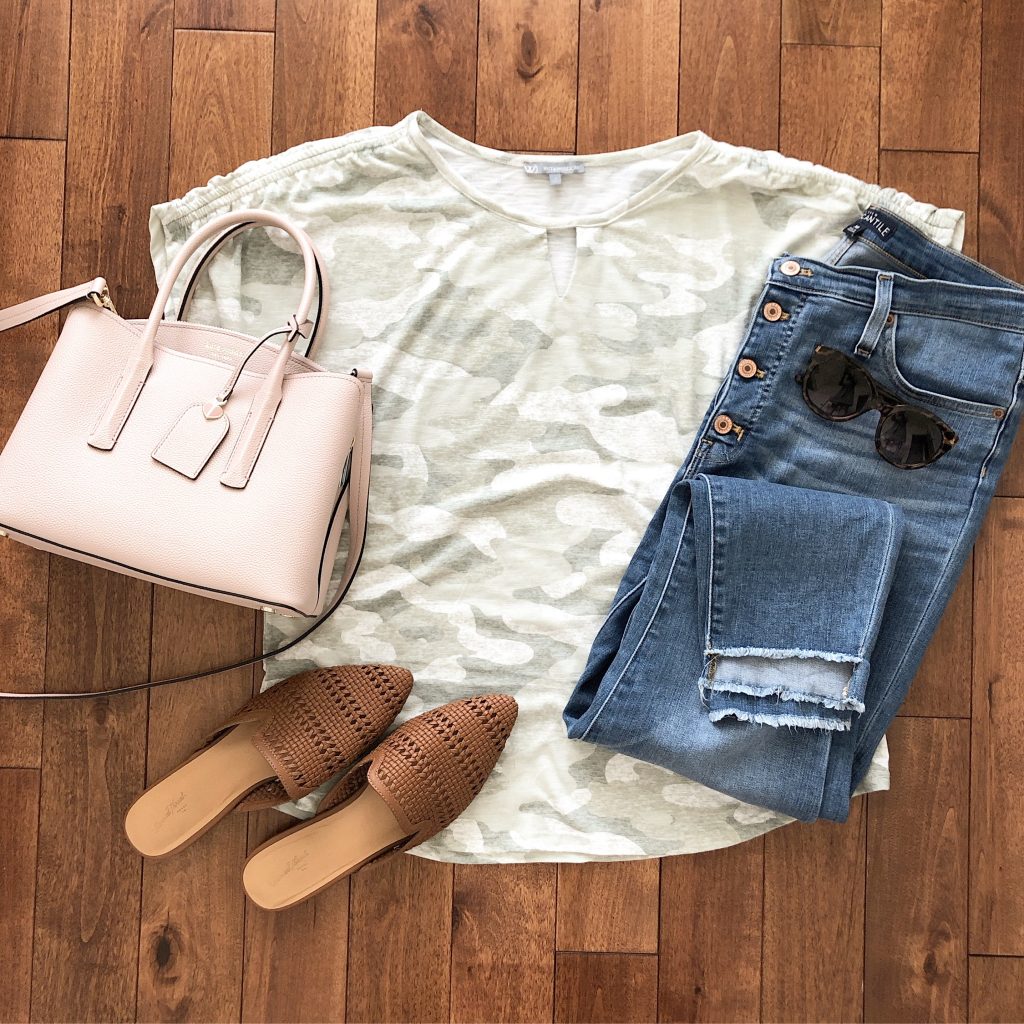 Outfit Details:
Scoop Neck Camo Tee / J Crew Factory high rise jeans with button fly and step hem / Woven Slip On Mules (Under $25!) / Elisa Statement Necklace (not shown) / Tortoiseshell Print Cateye Sunglasses / Margaux Medium Satchel
Shop The Post: