I've prepared my closet for the Spring 2019 season!  See all the clothes in my Spring Capsule Wardrobe!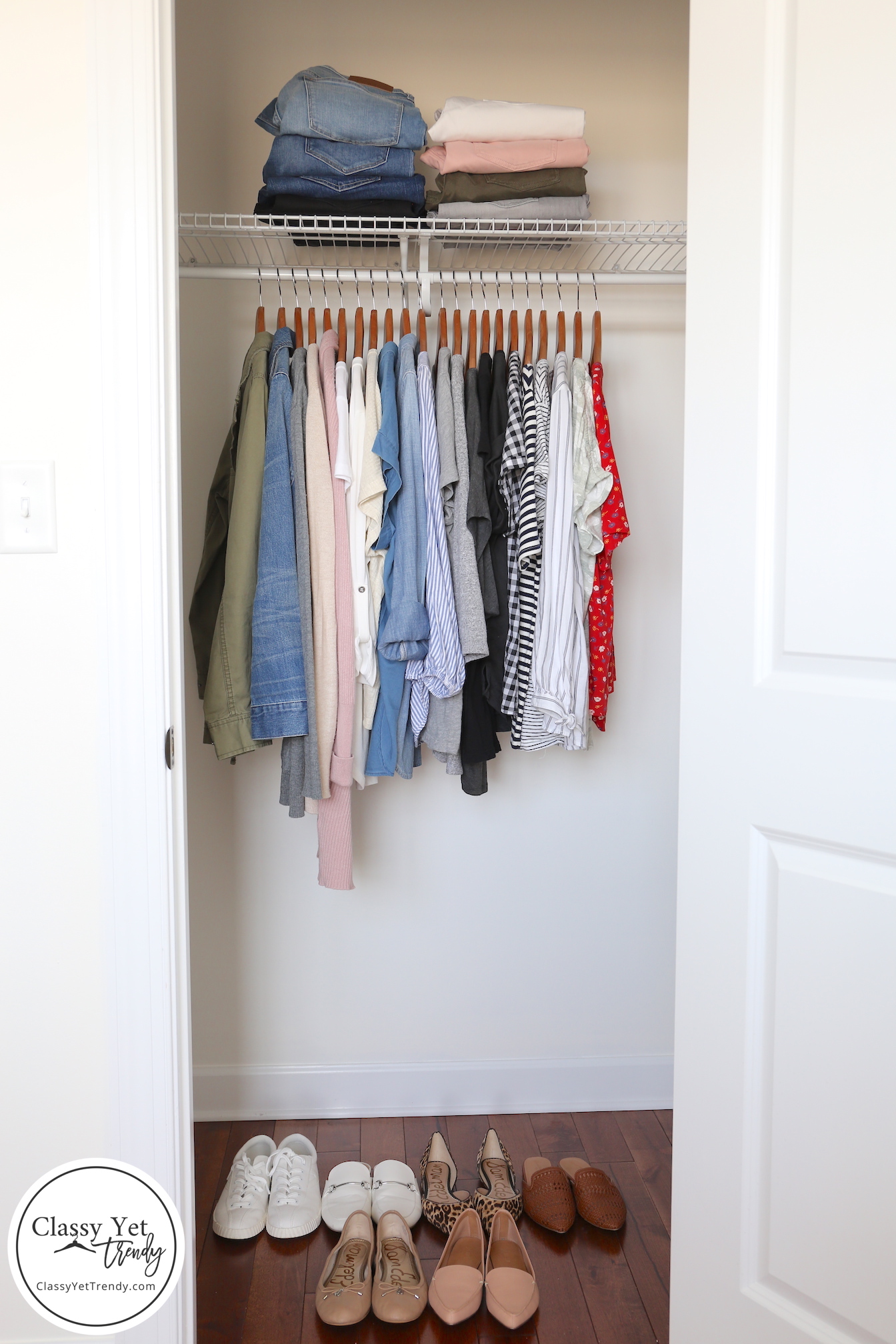 I created my Spring 2019 Capsule Wardrobe and am sharing it here on the blog!  For the past couple of weeks, the weather has started warming up, so I thought I would go ahead and get my closet ready for the Spring.
We moved this past week into our new house and I spent a few hours hanging everything in our walk-in closet.  This is the first time we have had a walk-in closet and are very appreciative having one!  When we were looking to move, a few things were on the top of my list: one level with no stairs to climb, a walk-in closet so I could easily access my clothes in order to take photos for the capsule wardrobe eBooks and an extra bedroom with lots of natural light that I could use as my office.
I packed up my Winter capsule wardrobe with the exception of a few pieces to use in my Spring capsule.  I work at home so I wear mostly jeans everyday.  My capsule wardrobes consists of clothes that are casual and comfortable, but that also look great when I run errands and go out to town.
I won't be including shoes in this capsule wardrobe.  I have put a few pairs in my closet that I will be wearing, but want to keep my options open in case I need to dress up my outfits with pumps or additional flats.
In deciding what clothes I wanted in my Spring capsule wardrobe, first I decided my base color, which is the first step in my popular blog post, How To Create a Capsule Wardrobe: A 5-Step Visual Guide.  I decided to have BLACK as my base color.  As a personal preference, I usually choose black as a base color for the Fall and Winter and navy for the Spring and Summer.  This Spring I chose Black as the base color just to change things up a bit!  Then, I picked 4 accent colors: dusty rose, red, olive and blue.  This is the first time I have 4 accent colors so we'll see how it goes!
To create a capsule wardrobe that is efficient and that can make many outfits, I use mostly Core Closet Essentials.  Core Closet Essentials are basic essentials in neutral colors that never go out of style.  They are considered the building blocks of an efficient closet.  You can have a capsule wardrobe with just core closet essentials, like in my eBook Simplified Style: A Year-Round Core Closet Essentials Capsule Wardrobe, or you can add a few trendy clothes in accent colors to expand your wardrobe.  My Spring capsule wardrobe uses mostly core closet essentials, with some trendy tops in a few accent colors.
By using your Core Closet Essentials, you save money as well!  Using mostly basic essentials in your capsule every season prevents you from having to constantly buy loads of clothes.  You can choose to buy just a few clothes or wear what you have each season.  It keeps money in your wallet, plus it's better for the environment!  I used to buy lots of clothes every month with all kinds of colors and patterns.  I would grow tired of them quickly and would buy more.  Now, I utilize my core closet essentials and I enjoy wearing them over and over!
My Spring capsule wardrobe is on the wood hangers in my walk-in closet as shown below: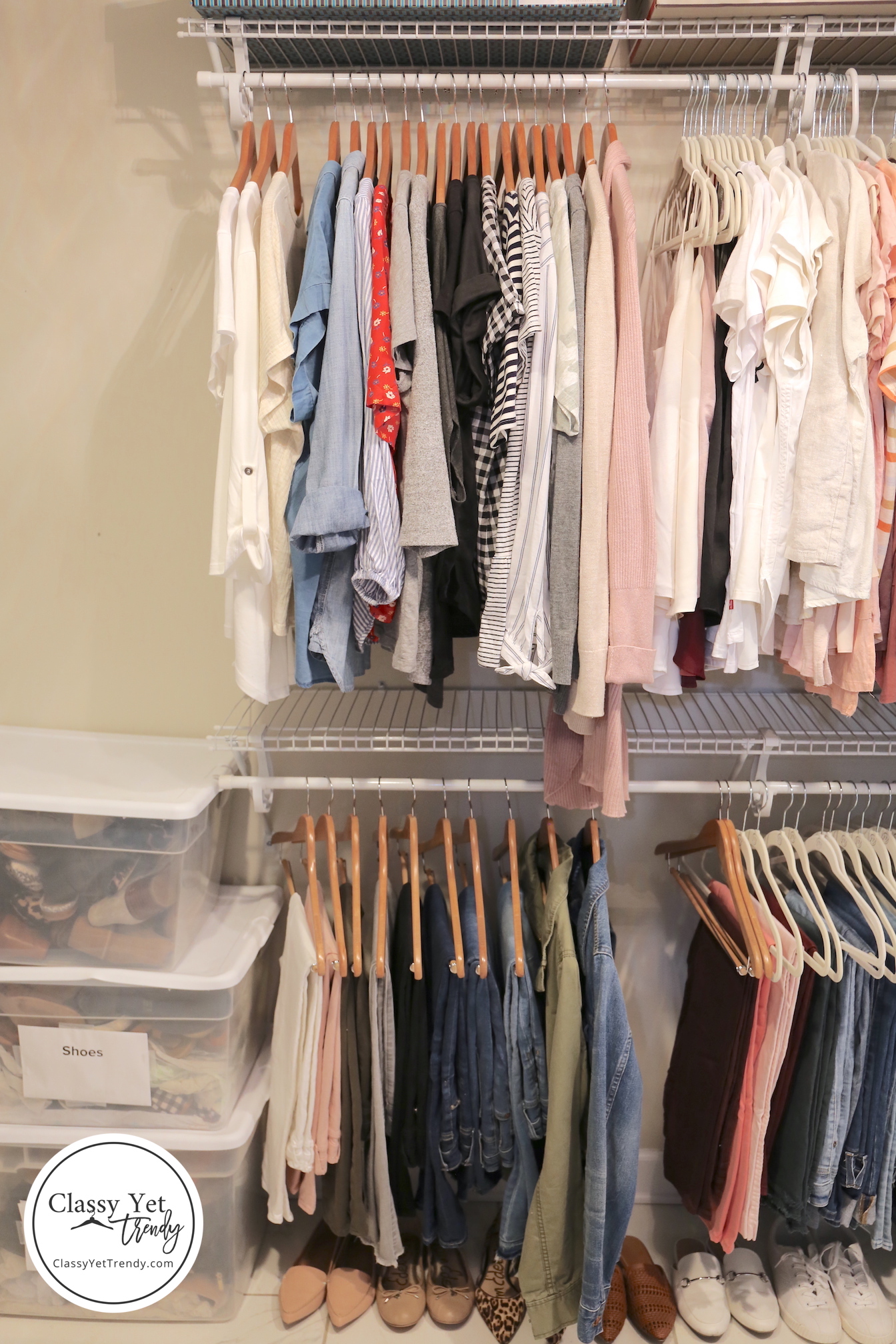 I can remember just a few years ago when I didn't use a capsule wardrobe.  I don't see how I ever found anything in my closet!  It used to be a complete mess!  I had too many clothes that didn't coordinate, clothes that didn't fit, clothes with colors that didn't look good on me, you name it.  I even had bad shopping habits!  I would buy an outfit…a top and bottom that would go together, not really thinking how I could wear the pieces with other clothes in my closet.  Plus, I loved to go shopping for clothes.  When I was bored or had a bad day, I would go shopping and always felt like I had to buy something to feel good.  Shopping lead to a high credit card bill, in which I was in constant debt.
I'm so glad I discovered the "capsule wardrobe" system, because using a capsule wardrobe helps me get ready quickly, I love what I wear, I have a neat and organized closet and I always have dozens of outfits ready to wear.  Plus, being organized has transitioned to the rest of my house.  I organized my kitchen pantry, my office and I have a neat and tidy house!
I feel better about myself too, plus I shop with purpose for everything now, not only for clothes, but also for household goods, furniture, you name it!  Having a capsule wardrobe literally changed my shopping habits.  I think twice before buying anything now, saving me hundreds of dollars every year.  I'm so passionate about capsule wardrobes, that I publish Complete Wardrobe Plans each season, all in the Capsule Wardrobe eBook Store.
Now onto my capsule wardrobe!  I have 30 items in my Spring 2019 capsule wardrobe.  My capsule wardrobe is based mostly the Essential capsule wardrobe eBooks, with a few items that I already had in my wardrobe.
My 
Spring capsule wardrobe
is based mostly on the
Essential capsule wardrobe
eBooks, with a few items that
I already had in my wardrobe
.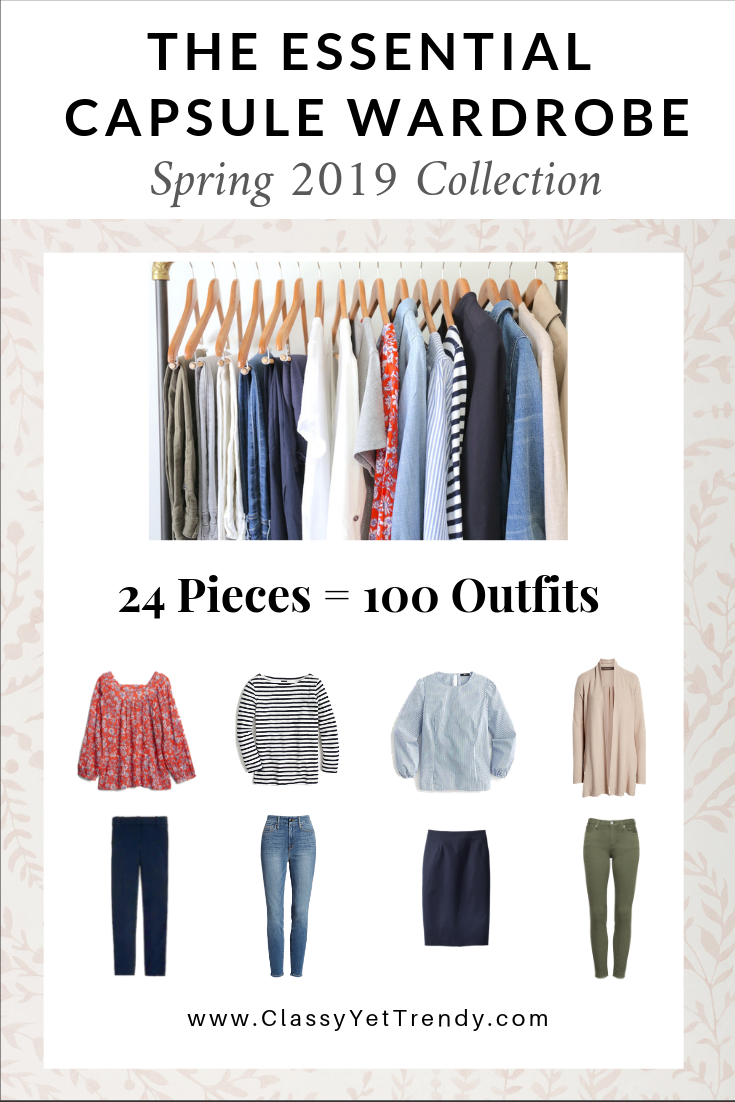 I created my capsule wardrobe using my capsule wardrobe process, using the steps in this blog post, How To Create A Capsule Wardrobe: A 5-Step Visual Guide.
First, I took everything out of the area of my walk-in closet designated for my capsule wardrobe, so that it was empty (if you have a small closet, take everything completely out of your closet so that all you see are the walls).  I kept a few items from my Winter capsule wardrobe and hung them back on the racks.  I hung the Winter clothes with the rest of the clothes in my closet.
I hung my tops, bottoms and layers using wooden hangers like these.  I hang my clothes that I don't use for my capsule on these velvet hangers.  When I was using a small closet in our other house, I used these exact bins to store my off-season clothes.  If you need a clothes rack to hang your clothes on, here is my exact wardrobe rack.  This pipe clothes rack (comes in black or white) and this wooden clothes rack (comes in wood or white) will work great for your capsule wardrobe too.  And, I love this industrial pipe and wooden wardrobe rack from West Elm!
Here are the clothes that are in my Spring 2019 capsule wardrobe: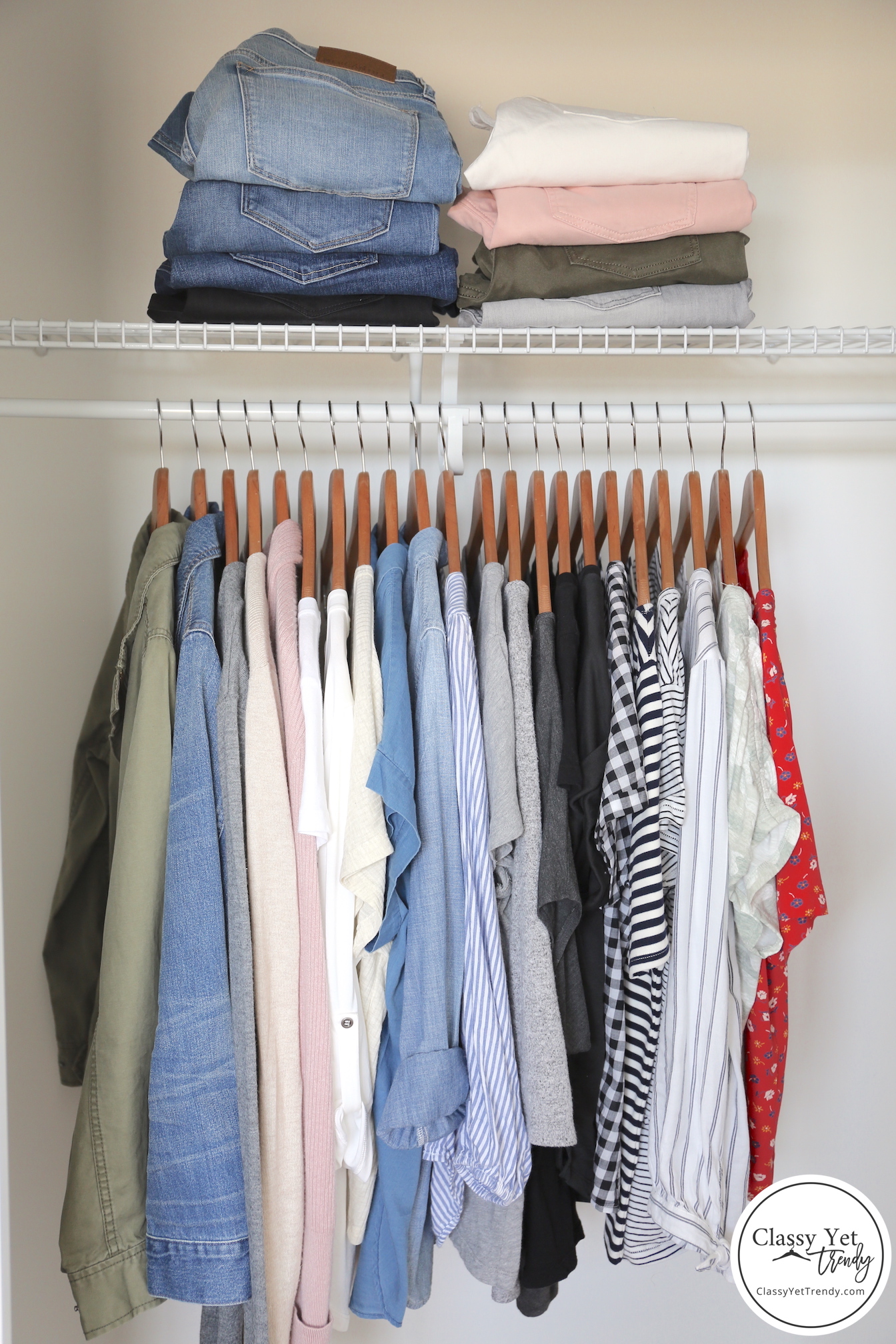 Tops & Layers (left to right):
olive utility jacket (old)
denim jacket (old) / SHOP THESE DENIM JACKETS
gray cardigan (similar) (old)
beige cardigan (old)
dusty rose cocoon cardigan (old)
white short sleeve tee c/o Shopbop (old)
ivory roll-tab sleeve top (old)
beige front knot hem top (new)
central short sleeve shirt (new)
chambray shirt (old)
blue striped twill top (new)
Gray Short Sleeve Studio Tee (new)
gray twist front top (old)
gray dolman top (old)
black short sleeve tee c/o Shopbop (old)
black short sleeve cuff t-shirt (new)
black gingham tie front shirt (new)
striped perfect fit tee (new)
striped peplum tee (old)
striped tie cuff twill tunic (sold out online – similar) (new)
camo pattern scoop neck tee (new)
Tie-Front Top in Prairie Posies (new)
Jeans (top left to bottom right):
J Crew Factory 10″ high rise let-down hem skinny jeans (new)
J Crew Factory 10″ high rise button-fly step hem jeans (new)
AG Farrah Ankle Skinny Jeans (old)
Madewell Black High Rise Skinny Jeans (old) / SHOP THESE SKINNY JEANS
Articles of Society White Skinny Jeans (old)
Jen7 Blush Jeans (old)
DL1961 Olive Jeans (old)
7 For All Mankind Gray Jeans (old)
Shoes:
I didn't include shoes in this capsule wardrobe, but I'm showing a few pairs of shoes I'll be wearing this Spring.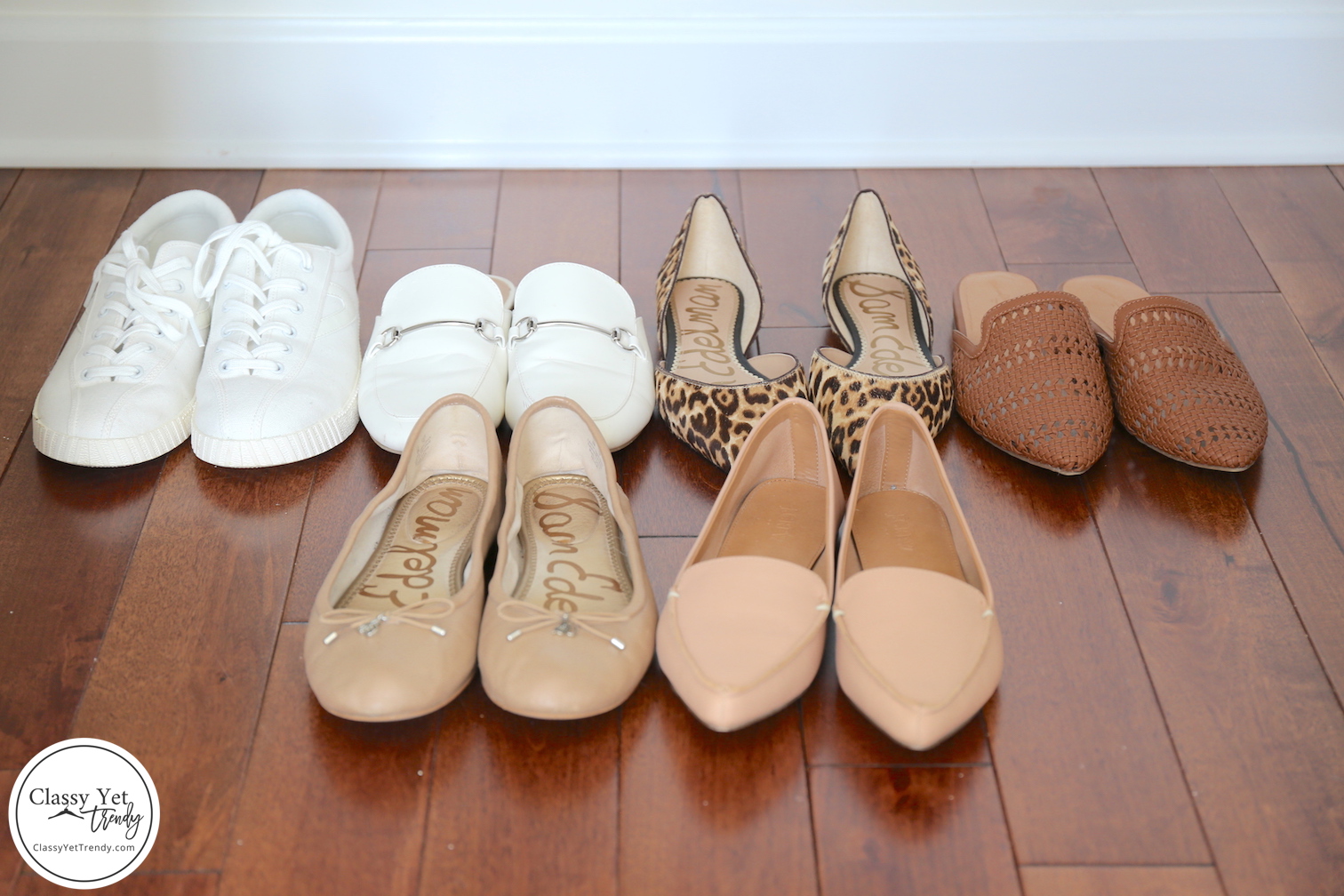 Back Row, Left To Right:
Tretorn Nylite Plus Sneakers (new)
Target White Mules (this year's version) (old) / Also love these white mules!
Sam Edelman d'Orsary Leopard Flats (new)
Target Woven Cognac Mules (new)
Front Row, Left To Right:
Sam Edelman Felicia Ballet Flats in "classic nude" (old)
J.Crew Factory Edie leather loafers (new)
Shop The Post:
Here is our current walk-in closet in our new house.  My hubby and I really like the Ikea Pax Closet System and will be installing it soon!  We need a closet system that has drawers and shelves and we like the Ikea Pax system the best.  When we moved in last week we installed this crystal chandelier (similar one linked).  On this side, I have my tops, camis, cardigans, bottoms and shoes…

Shop The Post:
Crystal Chandelier (similar)
Park Avenue Trellis Wool Blend Rug
Trigem Tabletop Jewelry Stand
WOLF black jewelry case (similar)
IKEA Tyssedal Chest of Drawers
Another view of where I have my tops, camis, cardigans, bottoms and shoes…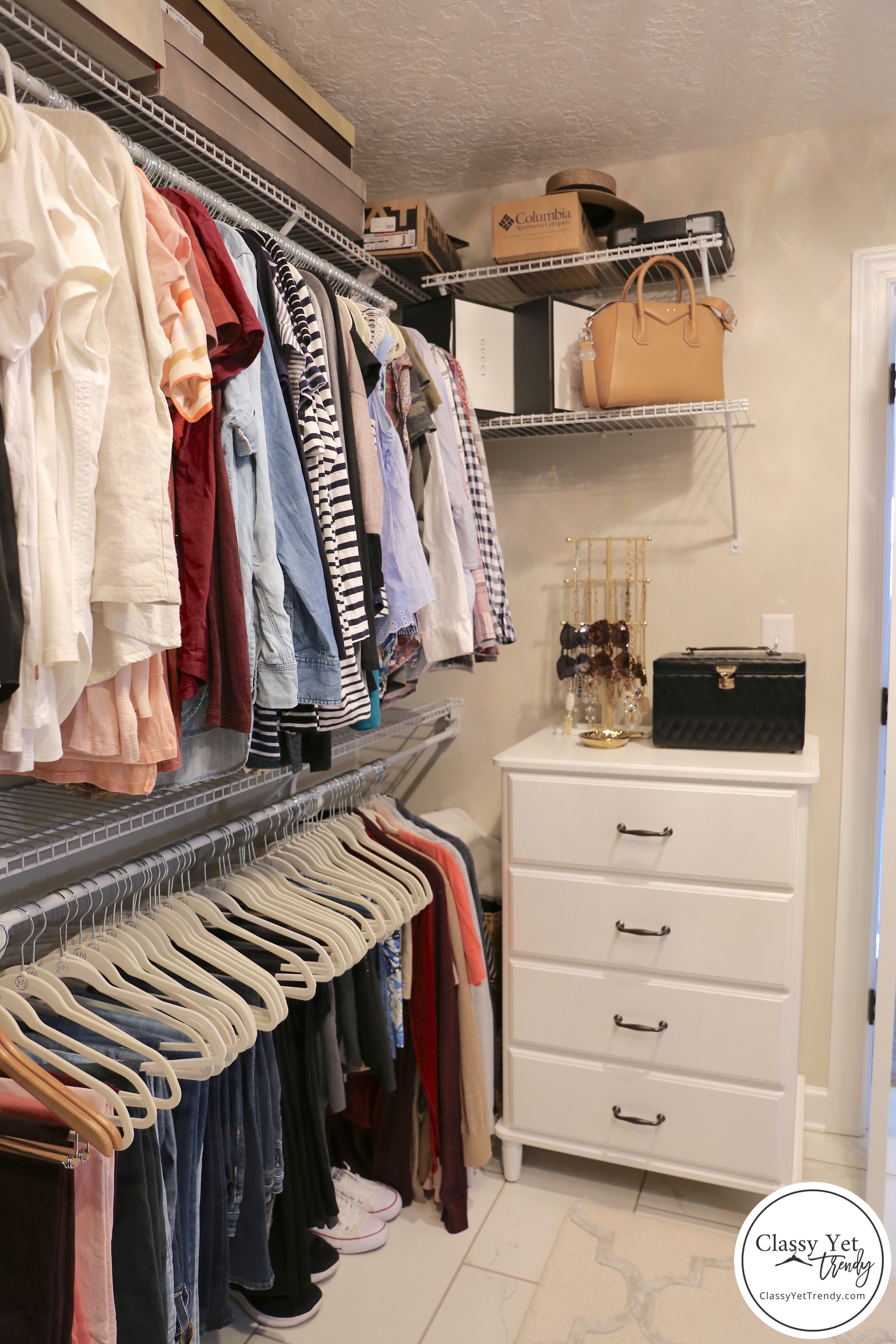 On this side I keep my handbags, sweaters, tees, activewear,  shorts, jackets, coats and vests…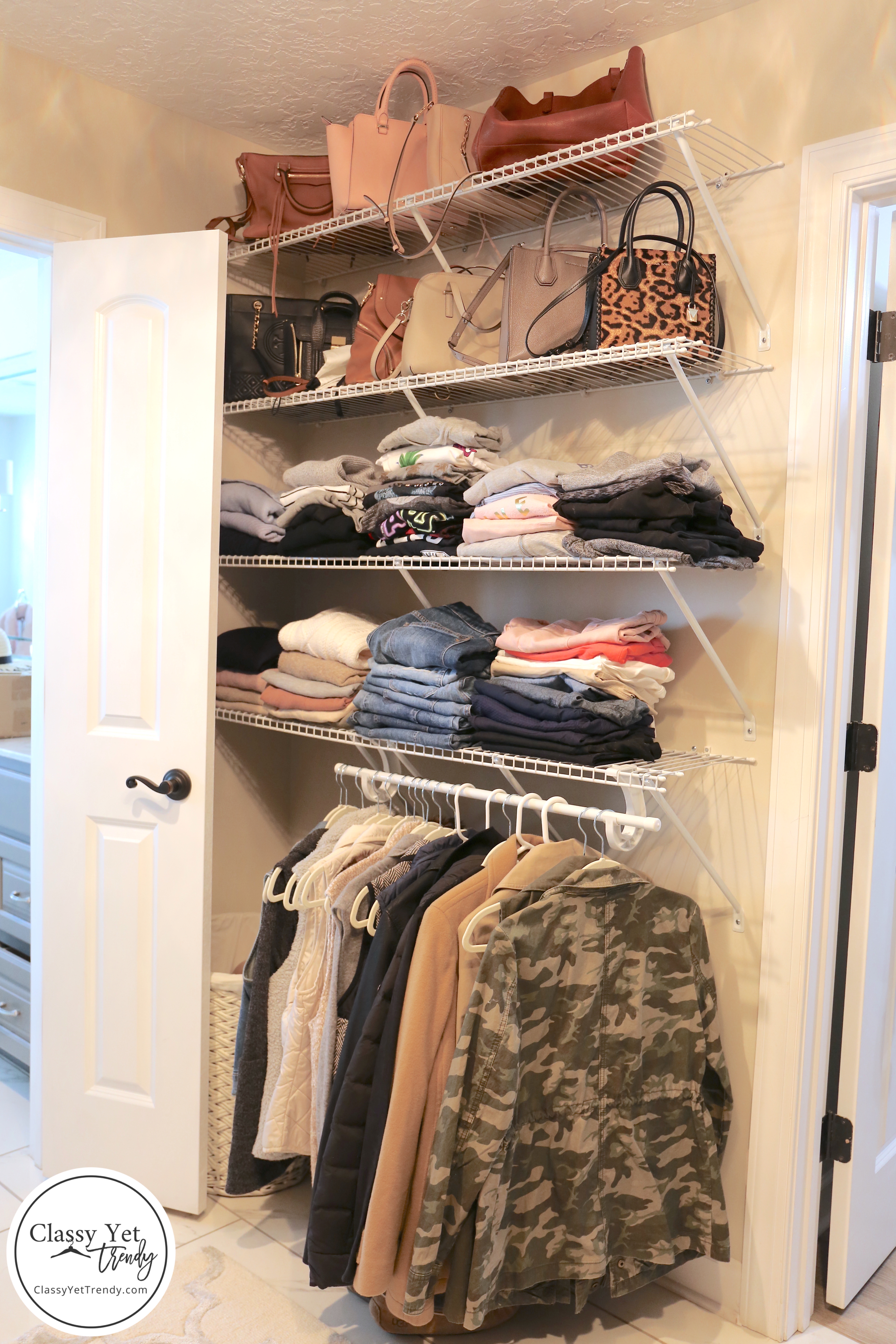 And, on this side I share closet space with my Hubby and hang my dresses…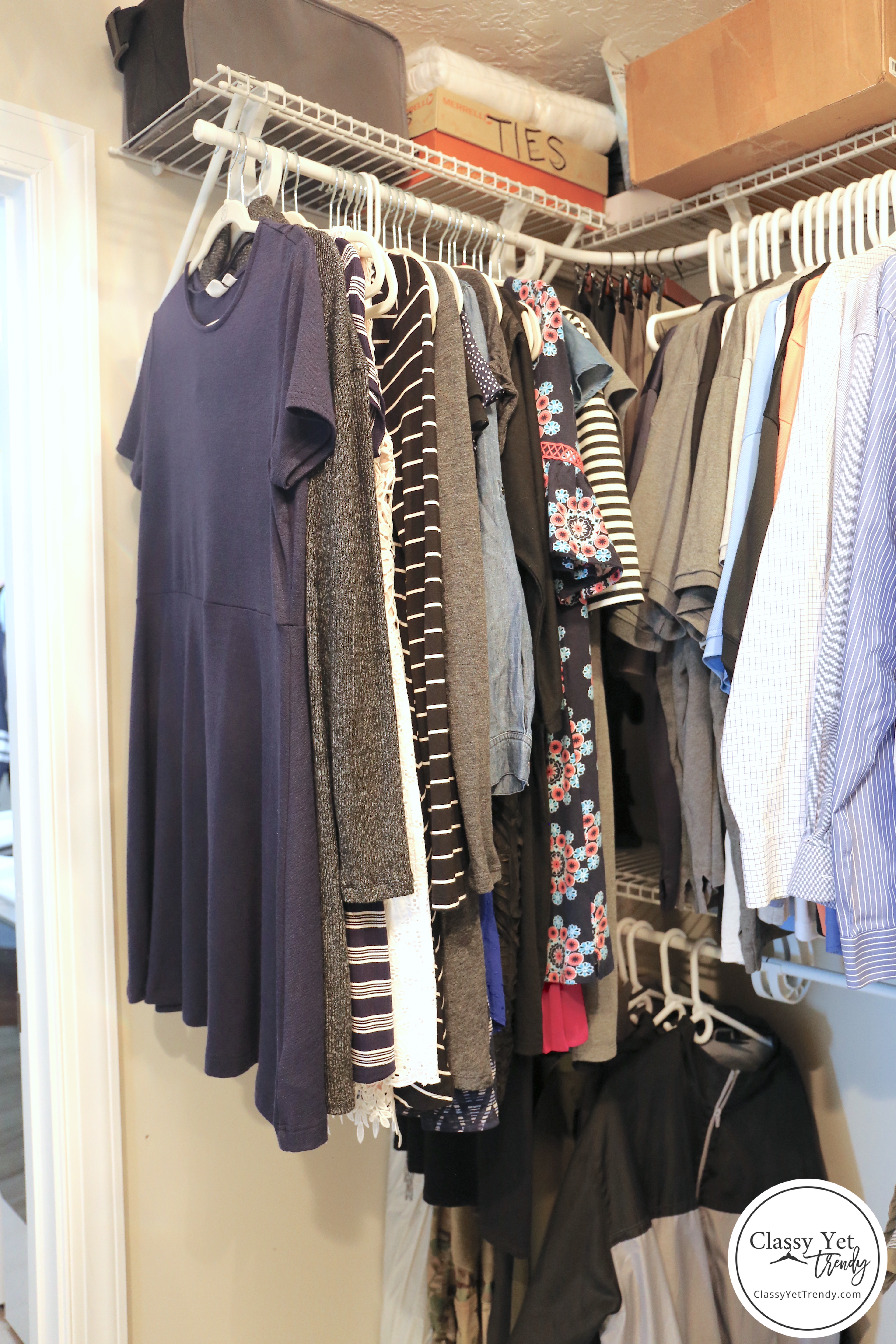 There you have it!  I hope you enjoyed seeing what's in my Spring 2019 capsule wardrobe and my closet tour!