notPerfectLinen Sustainable and Ethically Made Top and Dress Try-On Review
See a try-on review of notPerfectLinen's Vienna top and Cannes Wrap Dress and find out more about the company and why they are a slow fashion, sustainable and ethical company.
Linen is a cool and comfortable fabric to wear in the Summer season! What is linen? It is a textile made from the fibers of the flax plant. The fibers are very strong, absorbent and dries faster than cotton. Because of these characteristics, linen is comfortable to wear in hot weather.
Last year, I bought a pair of linen pants and wore them so much! When I started planning my Summer capsule wardrobe a few weeks ago, I knew I wanted to add more linen to my closet. I read great reviews of the brand notPerfectLinen on Etsy, so I looked at their shop online. notPerfectLinen is a company in Lithuania and have 5-star reviews on Etsy.
notPerfectLinen is included on the Sustainable and Ethical Brands list.
Responsibly & Ethically Made Linen Clothes
notPerfectLinen is a "family – run brand", ensuring quality, promoting transparency, enforcing sustainable practices and ethical approach. When you place your order, notPerfectLinen custom makes your items, so it takes about 4-6 weeks for you to receive your order. They stay busy since they are a popular and reputable company, so it takes a few weeks for your order to arrive. By making your pieces to order, this makes them a "slow fashion" company, meaning they don't mass produce clothes, which is better for the environment. They have grown in popularity and I've noticed that their Etsy shop is open only a few days every week. They will typically open the first of the week and by the end of the week they won't be taking orders.
I ordered this Vienna V-Neck Top in "white" and this Cannes Wrap Dress in "ice blue". I received my order in 4 weeks (I live in northeast Alabama for reference). When I received the package, the clothes were carefully folded, wrapped with twine and included an information card and their slogan "the beauty of linen is that it is not perfect". Also included, was an envelope which had all their material swatches inside! These are handy if you want to order more items and need to know what the colors look like in person.
For size reference, my height is 5'9″. For tops, I typically wear a size Medium (10) or Large (12), depending on the brand and style of the top (slim fit I usually wear a Large). For bottoms, my normal size is a size 10. My shoe size is 9. notPerfectLinen's size chart is on every product page. It was really handy to determine my size I needed to order from their sizing descriptions in the "Description" section of each item.
I was impressed by the quality of the fabric and the workmanship in making the clothes! Now, I want to add another top and pants in the "moroccon red" color to my capsule wardrobe.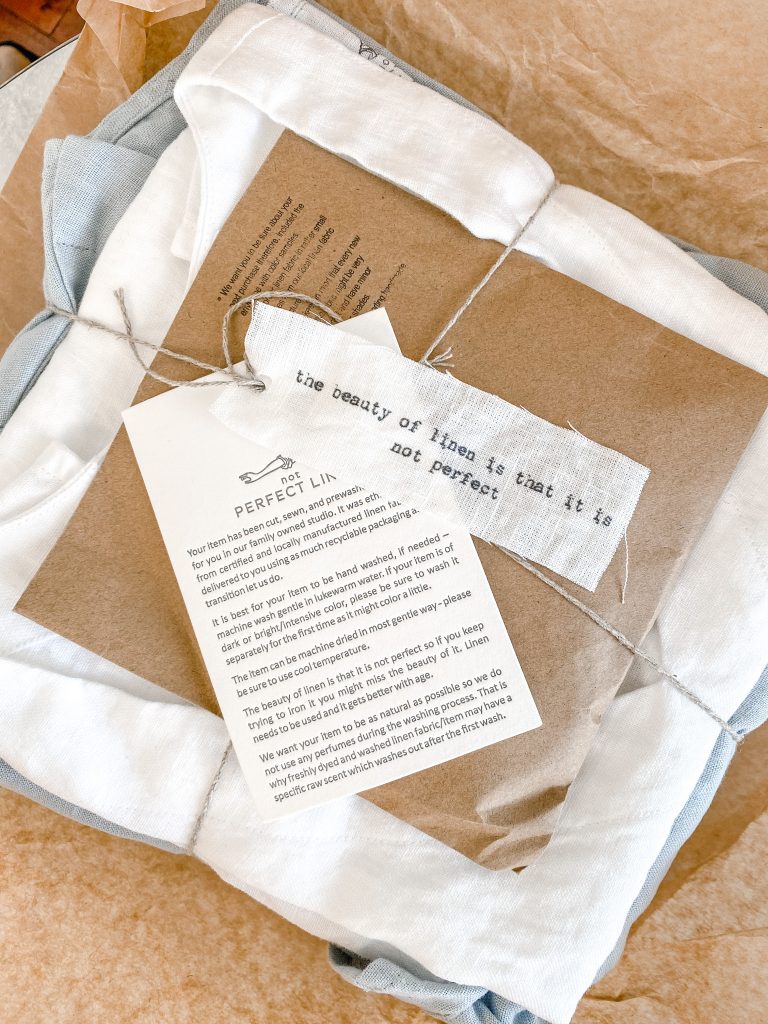 The color swatches…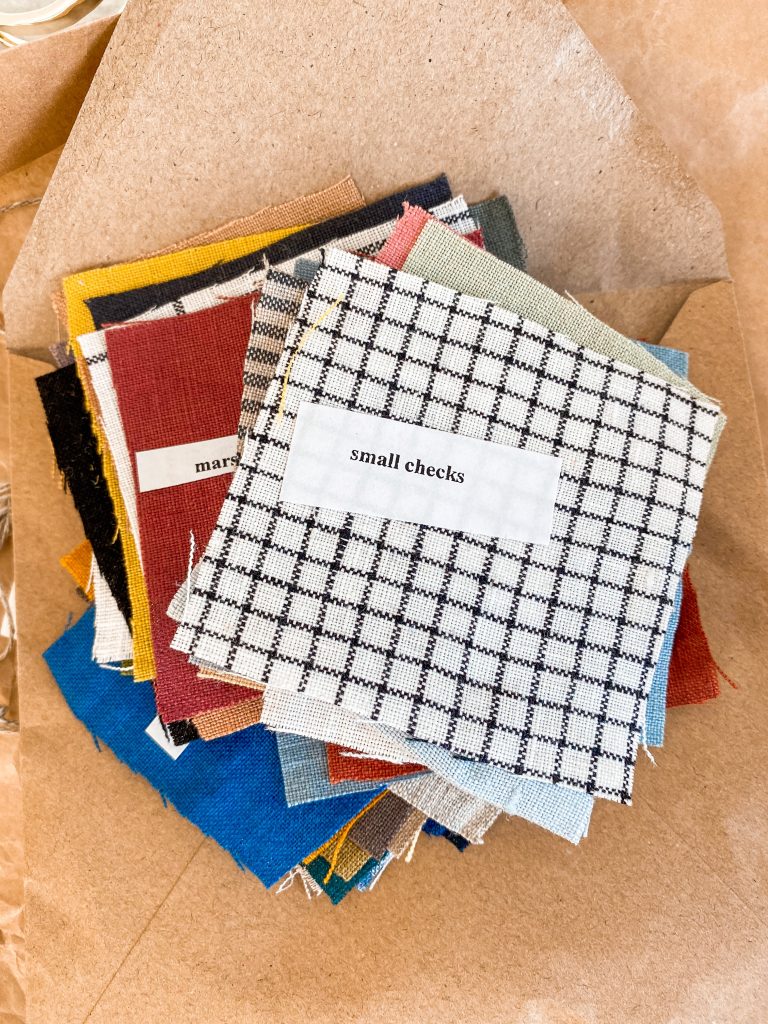 First, I tried on the Vienna V-Neck Top in "white". I ordered the M/L size and it fits good. Looking back, I would have ordered the Medium size, but being it was my first order and this is my only loose-style top in my capsule, I'm keeping it. The loose style will coordinate well with my skinny jeans and my shorts. I really like the v-neck style, which has a wide stitch width, so it adds a bit of contrast to the top. A statement necklace fits nicely in the open neck. The hem line falls just past my hips, so you can wear it as a tunic (like in my photos) or you can tuck it in to your pants or skirts, offering a bit of versatility to how you wear it. I'm wearing the Vienna V-Neck Top with my Eileen Fisher Organic Linen Wide Leg Pants in "khaki" (similar budget pair) and Pons Avarcas Sandals in "tan" (these shoes are so comfy!). I completed my outfit with a few Kendra Scott pieces from their new Summer 2020 line: Green Chrysocolla Earrings, Green Chrysocolla Necklace and I added this Gold Filigree Cuff Bracelet.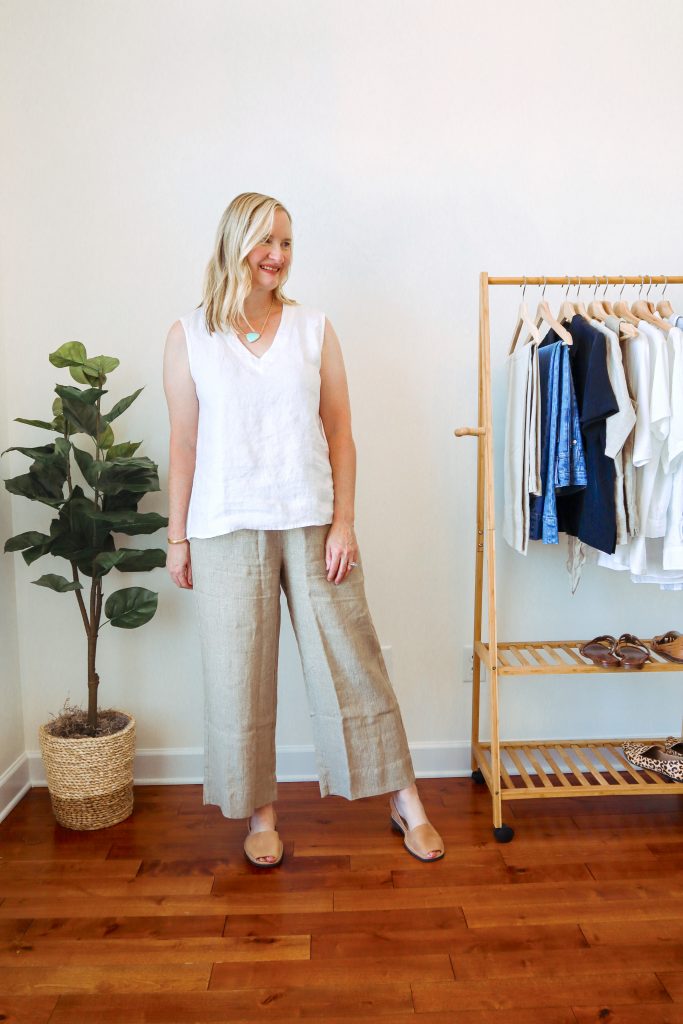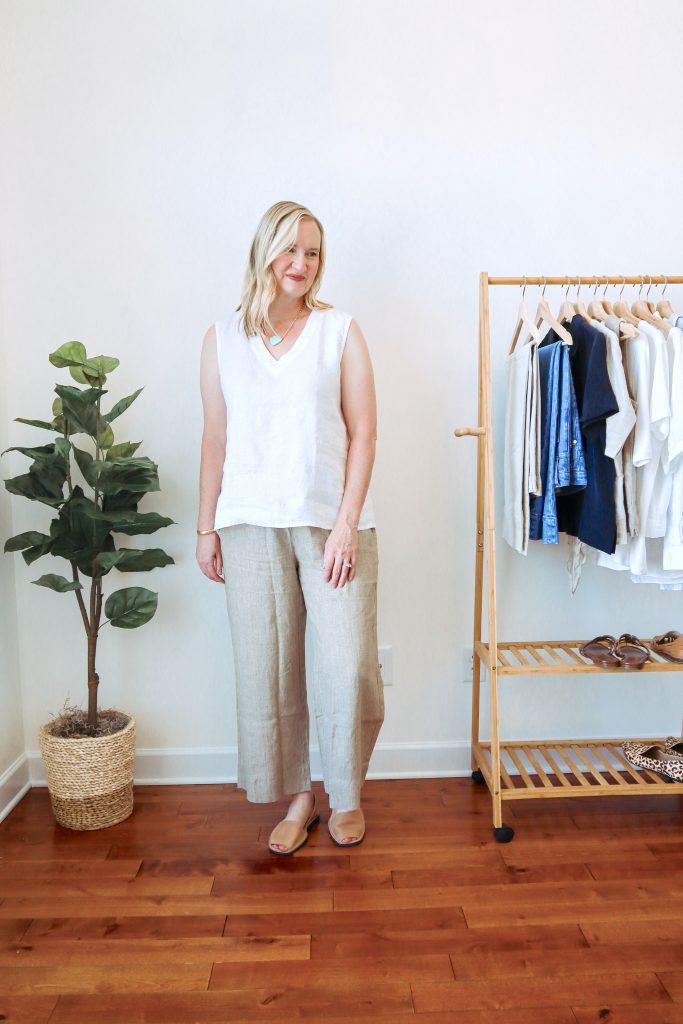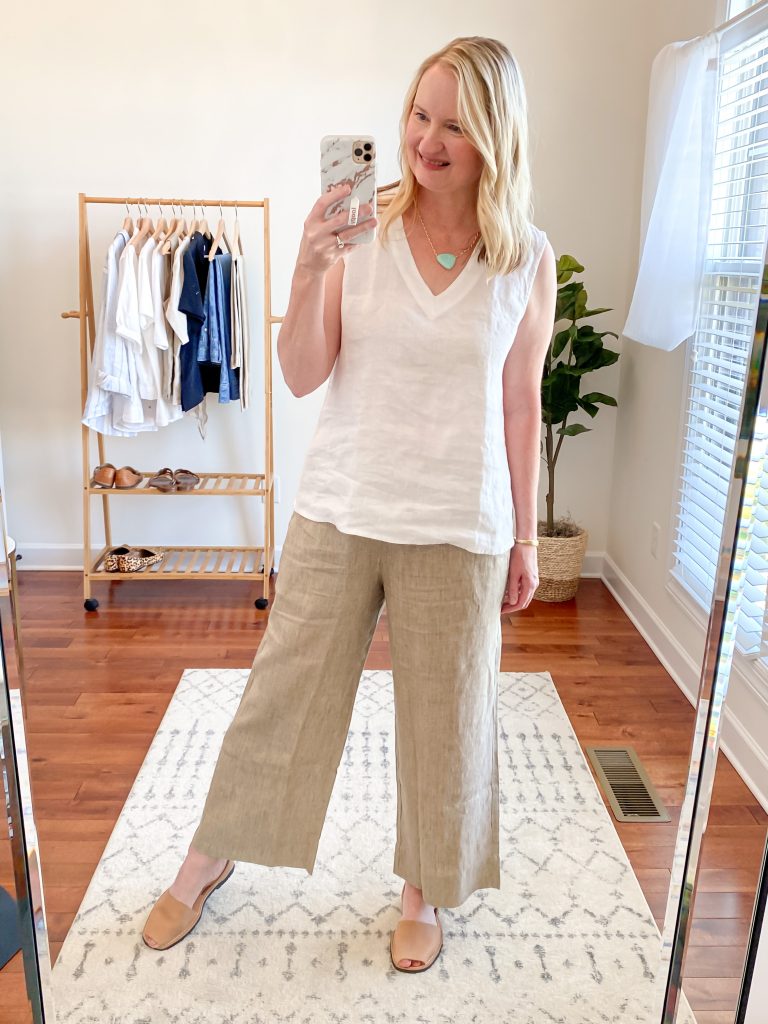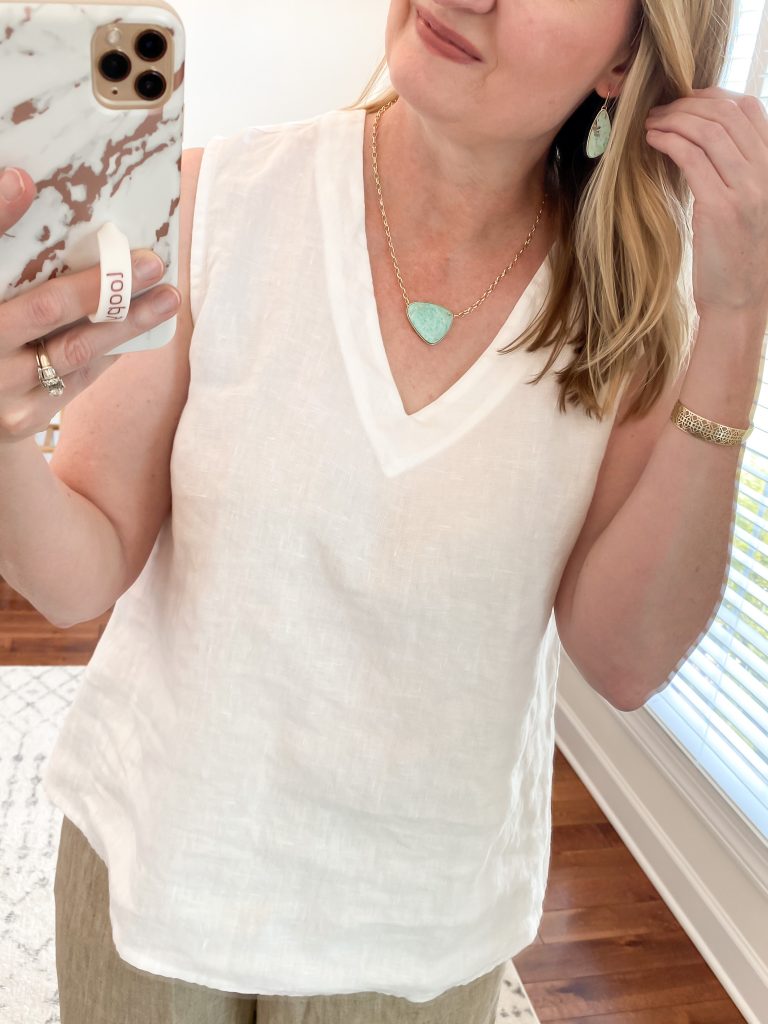 Outfit Details:
Vienna V-Neck Top in "white"
Eileen Fisher Organic Linen Wide Leg Pants in "khaki" (similar budget pair)
Pons Avarcas Sandals in "tan"
Green Chrysocolla Earrings
Green Chrysocolla Necklace
Gold Filigree Cuff Bracelet
I absolutely love this Cannes Wrap Dress in "ice blue"! The light blue color is so pretty and the style of the dress is so light and airy. I ordered the "M/L" size in this one as well and it fits perfectly. I like the cap sleeves and the wrap crosses over your chest and stays in place. I'm 5'9″ so the bottom of the dress comes to mid-knee length, which in my opinion is the perfect length for this style of dress.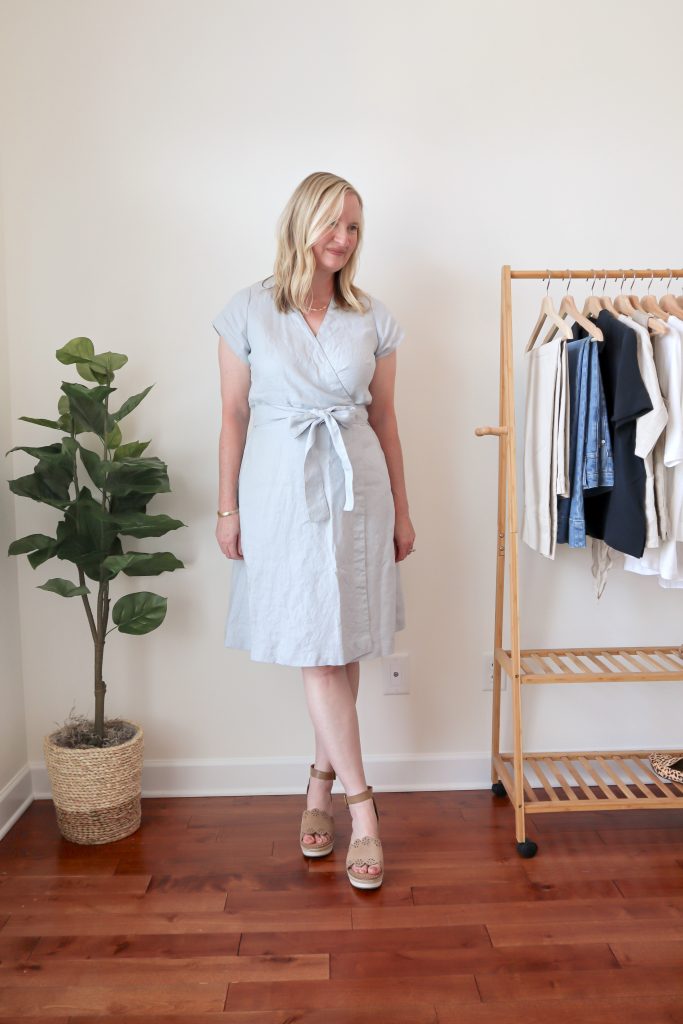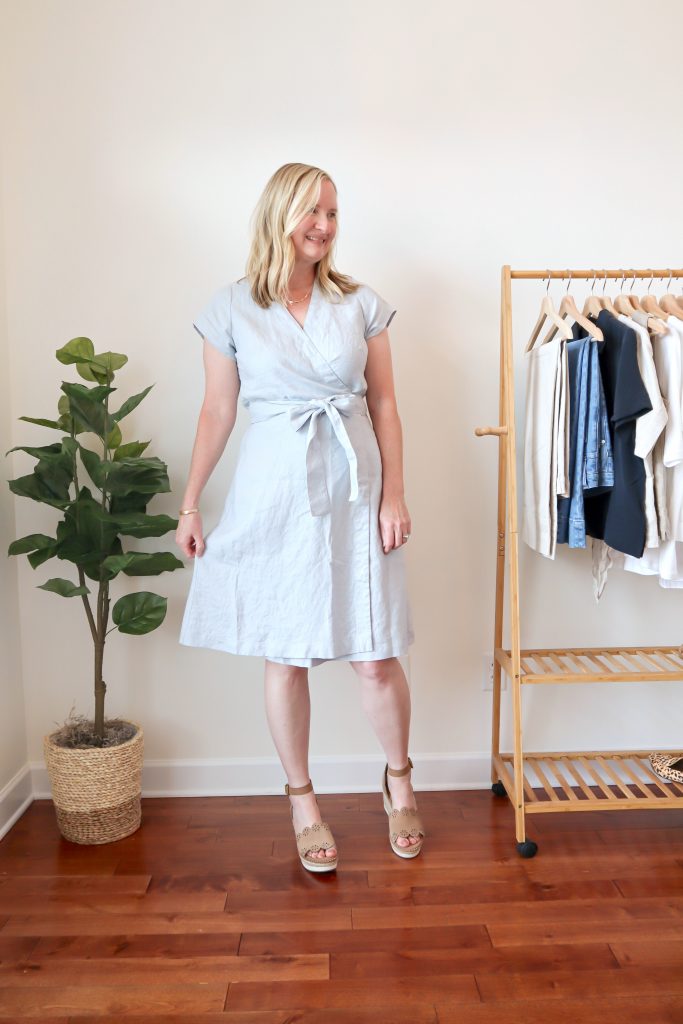 Outfit Details:
Cannes Wrap Dress in "ice blue"
Wedge Espadrilles in "light brown" (also love this very similar pair!)
Gold Fern Collar Necklace
Gold Sophia Earrings
Gold Filigree Cuff Bracelet
I added the Vienna V-Neck Top to my Summer capsule wardrobe (blog post coming soon). I'll be wearing the Cannes Wrap Dress to church and out to dinner (hopefully more places as the Summer goes on and we can get out more). I want to add another linen top and linen pants/skirt (looking at the "morrocan red" color) to my capsule wardrobe, so I'll be ordering those from notPerfectLinen this week!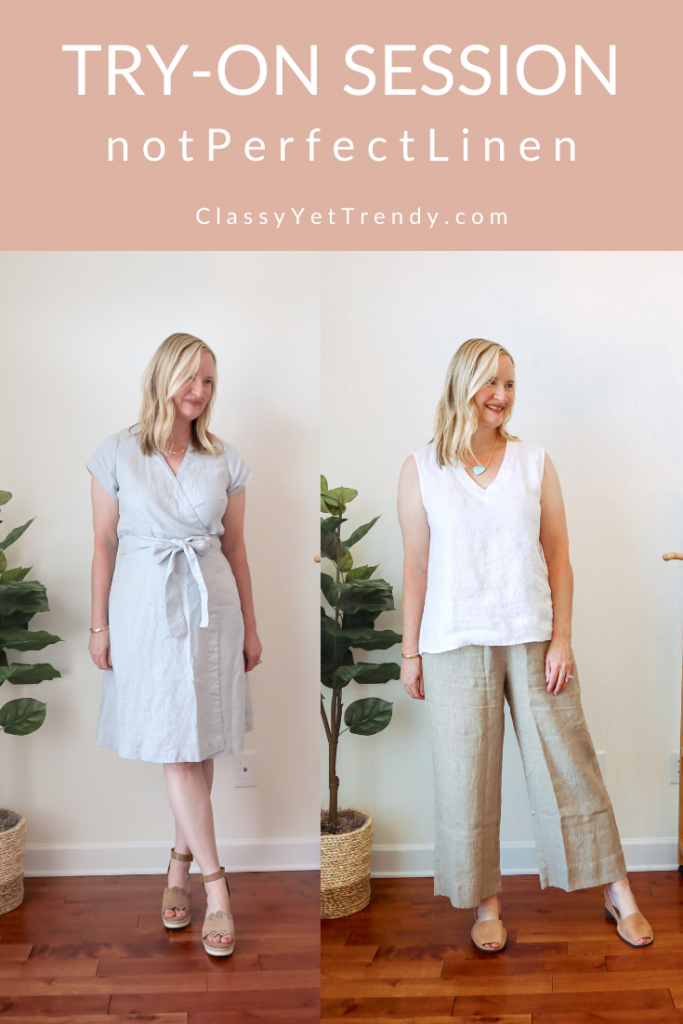 But those who hope in the Lord will renew their strength. They will soar on wings like eagles; they will run and not grow weary, they will walk and not be faint. Isaiah 40:31