Grayson Shirts Try-On Review
Try-on reviews of a few of Grayson button-up shirts, find out more about the company and why I'm loving these wardrobe staples!
Since I revamped my wardrobe a few years ago and started a capsule wardrobe, I have owned a few white button-up shirts. A couple of shirts were moderately-priced and one that was budget-priced. They were either two confining and uncomfortable or cheaply made and didn't hold up well. Could I ever find the elusive button-up shirt that fit all my criteria: comfortable, not stiff, easy to move around in and would be a quality shirt that would have a permanent place in my closet?
I had read great reviews of a few fellow bloggers that owned Grayson shirts and loved them. I thought I would try one and see how I like it. A few weeks ago I bought a white button-up shirt from Grayson, called "The Hero" Washed Cotton in white. Oh my gosh! When I tried it on, I couldn't believe a shirt could feel THAT GOOD! I shared it with you all in this Everlane, Eileen Fisher and Grayson Try-On Review on the blog.
Grayson saw that post and reached out to me to see if I wanted to try a few more of their shirts. I jumped at the opportunity, because chances are I knew that I would also like their other shirts! They sent me three shirts to review and I'm sharing with you all how they fit and my thoughts on the styles and fabrics. So let's get started…
Who Is Grayson?
Grayson was started by Audrey McLoghlin who wanted to make shirts for women with a beautiful construction, signature details (a cape-like pleat on the back, portrait collar and impeccably draped hem), ridiculously flattering fit, and ultra-premium fabric that gets even better over time.
Grayson Sizing
Grayson's sizing chart is different than the industry standard. Instead of small, medium, large, etc they have numbered sizing. It's super easy to determine your size! Just match up your height and weight to determine your size.
For size reference, I am 5'9″. For tops, I typically wear a size Medium or Large, depending on the brand and style of the top (slim fit I usually wear a Large). For bottoms, my normal size is a size 10. My shoe size is 9. My Grayson size is a "3" and all the shirts fit perfectly.
Features of Grayson Shirts
Notice the placement of the top button…it is lower than the standard button-up shirt. This gives the shirt a bit more of relaxed vibe, but the necklace stays closed and doesn't drape open. The shirt is roomy, but yet still feels tailored. The front of the shirt falls at the top of very top your thigh and the rear of the shirt covers your backside. The slightly longer length lets you style the shirts several ways: front half tuck, fully tucked in, untucked or tied at the waist.
They Also Have Masks!
If you are needing a mask to protect yourself from COVID-19, they a 4-pack of non-medical masks in 100% cotton.
Discount Code
I have a discount code you can use! Use the code "CLASSY25" at checkout for 25% off your order. The code is valid until June 21. The discount code is not valid on the masks.
The Shirts I'm Reviewing
They sent me the Kristen (blue stripe linen fabric), Natalia (white with tiny pink dots) and Elizabeth (pink and white stripes) shirts.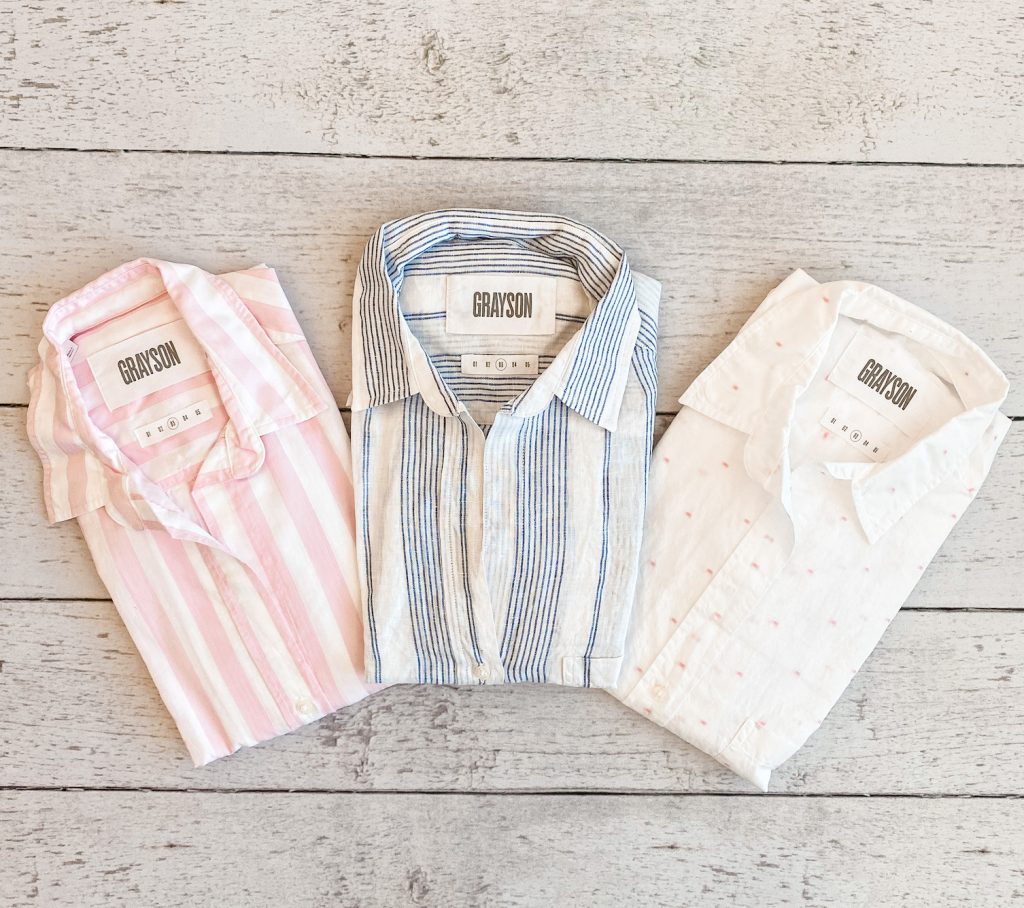 The "Kristin" Shirt
The Kristin shirt is made of linen and has a beautiful blue stripe pattern. Here I'm wearing it with my white ankle pants in my capsule wardrobe and wedge espadrilles. You could wear this top with jeans, pants, a skirt and shorts. The blue stripe color will coordinate nicely with many other colors.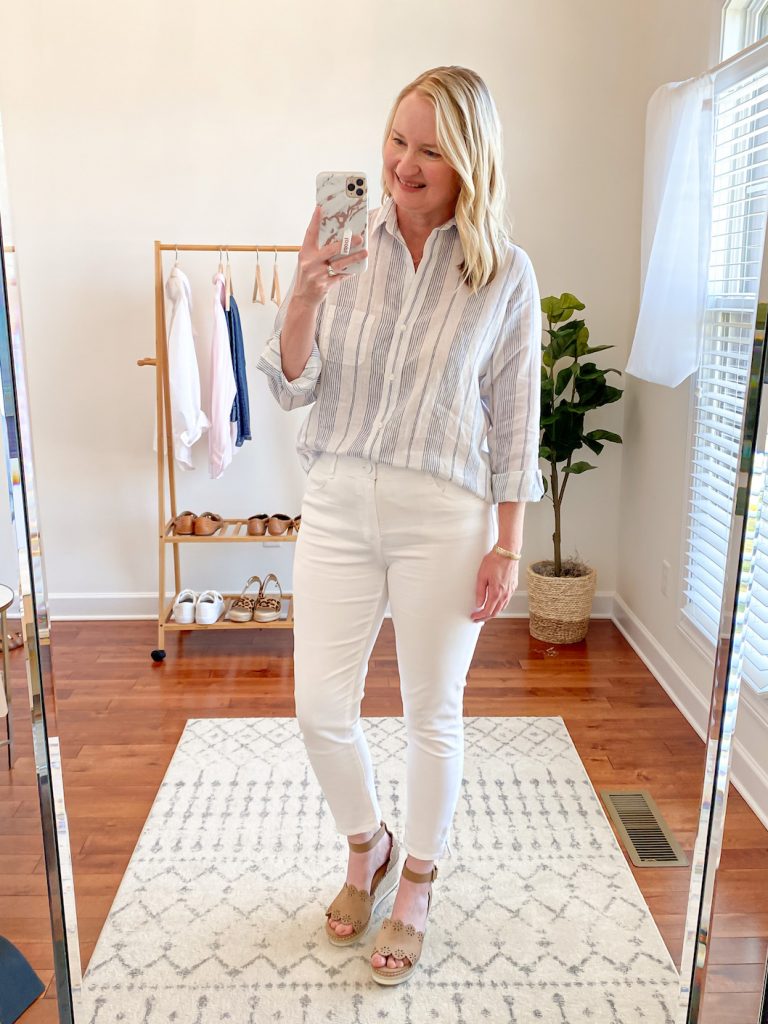 Outfit Details:
Grayson Kristin blue stripe linen shirt
white ankle pants
scalloped wedge espadrilles
gold dichroic necklace
gold filigree cuff bracelet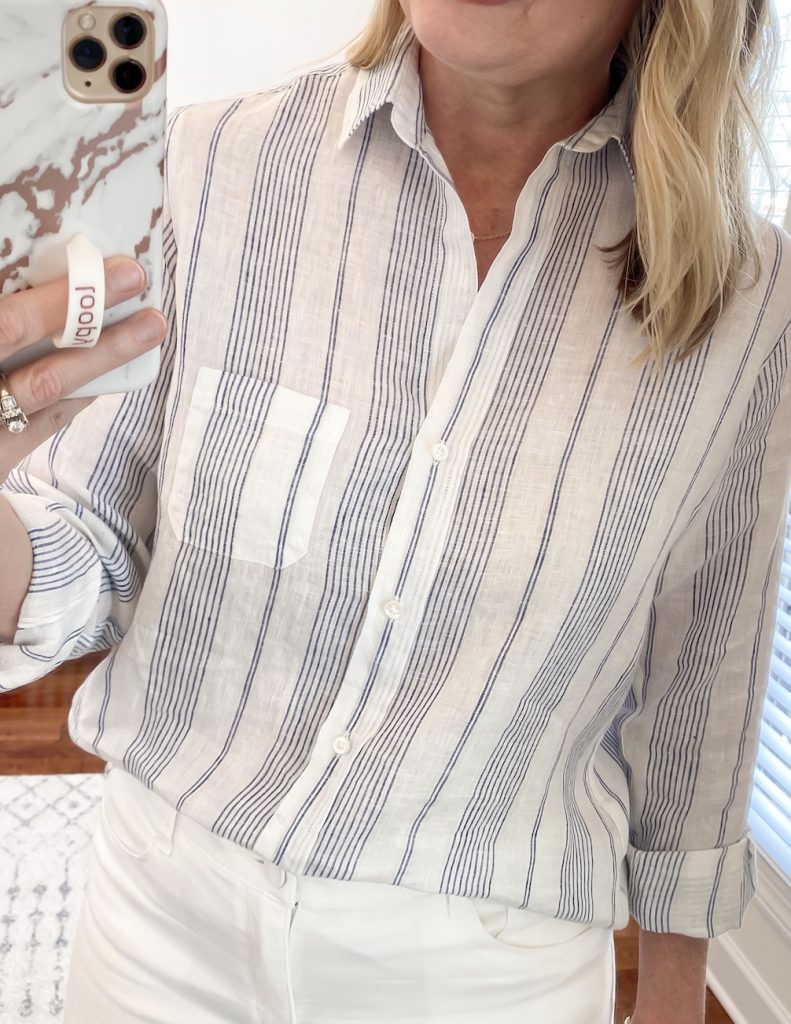 The "Natalia" Shirt
The Natalia shirt is a white button-up shirt with tiny pink dots. The pink dots are subtle yet add a bit of interest to the shirt. It fits perfectly and I have it tied in the front at the waist! This shirt reminds me of my solid white shirt I bought from them and shared in this blog post, Everlane, Eileen Fisher and Grayson Try-On Review.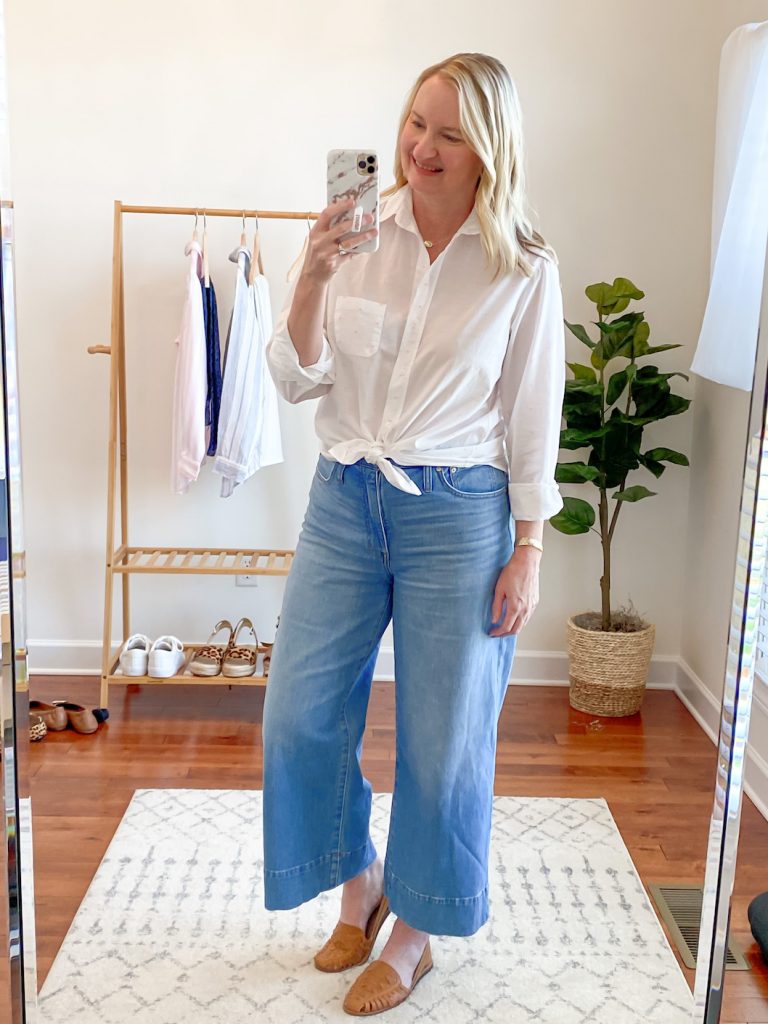 Outfit Details:
Natalia white w/pink dots shirt
wide leg jeans (love these wide leg jeans!)
huarache sandals in "tan" color
gold dichroic necklace
gold filigree cuff bracelet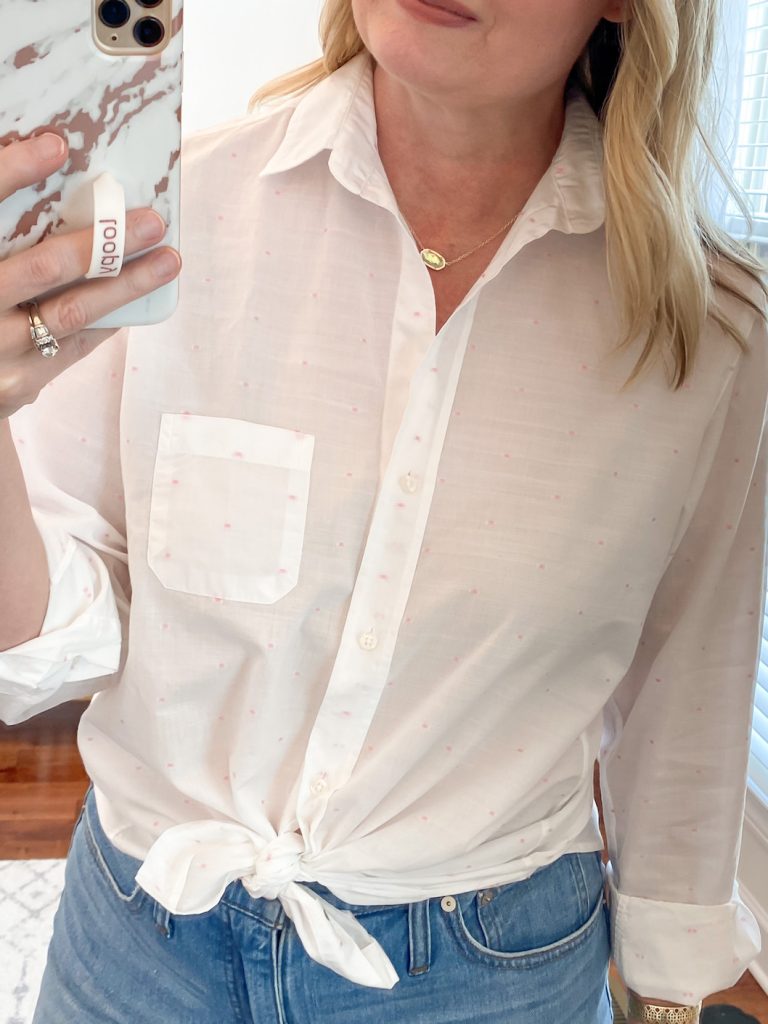 The "Elizabeth" Shirt
The fabric of the Elizabeth shirt is lyocell, which makes this shirt SO soft and flowy! Lyocell is a plant-based fiber used for clothing. Lyocell is considered a sustainable fabric and is a biodegradable product. Its manufacture does not produce by-products harmful to health or the planet, while cellulose, its main ingredient, is obtained from well-managed forests. The absorbency of Lyocell materials keeps the skin dry and the smooth surface of the fibres is soft and supple to the touch. Lyocell fabrics are therefore excellent for sensitive skin (lyocell.info/).
I absolutely love the look and feel of this shirt! It comes in other prints as well: Gwynne white with navy stripes and Angelina Blue with white stripes (love, love this pattern!).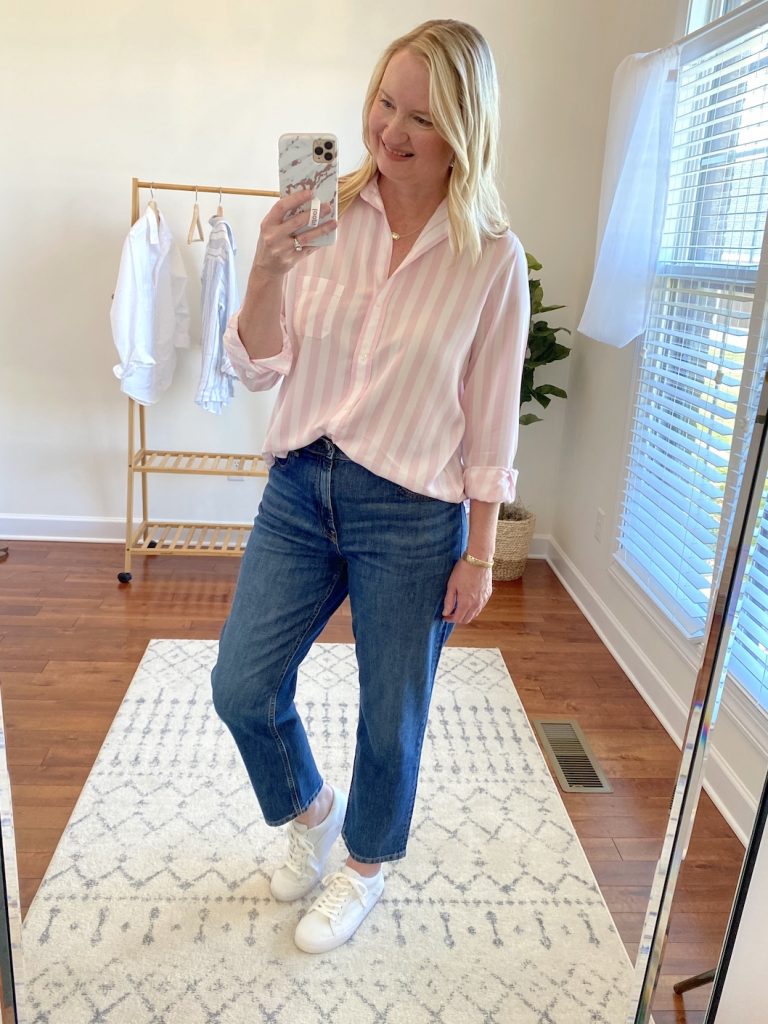 Outfit Details:
Elizabeth pink and white stripe shirt
Everlane Cheeky Straight Jeans (indigo wash)
Madewell Sidwalk Sneakers
gold dichroic necklace
gold filigree cuff bracelet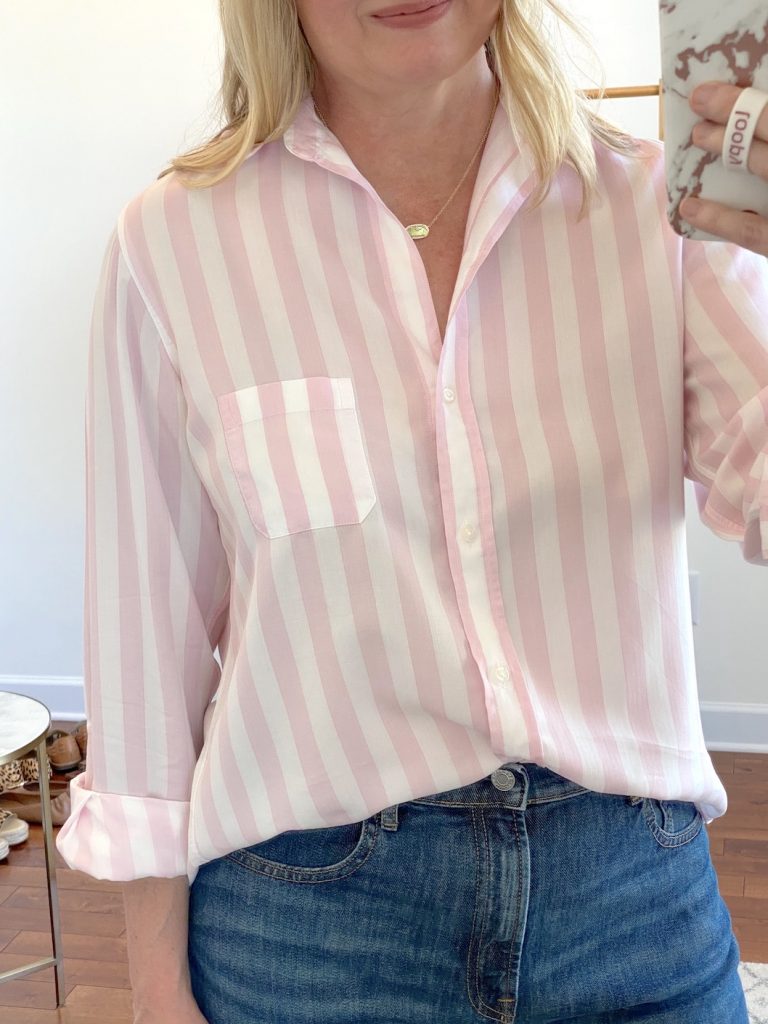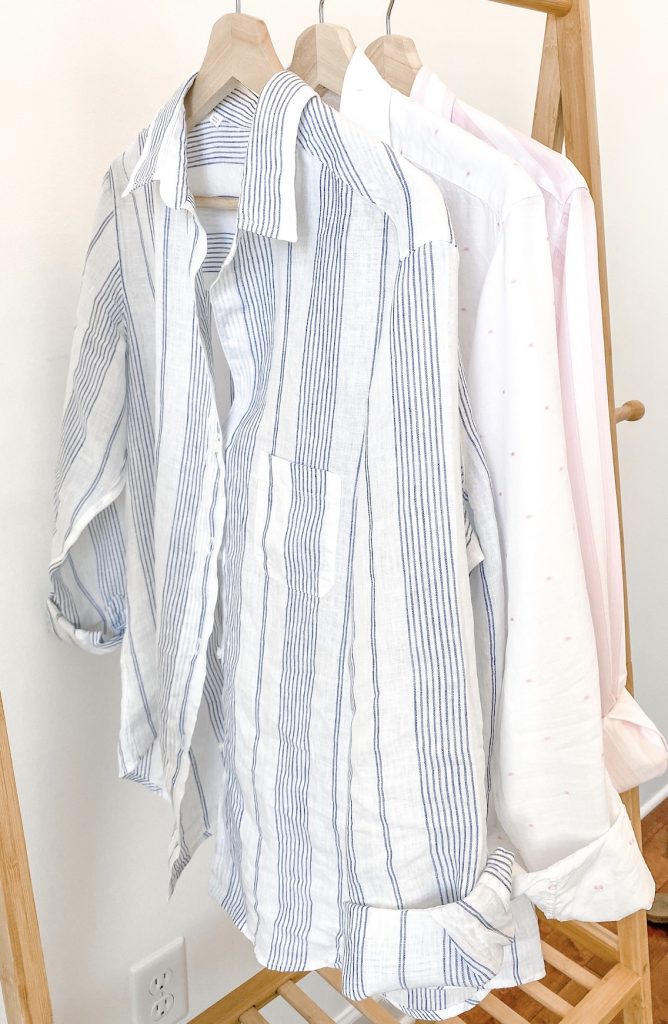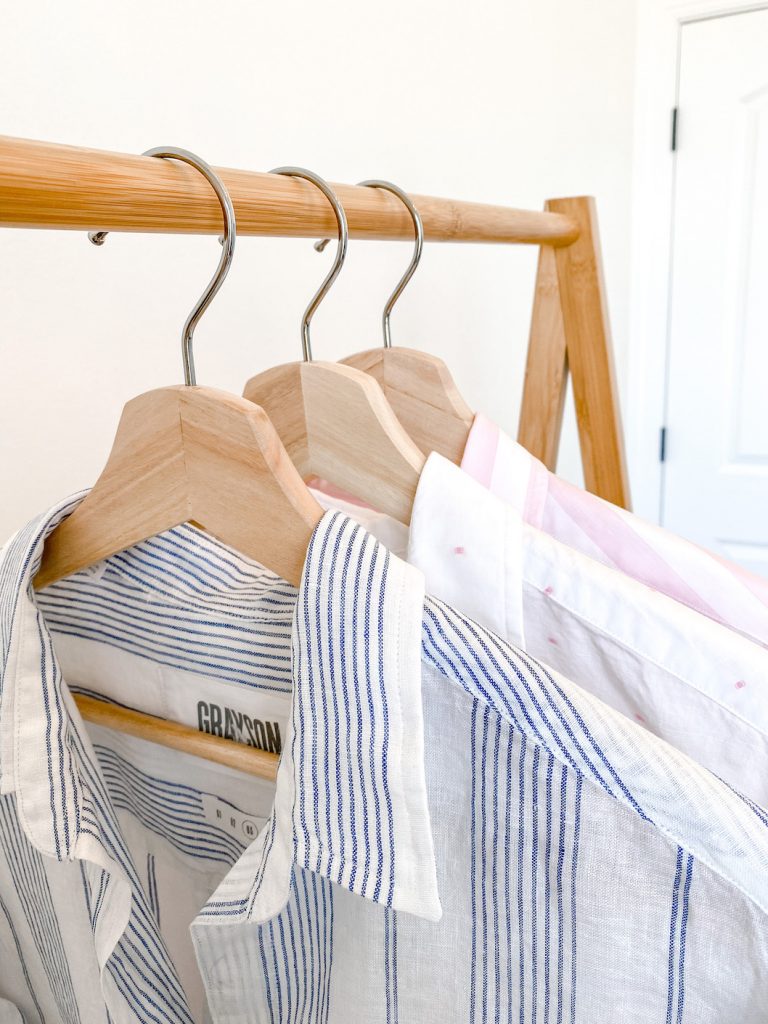 Remember to use the code "CLASSY25" at checkout for 25% off your order (not applicable on the masks)!
I was gifted these shirts to provide a review. As always, all thoughts and opinions are my own.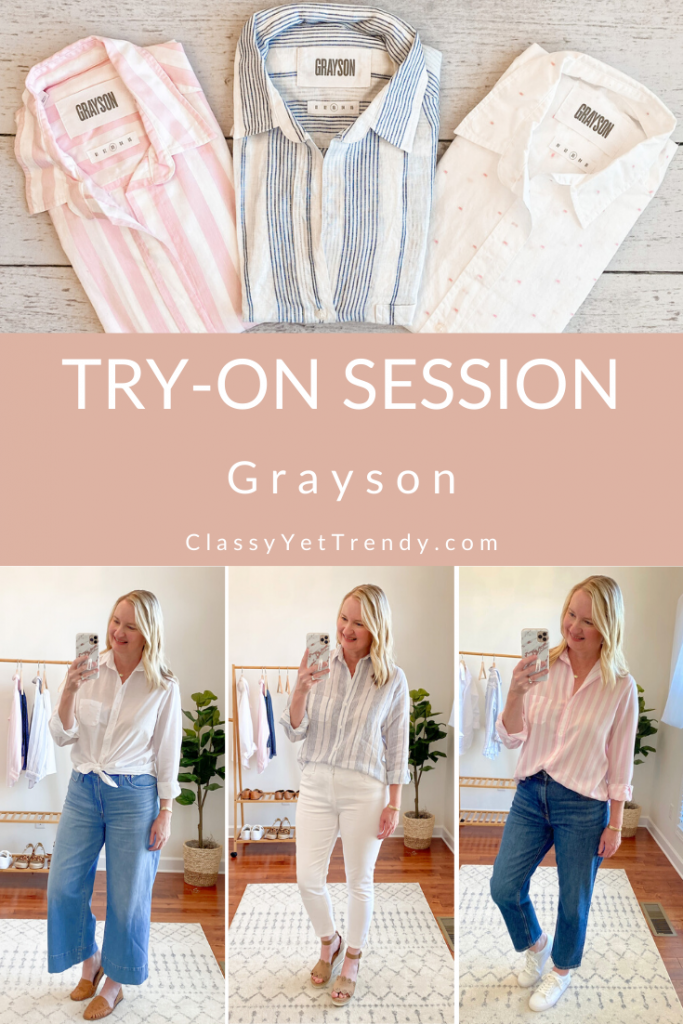 Be devoted to one another in love. Honor one another above yourselves.Never be lacking in zeal, but keep your spiritual fervor, serving the Lord. Be joyful in hope, patient in affliction, faithful in prayer. Share with the Lord's people who are in need. Practice hospitality. Romans 12:10-13