7 Must-Have Fall Essentials For Your Closet
Thank you to Nordstrom and LTK for sponsoring this post. As always, all opinions are my own.
Fall is my favorite season and one of the reasons is wearing Fall styles! I have my favorite pieces in my closet that I always love to wear, and I'm sure you do too! Nordstrom is my go-to store when it comes to finding what I need for my wardrobe. If there is anything I am looking for, chances are Nordstrom will have it! Since I do about 90% of my shopping online, shopping at Nordstrom online is convenient, reliable and they have free shipping and free returns. I love shopping in their stores too, so whenever I am close to a Nordstrom, I have to go shop there!
I first became aware of Nordstrom when I started this blog in 2014. I couldn't believe everything they carried. Over the years, I have bought many things from Nordstrom, including clothes, shoes, beauty products and home items.
What Brands Does Nordstrom Have?
Nordstrom carries brands such as Madewell, Free People, Sam Edelman, Steve Madden, Gucci, Lucky Brand, Tory Burch and HUNDREDS more! They also have their own exclusive brands, Nordstrom Made, such as Halogen, Zella, Caslon, Nordstrom Signature, Treasure & Bond and more. Here is a complete directory of all the brands they carry.
The Fall Essentials
Here are a few favorite Fall essentials at Nordstrom. There are certainly more essentials we love wearing in the Fall, like jackets, pants, dresses, skirts, etc, but in today's post I'm featuring a few of my personal favorites for the Fall.
1. Jeans
As the Fall season begins, the jeans come out, and in several colors! Not only the standard blue color, but also black and gray colors, all make jeans a top essential in your wardrobe for Fall. Wit & Wisdom is one of my most favorite jeans brands and they are exclusively at Nordstrom. Wit & Wisdom not only makes jeans, but pants, tops and outerwear. I love wearing their jeans and have several pairs! And, my most favorite pair of black pants (which are also in my Fall capsule wardrobe) is these Wit & Wisdom High Waist Trousers and they are back in stock!
I have received feedback from Classy Yet Trendy readers over the years saying how you all love the Wit & Wisdom jeans. I totally agree with you all because I love them too!
I'm wearing these Dark Wash Blue Wit & Wisdom Ab-Solution Skinny Jeans in the photos below. I bought these last year and love how they fit. They are skinny jeans, so they hug your hips and they provide a nice silhouette throughout the legs!
Nordstrom also has their Ab-Solution Jeans in the black color and the gray color. I have both of these in my closet and these Gray Wit & Wisdom Ab-Solution Skinny Jeans were in my travel capsule wardrobe when we went on our mountain vacation a few weeks ago!
2. Tees
A t-shirt is an essential piece in your closet which you can wear casual with jeans or dressed up with pants or a skirt. I recommend having at least two tees in solid, neutral colors: black, white and/or gray, as the neutral colors will coordinate with so many other pieces in your wardrobe.
Two brands I enjoy wearing that are at Nordstrom are Halogen and Caslon. I love their tees as they are soft and fit well. I recently bought this Halogen Gray Short Sleeve Tee (which is in my Fall capsule wardrobe) and when it arrived I loved it so much that I then ordered the Black color tee! They have several other colors as well, include white, which I want to order and try on.
Shop Halogen at Nordstrom here
I also like these round neck style on this Caslon Round V-Neck Tee, which gives it a relaxed, casual vibe.
3. Cardigans
I don't know about you, but I LOVE wearing cardigans in the Fall. Give me a cozy cardigan to wear over a top and I'm good to go. Cardigans bring an outfit together with color and texture.
Here are a few cardigans that I have in my closet that I enjoy wearing…
This is the Halogen Open Front Pocket Cardigan. This is the "burgundy fig" color and it comes in several other colors too. I love the style and fit of this cardigan as it layers well over your tops and has a feminine silhouette.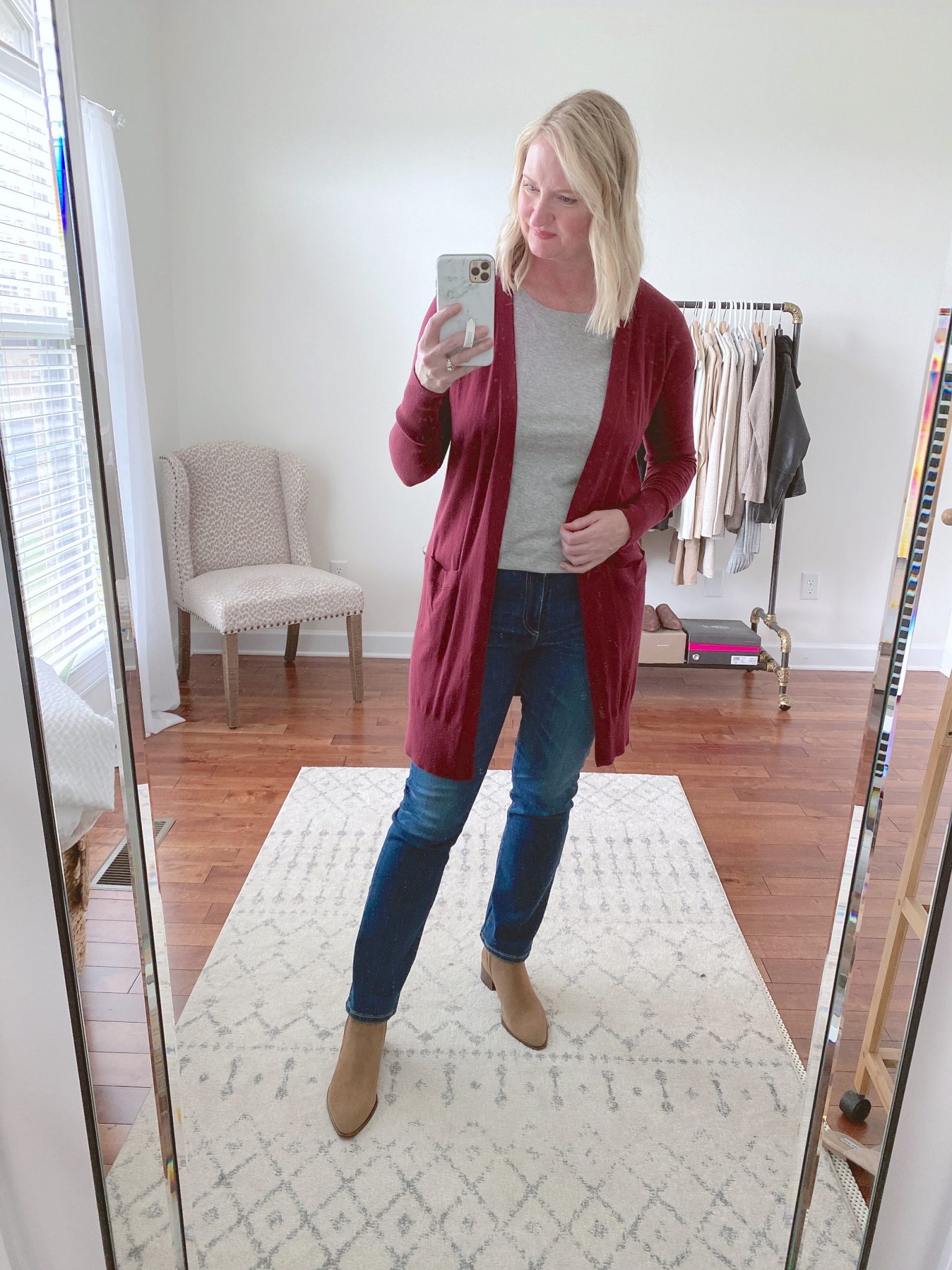 Halogen Open Front Pocket Cardigan available in other colors
also wearing the Halogen Gray Short Sleeve Tee and the Vince Camuto Leminda Booties, both available at Nordstrom.
I have this Caslon Open Front Cardigan in the "gray heather" color in my Fall capsule wardrobe. It is available in other colors too!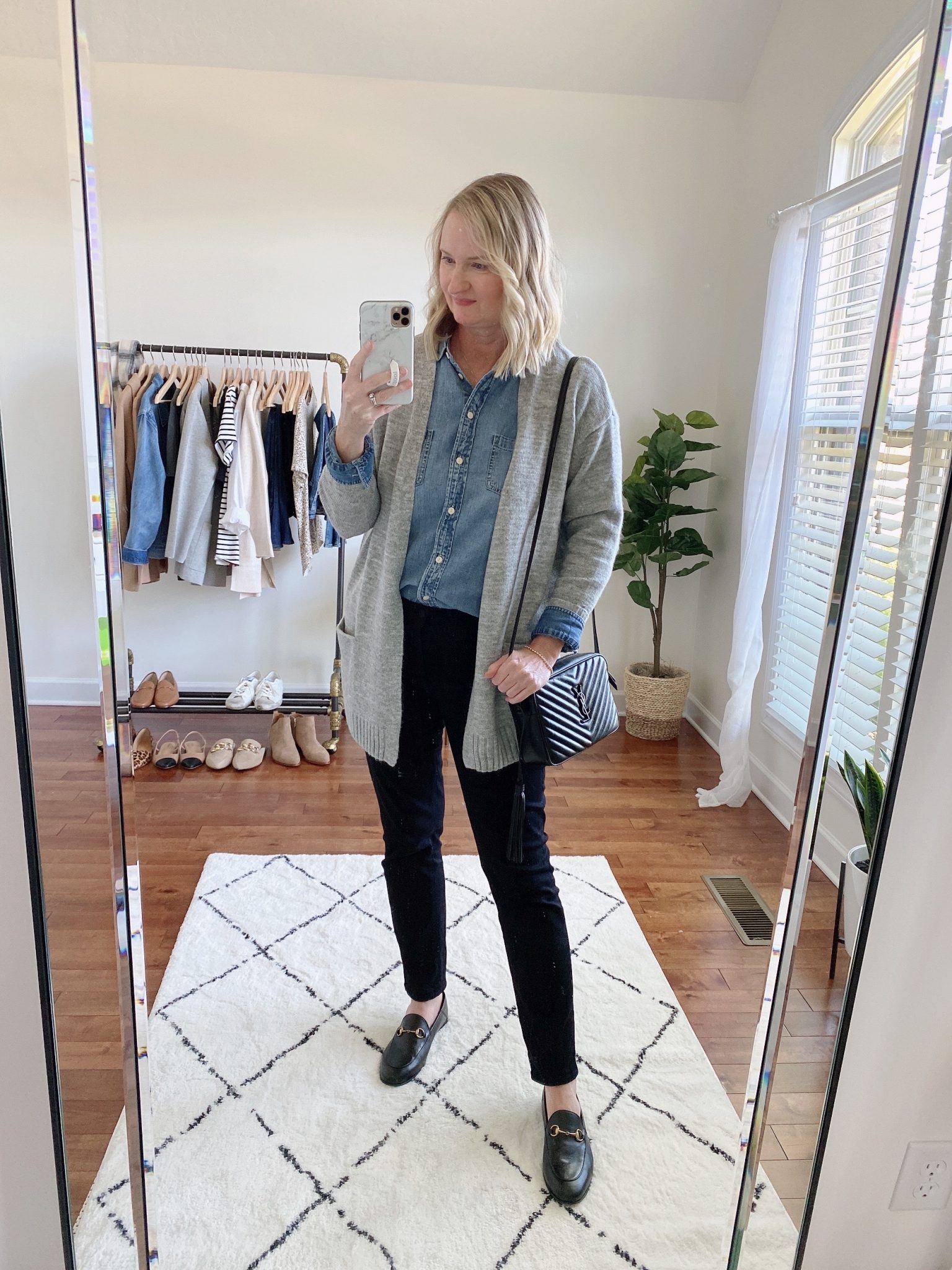 Caslon Open Front Cardigan available in other colors
also wearing AG Black Prima Cigarette Jeans and Gucci Brixton Loafers, both available at Nordstrom.
Other Cardigans Available At Nordstrom
4. Sweaters
When it comes Fall and chilly weather, I want to wear all the sweaters, how about you? Nordstrom has several sweaters I have my eye on, like this Plaited Stitch Crewneck Sweater, this Funnel Neck Sweater and this Turtleneck Tunic Sweater (which is more of a cowl neck and will look great with leggings).
Shop These Sweaters at Nordstrom:
5. Sneakers
Casual Sneakers are trending this Fall. As the temps drop and I switch out my summer capsule wardrobe for my Fall one, I reach for my sneakers. I have two pairs of casual sneakers that I bought from Nordstrom and are in my Fall capsule wardrobe: the Sam Edelman Aubrie Sneakers and the Veja Campo Sneakers. Both pairs are equally comfortable right out of the box. I have worn both pairs all day and they are both comfy all day.
6. Boots
Boots are a great shoe to wear in the Fall and Winter and ankle boots are the popular style this year. Here are a few boots I have bought at Nordstrom that I enjoy wearing.
I love my Franco Sarto Ankle Boots and I have had them for a couple of years now! I am wearing the Sloan Bootie (from two years ago) and the nearly exact style, The Shellson Bootie is at Nordstrom. It is available in the toasted barley (which is suede and the color I'm wearing below) and the black leather color.
I have had these Marc Fisher Yale Booties for a few years too! I love the slip on Chelsea boot style, the low heel and the pointy toe which dresses up any casual outfit. I'll be including these boots in my Winter capsule wardrobe.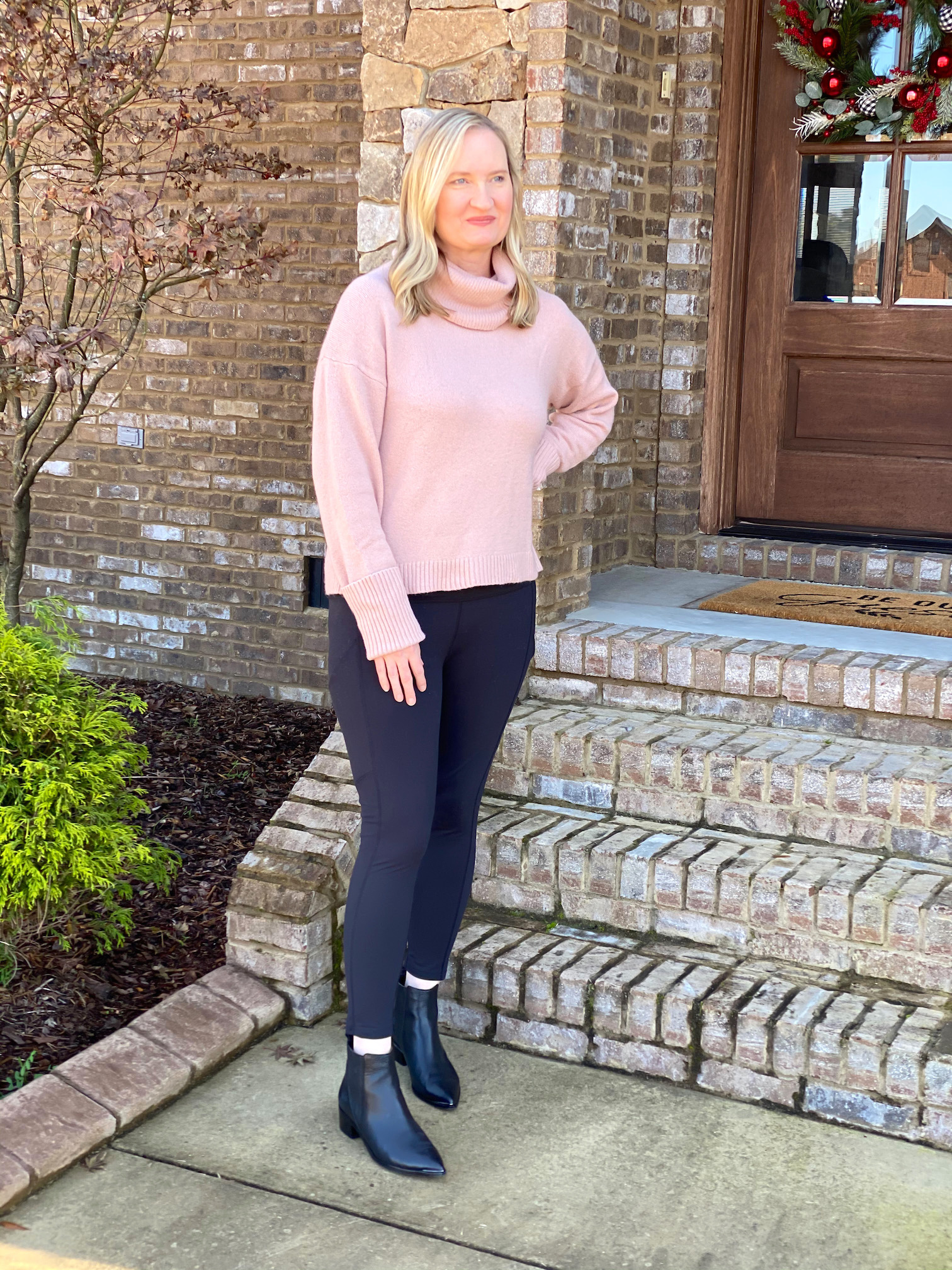 Marc Fisher Yale Booties
also wearing the Zella Live In Hight Waist Pocket Leggings at Nordstrom
7. Loafers/Mules
One of my favorite style of shoes to wear are loafers & mules! Since mules have the same shape as loafers but just without the back of the shoe, I put these in the same category. I love the classic style of a loafer and mule and they go with so many outfits! You can wear them dressy with pants or a skirt or wear them casually with jeans. I have two pairs of loafers and one pair of mules in my Fall capsule wardrobe! Here are a couple of them that I have been wearing a lot, the Gucci Brixton Loafers and the Steve Madden Finn Mules. Nordstrom also has the Sam Edelman Lior Loafers, which are a similar style as the Gucci but more affordable.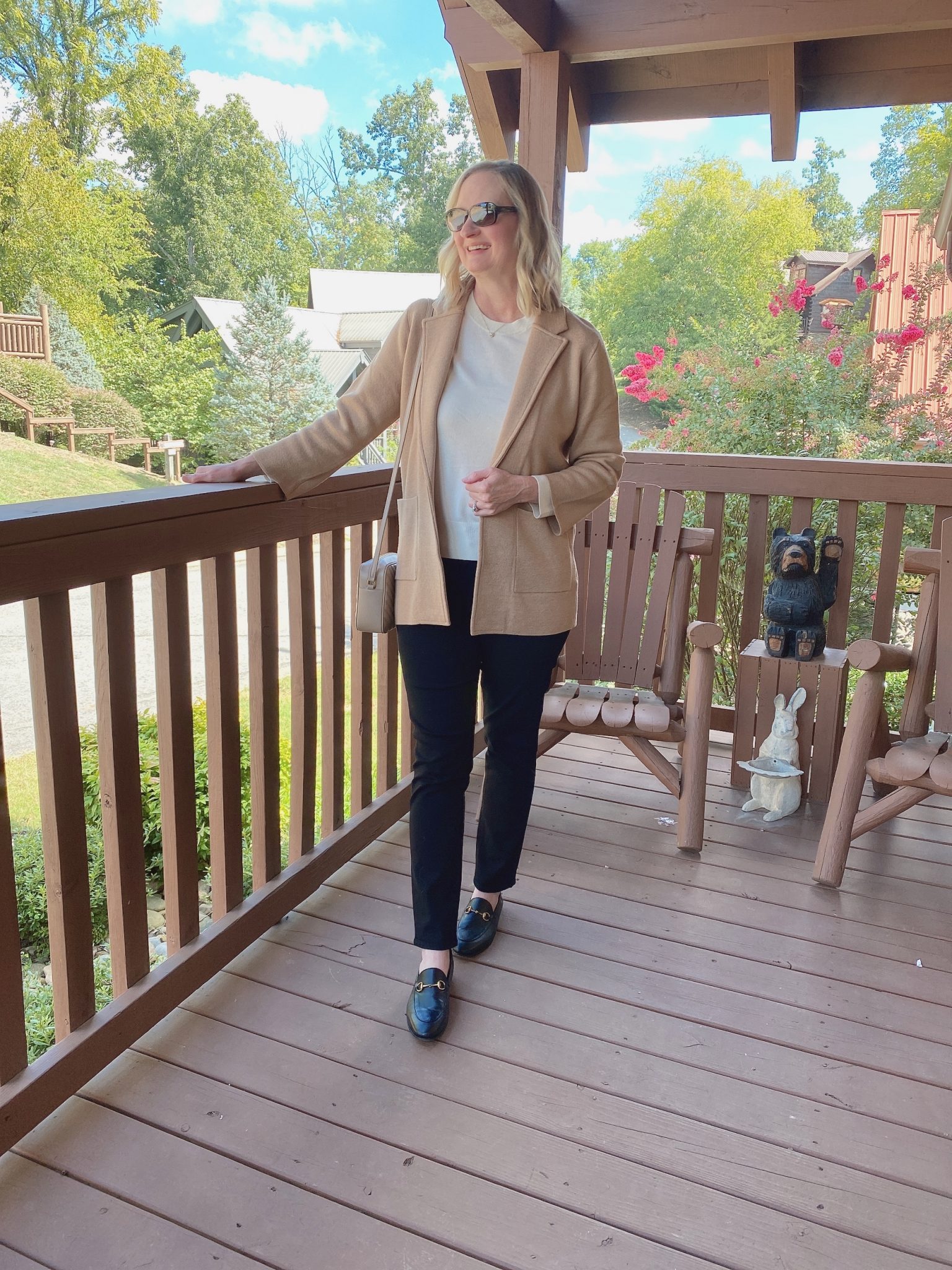 wearing the Gucci Brixton Loafers (also recommend these Sam Edelman Lior Loafers)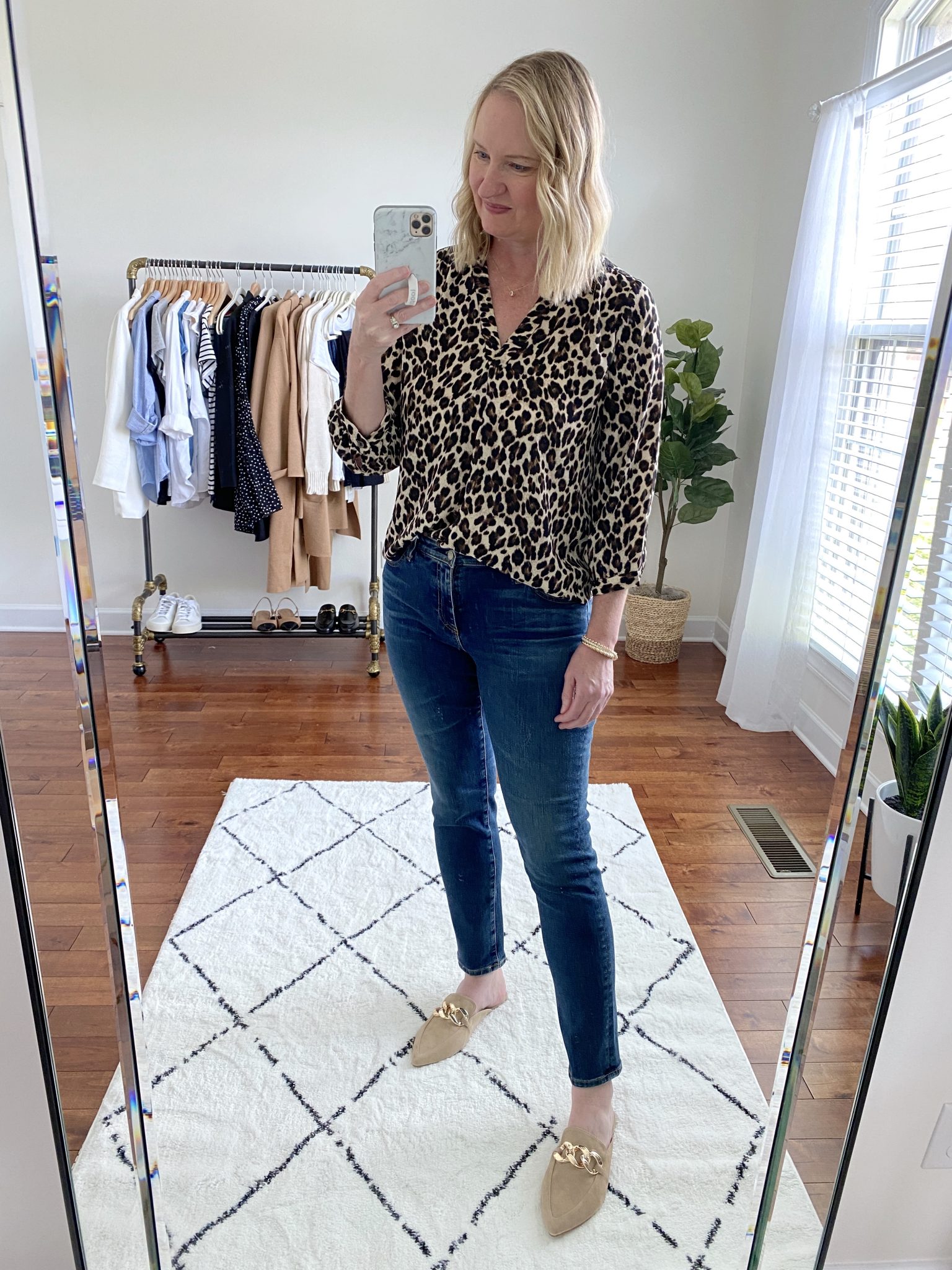 wearing the Steve Madden Finn Mules / also wearing this Vince Camuto Leopard Top
I also have these Sam Edelman Black Mules and love them! I'm wearing the Linnie mules, but these Laurna mules are very similar, just different hardware on top of the shoe.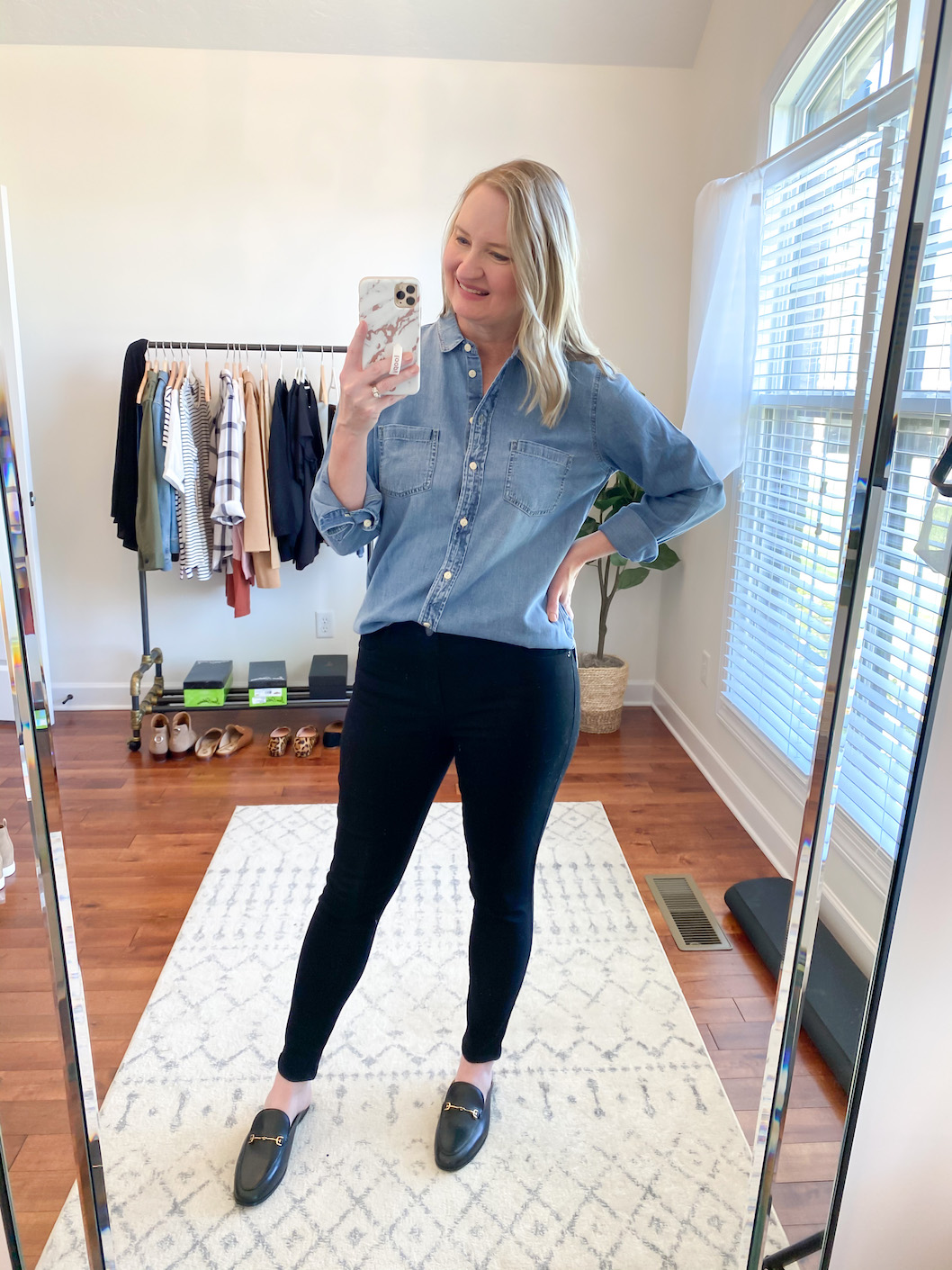 Sam Edelman Laurna mules / also wearing the Black Wit & Wisdom Skinny Jeans
Shop The Post
I hope you enjoyed this post!
Thank you for visiting the Classy Yet Trendy blog!