New Fall Arrivals At Walmart
If you are looking for a few fresh pieces for the Fall, but are on a budget, I have found several new arrivals at Walmart, which start at $22! If see anything you like in this post, act quick, because Walmart's new arrivals are known to sell out quickly!
Oh my gosh, these pieces I found are so pretty and Walmart has knocked it out of the park with their Fall lineup. A couple of months ago, I saw several fashion influencers wearing pieces from the Free Assembly and Scoop lines and I was pleasantly surprised at how low the prices were for such pretty clothes!
These new arrivals at Walmart can easily mix and match with the pieces in the Simplified Style®: Dressy & Casual Year-Round Capsule Wardrobe! All the pieces in the Simplified Style® eBook are classic and timeless and are considered to be the building blocks of a wardrobe. These pieces are the foundation pieces in a capsule wardrobe. Thousands of women are using Simplified Style® to get dressed quickly and easily everyday. Some women like to use Simplified Style® and add a few trending items for the season for even more outfits!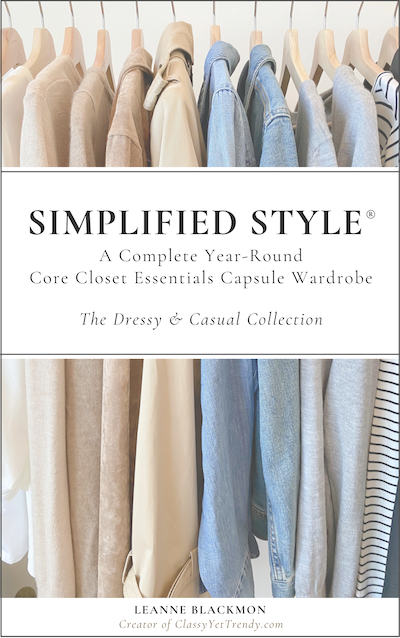 Let's see a few of the new arrivals at Walmart…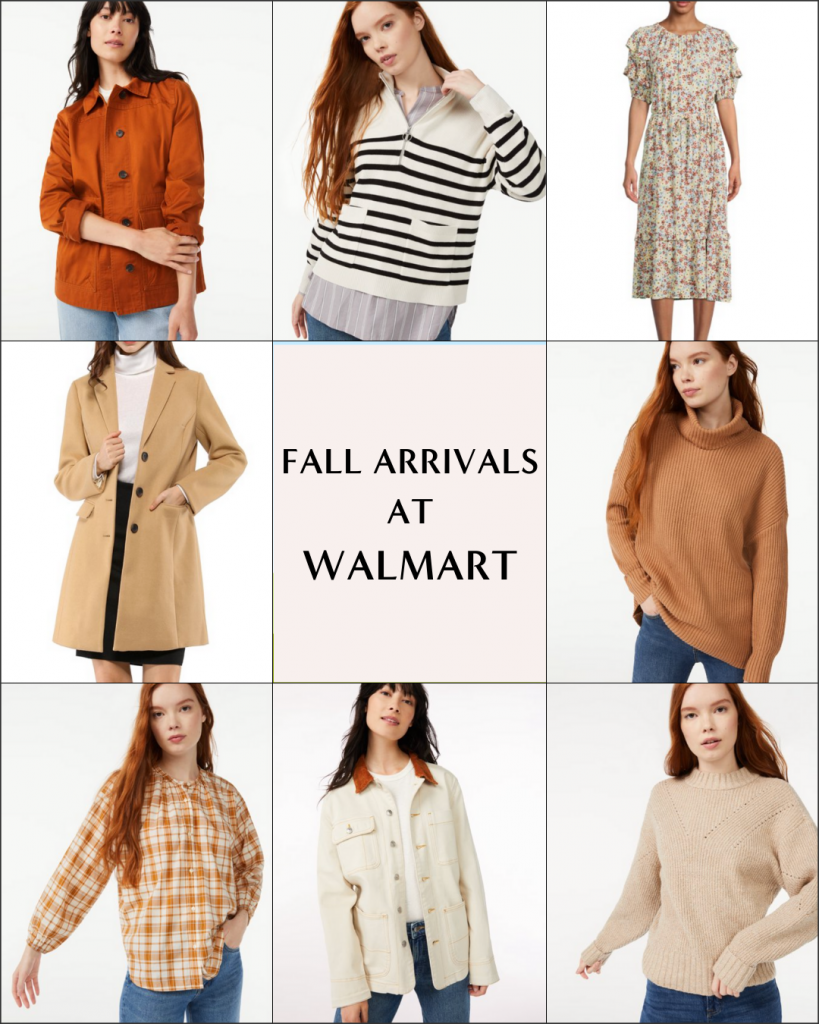 TOP ROW:
Free Assembly Everyday Essential Fatigue Jacket – This jacket is made of 100% organic cotton and has an internal drawstring cord for an adjustable fit. It comes in the "brown brick" color shown and also green and black.
Free Assembly Boxy Half-Zip Sweater – Zipped sweaters are on-trend this Fall and this one looks way more expensive than the $28 price! It is similar to a sweater you would find at J. Crew or Madewell, but for a fraction of the price.
The Get Tiered Ruffle Prairie Midi Dress – Prairie dresses are also on-trend this Fall. This "prairie meadow" pattern on this dress is so pretty and it also comes in the "wildflower toss" color.
MIDDLE ROW:
Allegra K Single Breasted Coat – This coat is gorgeous and can't believe it's only $64.99! It comes in several colors.
Free Assembly Turtleneck Tunic Sweater – Ok, I just want to put on this sweater, jeans and booties and go to a Fall Festival! The "brown acorn" color of this sweater is so pretty. It comes in other colors too. You could wear this sweater casual or dressy, with jeans, pants, a slim skirt or leggings.
BOTTOM ROW:
Free Assembly Button-Front Shirt – The beautiful plaid pattern on this top caught my eye and it also comes in a navy pattern and black pattern. I can see myself wearing this top underneath this cozy cardigan or a jacket.
Free Assembly Barn Jacket with Corduroy Collar – This jacket is a nice changeup for the Fall, especially with the corduroy collar accent.
Free Assembly Mock Neck Pointelle Sweater – I love the pointelle detail on this sweater! I also love the "midnight brown" and "rosemary" colors.
SHOP FREE ASSEMBLY NEW ARRIVALS AT WALMART HERE
SHOP WALMART'S NEW ARRIVALS HERE
I hope you enjoyed this post!
Thank you for visiting the Classy Yet Trendy blog!
A Bit Of Inspiration For Your Day:
"Come to me, all you who are weary and burdened, and I will give you rest. Take my yoke upon you and learn from me, for I am gentle and humble in heart, and you will find rest for your souls. For my yoke is easy and my burden is light." – Matthew 11:28-30