Instagram Outfits Diary: November & December 2021
On my Instagram account, I share outfits that I wear from my capsule wardrobes and also tips and resources about capsules wardrobes. My Instagram profile is @classyyettrendy, so if you are on Instagram, click the "Follow" button on the App to see my posts.
To shop my Instagram posts, you can either click on "Shop My Instagram" on the menu located at the top of this page or your can follow this link…
I'm currently using my Winter Classic Neutral Capsule Wardrobe. I enjoy wearing neutral colors, so my capsule wardrobe includes black, white, gray, beige, tan and camel.
Shop Leanne's Closet
Do you want to know what clothes and shoes are in my closet? You can see everything in my closet on the Shop Leanne's Closet page! This is everything in my closet for all seasons, not just my current capsule wardrobe. See the tops, bottoms, layers, shoes and accessories I have and if you find something you like, you can click on anything to shop! You can also access the Shop Leanne's Closet page from the top menu.
I created my neutral colors capsule for my own closet based on my best-selling capsule collection, Simplified Style®: The Dressy & Casual Collection – A Year-Round Core Closet Essentials Capsule Wardrobe. In this capsule collection, there are 400+ outfit combinations for every season of the year, outfit calendars and more!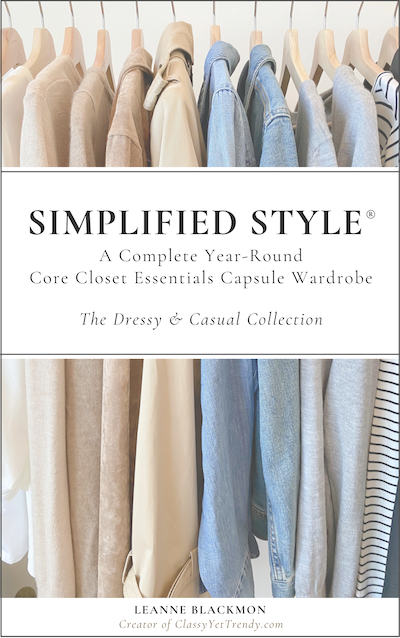 At the first of November, I was planning my Winter capsule wardrobe. I shopped my closet first, choosing which pieces I wanted to include. Then, I shopped online for any pieces that I didn't have that I wanted for my capsule.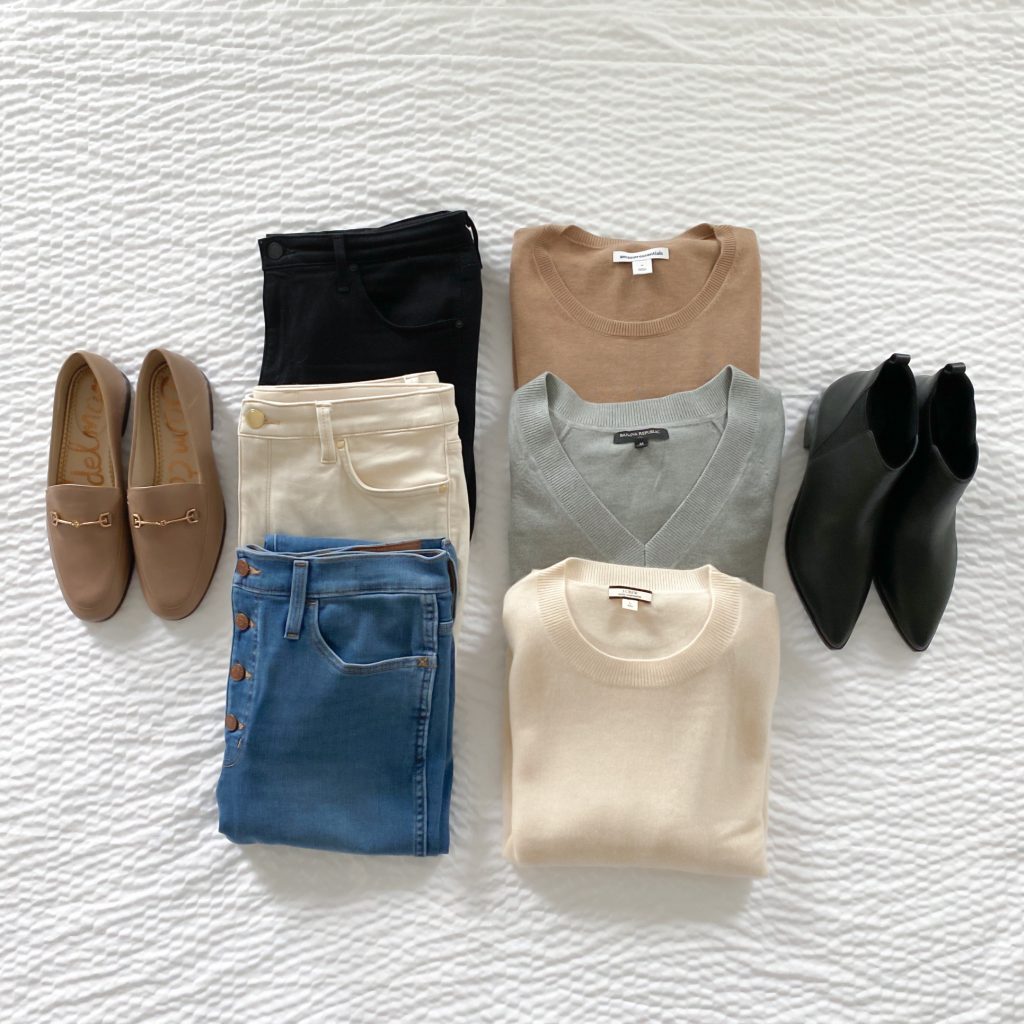 Photo Details:
The outfit I'm wearing is from my Fall capsule wardrobe. My husband and I went out for supper one evening and he snapped this photo when we were leaving the restaurant. My exact sweater blazer is sold out, but I linked the current style below. Everything else in my outfit is also linked below.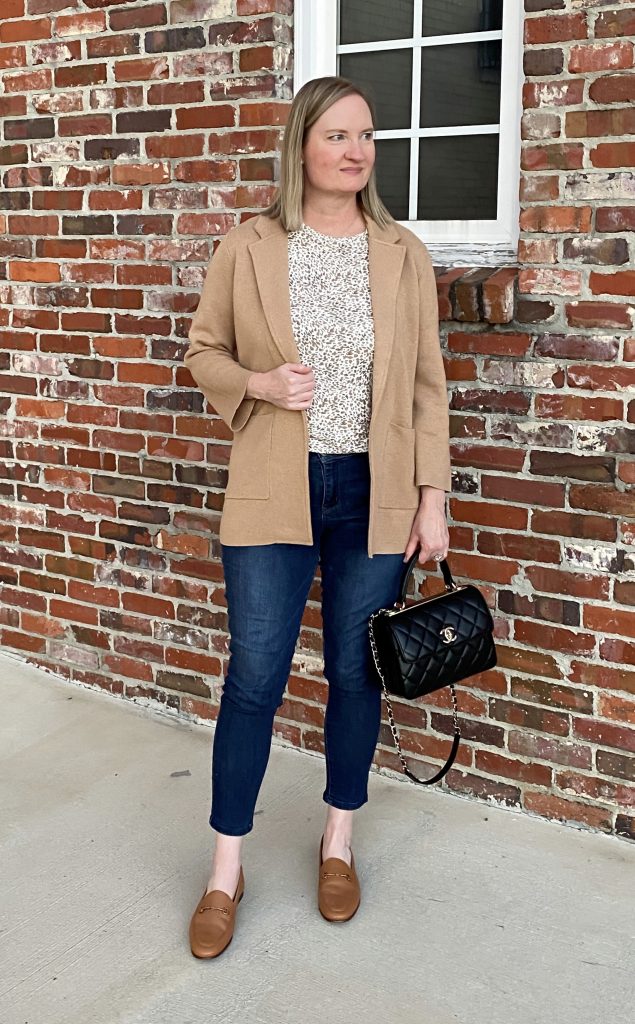 Photo Details:
In this post, I showed two sweaters, on in a beige color and the other in a camel heather color and asked which was your favorite to wear with the black pants, boots and bag. I like both colors, but I wanted to see which of the two colors was the reader favorite.
Photo Details:
I snapped this outfit photo before I created my Winter capsule, so I pulled these pieces out of my closet to wear shopping. The plaid blazer and mushroom color cashmere sweater is old, but I linked similar ones below.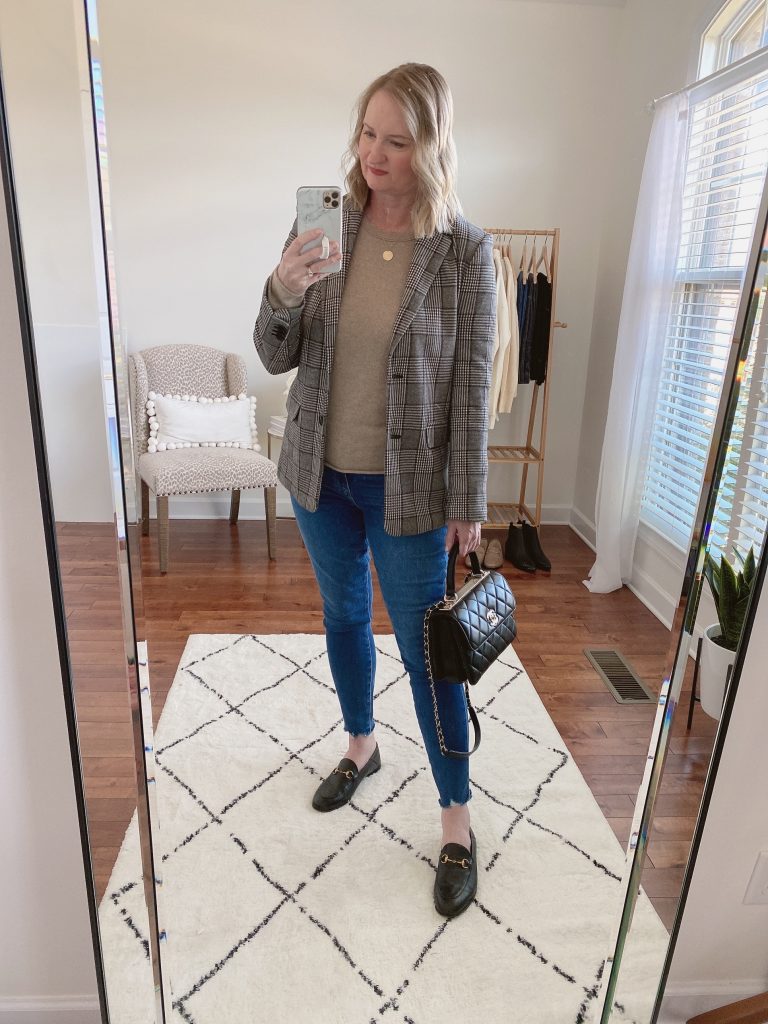 Photo Details:
My Polene Numero Un Nano bag in the camel color I had ordered arrived and I wore it that day with these black jeans, ivory turtleneck sweater and black boots. I also wore these gold hoop earrings and this gold bangle bracelet.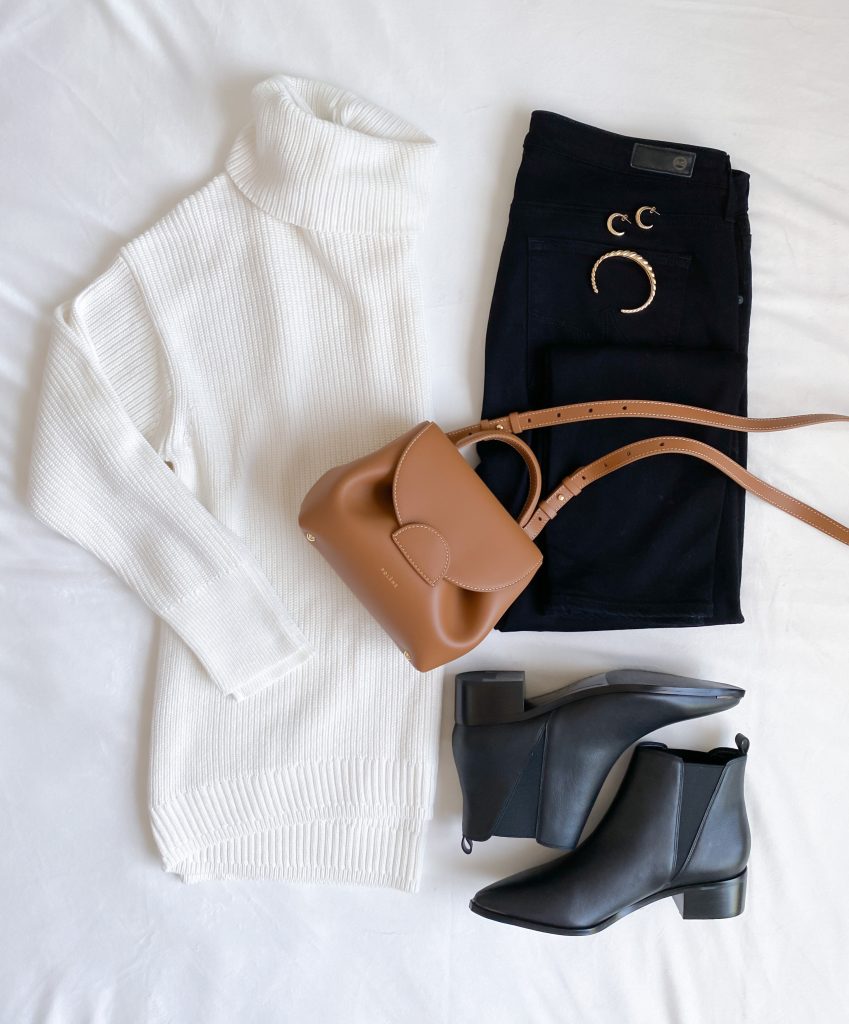 Photo Details:
I wore this Button-front Cardigan in the "champagne toast" color with these Ecru Color Jeans and Loraine Bit Loafers in the "cedarwood" color (so comfy and goes with all my outfits).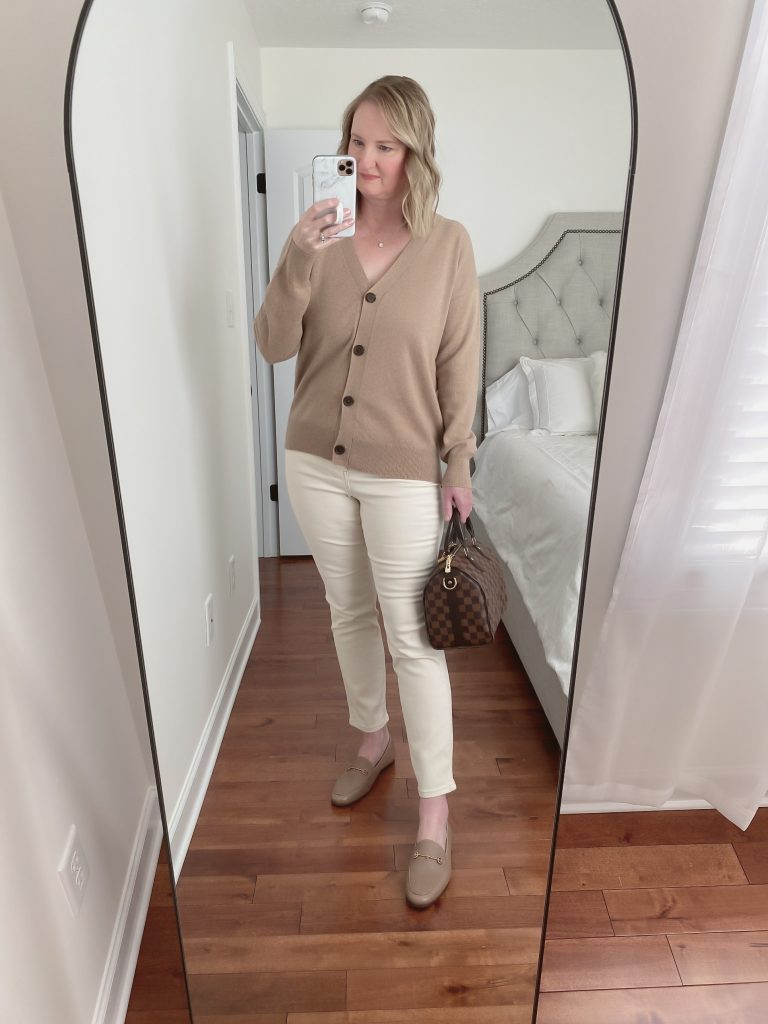 Photo Details:
I shared a photo showing the shoes in my Winter capsule wardrobe. I included a mix of boots, loafers and sneakers in neutral colors.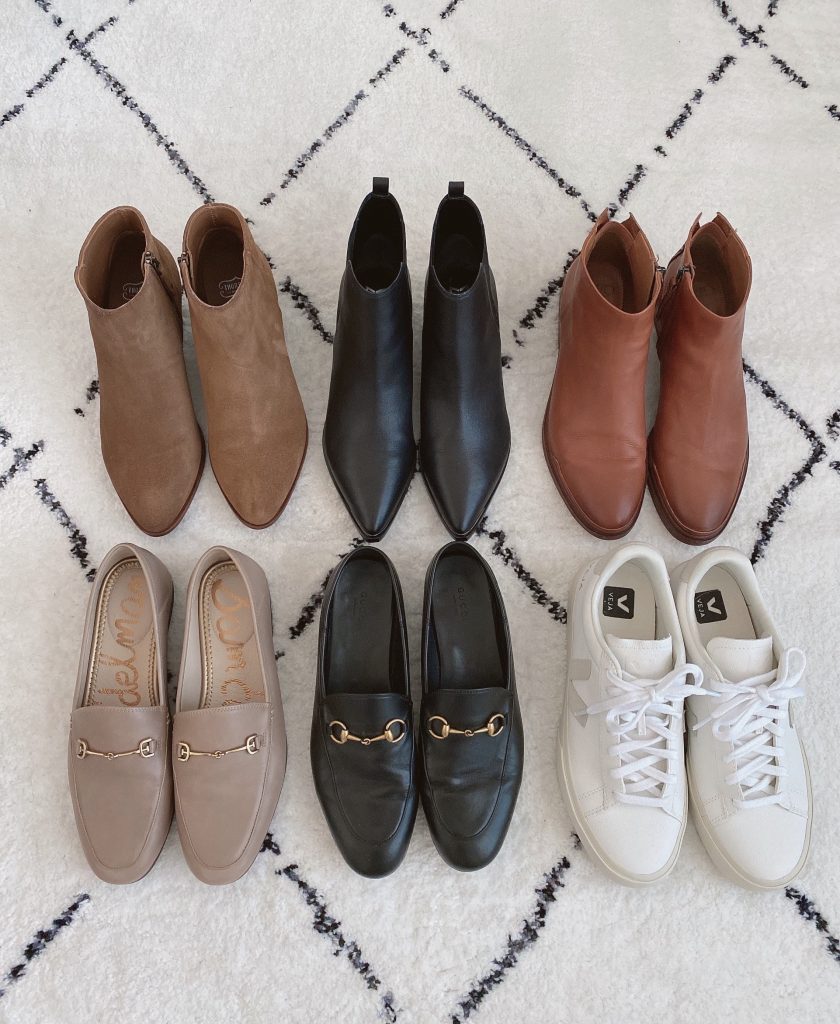 Photo Details:
I posted a flatlay photo of two outfits to wear with this black wool coat: striped sweater, jeans and brown boots or a camel sweater, black jeans and black boots. All exact or similar pieces linked below…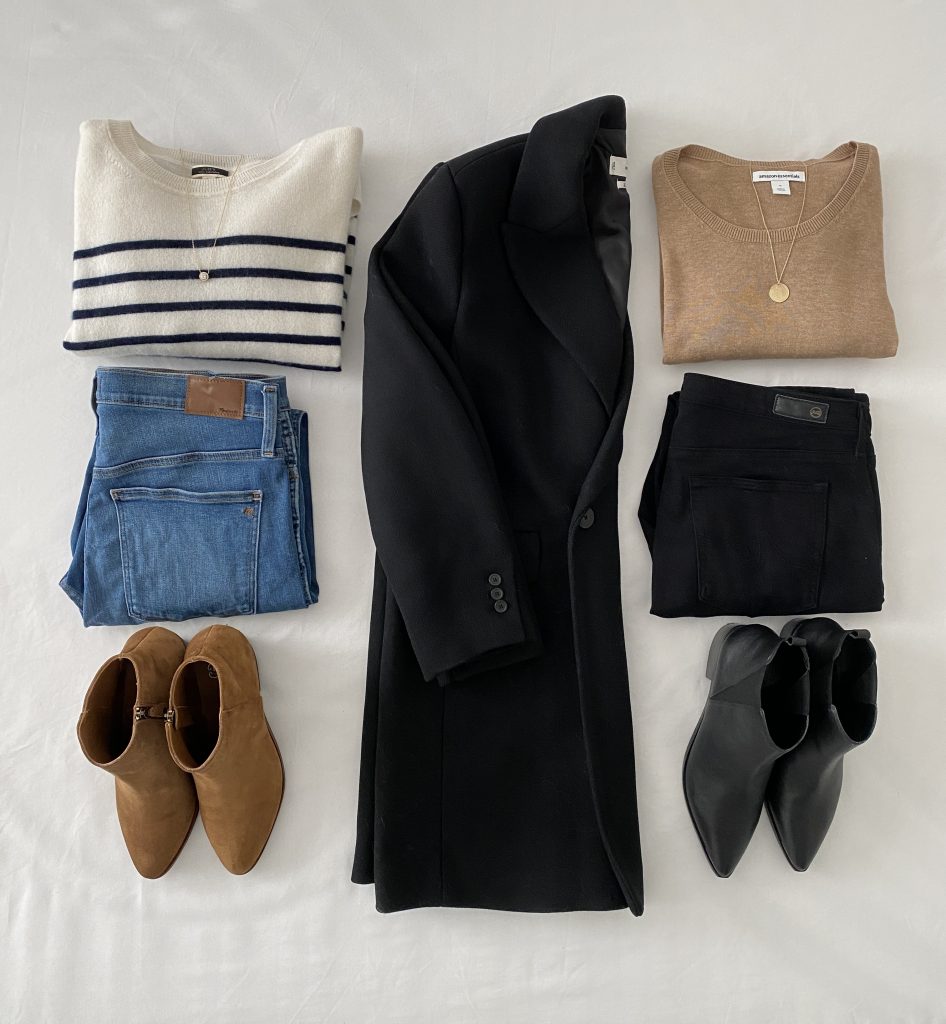 Photo Details:
Two ways to wear a pattern coat by changing up the shoes and accessories. Outfit links are below…
Photo Details:
I shared this post showing two ways to wear white casual sneakers: with a striped sweater and blue jeans or a gray sweater and black jeans. All pieces linked below (striped sweater is sold out so two sweater options are linked)…
Photo Details:
Mix and match with a sweater…By mixing these jeans and shoes with a sweater, you can make 9 outfits! Since the jeans and shoes are all neutral colors, this will work with any color sweater! I bought this Jenni Kayne wool and cashmere sweater, shown below, during their Black Friday sale, but if you sign up for their newsletter (at the bottom of their product page), they will email you a discount code for 15% off your first purchase.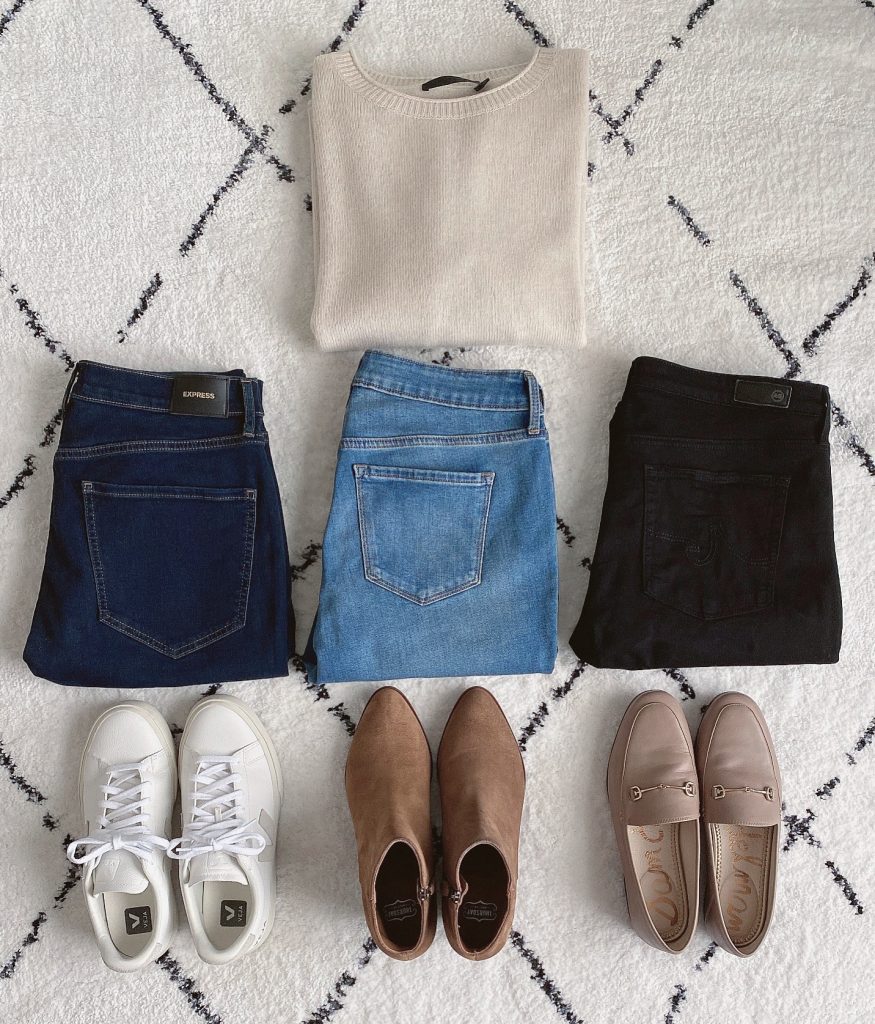 Photo Details:
I took this photo several weeks ago and forgot to post it on Instagram! I'm wearing this Fisherman-style Crewneck Sweater I bought on Amazon a few months ago. The quality is so good and it's only $30!!! I'm wearing a size Medium in the "oatmeal heather" color. I'm also wearing my Zara camel coat which I absolutely love (also love this camel coat!), my black jeans and cognac boots from my Winter capsule wardrobe. All pieces linked below.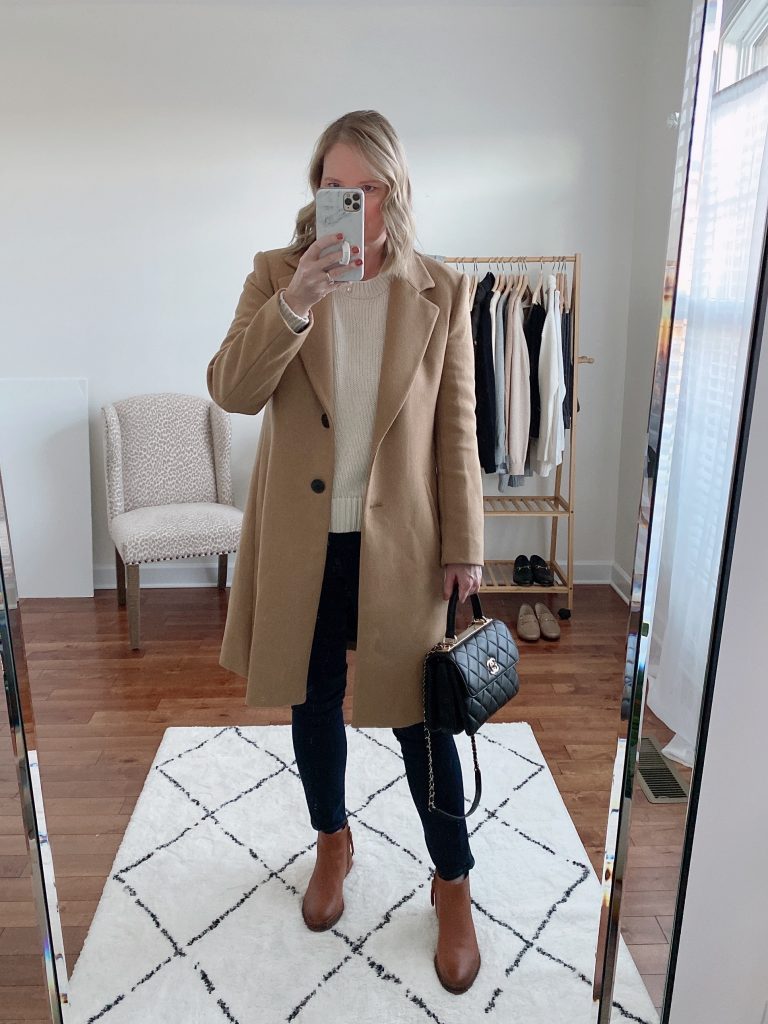 Photo Details:
Here is another photo I didn't get a chance to post on Instagram and another way to style a plaid blazer (similar). I wore it with this crewneck sweater in the "white" color (although it is actually an ivory color), my black jeans (also love these black jeans) and black boots (can you tell I love wearing these boots, since I wear them A LOT!).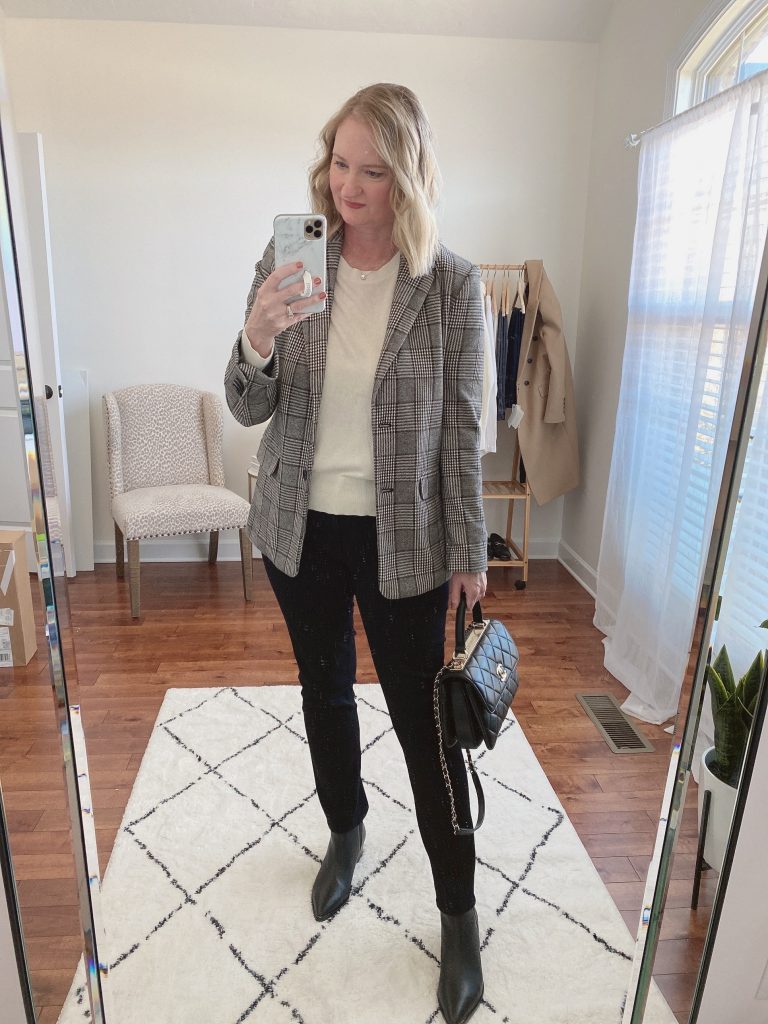 Photo Details:
I hope you enjoyed this post!
Thank you for visiting the Classy Yet Trendy blog!
A Bit Of Inspiration For Your Day:
"Glory to God in the highest, and on earth peace, good will toward men. And it came to pass, as the angels were gone away from them into heaven, the shepherds said one to another, Let us now go even unto Bethlehem, and see this thing which is come to pass, which the Lord hath made known unto us." – Luke 2:14-15