8 Winter Wardrobe Essentials To Keep You Warm
Winter is the season you want to layer up and stay warm and dry. You want to have the right essentials in your wardrobe to stay warm all season! Having a good, quality coat is probably the first essential you think of for Winter, but don't forget the other basics like a beanie, gloves, a scarf and even base layers.
Depending on the weather where you live, you may not need all these essentials, but those of you who live in areas with frigid temperatures and snow, these are definitely needed!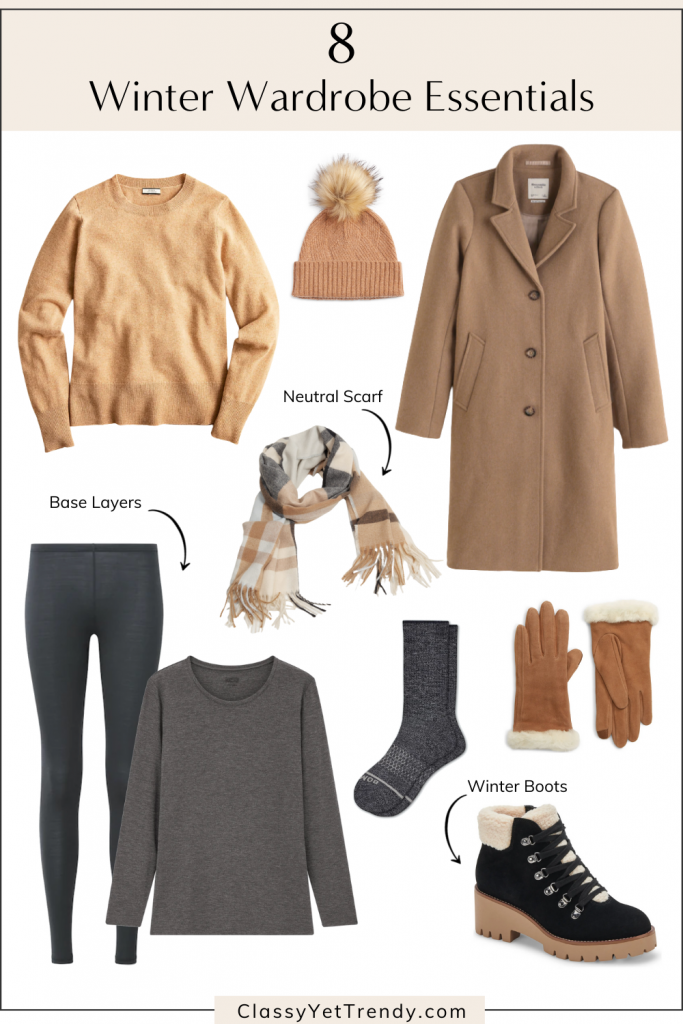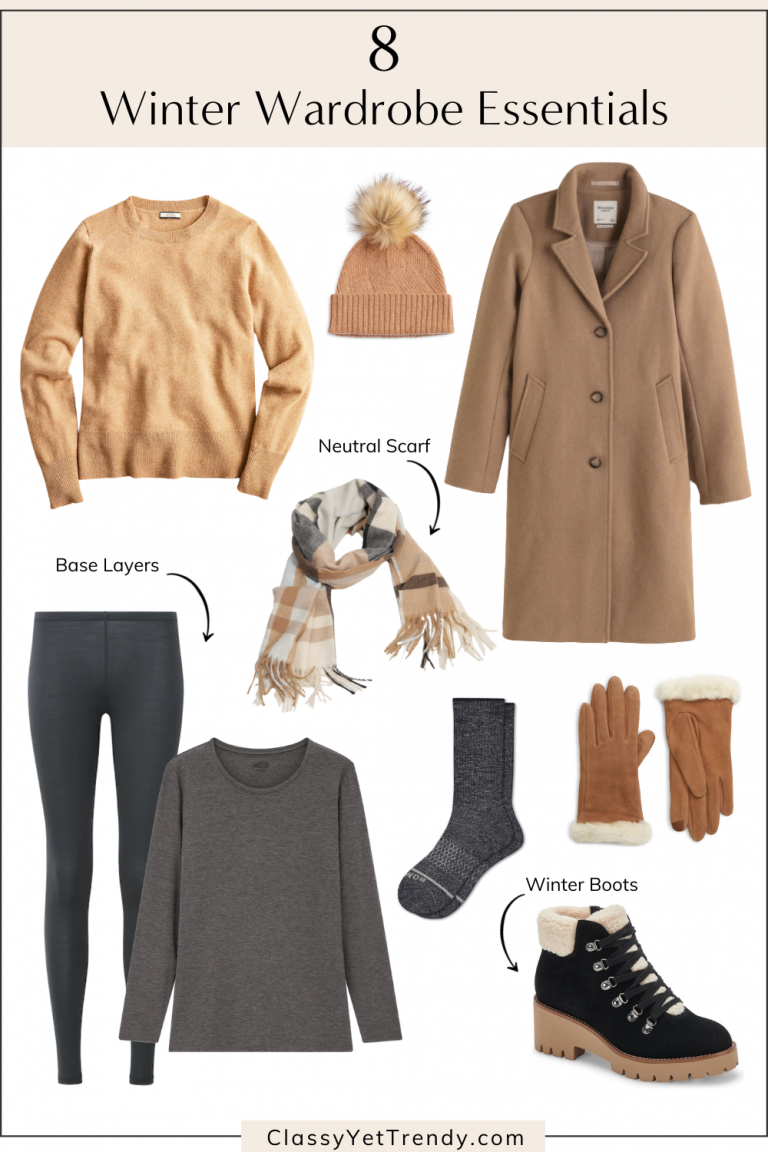 Collage Details:
cashmere sweater / pom beanie / wool coat
neutral pattern scarf / base layer legging / base layer tee
wool socks / shearling tech gloves / waterproof winter boots
Warm Coat (Wool, Puffer or Parka)
A warm coat is an absolute must for the Winter season, whether you prefer a wool, puffer or parka style. A wool coat is a classic piece that looks great with any outfit. If you need a warmer winter coat, puffer and parka coats will keep you toasty warm in cold climates.

You may also like:
How To Create A Carry-On Capsule Wardrobe (Spring Edition) + Outfits
Base Layers
If the weather where you live has frigid temps, snow and ice, you may need some extra warmth added to your outfits. Base layers are great for keeping you warm by holding in your body heat. Uniqlo has their "Heattech" line, which has all kinds of base layers like tees, cami's, leggings, all at budget-friendly prices.

Sweaters
Sweaters not only keep you warm, but they are versatile too. You can wear them casual with jeans or leggings, or dress them up with pants or a skirt. You can also add layers underneath your sweaters, like a turtleneck top, mock neck top or button-down shirt. If the winters where you live are mild, you may just need to wear lightweight cotton sweaters, but for colder temps, wool and cashmere hold in your body heat and keep you warm.

Boots
There are different styles and colors of boots you can wear in the Winter. From lace-up tread boots, to tall boots, to chelsea ankle boots, there are styles for all climates.

Socks
A warm pair of socks are essential to keeping warm in the Winter. A good pair of wool socks will keep your feet toasty warm in the cold weather.

Beanies
Beanies hold in your body heat and keep your head and ears warm. There are different styles, colors and textures to choose from.

Scarves
Winter scarves are always in style and a necessity to keeping warm. Wool and cashmere are the warmest fabrics, but other fabrics will keep you warm too.

Gloves
A good pair of gloves are an essential in cold weather. They are especially good to have on your hands while you are driving or if you have to be outdoors. Tech gloves are great to keep your fingers warm if you have to use your smartphone.

Thank you for visiting the blog!
A Bit Of Inspiration For Your Day:
"Your word is a lamp to my feet and a light to my path." – Psalm 119:105