Athleisure Winter Mini Capsule Wardrobe | 11 Pieces = 18 Outfits
In this post, I'll show how to style 11 athleisure pieces using black as the base color. These 11 pieces will make 18 outfits. This is a "mini" capsule wardrobe and includes athleisure foundation pieces in neutral colors.
I created three other mini capsule wardrobes you may also like: a Beige Mini Capsule Wardrobe, a Gray Mini Capsule Wardrobe and Navy Mini Capsule Wardrobe to demonstrate how a capsule wardrobe works while focusing on one main color. I have received a few requests to create a mini capsule using athleisure pieces.
What Is Athleisure Style and Why Is It Popular?
Athleisure style is a mix of athletic and leisure and includes comfortable clothing you can wear both to the gym and in casual everyday outfits. Although not a new style, it has gained popularity in recent years and many women wear the style.
About This Athleisure Mini Capsule Wardrobe
"Black" is the base color. I always recommend using either black or navy as your base color when creating a capsule wardrobe. Choosing a base color helps make sure all the capsule pieces will mix and match well. The pieces in this mini capsule are all athleisure wardrobe staples in neutral colors, which are styles in the best-selling capsule wardrobe collection, Simplified Style®: The Athleisure Collection – A Year-Round Capsule Wardrobe.
Use The Mini Capsule For Travel
Since there are only 11 pieces in this capsule, it is great for traveling! Wear one of the outfits, then pack the rest in your suitcase. If you need to wash anything while you are traveling, I recommend carrying a small bottle of detergent with you. You can use the hotel sink to wash any of the pieces, then hang to dry, ready to wear the next day!
How To Expand This Mini Capsule
If you use this mini capsule and enjoy wearing it, you can expand it for even more outfits to last throughout the season and for multiple seasons! Since all of the pieces in this mini capsule are the same styles in the Simplified Style®: The Athleisure Collection – A Year-Round Capsule Wardrobe, you can use the Simplified Style® capsule collection for the entire year in your closet! The athleisure pieces in Simplified Style® makes over 400+ outfits to wear in all seasons of the year. All 400+ outfits are included in the capsule collection, as well as wardrobe plans for each season, outfit calendars (so you always know what to wear), convenient shopping links and more!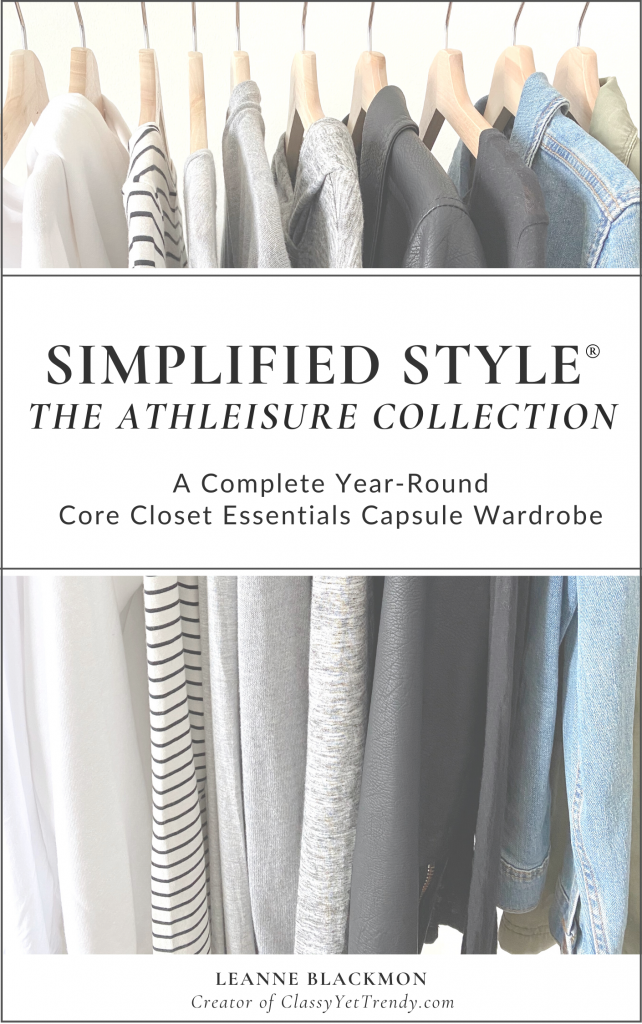 You may also like:
How To Start A Capsule Wardrobe: A 5-Step Visual Guide
Capsule Wardrobe 101: What Is A Capsule Wardrobe?
Travel Light: 2 Weeks In a Carry-on
10 Ways To Wear A Denim Jacket
The Athleisure Mini Capsule Wardrobe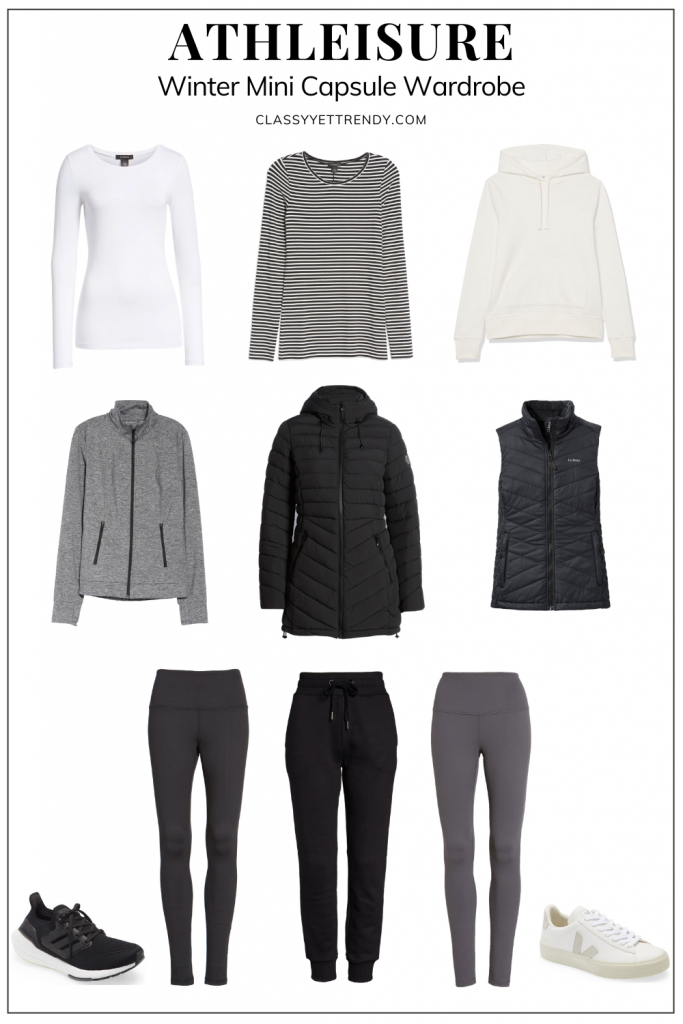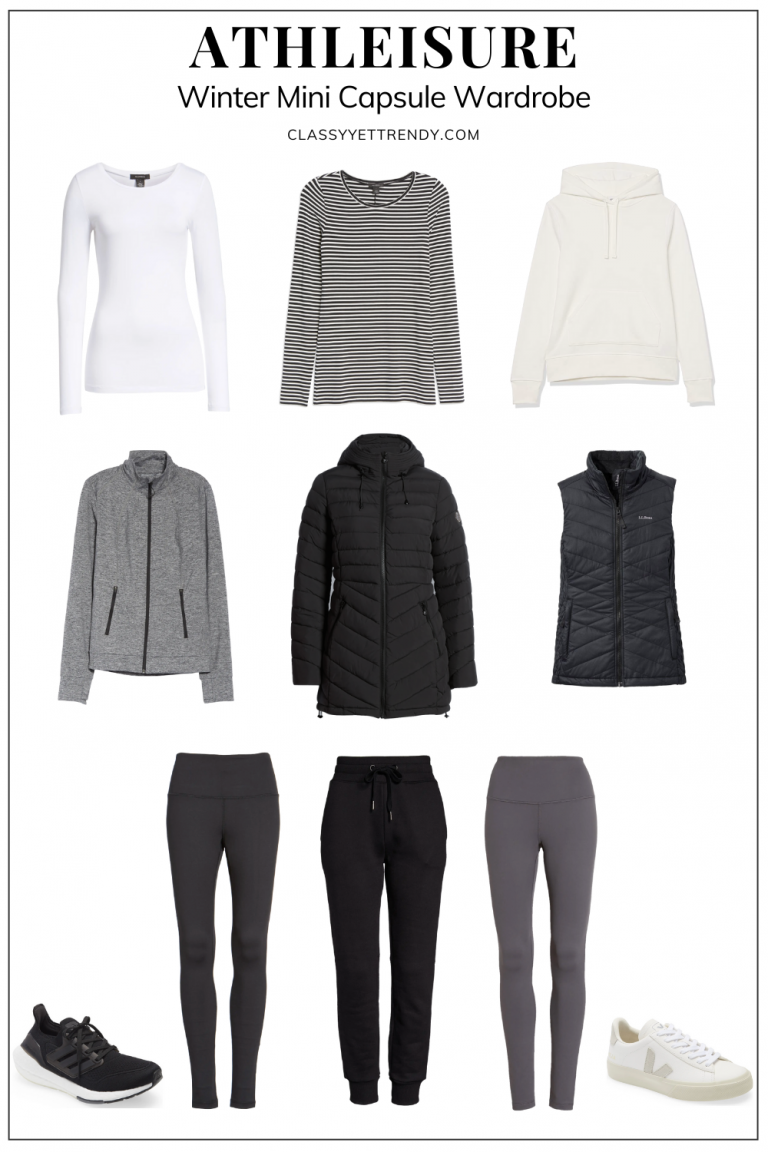 1. White Long Sleeve Tee – You probably already have this basic tee in your closet! It is one of the basic essentials in an athleisure capsule.
2. Striped Long Sleeve Tee – This tee adds a pattern to the capsule, while still being in the neutral color palette. I have this exact tee in my closet and love wearing it!
3. White Hoodie Sweatshirt – I included a solid white hoodie, but you can also use a gray or black hoodie instead. You can also wear your favorite sports logo hoodie or no-hoodie sweatshirt, like this Adidas Black Hoodie, this Nike Gray Sweatshirt or this Under Armour Gray Hoodie.
4. Zip Track Jacket – You can wear this over the tees or wear it zipped up as a top.
5. Black Puffer Coat – Puffer coats look great with athleisure outfits. I highly recommend the Bernardo brand; I have a very similar puffer coat and it keeps me toasty warm, while being lightweight!
6. Black Quilted Vest – This vest will keep you warm and add texture to your outfits. Wear it over any of the tops and underneath the puffer coat for extra warmth.
7. Black Leggings – A basic essential for any athleisure capsule wardrobe. I love Nordstrom's Zella brand and have these leggings in the 7/8 length.
8. Black Joggers – Jogger pants adds a different style to your athleisure capsule and these black joggers will go with many other pieces.
9. Gray Leggings – These are the same style as the black leggings and will coordinate well with the tops in the capsule. I also have these leggings in the 7/8 style and love the gray color tone!
10. Black Athletic Sneakers – A classic shoe style that will coordinate well with your athleisure outfits.
11. White Casual Leather Sneakers – These shoes will not only look great with all your athleisure pieces, but the leather will keep your feet warm in the Winter. I have these exact Veja Campo sneakers in my Winter capsule wardrobe and love wearing them all day!
Shop The Capsule Pieces:
Accessories For Your Athleisure Capsule Wardrobe
What accessories do you wear with an athleisure capsule wardrobe? Simple jewelry, like this Gold Bezel Necklace or these Gold Stud Earrings look great with the outfits. A Hobo Bag like this one looks great, as well as this Crossbody Bag and this Backpack. You can also add this cap and this beanie. And, don't forget the socks, like these Zella socks and these Adidas socks.
Shop These Accessories: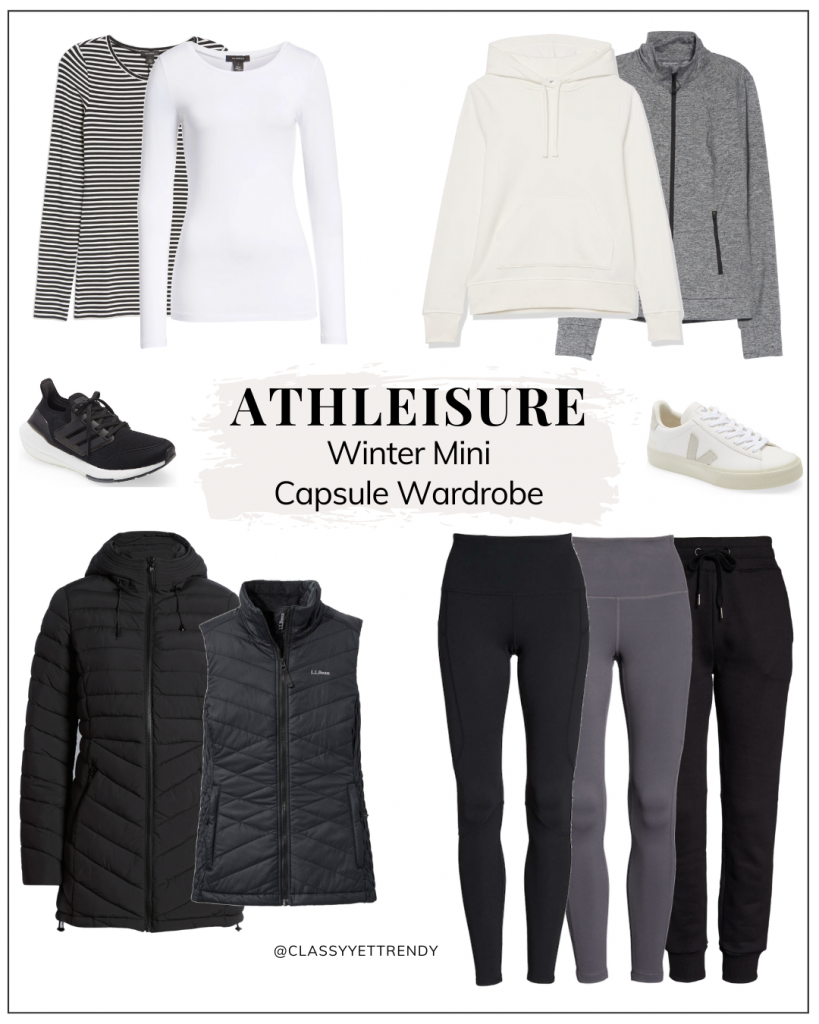 The 18 Outfits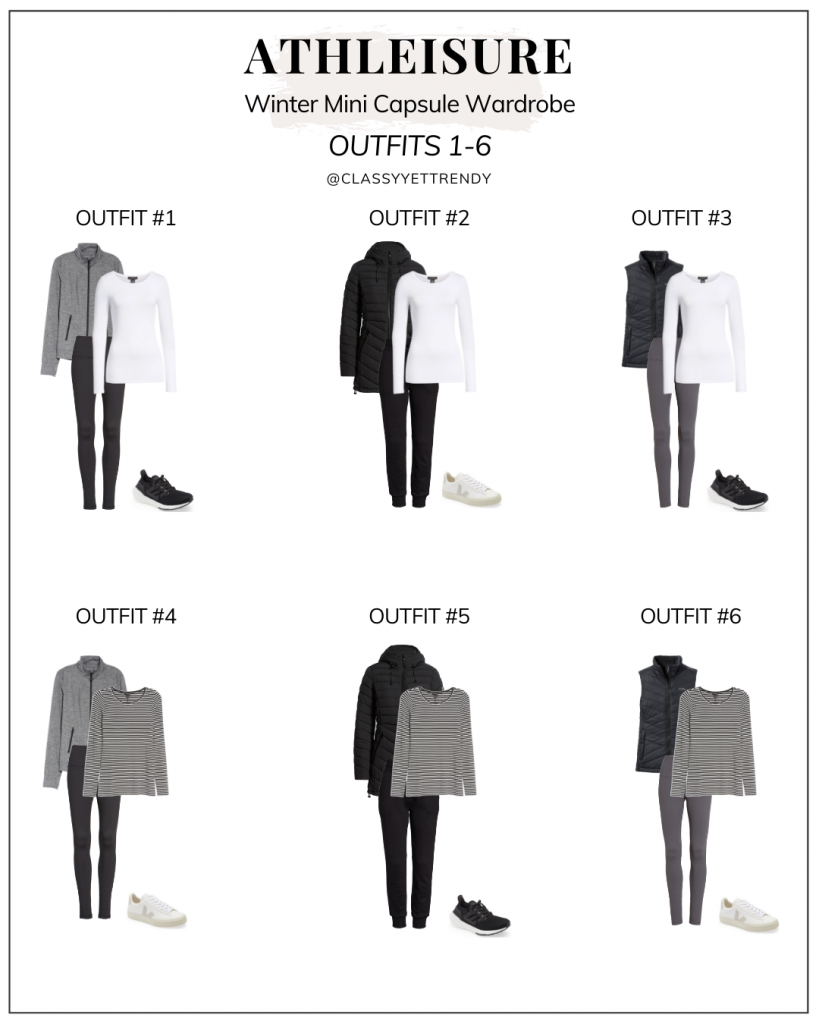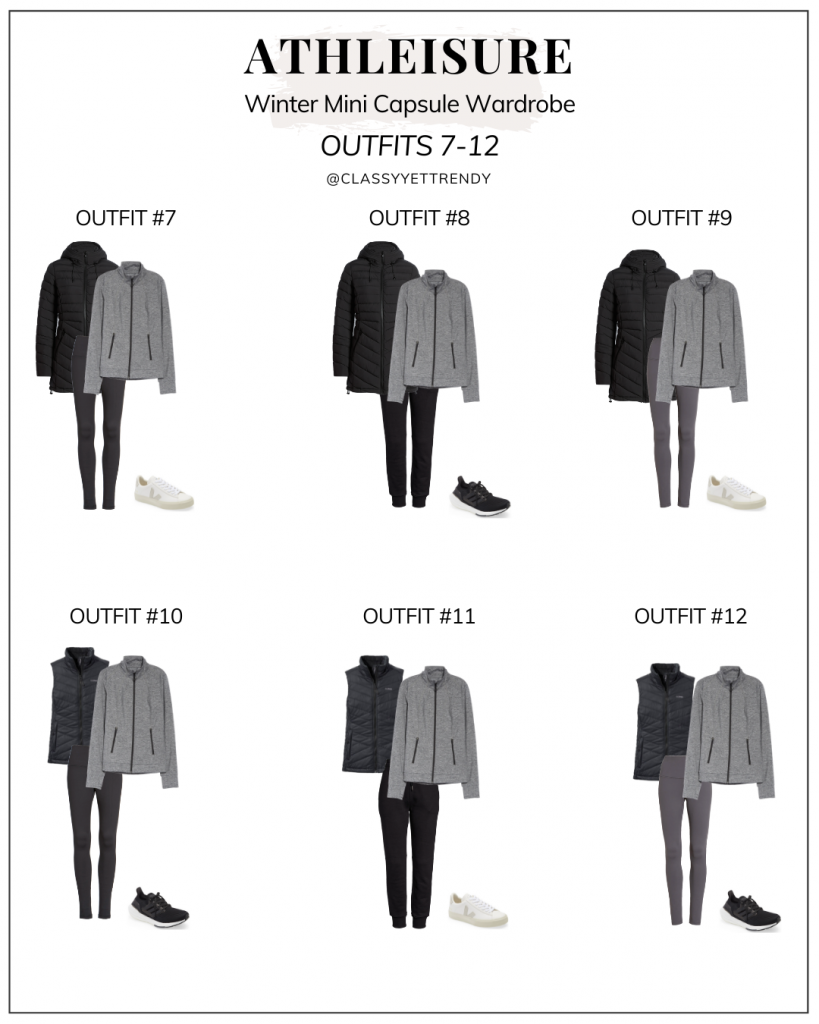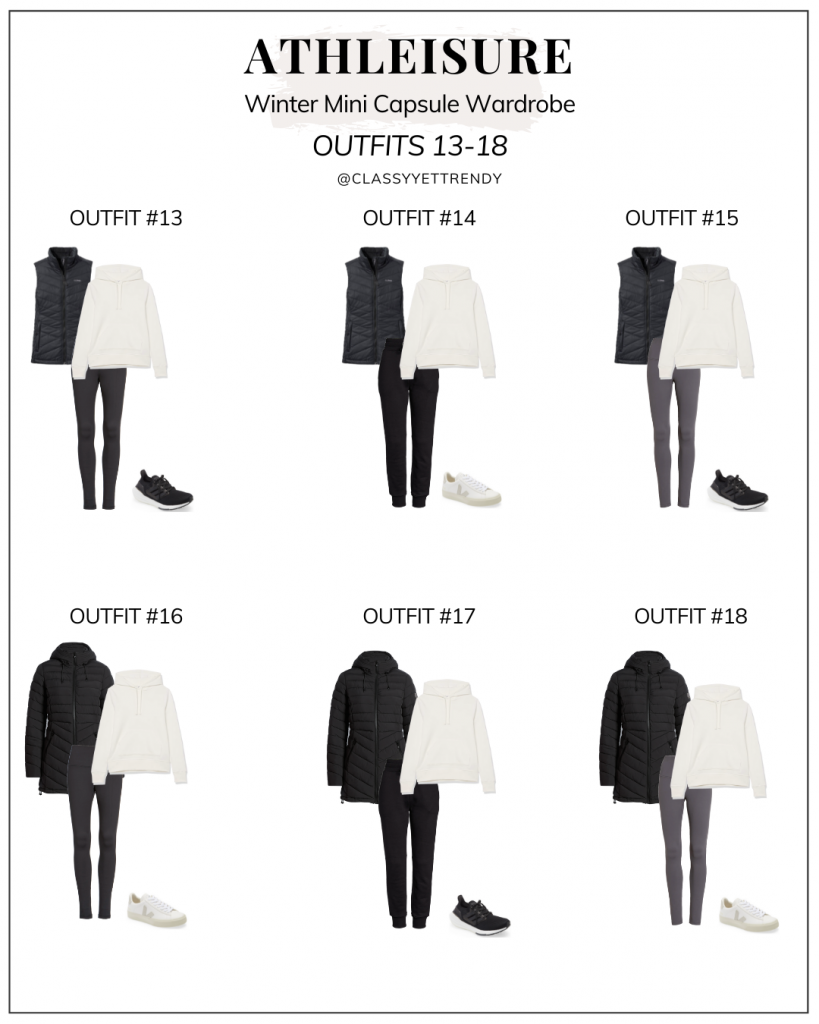 I hope you enjoyed this post!
Thank you for visiting the Classy Yet Trendy blog!
A Bit Of Inspiration For Your Day:
"Be completely humble and gentle; be patient, bearing with one another in love." – Ephesians 4:2