My 25-Piece Coastal-Style Summer 2022 Capsule Wardrobe
See how I created my Coastal Style capsule wardrobe, which includes tops, bottoms and shoes, based on the Coastal Style aesthetic. I'm sharing everything in my own personal capsule wardrobe here in this post.
For those of you that follow the Classy Yet Trendy blog, you know that I have been using a capsule wardrobe in my closet for several years. I absolutely love using a capsule wardrobe every season and by using a capsule wardrobe, I get dressed quickly and easily everyday. A capsule wardrobe is a small set of clothes and shoes, which all mix and match effortlessly with dozens of outfit combinations. Using a capsule wardrobe lets you focus on more important things in your life and takes the stress away from getting dressed.
Being that I work at home daily administering my Classy Yet Trendy website and social media, I wear casual clothes like jeans, casual pants, shorts and casual tops and layers. My job consists of many duties: working at my desk, doing photo sessions of clothes and shoes, moving about creating flatlays for Instagram, etc., so dresses or skirts are not feasible for my work-week lifestyle. On Sundays I wear clothes outside of my capsule wardrobe, since I wear skirts and dresses to church, in addition to wearing outfits from my capsule wardrobe since everyone dresses casual at our church.
Living in Alabama, our Summers are hot and humid. In hot and humid weather, you want to wear cool fabrics that breathe. It's best to wear clothes that are loose and are made of natural fabrics like cotton and linen.
I created my capsule for my closet from the NEW women's Coastal Vibes Summer 2022 Capsule Wardrobe. I included a few clothes and shoes from the Coastal Vibes capsule, some pieces I already had, plus a few extra pieces. I don't live on the coast, but I do live in a river town and enjoy wearing light and airy clothes in the summer. You don't have to live on the coast or near a beach to wear the Coastal Style!
The Coastal Vibes Summer 2022 Capsule Wardrobe is based on the "Coastal Grandmother" #coastalgrandmother style aesthetic. Lex Nicoleta gave this style a name to remember, "Coastal Grandmother". As Lex says, "you don't have to be a grandmother to wear coastal grandmother!" She has several videos all about Coastal Grandmother on her TikTok channel! I'm not exactly sure why she included "grandmother" in the phrase, maybe because the style of soft and flowy clothes are worn typically by older women who live a refined life in the Hamptons. But, anyone can wear this style!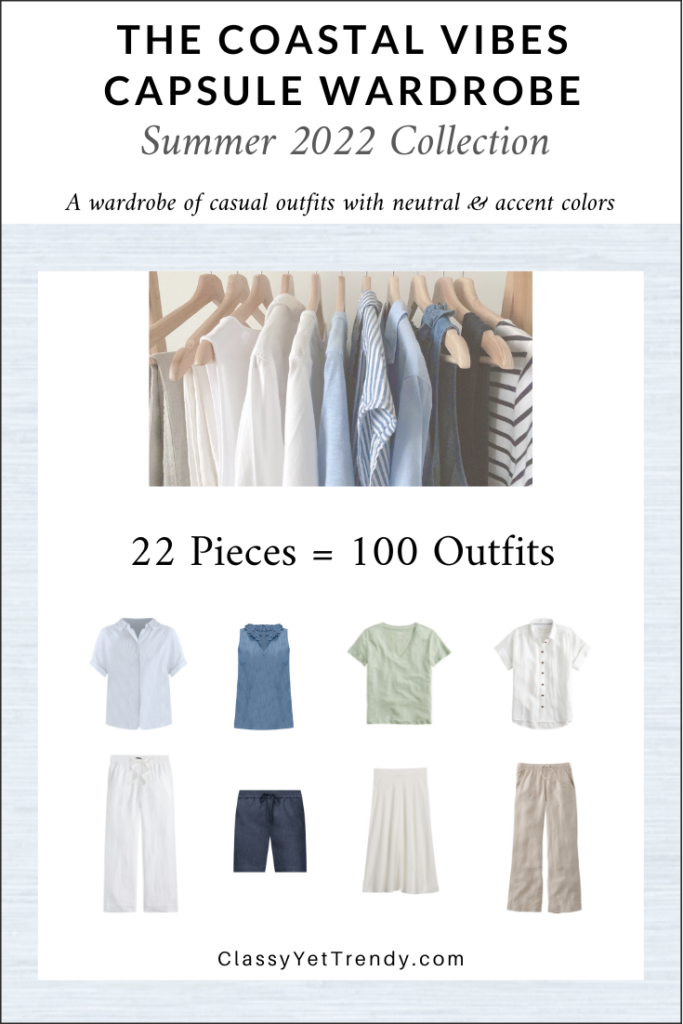 Why I Chose A Navy Base & The Accent Colors
The base color in the Coastal Vibes Summer 2022 Capsule Wardrobe is navy, so I kept navy as the base color. You can use black as the base color by swapping the navy pieces with black ones.
The Coastal Vibes Summer 2022 Capsule Wardrobe includes a few clothes with blue and light green colors, so I also used the same colors.
If you need a complete wardrobe for the season, then you may enjoy using one of my "ready to wear" season capsule wardrobes available in the Capsule Wardrobe eBook Store!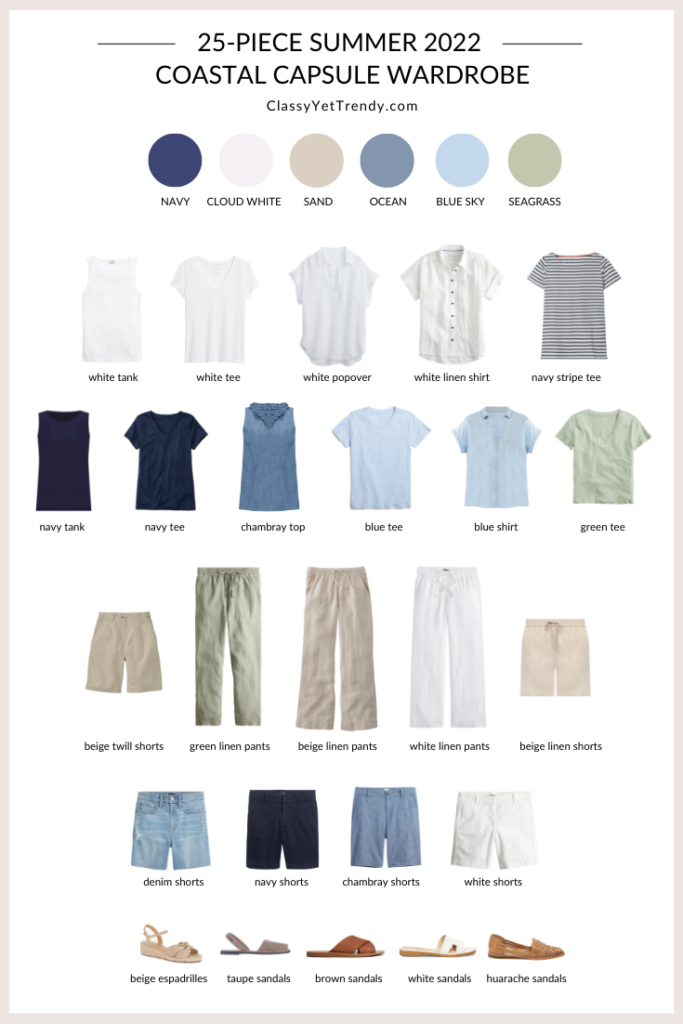 What's In My Own Capsule Wardrobe?
Here's everything in my Coastal-Style Summer 2022 Capsule Wardrobe. I keep my capsule wardrobe on my wardrobe rack (similar) in my Studio Room. I also love using my wood hangers (similar). If you follow me on Instagram (@classyyettrendy), you will see the wardrobe rack behind me when I take my mirror photos. I had kept my capsule wardrobe in our walk-in closet, but I found it is easier for me to access in in my Studio Room when I am working taking photos and posting them on Instagram. That's what's great about using a capsule wardrobe, because you can hang everything on a clothes rack and put it in any room!
For my Summer 2022 capsule, I included 25 tops, bottoms and shoes.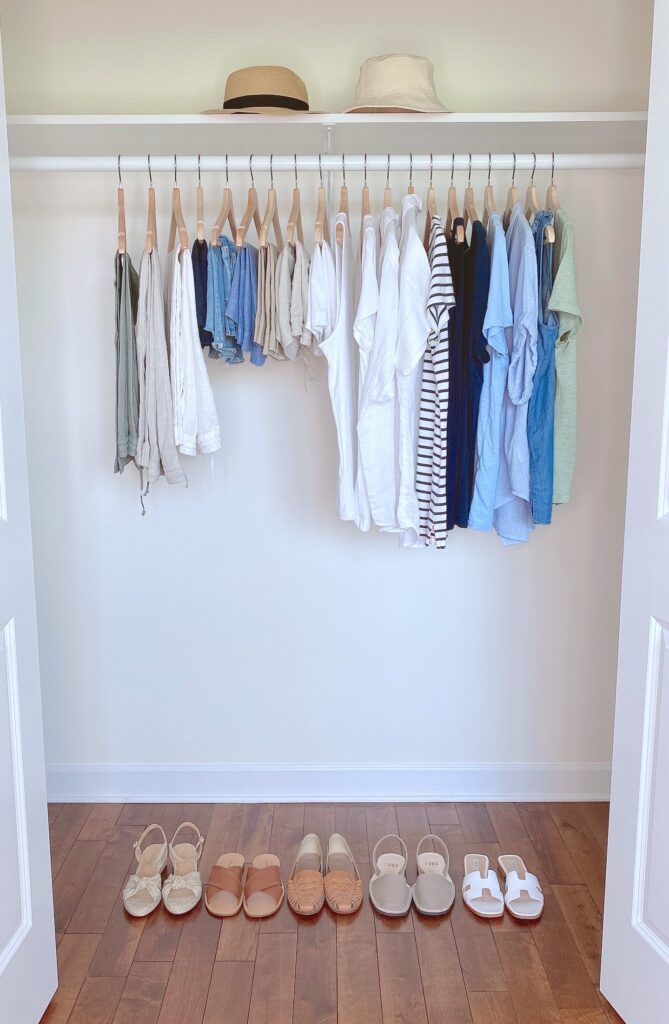 Here is what my capsule wardrobe looks like on my clothes rack in my studio room…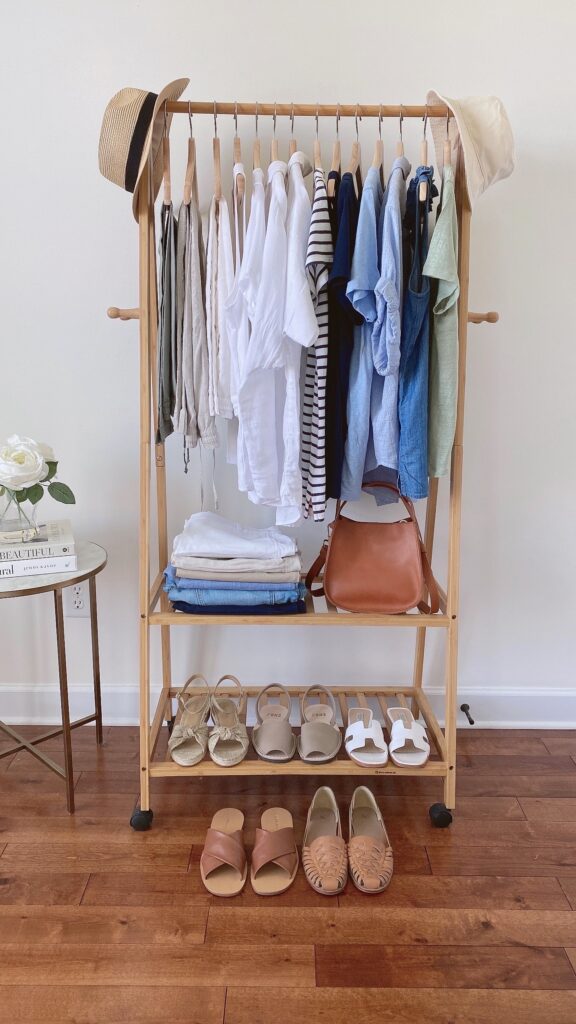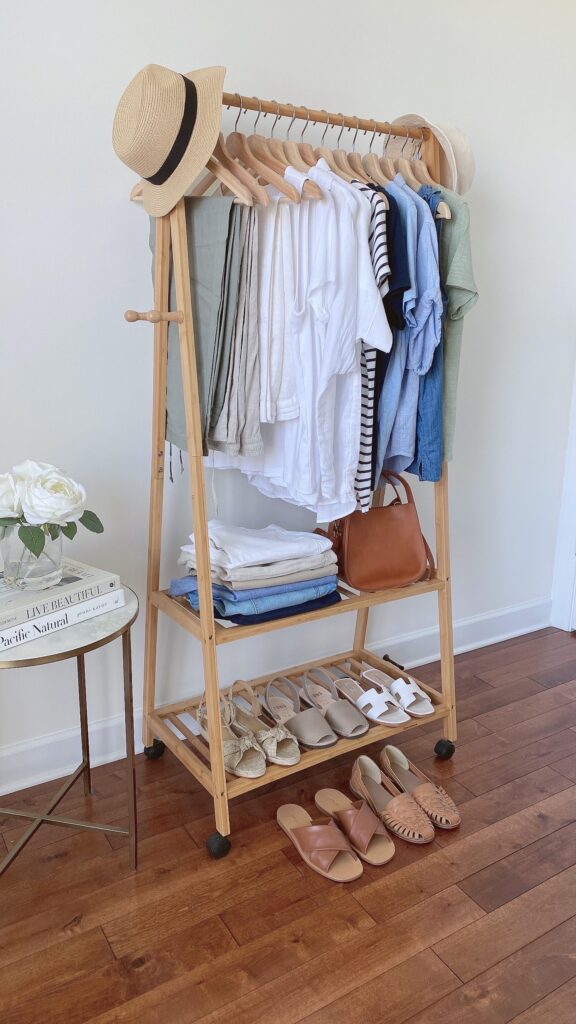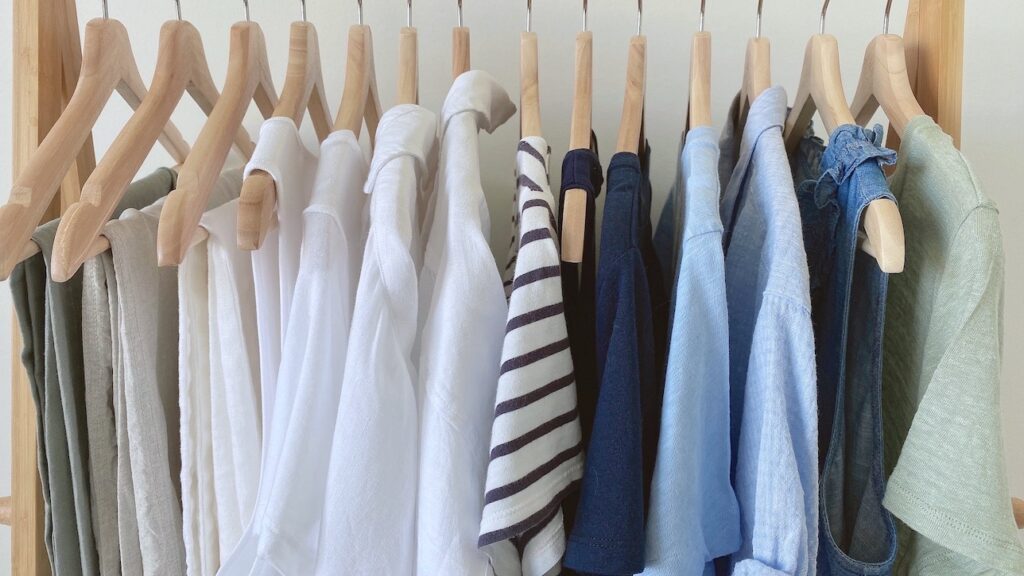 Here is everything in my own Summer 2022 capsule wardrobe, along with shopping links, so you can add it to your wardrobe!
Tops & Layers
You can use similar pieces to mine (shopping links are below) OR you can "shop your closet" and include your favorite pieces from your closet!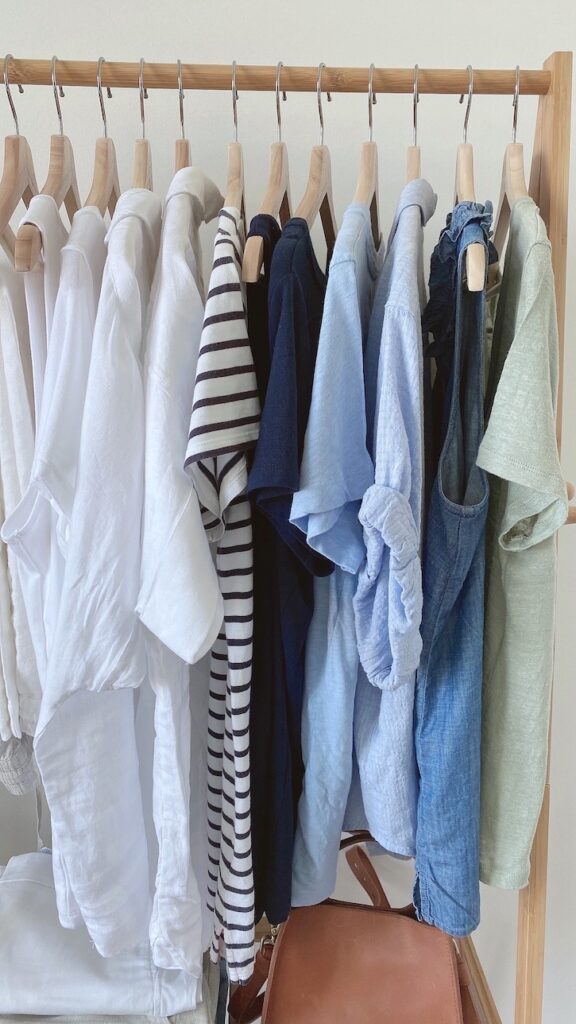 Left To Right:
(I linked "similar" items if any of my exact ones are sold out)
White Tank (similar)
White V-Neck Tee
Grayson Artist Linen Popover Shirt (Get $25 off your order at Grayson.com with code "LEANNEBLACKMON")
Linen Short Sleeve Shirt
Navy Striped Tee
Navy Tank
Navy V-Neck Tee
Blue Tee
Poetry Clothing Blue Shirt / similar blue shirt
Chambray Sleeveless Top
Light Green Tee
Shop The Tops & Layers:



You may also like:
How To Create A Carry-On Capsule Wardrobe (Spring Edition) + Outfits
How To Create a Core Closet
How To Create a Classic Wardrobe
How To Dress Like a French Woman
Bottoms
I have 9 bottoms in my capsule wardrobe. Since I work from home, I wear casual styles.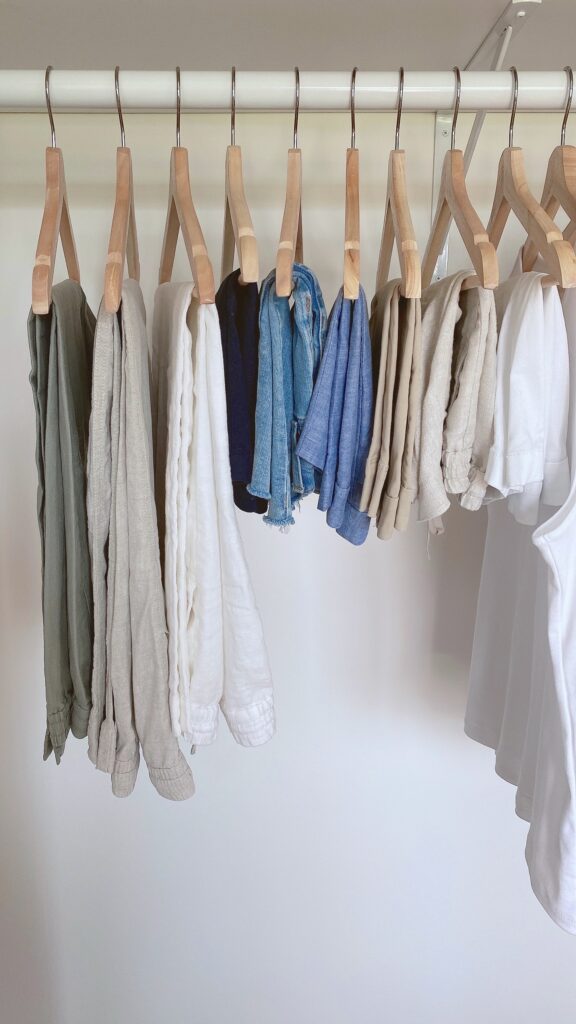 Left To Right:
(I linked "similar" items if any of my exact ones are sold out)

Green Seaside Pants
Flax Linen Pants
White Wide Leg Linen Pants
Navy Chino Shorts
Denim Shorts
Chambray Shorts (similar)
Khaki Chino Shorts (similar)
Beige Linen Shorts
White Chino Shorts

Shop The Bottoms:

Shoes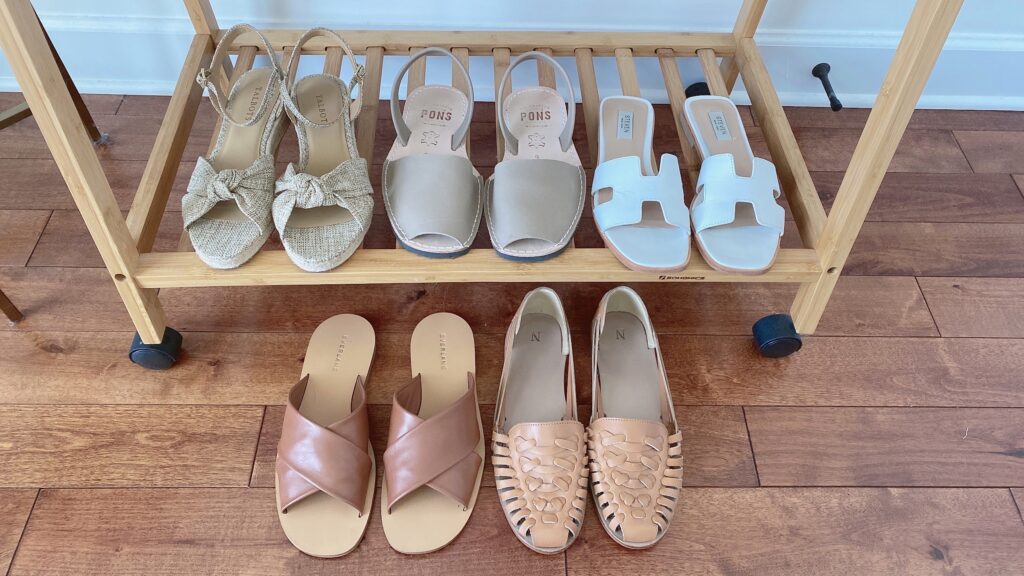 TOP ROW (Left To Right):
Espadrille Wedge Sandals in "Linen"
Strap Sandals in "Taupe"
Slide Sandals in "White"
BOTTOM ROW (Left To Right):
Everlane Crossover Sandals in "Sienna Brown" (get $25 your first order here at Everlane)
Nisolo Huarache Sandals in "almond" color (get $50 off your first order here at Nisolo)

Shop The Shoes:

Accessories
Here are a few bags and accessories I'll be wearing this Summer with my capsule wardrobe. I love Madewell's Sydney Crossbody Bag in the "burnished caramel" color. I bought it a couple of weeks ago and have been carrying it everyday! It's just the right size and has carry handles, plus a crossbody strap to wear either on your shoulder or crossbody style. I also bought Madewell's NEW Transport Tote Straw Edition and I love the texture of this bag! It's a great size to carry with you to the farmers market and shopping, plus you can carry it to the beach!
I bought this Packable Fedora Straw Hat last year and loved wearing it and I was happy to see this Canvas Bucket Hat so I can change up my hats when I am outside!

I'll be sharing outfits I wear from this capsule on my Instagram @classyyettrendy!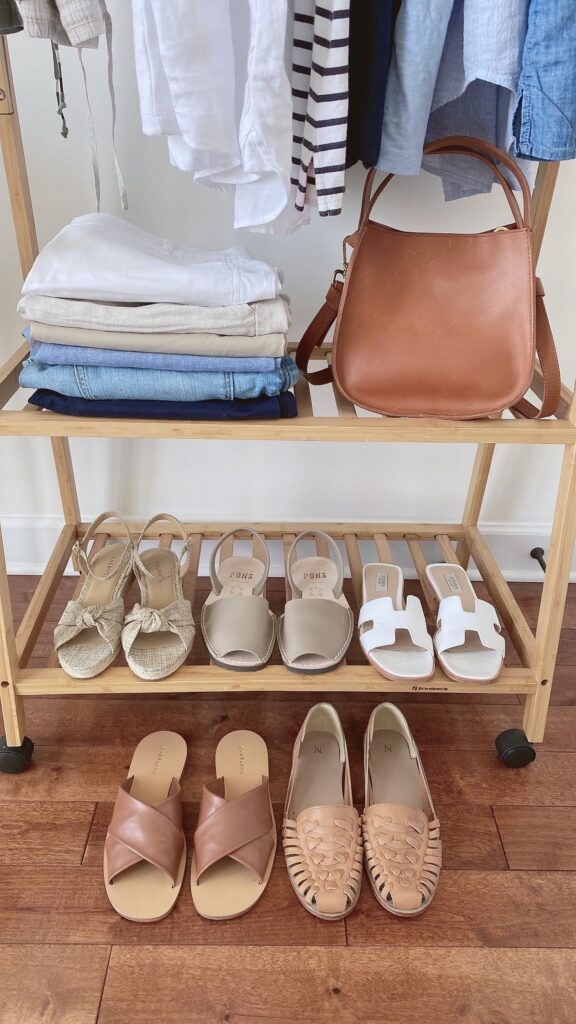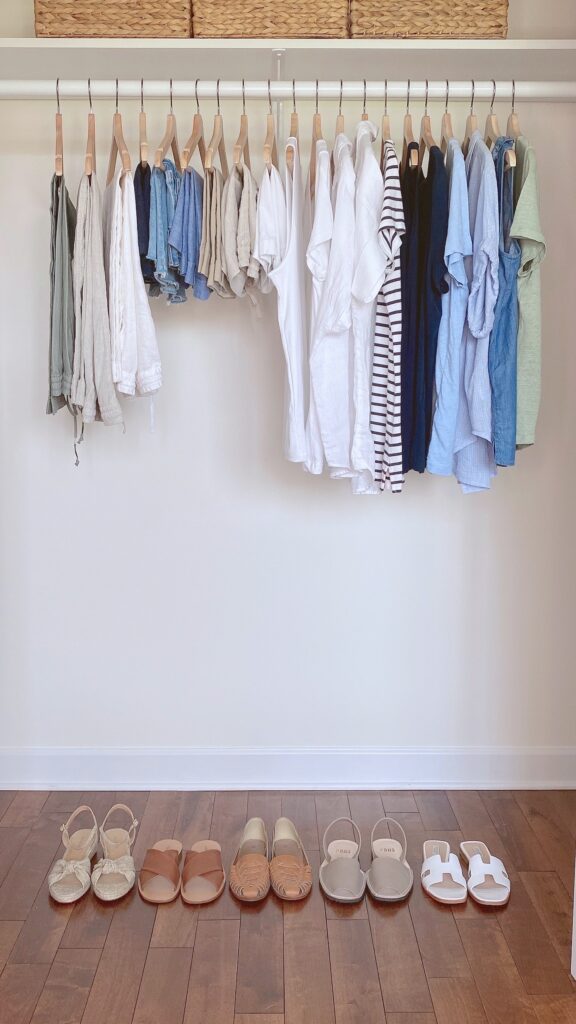 A Bit Of Inspiration For Your Day:
"For we are God's handiwork, created in Christ Jesus to do good works, which God prepared in advance for us to do." – Ephesians 2:10