ABLE Jewelry Insider Sale 25% Off: Jewelry For Your Capsule Wardrobe
If you use a capsule wardrobe, you know how important your basic essentials are in creating an outfit. Without those basic essentials your outfit would not have balance and wouldn't look complete. Adding jewelry completes your outfits and adds texture and a bit of color.
ABLE is having an insider's jewelry sale where you can receive 25% off non-personalized jewelry in your order by entering the code HANDMADE at checkout (sale runs July 19-July 20). This code is only offered by ABLE affiliates (like me!) and their newsletter subscribers. Be sure to sign up for their newsletter at the bottom of ableclothing.com! Plus, you can also receive $15 off orders of $75+ with code SUMMERDAYS!
(If you see this post after the sale has ended, you can use my link to receive 20% off on your first order HERE.)
ABLE's jewelry is all handmade in Nashville, Tennessee. It is one of the ways they employ women as they seek to end generational poverty. Since their jewelry is not mass produced, like retail stores, their pieces are unique and are designed to be ones you can wear everyday. Also, all ABLE's products are ethically and sustainably made!
I will be taking advantage of this special sale and will order a few pieces of jewelry, especially a ring or two! What I like about their jewelry is their 14k gold fill pieces do not delaminate, peel, or rub off like plated or dipped products. ABLE also has gold plated, brass and sterling silver pieces, so you can have a variety of pieces in your jewelry collection and price range options.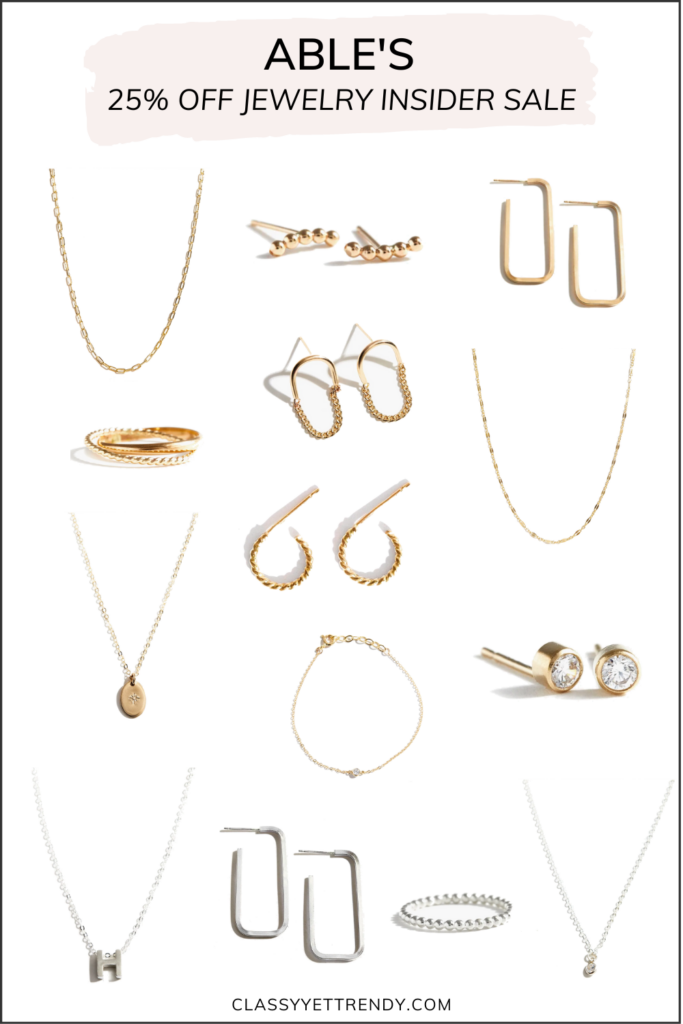 Shop The Post:
Essential Chain Necklace
Caesar Stud Earrings
Bali Gold Hoop Earrings
Arc Chain Earrings
Virgil Ring
Metal Link Choker (extend the length with the 2″ extender!)
Milani Rope Hoop Earrings
Dainty Oval Necklace
Stella Bracelet
Lux Petite Studs
Letter Necklace
Bali Silver Hoop Earrings
Caesar Ring
Stella Drop Necklace
Thank you for visiting the blog!
A Bit Of Inspiration For Your Day:
"Look to the Lord and his strength; seek his face always." – 1 Chronicles 16:11