Barbour Beadnell Quilted Jacket Review & Buyer's Guide
Thank you to Nordstrom and LTK for sponsoring this post. As always, all opinions are my own.
Every woman should have a classic and timeless jacket that they can wear several times a year. I have found the ideal jacket, the Barbour Beadnell Quilted Jacket, and I'm sharing my review of it in this post. This jacket is an equestrian-style with beautiful quilting. It includes several features, most notably both a zipper closer and a snap closure and a fleece lining to keep you warm. In my opinion, the Barbour Beadnell Quilted Jacket is the ideal utility jacket!
Barbour has been around for many years. It is a British luxury and lifestyle brand and was founded by John Barbour in 1894 in the United Kingdom. Barbour manufactures and markets outerwear, footwear, clothing and accessories. You can find many Barbour items for women, men, kids and home at Nordstrom. A couple of weeks ago when I wanted to add a Barbour jacket to my closet, so I first checked Nordstrom and was happy to see they had an array of Barbour jackets to choose from! I did not hesitate to order my jacket from Nordstrom, because of their superior customer service, accurate sizing and product information and quick shipping.
Nordstrom carries many brands, so it is convenient to shop online for whatever you are looking for. The brands I'm wearing in this post are Barbour, Wit & Wisdom, Naturalizer and the Nordstrom-exclusive brand. It's easy to order online and have your order shipped to you for free, plus if anything doesn't fit, they offer free returns. Nordstrom also has their own exclusive, "Nordstrom Made" brands that you won't find anywhere else, like Caslon, Zella, Treasure & Bond, Halogen and more!
For size reference, my height is 5'9″ and I weigh approximately 165 lbs. For tops, I typically wear a size Medium (10) or Large (12), depending on the brand and fit of the top (for slim-fit, I usually wear a Large). For bottoms, my normal size is a 10 OR a 30/31 waist, a 10-inch high rise fits my waist the best and a 28 inch inseam falls right at my ankle. My shoe size is 9 medium or 40EU.
Nordstrom has so many Barbour jackets to choose from that I had trouble deciding which one to get. I saw the Barbour Beadnell Quilted Jacket and the Barbour Beadnell Waxed Cotton Jacket and decided to get the Beadnell Quilted Jacket because of the fleece lining and quilted style. Both jackets are classic designs that will always be in style.
There were several colors to choose from, but I chose Navy since it will coordinate well with many clothes and shoes in my closet. I'm wearing a size 10 in the jacket and it is a perfect fit! It is loose enough that I can wear this Barbour Fairbarn Mix Stitch Funnel Neck Cotton Sweater underneath comfortably.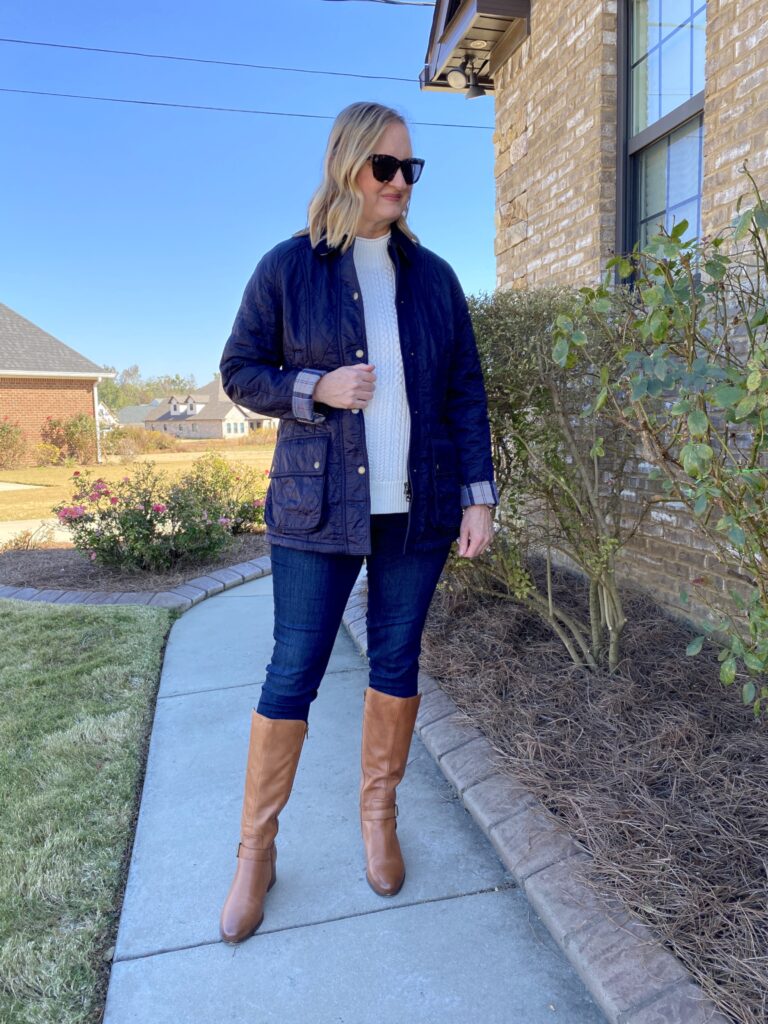 What I'm Wearing:
Barbour Beadnell Quilted Jacket in "Navy"
Barbour Fairbarn Mix Stitch Funnel Neck Cotton Sweater
Wit & Wisdom Jeggings in "Dark Navy"
Naturalizer Tall Brown Boots (similar) / also love these boots!
Nordstrom Gold CZ Stud Earrings
Features Of The Jacket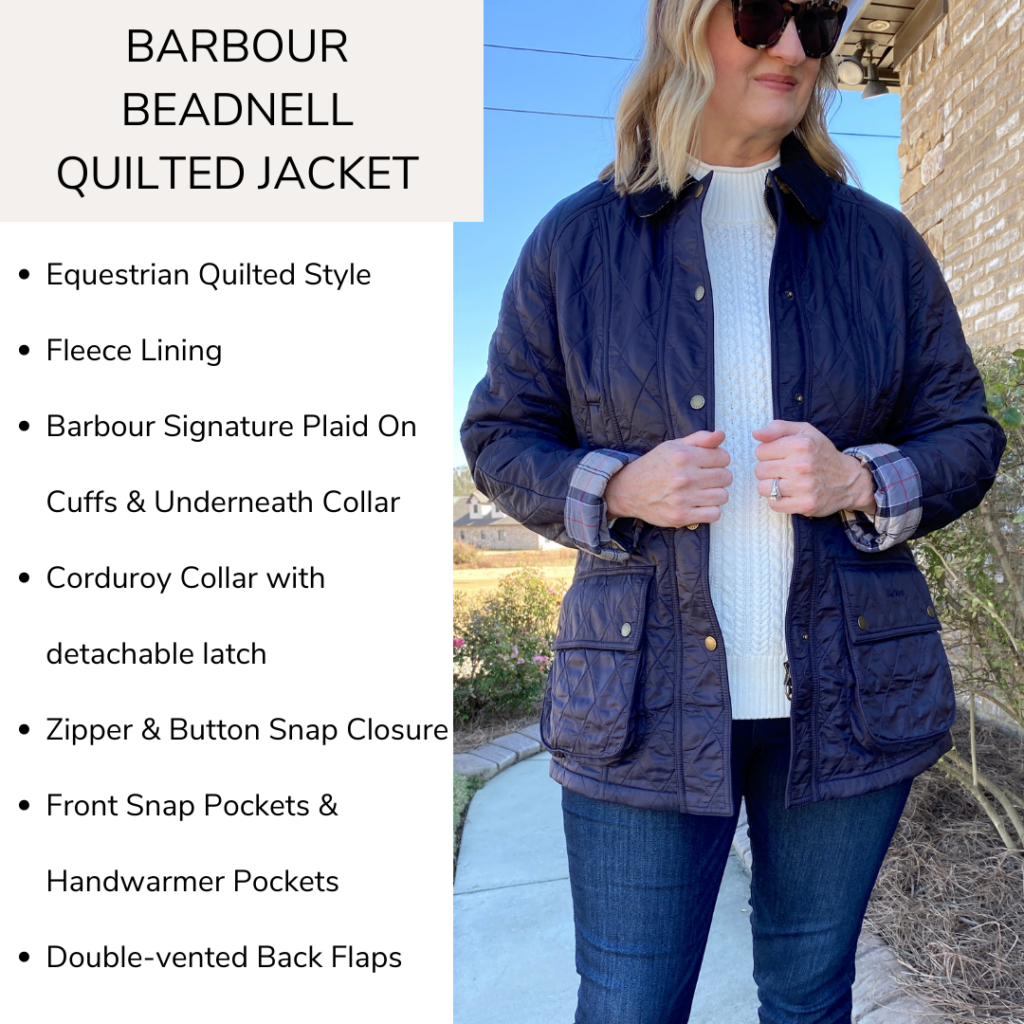 More Barbour Jackets, Coats & Vests: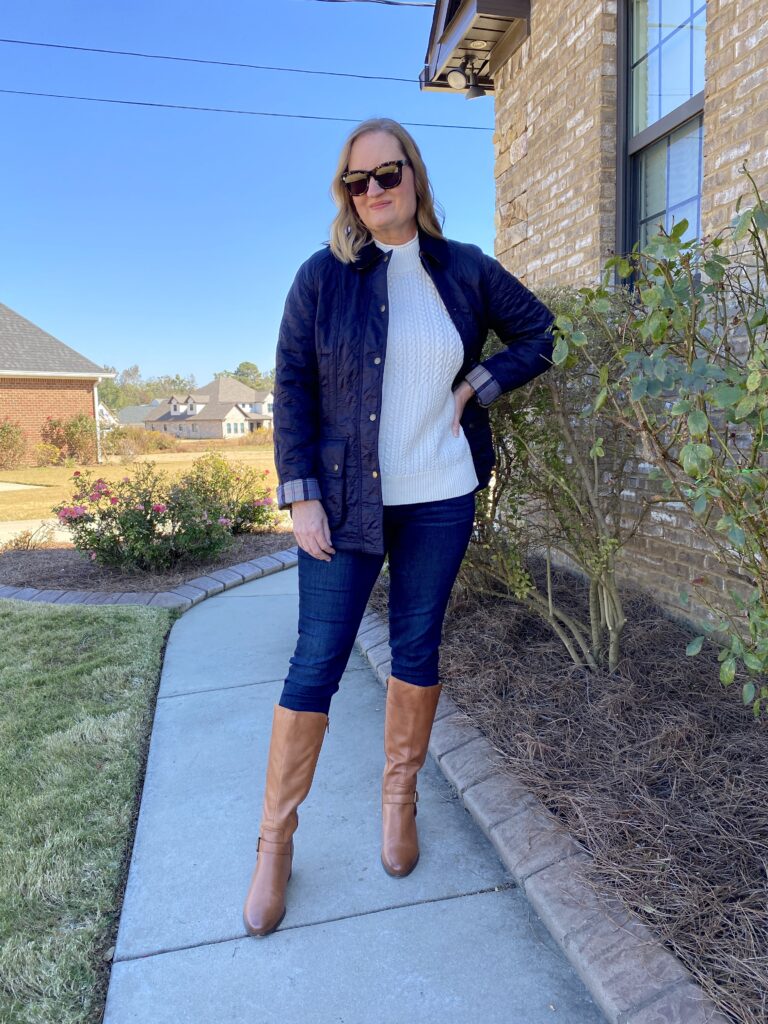 Sizing and Fit
Sizing: When you are shopping for clothes and shoes at Nordstrom online, they usually will include sizing information on the product pages. When you click on the "Size" box to choose your size, there will be helpful sizing notes, like "runs true to size", "runs small, size up", etc. This is especially helpful when choosing your size! I always pay attention to this when I am ordering from Nordstrom and it is usually accurate! I usually wear a size 10 in tops, so when I was choosing a size in this Barbour Beadnell Quilted Jacket, I went by the sizing information on the product page. Even though sizes 10 and up run larger, I decided that a size 10 would be ideal to wear both regular tops and sweaters.
Fit: I love how this jacket fits! It has a feminine shape so it tapers in slightly at the waist. Because it is a thicker jacket with the fleece lining, it is surprisingly lightweight. The length falls just past my hips, so it looks great with all shirts, tops and sweaters. The arms a good length too; the arm length with the sleeves unrolled falls past my wrists at the top of my hands.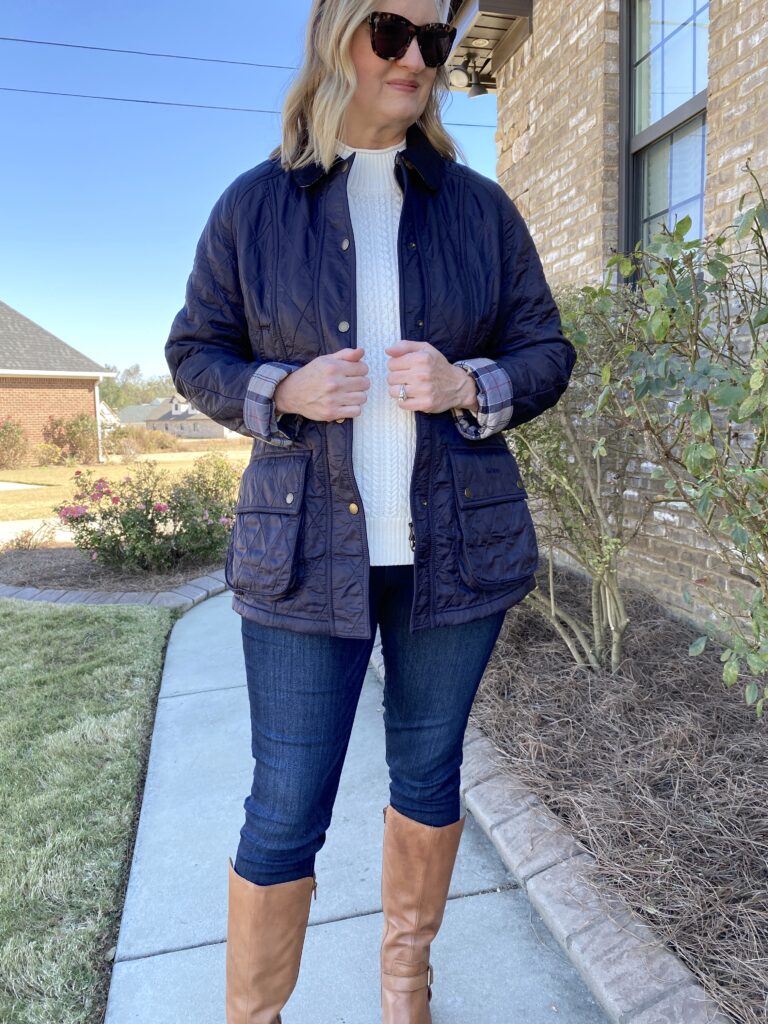 Fleece Lining
The Barbour Beadnell Quilted Jacket includes a fleece lining that helps keep you warm. This is where this jacket is a step above a regular utility jacket, because most utility jackets are unlined. See the photo below for a view of the fleece lining.
What climates are suited best for this jacket? This jacket is ideal for Fall and Spring seasons. The fleece lining is suited for cool weather and repels the wind, keeping you warm. I live in Alabama, where our temps in the Fall fluctuate between cool and slightly warm. I have worn this jacket a few times in the last couple of weeks since I bought it and it does well at keeping me warm during our cool Fall nights. Our Winters here in Alabama are cold, but not frigid, but can be windy, so I will be wearing this jacket in the Winter also. If you live in an area of the U.S. where your Fall season is cold and your Winters are frigid, this jacket may work best for you in the Fall and Spring. If you live warm climates in the U.S. like Florida, where you have cool, but not cold, Winters, this jacket may work for you.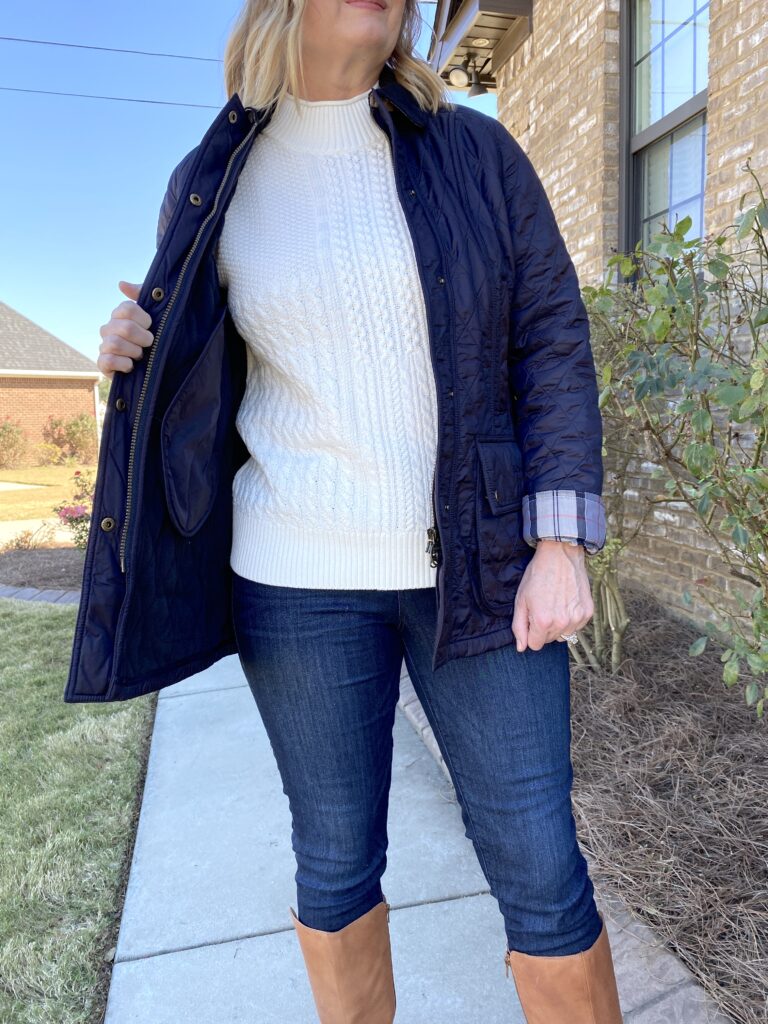 Pockets And Closures
The Barbour Beadnell Quilted Jacket includes two sets of pockets! There are the snap closure front pockets which are big enough to hold your phone and wallet in case you don't want to carry a purse. And, there is also a set of hand-warmer pockets above the snap closure pockets.
There are two closures on this jacket: a zipper and snaps. Use the zip front to quickly close your jacket and you can snap-shut the storm flap to seal out the cold weather.
This jacket also includes a double-vented rear snap-close flaps toward the hem on the back of the jacket. You can leave it unsnapped for ease of movement.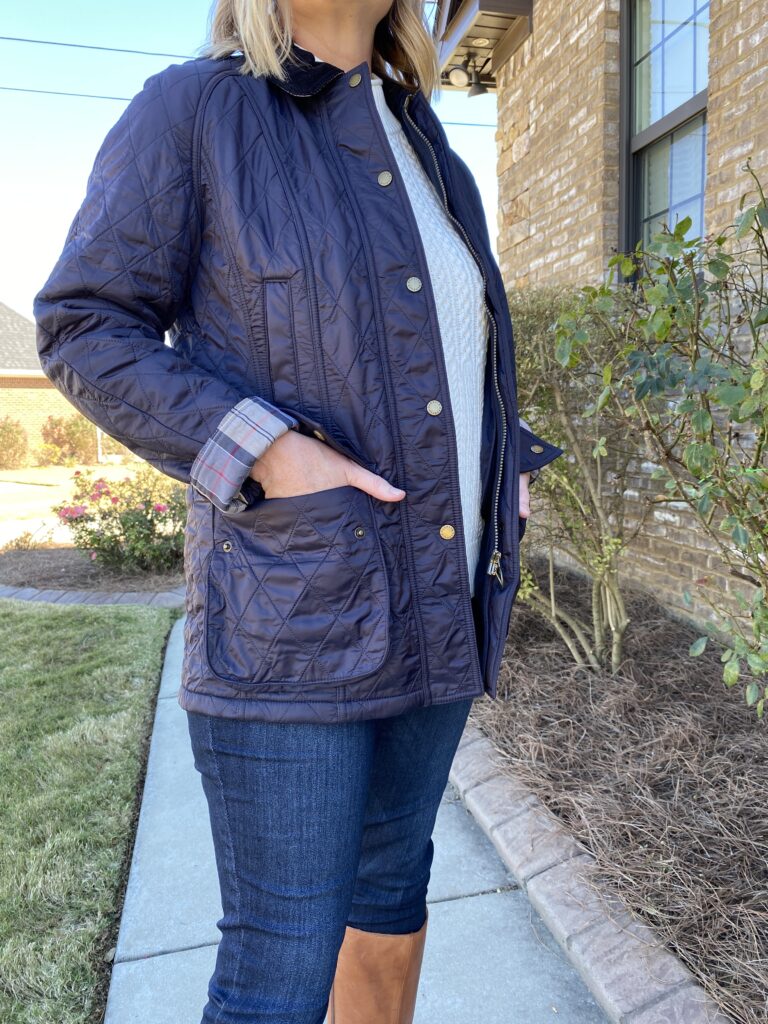 Throat Latch Collar
The corduroy collar with detachable throat latch keeps your neck warm, which is especially good when it is windy outside. The throat latch is a detachable piece that stays snapped on one side of the collar. To use the throat latch, just stand up the corduroy collar and snap to the other side of the collar, so that your neck is protected from the wind and cold weather. See the photo below of the throat latch piece attached to the collar.
There is Barbour's signature plaid pattern material underneath the ends of the arms. You can roll up the ends to show the beautiful pattern or leave the ends unrolled when the weather is cold.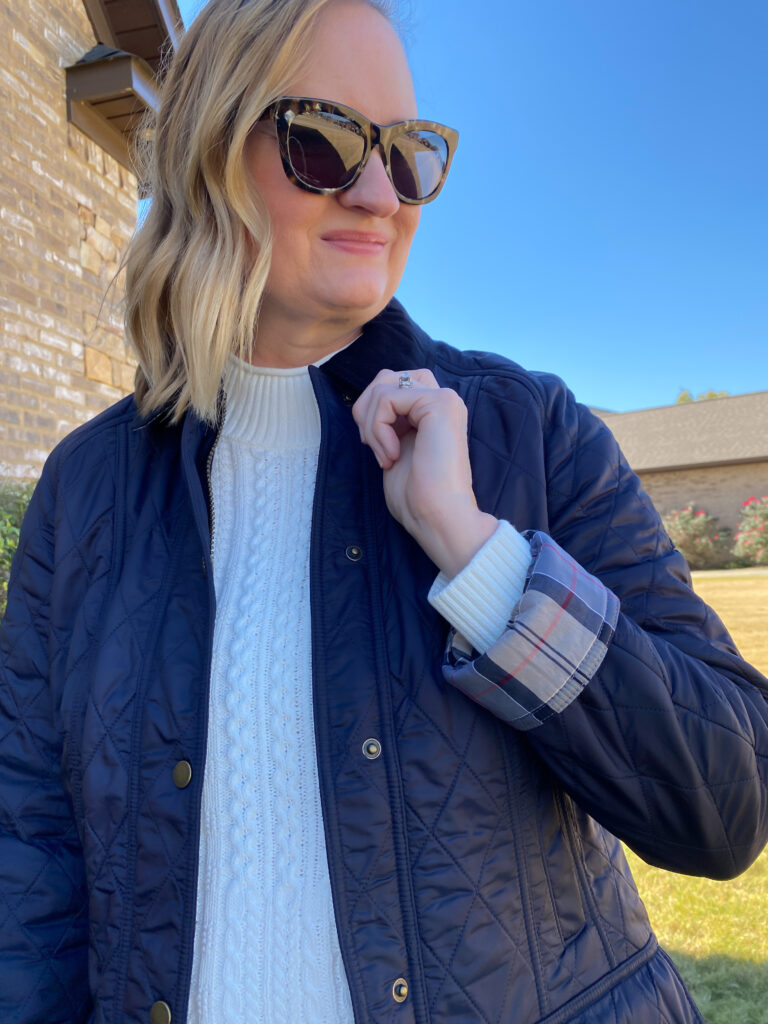 Jacket Colors
The Barbour Beadnell Quilted Jacket comes in several colors! I'm wearing the "Navy" color, but it is also made in Black, Windsor/Brown and Olive. I chose the navy color out of personal preference to coordinate with my wardrobe. Even though I love to wear black, I also wear blue denim, so the navy is versatile for my closet. The Black color in this jacket would also be lovely and the Windsor/Brown or Olive colors would be beautiful to add a bit of color to your outfits.
How It Differs From The Beadnell Waxed Cotton Jacket
Both jackets are very similar but the waxed exterior and lining makes the Beadnell Waxed Cotton Jacket different from the quilted jacket. The Waxed Cotton Jacket is waterproof making it great to wear on rainy days. Barbour recommends rewaxing your jacket every year, but it really depends on how often you wear it. I know some women who have this jacket for a few years and have never had to rewax it. If you need the jacket rewaxed, you can either send it to Barbour to have it professionally rewaxed or you can rewax it yourself using the Barbour Wax Thornproof Dressing. The waxed jacket has a cotton lining to wear in mild temps.
While the Barbour Beadnell Quilted Jacket is not waterproof, it is washable, which is a plus in keeping this jacket clean. The fleece lining on this quilted jacket will keep you warm in cold temps.
Other Items I'm Wearing
When I ordered the jacket, I also ordered this Barbour Fairbarn Mix Stitch Funnel Neck Cotton Sweater in a size Medium. As I was scrolling through all the Barbour items on Nordstrom's site, this sweater caught my eye. I had been looking for an ivory cable sweater for some time. The cable design on this sweater is lovely and it has a roll mock neck which will be warm this Fall and on into the Winter. The sweater is made of all cotton and is so soft!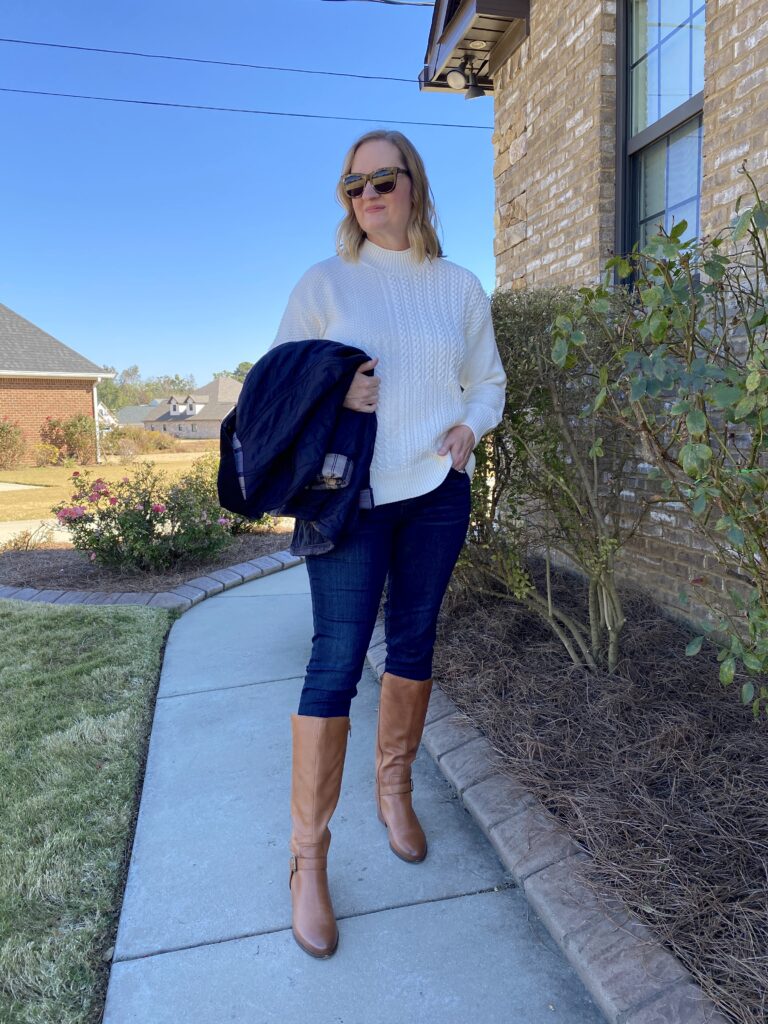 More Sweaters at Nordstrom:

I'm also wearing these Wit & Wisdom Jeggings in "Dark Navy", which are also in my own Fall capsule wardrobe. These jeans are a skinny jeans style but with softness and stretch of a legging. I like that they have a cotton/rayon/polyester/spandex material mix so they have stretch but keep their shape all day. I personally don't like the stiff and thick all-cotton jeans that are popular right now. I prefer jeans with soft denim material and stretch as they help conceal any extra fluffiness we women may have in our mid-section! Several of the Wit & Wisdom jeans and pants include an 'Ab'solution design, which "flatters with powermesh panels to mold and hold, including a waistband with interior control and booty-lift construction."
More Wit & Wisdom Jeans:

My boots are the Naturalizer brand that I bought from Nordstrom last year. These Naturalizer Rena Boots are beautiful and very similar. These Lifestride Bristol Riding Boots are lovely and these Sam Edelman Drina Boots are absolutely gorgeous in all colors! A couple of readers emailed me asking if tall boots are still in style. Tall boots in classic styles are always in style. While they are not as trending as ankle boots, tall boots elongates your legs and look great over skinny jeans and with dresses. Boot cut jeans have gained popularity this Fall and are a perfect match with tall boots, especially those with a heel.
More Tall Boots: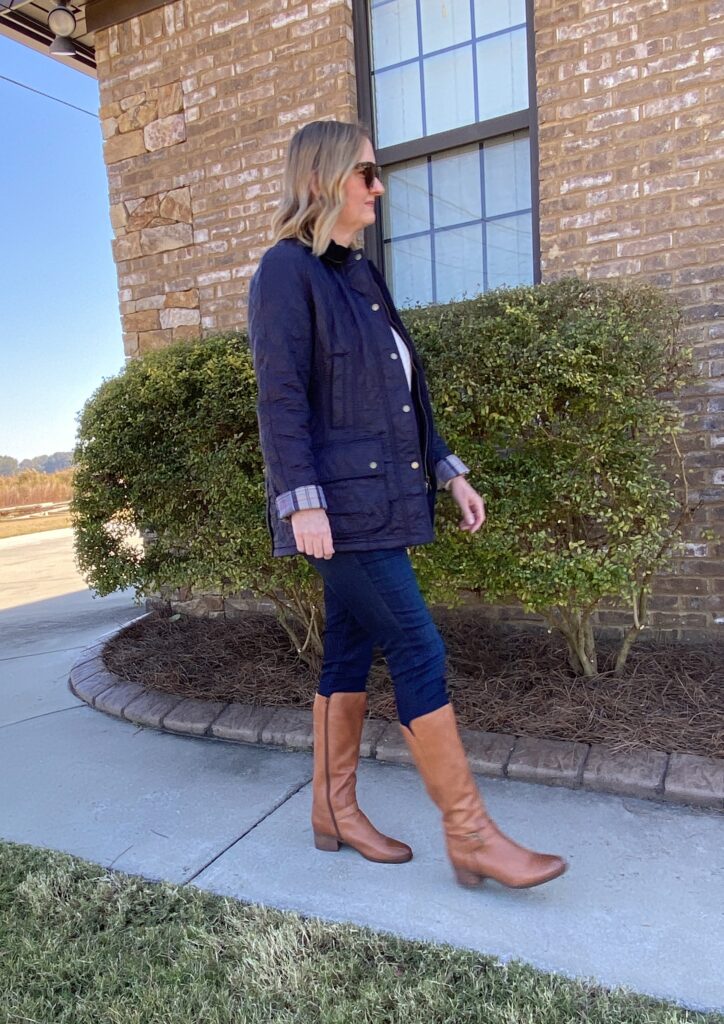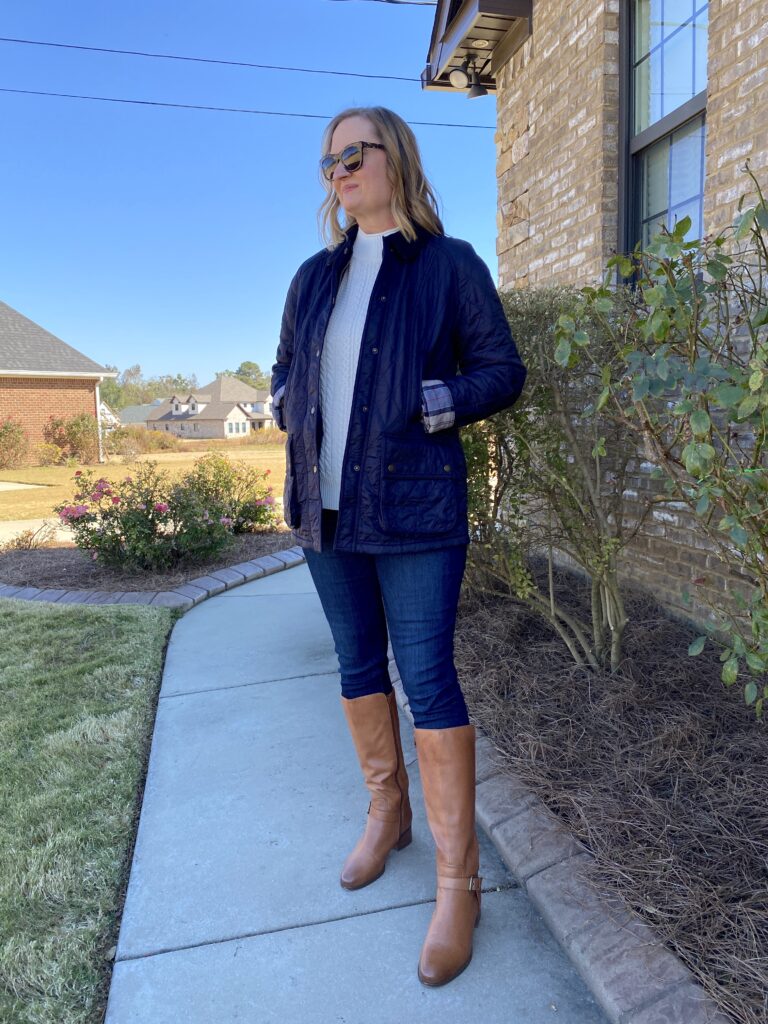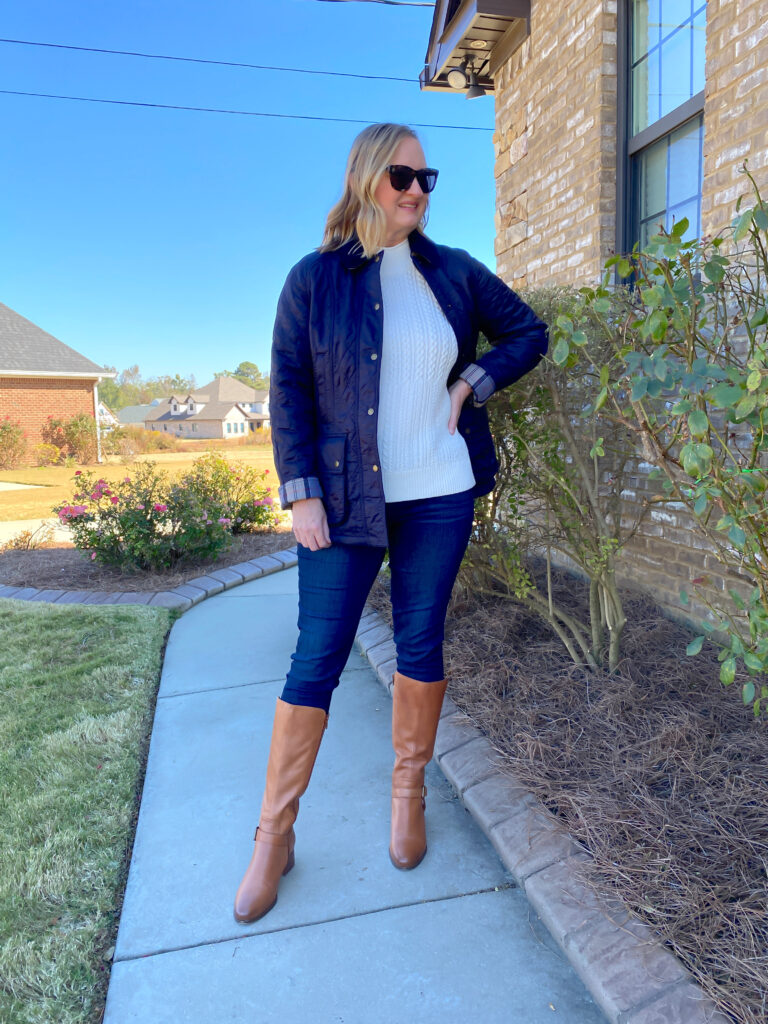 A Bit Of Inspiration For Your Day:
"Jesus answered, 'I am the way and the truth and the life. No one comes to the Father except through me.'" – John 14:6