Two Ways To Style A Fair Isle Sweater
Thank you to Talbots and LTK for sponsoring this post. As always, all opinions are my own.
Do you have a fair isle sweater in your closet? I found this Tweed Fair Isle Crewneck Sweater on the New Arrivals page at Talbots and it is absolutely gorgeous! In this post, I'm showing two ways to style this sweater, using the same pieces, but styled in different ways. Everything in this outfit is from Talbots, so you can shop everything at one store!
Talbots has been providing clothing for women for 75 years and is an original New England lifestyle brand. I personally love shopping at Talbots since they have timeless and classic styles with a modern design. I think it is great that they are size-inclusive offering sizes in misses, plus and petite. Talbots styles are for women of many ages and they have both dressy and casual styles. Be sure to follow Talbots on Instagram and Talbots on Facebook for their latest styles!
For size reference, my height is 5'9″ and I weigh approximately 165 lbs. For tops, I typically wear a size Medium (10) or Large (12), depending on the brand and fit of the top (for slim-fit, I usually wear a Large). For bottoms, my normal size is a 10 OR a 30/31 waist, a 10-inch high rise fits my waist the best and a 28 inch inseam falls right at my ankle. My shoe size is 9 medium or 40EU.
The Fair Isle Sweater
Fair Isle sweater designs have been around for many years. What is fair isle? Fair isle pattern is a traditional design named after one of the Shetland islands of the same name. The design became popular when the Prince of Wales (later Edward VIII) wore it in public in 1921. It is made with a traditional knitting technique to create bands of geometric figures with multiple colors (sources: 1 & 2)
The fair isle pattern on this Tweed Fair Isle Crewneck Sweater from Talbots is beautiful. It fits true to size; I'm wearing my usual size Medium. The colors in the sweater reflect the Fall season, from the dark olive green in the sweater to the fair isle pattern of orange, blue, burgundy and salmon colors. This sweater is oh SO soft being that the material is a cotton/acrylic/polyester blend. The ribbed crew neck is wide enough to layer a shirt underneath comfortably. The length is just right and falls right at my hips.
I'm excited to add this sweater to my closet and can't wait to all the Fall events, like a Fall festival, pumpkin patch, apple picking and even Thanksgiving!
Outfit #1 – Sweater Styled As A Layer
In this outfit, I layered the Tweed Fair Isle Crewneck Sweater (true to size; size Medium) over the Button Front Denim Shirt, which is a lightweight chambray-style shirt (true to size; size Medium) in a gorgeous blue color. I added these Slim Ankle Jeans in "natural" (true to size; size 10) to provide some contrast to the outfit. To complete the outfit, I'm wearing these Francesca Suede Driving Flats in "nutmeg" (true to size; size 9).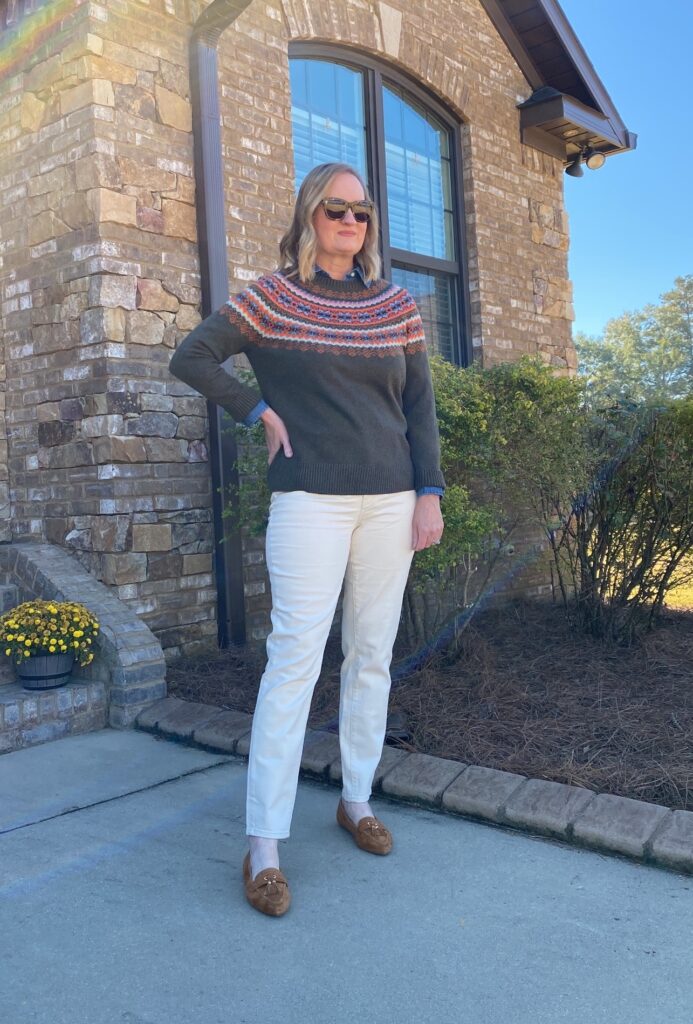 Shop the Outfit: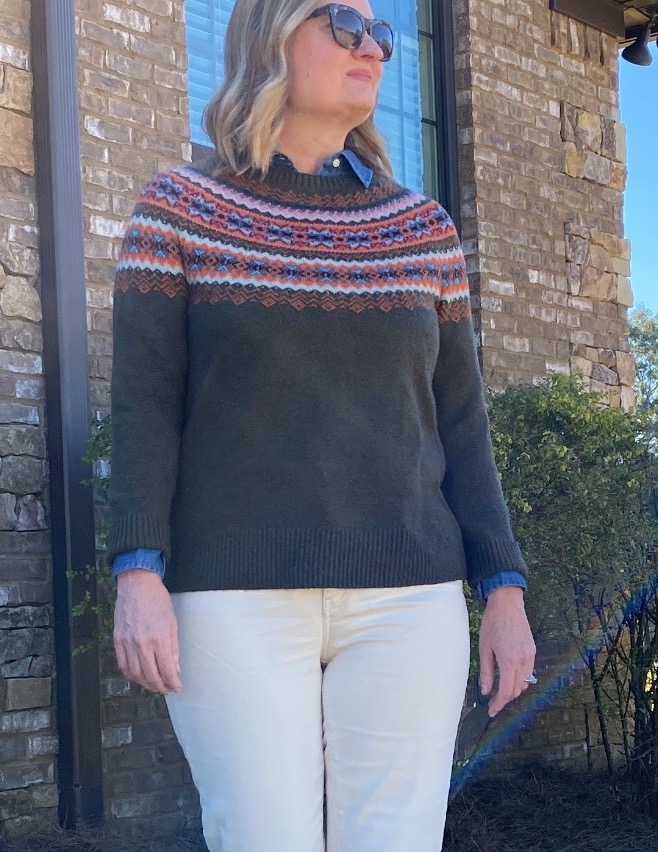 These Slim Ankle Jeans in "natural" (true to size; size 10) are beautiful in person and are a wardrobe staple. If you want to change up your jeans to something other than blue or black, but don't want to wear white, cream color jeans look great in the Fall and Winter months! Since they are a neutral color, they coordinate well with so many tops in your closet. The material is mostly cotton with a touch of spandex so they stretch slightly and move with you. I can't wait to wear these more this Fall and Winter, and even into the Spring season!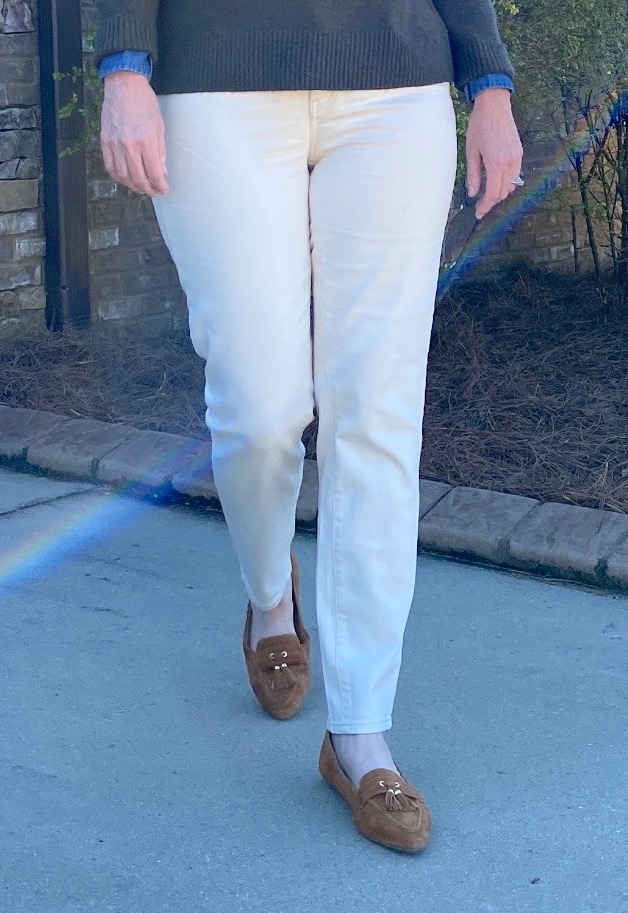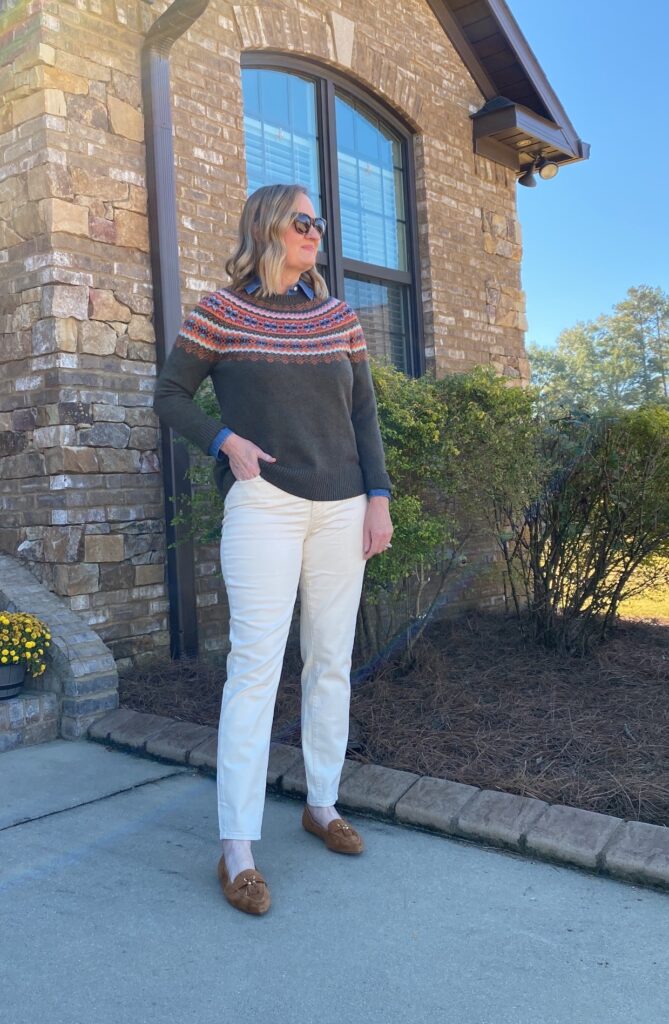 Outfit #2 – Sweater As An Accessory
For the second look, I'm wearing the Button Front Denim Shirt untucked casually and the Tweed Fair Isle Crewneck Sweater as an accessory, draped across my shoulders. In this outfit, you see the primarily see the denim shirt and the sweater acts as an accessory, providing a bit of color contrast to the shirt. I'm also wearing the Slim Ankle Jeans in "natural" and the Francesca Suede Driving Flats in "nutmeg".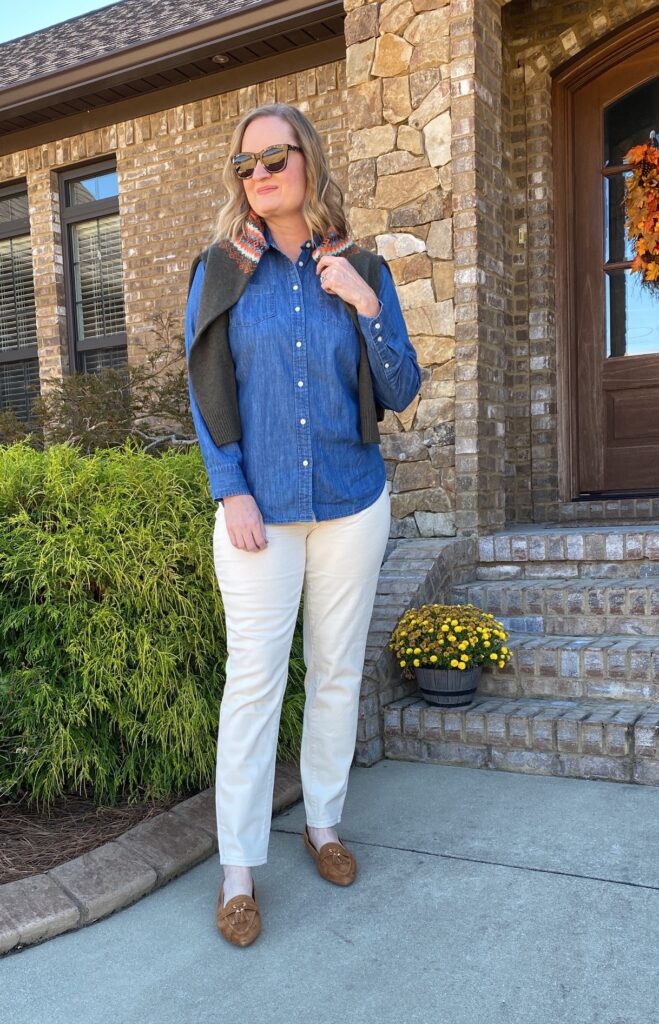 I love the darker wash of the Button Front Denim Shirt. It is so soft and the material is breathable (which is ideal for wearing underneath sweaters), being of 100% cotton.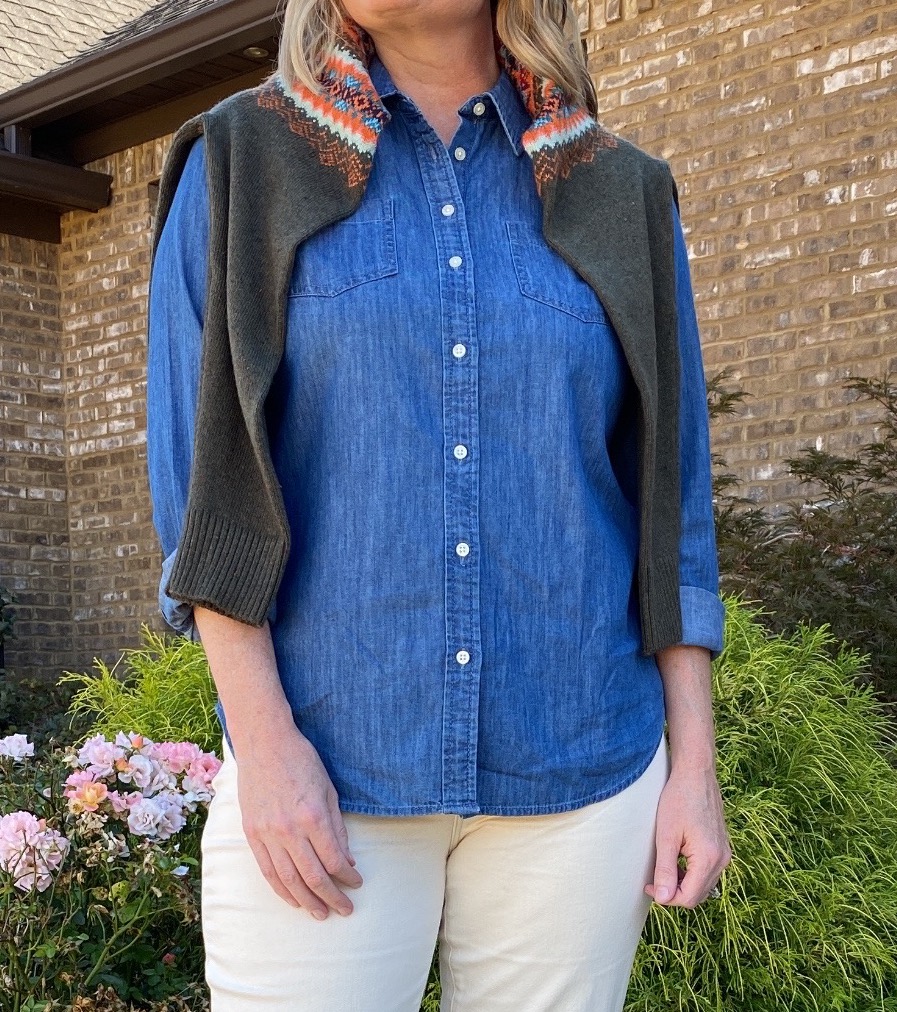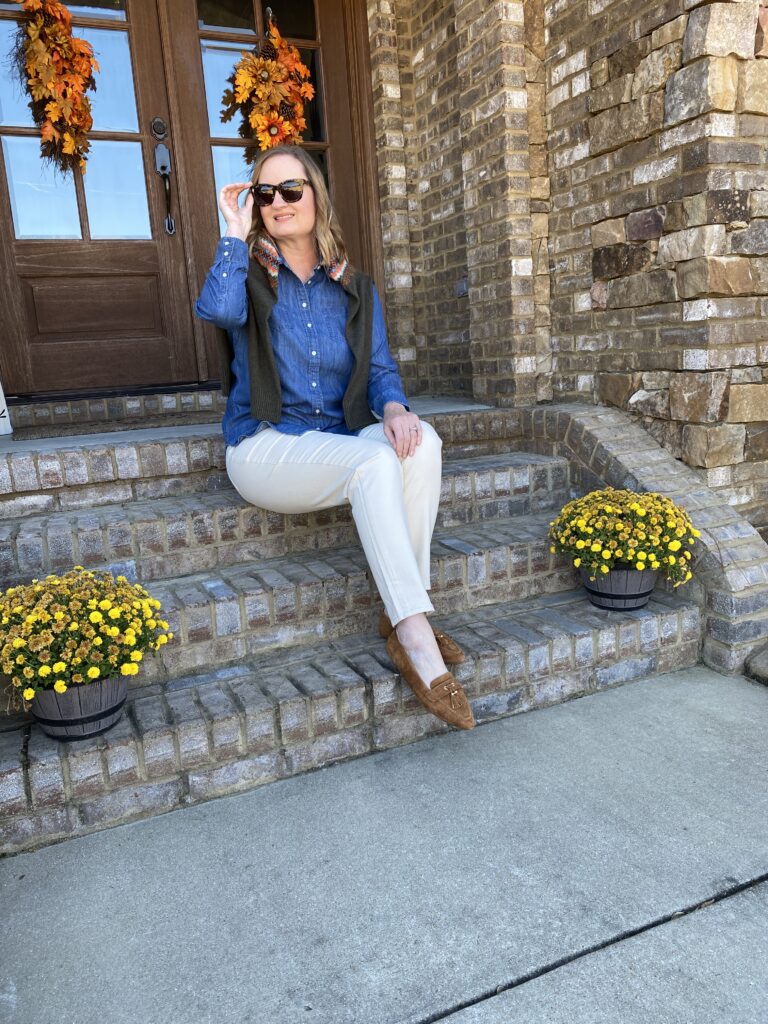 Let's talk about these shoes! They are the Francesca Suede Driving Flats in "nutmeg" (true to size; size 9). The brown color is gorgeous and the tassel on top of the shoe is a great little detail. They are comfortable out of the box and are true suede, 100% leather shoes. These shoes are a pointy toe style, which I always recommend pointy toe flats since they elevate your outfits!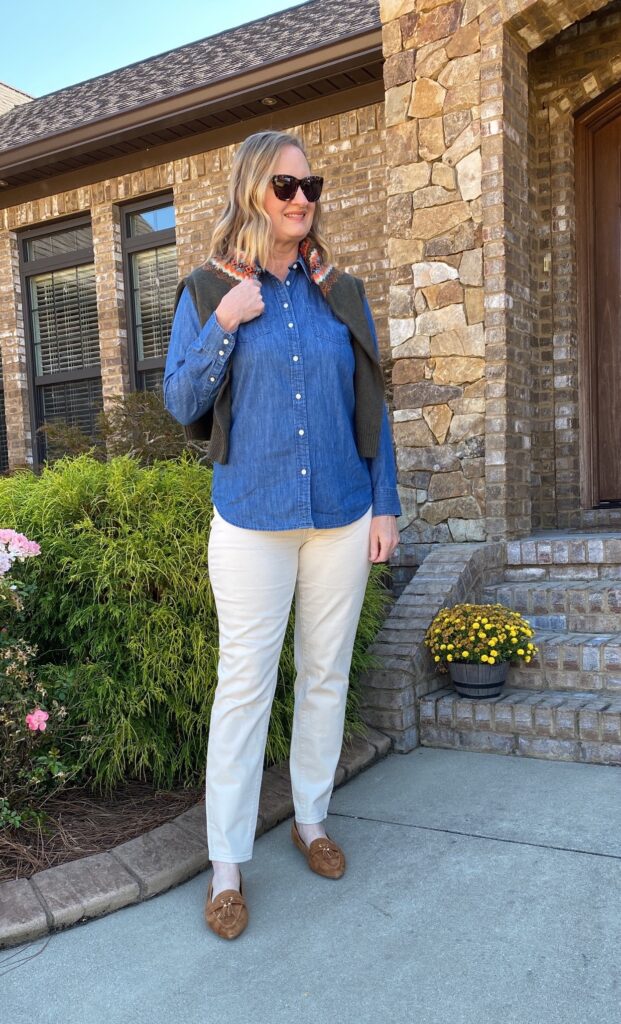 Shop the Outfit:

Thank you for visiting the blog!